Ugh, ranking pitchers is so annoying sometimes!  You like a guy, he sucks a little, you stop liking him, he then gets better…  I'm changing this to monthly rankings here on out, dammit!
OK, rant over.  Don't worry, I'll stick with the weekly ranks.  But after buying into the Anthony DeSclafani hype in the pre-season, to taking him out of my ranks, to then rank him very aggressively when he got off the DL, only to see two meh starts including a rough one against the lowly Braves, and now DeSclafani is looking good again with that wicked slider has my panties bunchier than the chocolate in Buncha Crunch.  I'm having a roller coaster of emotions!  I feel like Yordano Ventura on the mound, I'm coming unhinged!  I watched a good bit of DeSclafani's first start off the DL hosting the A's and he looked pretty good, but didn't give it my 100% undivided attention.  I think for my own sanity I needed to take a look with how he pitched yesterday afternoon against the Padres, to finally have a decision on this guy…  Here's how DeSclafani's fourth start on the year went down:
Psyche!  Quick note I'm out next week as I'll be in DC to see my Brewers play the Nats.  And ya know, July 4th… MURICA!  Catch you in two weeks!
First Inning: DeSclafani's first pitch is a 92 MPH fastball slapped to third by Travis Jankowski and it's a quick first-pitch out.  92 MPH fastball is in there to Alexei Ramirez, cutter at 89 dips low, then 92 MPH fastball is ripped over Eugenio Suarez at third for a single to left.  A little too much of the plate on that fastball, but I like that DeSclafani is pounding the zone.  93 MPH fastball is fouled off by Wil Myers, 93 again is inside, cutter paints the outside edge, then sharp cutter at 88 is an absolute beaut breaking down and over the plate for DeSclafani's first K looking.
Yangervis Solarte takes fastball outside, 91 MPH two-seamer breaks outside, 2-0 fastball is at 93 MPH and fouled away, fastball again fouled off, hanging change-up it looked like that was well outside is fouled off, then Alexei tries to run on the first move and is picked off before DeSclafani has to deliver the pitch.  Horrible base running gets DeSclafani out of the inning prematurely.
Second Inning: First pitch of the second is a nice sinking fastball in there to Solarte yet again to open the inning, 93 MPH fastball fouled off, 0-2 cutter fouled off, then fastball perfectly placed on the low outside edge is flied lazily to center, one down.  Perfect cutter at 88 gets strike one to Melvin Upton, then cutter again and Melvin had no chance on this swing, 0-2.
Maybe what I'm calling a "cutter" Fangraphs lists as a "slider" but that's always a debate.  94 looks like a perfect pitch low and outside but called ball one, then DeSclafani tries one high and tight and hits Upton.  Yikes.  So runner at first one down and Ryan Schmipf (who?) swings through a first-pitch fastball, cutter barely nipped foul, then gnarly 94 MPH two seamer gets another K looking, two down.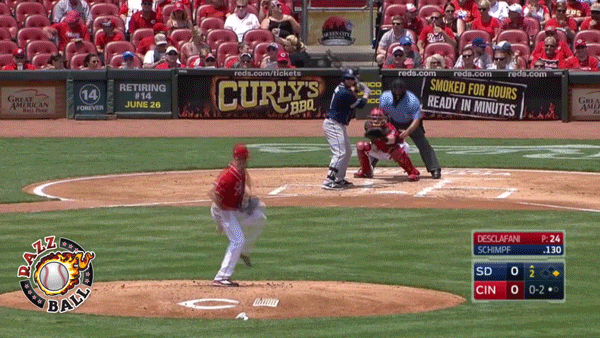 Some great looking stuff right now.  Cutter barely low to Derek Norris, fastball inside, then fastball again at 94 I think is called a strike, but it's no matter as Upton is caught stealing.  Some good D right now from the Reds!  At least that SB attempt was close…
Third Inning: Second straight inning where the same batter closes then starts the next inning and Norris takes a fastball low, swings over a cutter 1-1, 92 barely misses the outside corner, 92 in the zone fouled off, cutter low, hanging cutter is absolutely obliterated to left but went well foul of the pole, then 93 MPH fastball is hit pretty hard up the gap, but Zack Cozart is there to make the clean play, one down.  Fastball misses to Alexi Amarista, then cutter is chopped easily to second, two down.  Opposing pitcher Luis Pedromo dribbles a first pitch fastball foul, then Pedromo ropes a 93 MPH fastball up the gap for a hard single.  Wow, can't do that, give him offspeed!  Back to the top and Jankowski takes a fastball strike, 95 tops out the speed but is well outside, then nasssssty cutter or slider or whatever at 87 gets a massive whiff, 1-2.

Mmmmm, that's what I remember getting me excited before!  Cutter again low, then 94 on the outside edge is slapped to third, and the play is made on the speedy Jankowski by a quarter step to get DeSclafani out of the inning.
Fourth Inning: DeSclafani opens the fourth with a cutter low to Ramirez, then fastball is pounded routinely to short for a quick first out.  Another first-pitch cutter, and Myers hits a lazzzzy fly to center for another quick out.  Whoa, nasty breaking ball at 82 skips in the dirt to Solarte 1-0, and that is a nasty third offering if he can utilize it.  Fastball in the zone, then 1-1 94 MPH fastball on the outside black is an infield fly for a pretty dominant 6 pitch inning.
Fifth Inning: The Reds pick up two runs of support, and at 50 pitches, there's a 78 MPH curveball to start off Upton, 0-1.  Man, pretty impressive arsenal!  Fastball is well inside, this cutter looked more like a slider low, then 94 MPH fastball is poked through the right side gap for a hard single to right.  More offspeed, man!  Schimpf takes a sinking fastball low, cutter low and inside pulled foul, cutter paints the outside black 1-2, cutter in the dirt, outside cutter dragged foul, great fastball at 94 in on the hands and low is fouled back, then cutter again outside is a lazy pop to left for the first out.  Beautiful cutter gets the bottom of the zone for strike one on Norris, fastball in the zone 0-2, slider goes low and in, then Upton is picked off at first.  Are you friggin' kidding me?!  3 runners out on the base paths already?!  DeSclafani then spikes a cutter 2-2, then DeSclafani goes up-and-in peaking at 95 MPH to get Norris swinging and out of the inning.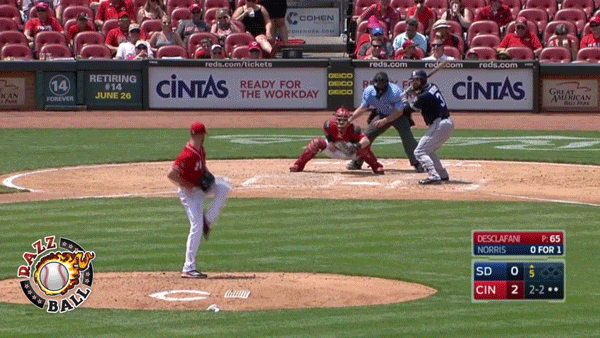 Mayyyyybe missed his spot a little bit, but it counts!
Sixth Inning: Fastball barely inside to Amarista opens the 6th, cutter outside, fastball gets the call up and away 2-1, then high fastball again is another infield pop for an easy first out.  Fastball paints the outside corner to Pedromo, curveball that went about 57 feet gets an ugly pitcher swing 0-2, Pedromo lays off another offspeed pitch in the dirt, then cutter breaking into the top of the zone is taken for another backwards K.  Two down and Jankowski tries a drag bunt on the first pitch, DeSclafani fields it incredibly well with a glove flip to first, but Joey Votto tries to barehand it and drops it.  Wow, awesome fielding Votto.  AND WHAT IN THE WORLD, THEY GIVE JANKOWSKI A HIT?!?!  Yikes, the scorekeeper must be a Votto family friend…  So runner on first with two outs and fastball is in there to Ramirez, 0-1 94 MPH fastball is barely tipped foul, cutter is spiked in the dirt, fastball well up-and-in gets a half-swing foul, that curveball at 82 is fouled straight back, then a cutter is rocketed to third, but right to Suarez to end the inning.
Seventh Inning: The Reds pick up another run to spot DeSclafani a 3-0 lead and a 93 MPH fastball is in there to Myers, 0-1.  Fastball misses, then fastball again inside is hit decently hard but pretty routine to short, one down.  Cutter low to Solarte, cutter again low, then 91 MPH high fastball is slapped hard to right center for a single.  Fastball is high and tight to Upton, cutter goes low, 2-0 fastball fouled off the catcher's mask, 2-1 cutter drops into the top of the zone, then fastball inside is grounded to short, and they get the lead runner at second for the second out.  Schmipf fouls off a low cutter, fastball fouled off as well, curveball in the dirt almost gets Schmipf swinging but he holds up, cutter doesn't quite get the outside corner 2-2, then cutter again breaking low is yet another infield pop for an easy third out.
Eighth Inning: Still a 3-0 game and at 96 pitches, DeSclafani is going out for at least another inning.  Fastball is high to Norris, high again to fall behind 2-0, fastball wayyyy outside at 92 makes it 3-0, fastball at 93 finally gets in there 3-1, high-and-tight fastball ripped foul, then wow, 95 on the outside corner is fouled off, still a full count.  But maxing at 95 again in the 8th!  Then another payoff pitch is a fastball popped to shallow left center for an easy first out.  Fastball paints the inside corner to Amarista, curveball hit well foul, 95 MPH again on the gun is fouled off, then 95 again gets the inside edge for DeSclafani's 5th K.  Awesome velo!  Two down and pinch hitter Brett Wallace takes a hammer curveball on the outside corner for strike one, Wallace takes a mammoth hack at a cutter low and inside and whiffs, 94 is way outside, 95 barely misses low and in, wow cutter barely misses the outside black 3-2 (Foxtrax had it a good bit out, there's the deceiving advantage of strike throwers!), fastball dribbled foul, 94 on the outside edge fouled off, cutter is fouled off Wallace's foot, then 94 on the outside edge is grounded right into the shift and gives DeSclafani 8 great innings of scoreless baseball.
Final Line:  W  8.0 IP  117 Pitches (77 Strikes)  0 ER  5 Hits  0 Walks  5 K  Gamescore: 77   Gamescore+: 70.6

Final Analysis: Damn!  I shoulda stuck with my guns on DeSclafani, as he's only had one bad start out of 4 and it was of course the one @ATL that had me the most excited…  Stupid baseball!  The Gamescore+ coming out so much lower than the Gamescore is a little misleading, since Gamescore+ doesn't count baserunner outs.  The Reds notched three of them that would've equalized the two scores a little more.  Also "only" 5 Ks in 8 innings hurt the valuation.
DeSclafani has some pretty nasty stuff.  The fastball has all sorts of movement – from sink to two-seam run – that was able to paint in and out of the zone.  He did have a few 2-0 counts and one 3-0 count, but the fastball was good enough to even it back up.  I also really liked the velocity – he was averaging 92.9 on the heater and 87.0 on the slider coming into this start, but I imagine both will be higher than his three-start average in this outing.  He peaked at 95 MPH and hit it frequently in the 8th inning when he was well over 100 pitches.  Then to that cutter…  It's a marvelous, tight-breaking pitch that is right on that fringe of cutter vs. slider.  I thought the speed and tight break made it look more like a cutter so I labeled it as such, but I leave it up to your eyes on the GIFs if you haven't seen him pitch yet.  After a few innings, DeSclafani also mixed in a few curveballs with nice break in the 78-82 range, but he didn't need that pitch very frequently.  He also threw 1 or 2 change-ups that is a distant 4th pitch, but interesting to have one more trick up his sleeve in a pinch.
While a start against the Padres is usually considered laughably favorable, the Padres have been swinging the bat a little better recently, so I'm not shrugging off this start.  Sure 4 of the 5 Ks were of the looking variety, and sure he had three men out on the basepaths, but it was impressive nonetheless.  Through 8 innings, all hits were singles and no hitter made it to second base!  Pretty dominant.  The K rate isn't huge and wasn't great last year (7.36/9), but I think he has the stuff to get the Ks in the 8 range with a great WHIP.  He also had a low walk rate last year, didn't walk any this start, and has a 11:1 K:BB his last two outings.  The upside isn't quite there to see a top-30 pitcher or anything, but the guy has good stuff and a great attack-first arsenal – I aggressively ranked him right back to where I had him coming off the DL.  I've re-added him in all the leagues I nabbed then dropped him a couple starts ago, he's a sneaky waiver-wire option if you need innings in mixed leagues.
Updated Top 100 SP
(rankings for ROS based on 12-team Roto, green for risers, red for fallers)
| RANK | SP, TEAM |
| --- | --- |
| 1 | Clayton Kershaw, LAD |
| 2 | Jake Arrieta, CHC |
| 3 | Chris Sale, CWS |
| 4 | Max Scherzer, WAS |
| 5 | Noah Syndergaard, NYM |
| 6 | Jose Fernandez, MIA |
| 7 | Madison Bumgarner, SF |
| 8 | Jon Lester, CHC |
| 9 | Jacob deGrom, NYM |
| 10 | Johnny Cueto, SF |
| 11 | Corey Kluber, CLE |
| 12 | Zack Greinke, ARI |
| 13 | Danny Salazar, CLE |
| 14 | Carlos Carrasco, CLE |
| 15 | Carlos Martinez, STL |
| 16 | David Price, BOS |
| 17 | Justin Verlander, DET |
| 18 | Matt Harvey, NYM |
| 19 | Masahiro Tanaka, NYY |
| 20 | Joe Ross, WAS |
| 21 | Cole Hamels, TEX |
| 22 | Steven Matz, NYM |
| 23 | Jose Quintana, CWS |
| 24 | John Lackey, CHC |
| 25 | Jeff Samardzija, SF |
| 26 | Julio Teheran, ATL |
| 27 | Taijuan Walker, SEA |
| 28 | Stephen Strasburg, WAS |
| 29 | Chris Archer, TB |
| 30 | Jason Hammel, CHC |
| 31 | Drew Pomeranz, SD |
| 32 | Gerrit Cole, PIT |
| 33 | Aaron Sanchez, TOR |
| 34 | Drew Smyly, TB |
| 35 | Rich Hill, OAK |
| 36 | Yu Darvish, TEX |
| 37 | Matt Shoemaker, LAA |
| 38 | Michael Fulmer, DET |
| 39 | Carlos Rodon, CWS |
| 40 | Kyle Hendricks, CHC |
| 41 | Kenta Maeda, LAD |
| 42 | Marco Estrada, TOR |
| 43 | Aaron Nola, PHI |
| 44 | James Paxton, SEA |
| 45 | Dallas Keuchel, HOU |
| 46 | Adam Wainwright, STL |
| 47 | Anthony DeSclafani, CIN |
| 48 | Lance McCullers, HOU |
| 49 | Tanner Roark, WAS |
| 50 | Trevor Bauer, CLE |
| 51 | Kevin Gausman, BAL |
| 52 | Sonny Gray, OAK |
| 53 | Chris Tillman, BAL |
| 54 | Jordan Zimmermann, DET |
| 55 | Michael Wacha, STL |
| 56 | Steven Wright, BOS |
| 57 | Jameson Taillon, PIT |
| 58 | Jimmy Nelson, MIL |
| 59 | Adam Conley, MIA |
| 60 | Zachary Davies, MIL |
| 61 | Archie Bradley, ARI |
| 62 | Francisco Liriano, PIT |
| 63 | Hisashi Iwakuma, SEA |
| 64 | Ian Kennedy, KC |
| 65 | Tyler Glasnow, PIT |
| 66 | Felix Hernandez, SEA |
| 67 | Jerad Eickhoff, PHI |
| 68 | Vincent Velasquez, PHI |
| 69 | Michael Pineda, NYY |
| 70 | Jake Odorizzi, TB |
| 71 | Nate Karns, SEA |
| 72 | Wei-Yin Chen, MIA |
| 73 | Rick Porcello, BOS |
| 74 | Danny Duffy, KC |
| 75 | J.A. Happ, TOR |
| 76 | Marcus Stroman, TOR |
| 77 | Jon Gray, COL |
| 78 | Patrick Corbin, ARI |
| 79 | Blake Snell, TB |
| 80 | Gio Gonzalez, WAS |
| 81 | Nathan Eovaldi, NYY |
| 82 | Scott Kazmir, LAD |
| 83 | Julio Urias, LAD |
| 84 | CC Sabathia, NYY |
| 85 | Junior Guerra, MIL |
| 86 | Mike Leake, STL |
| 87 | Robbie Ray, ARI |
| 88 | Jaime Garcia, STL |
| 89 | Josh Tomlin, CLE |
| 90 | Bartolo Colon, NYM |
| 91 | Matt Moore, TB |
| 92 | Mike Fiers, HOU |
| 93 | Sean Manaea, OAK |
| 94 | Cody Reed, CIN |
| 95 | Collin McHugh, HOU |
| 96 | Tim Lincecum, LAA |
| 97 | James Shields, CWS |
| 98 | A.J. Griffin, TEX |
| 99 | Kendall Graveman, OAK |
| 100 | Shelby Miller, ARI |
Dropped Out: Colby Lewis, TEX (DL), Derek Holland, TEX (DL), Edinson Volquez, KC (never got out of my 90s, but yeesh did he get clobbered his last start),
Were you all impressed with DeSclafani as well?  And what ranks made you go as insane as I sounded in the open?  Shoot your thoughts below, and happy pitching Razzball Nation!