The concept is simple: phrase hypothetical scenarios where events that didn't happen actually did, or events that did happen actually didn't (I'm already confused). Detailing how these changes – or lack thereof – would have impacted the coming 2018 fantasy baseball season creates some interesting "what ifs".
What if Giancarlo Stanton didn't adjust his mechanics?
For anybody with an idea of what Giancarlo Stanton looked like in the box from years prior, his shift from June to July of 2017 was noticeable – very noticeable. While I often find more satisfaction in subtle changes – 2017 Chris Taylor comes to mind – if a change pushes said player into the MVP discussion, I put my particulars aside.
I've always found Stanton's motions in the box exceptionally rhythmic. Flat bat, considerable bat speed, two-handed follow through with a uniquely refined path to contact that creates head-scratching home runs like this one.
Stanton closed off his stance considerably, becoming an aesthetic comp to Adrian Beltre, plus 20 pounds and six inches (of height – get your mind out of the gutter!).  "TewksbaryHitting.com" has a nice breakdown of this evolution, despite having nothing to do with Barry Manilow or whatever a "tewk" is. Their freeze frame gif captures the gradual rotation of Stanton's upper body prior to the pitch, making his numbers more visible to the pitcher.
Even when Stanton's bat was clicking, you could make the case he pulled off  a lot of pitches – particularly breaking balls – which opened up a hole in his swing low and away (common among virtually every power hitter). In a simplistic sense, this change kept him inside the ball and allowed for a wild amount of plate coverage in the zone and trimming of his low-and-away whiff issues to around 20 percent (from ~40%). Now, Stanton holds a much more manageable issue in the upper-third of his zone, and a 59 home run season with sub-24 percent strikeout rate to mask anything and everything you be bitter about.
I sense a lot of hesitancy projecting Stanton for fantasy without knowing what city his talents end up in, so I'm looking backwards. What if Stanton didn't make this adjustment and sat with a replica of his 2015 or 2016 (~27 home runs, .250 average, over 115 games)? The "well, he has to stay healthy first" club would appreciate in members, sure, but does his stock fall lower than the 40 overall benchmark he had coming into 2017's drafts?
What I love about a collection of "what ifs" is the difficulty in removing your retrospective adjustment. We don't know what would happen if Stanton never hit 59 home runs. We also probably can't pinpoint if injury or mediocrity in 2017 would have dragged down his draft stock for 2018 more.
My guess is relatively straightforward: if Stanton didn't make this adjustment and posted a duplicate 2015 or 2016 season, he would fall to around 50-55 overall in average draft position for 2018. The titan himself would still continue to be a post-30 overall pick with immeasurable upside, but our faith would wain. This adjustment injected life into an asset we began to doubt (yes, even you!). With every adjustment, there is an equal or opposite reaction – pitchers adjust too – and clouding Stanton's real value  – for me – in 2018 is understanding if and how much of that pitcher tweak will affect him.
The verdict: chaos
What if Trea Turner didn't get hurt?
I want to stay away from making this column all about injuries, but I also want to absolve myself of sin. I was very low on Turner in the preseason relative to the industry. Scribing a few columns, I wasn't buying the power uptick, the .300-plus average, or his ability to nab over 45 bags. Buying into small-sample hype (that's what I considered it) is something I shy away from, and I was wrong.
Turner finished 55th overall and isn't considered a qualified hitter. A crude 155-game pace links 17 home runs with an obscene 73 stolen bases. His efficiency sits at 85% on the bases and it didn't trail off as he pushed towards 100-plus games played.  There isn't anything to hate – I see a hazy argument for power concerns – but with a full season of health, I don't think our opinions would change. Even if he regressed harder than expected in the final 40-50 games he was healthy, Turner is still a 55-plus bag commodity with sustainability in everything else. In most rational universes, that's a top-10 pick.
I can fall asleep at night because of this injury. It allowed me to be "correct" on Turner rankings-wise, but I outsmarted the baseball gods. I won't try to do so again.
The verdict: nothing
What if Kyle Seager didn't Regress?
Corey's brother! Ahh, reflecting on more of my preseason takes, I remember sitting in front of my computer at some hipster coffee shop in Boston listening to Bon Iver and considering whether I wanted to test my credibility by saying Seager would outperform Donaldson. Instead, I copped out and mailed it in as a distant possibility.
Donaldson finished about 25 spots ahead of Seager. I was wrong, but it wasn't a coupling of terrible takes. While all good things must come to an end, I didn't think Seager's methodical improvement between each of his last five seasons would stop. Donaldson caught the injury bug, and for the most part, this room-temperature take fell under the radar.
Seager's average fell to career low, his power – kind of – deteriorated, and we were left with a third baseman who saw around 5% more offspeed pitches and didn't adjust. Everything went in the wrong direction because of that, and for 2018 we now have a 30-year-old with a stable contract, in a ballpark that was league average for left-handed power.
Among all my "what ifs", Seager's case has the finest line between changes to his 2018 value. Seattle's third baseman has always been good, but was is more just good enough? If you tack on three more home runs and 10 points of average, the tune shifts back to Seager donning – pun intended! Donaldson! ha! – the name tag "Mr. Reliable". Take that away and we simply have "ehh" with a side of question marks.
The verdict: "ehh" to "Mr. Reliable"
What if Jake Lamb hit in the second half?
As I combed through these early ADP numbers which I so often reference, Lamb and Seager went back-to-back according to their averages, both 85th overall. This is perplexing from an aging-curve standpoint because Lamb just turned 27 and Seager 30. While ample research exists on this topic, the consistent feature is age 28 and beyond ignites decline for metrics like wRC+. Solely with this logic, Lamb and Seager possess wildly different ceilings if you believe a max output falls as you move out of your 20's.
Yet, for each of the last two seasons, we became jaded by what Lamb did in the second half. We don't remember the .300, 50-plus home run farm animal Lamb was pacing out to be, instead replacing those predictions with unjust devaluation because he burned us in the fantasy playoffs. (Side note: you should probably be playing roto).
But it's tough to push from your mind what your final impression of Lamb is…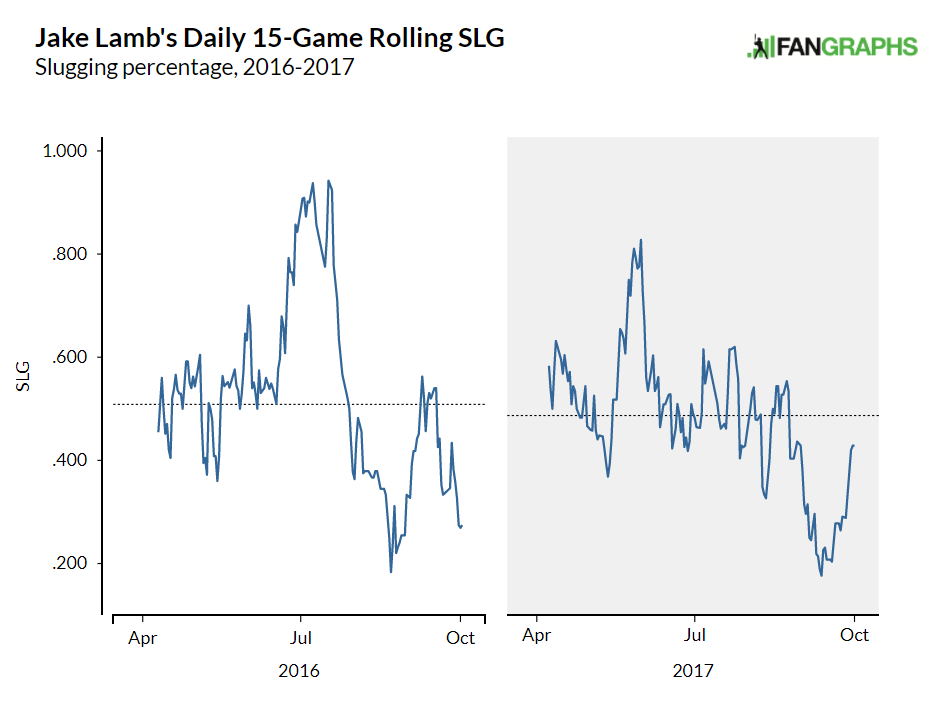 Above, we're looking at a 15-game rolling log of Lamb's slugging percentage. Each of the past two seasons, there is a sharp peak around the middle of the year, followed by failure to tie everything back together in the final months of the season (dotted line is league average, thanks Fangraphs). Without substantial digging – I plan on doing some soon – we can tell Lamb has some serve split issues. Nine home runs versus left-handed pitching in the last two season combined, with nine total home runs this past May, will make teams notice. This eliminates him from late-game scenarios where managers can play matchups, basically taking away one at-bat on most days.
But in a hopefully-not-so-distant universe where he fixes these split issues, even becoming an slightly below average versus southpaws, we're looking at a player who mashes right-handed pitching better than most in the league. Mix in some Chase Field action, and 80-plus overall can seem like a bargain.
This take is likely too bold, but a powerful third baseman in the National League, with a home field advantage greater than others? Sounds a lot like Platinum Glove winner Nolan Arenado from the left side.
The verdict: Arenado-lite
Some more that just missed the cut (yes, I intentionally stuck to hitters in this post)…
Q: What if  Rhys Hoskins didn't catch fire? 
Q: What if Javier Baez stopped swinging at everything?
Q: What is Kris Bryant hit .325 in the first half too?
Join me on my quest for 1,000 Twitter followers