As someone who lives in Colorado and considers the Rockies "My Team," I'm ecstatic to get to write their team preview. With that said, I wouldn't necessarily consider myself a fan because how the hell can anyone be a fan of the Rockies? It's fun to watch these guys mash baseballs in Coors Field but it's embarrassing to watch these pitchers crap the bed year after year. That's simply the nature of playing in Coors Field every year and it makes for some weird baseball. That will surely be a major focus of this preview, so, let's go ahead and get into it!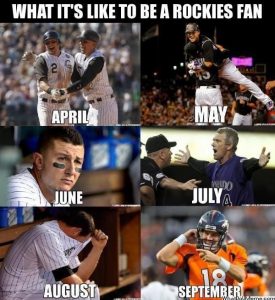 2019 Recap:
Record: 71-91 
Runs Scored: 835 (9th) 
Runs Allowed: 895 (29th) 
Stolen Bases: 71 (14th) 
ERA: 5.56 (29th) 
WHIP: 1.48 (30th) 
Saves: 28 (24th) 
Strikeouts: 1,264 (23rd) 
2020 Win Total Projection: 74.5 Wins 
Strengths:
All of the Hitters
I hate to get this bland with the analysis but it's certainly the case when you talk about the Rockies. These guys get to play half of their games in the best ballpark in baseball and it makes everyone in this lineup fantasy-relevant. Nolan Arenado and Trevor Story are Top-15 picks and Charlie Blackmon is a fantastic value right around pick 40. They also have some great options like Sam Hilliard and Daniel Murphy who are going much later and many people will surely be on the Garrett Hampson train yet again. The simple fact is, you can stream any Rockies hitter when they play a full week at home because that sort of upside and production is hard to match with dudes just rounding the bases like a Merry-Go-Round in Denver.
Weaknesses:
Rockies Rotation
This is pretty obvious and you'll see why when looking at the numbers. Their best pitcher had an ERA above 6.00 and a WHIP north of 1.50 when pitching at home and that shows just how much of a nightmare this ballpark can be. That happens to be German Marquez, as he and Jon Gray are the only relevant pitchers in this rotation. They fill it out with gas cans like Jeff Hoffman and Antonio Senzatela, further proving that no pitcher wants to come here in the off-season. Kyle Freeland showed some flashes two years ago but he was demoted last year in what was a disastrous season. I mean, look at that 1.48 team WHIP. Damn, that's bad. Feel free to stack against these pitchers at any time and stream hitters when they travel to Colorado!
Starting Lineup:
Starting Rotation:
Bullpen:
Bench:
The Elephant in the Room: Coors Field
There's something we need to talk about when it comes to the Rockies. It's their stupid home ballpark. While I love it and believe it's a great ballpark to watch baseball games at, it causes chaos for fantasy baseball. The simple fact is, it scores like a little league game. It's a combination between the air and wide dimensions of the field, causing Coors Field to rank Top-5 in runs scored in every year since its existence in 1993. That makes pretty much every hitter there fantasy relevant and every pitcher impossible to trust. This is something that every experienced baseball fan knows but it needs to be stated when we talk about this organization! 
Sleeper Pick
Daniel Murphy (1B)
It's pretty weird to call a 55-year-old beer gut a sleeper but people are clearly sleeping on Murphy. The former All-Star is going off as the 24th first baseman off the board and the 242nd player in total. Yes, 242! That means he's being undrafted in many leagues and that seems silly to me. After struggling through May, Murph finished the season with a .298 AVG and .809 OPS over his final 101 games played. While that's not necessarily elite production, it's certainly worthy of a guy being drafted this late.
Injuries are the one thing that really slowed him down last year and we love the prospect of a BABIP king playing in the most BABIP-friendly park in baseball. Any guy with a 12.2 percent career K rate, .342 career wOBA and .319 career BABIP is a beautiful pairing in a ballpark like this and he's easily one of the best bets for a player to hit .300 in the heart of one of the best lineups in baseball. Calling him 55-years-old was simply a joke too and he should still have something left in the tank at 34-years-old.
Bust Pick
Any Pitcher
Guys, this is simple. DONT DRAFT A ROCKIES PITCHER! This ballpark is a complete disaster for pitchers and they just struggle year-after-year. While we do have talented arms like Jon Gray and German Marquez, they simply can't perform with the Coors Field handicap. The main guy that people will draft is Marquez but that would be a huge mistake. I mean, we're talking about a guy who had a 6.26 ERA and 1.55 WHIP at home last season. That means he's not startable in half of his starts, so, let someone else deal with that headache.
We also don't trust Scott Oberg as a closer. The high-scoring nature of Coors Field always tends to lead to lower save totals and that pairs horribly with the fact that Colorado seems to have one of the worst bullpens every year. I also wouldn't be surprised to see them give someone else a chance at saves and that just muddles up this situation even more. Just let someone else deal with this crap and get some of the hitters instead.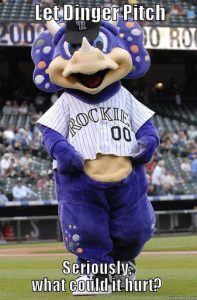 Outlook:
It looks like we have another standard Rockies season ahead of us. Elite hitting and crappy pitching. What really sucks is the fact that they can't overcome the horrific pitching. This is a club that ranked bottom-three in road OPS last season and it's becoming clear that there's some sort of fall-off whenever they step out of the friendly confines of Coors Field. That becomes even more horrifying when you consider their division, with Dodger Stadium, Oracle Park, Petco Park and Chase Field all playing as pitcher-friendly ballparks too. All of those teams appear to be getting better and it would be hard to imagine the Rockies finishing any higher than fourth in their tough division. 
My Two Cents
I also want to add something that drives me nuts. As someone who lives in Colorado, I can tell you that management only cares about filling seats. That's never been an issue for this team too, considering people love to go to this beautiful ballpark and watch dudes run around the bases like the police are chasing them. Honestly, our fans are pretty naive. I wouldn't even call them fans for the most part, they're spectators. Moms take their 13 kids to the game just for something to do and Millenials go there to drink on the rooftop.
The last time I was there, two moms behind me had no clue what the score was and joked about how they didn't know what inning it was either. I swear, people wouldn't even cheer if the scoreboard didn't tell them to. This may sound like a harsh criticism but that's simply the nature of this organization at this point. Until people stop wasting their money on this team, they're simply not going to change their ways and true fans are going to have to deal with this crap until then.
 If you have any comments or questions, write me here or reach me on Twitter @Bartilottajoel
Also, Check out some of my busts here!