Thomas Pham is a 27-year old rookie who has made the most of his first month in the big leagues. Big Magoo wrote about him on Tuesday, saying "Enjoy the fling while it lasts, but be wary of a long-term commitment." And I completely agree! I don't think that Pham will be a viable option in shallow mixed leagues next year.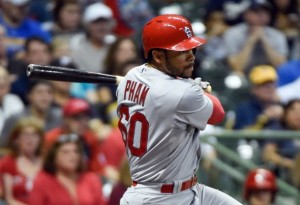 Can he do it? Yes, he pham! Remember those great Jorge Cantu chants? Jorge can't hit a home run! Yes, he Cantu!
My initial reaction was: could this be a Charlie Blackmon scenario? Blackmon's first full season came at the age of 27, when he batted .288/.335/.440 with 19 bombs. But, Blackmon had already had plenty of major league action to that point, and his skillset was generally superior to Pham's. So, I slapped myself and recognized that Pham is a perfect playoff schmotato and nothing more. Given that information, Pham has absolutely crushed over the past two weeks, posting a 1.350 OPS with 4 homers and 12 RBI. At this point in the year, you need to grab onto these hot streaks. And, Pham's hot streak is molten right now.
Please, blog, may I have some more?