Thomas Pham is a 27-year old rookie who has made the most of his first month in the big leagues. Big Magoo wrote about him on Tuesday, saying "Enjoy the fling while it lasts, but be wary of a long-term commitment." And I completely agree! I don't think that Pham will be a viable option in shallow mixed leagues next year.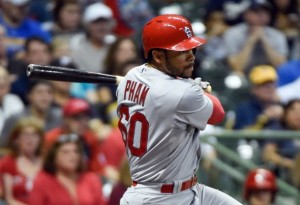 Can he do it? Yes, he pham! Remember those great Jorge Cantu chants? Jorge can't hit a home run! Yes, he Cantu!
My initial reaction was: could this be a Charlie Blackmon scenario? Blackmon's first full season came at the age of 27, when he batted .288/.335/.440 with 19 bombs. But, Blackmon had already had plenty of major league action to that point, and his skillset was generally superior to Pham's. So, I slapped myself and recognized that Pham is a perfect playoff schmotato and nothing more. Given that information, Pham has absolutely crushed over the past two weeks, posting a 1.350 OPS with 4 homers and 12 RBI. At this point in the year, you need to grab onto these hot streaks. And, Pham's hot streak is molten right now.
The dream boat Corey Seager has produced, hasn't he? I hope you were able to scoop him up in your league, because Seager is doing his best Carlos Correa impression with a very impressive debut at shortstop. Corey's OPS over the past two weeks is 1.123 (Kyle's sits at a measly .747, get it together big bro). Corey has chipped in 3 homers, 13 RBI, and 2 steals. This guy is a stud, plain and simple. What's with these guys doing mediocre against the junk ballers in Triple A, only to come up and thrash major league arms? Anyhow, Corey is still available in about a quarter of ESPN leagues, which is unreal. Go get him if he's still out there in your league.  Jimmy Rollins will steal the occasional game but Corey should be the go-to option most nights.
Totally derailing side-note/tangent: The name Corey always makes me think of Cory from Boy Meets World. Which throws me back to the era of excellent 90's television. In honor of this, and Mr. Corey Seager, I'd like to share with you the reuniting of Kenan and Kel on Jimmy Fallon's show this week. 
If Corey Seager is owned and you still need help at shortstop (and you didn't pick-up Starlin Castro, tsk tsk), consider Seattle's Ketel Marte. Marte has posted a 1.260 OPS over the past week, going 11-for-25. Marte is not a power guy at all but he does have speed and has been getting on-base at a very strong clip. He is batting in a favorable position in the surprisingly potent Mariners lineup, at leadoff ahead of Kyle Seager, Nelson Cruz, and Robinson Cano. Marte is capable of stealing a handful of bases, scoring a bunch of runs, and getting on-base for you in the playoffs. Marte is widely available in fantasy leagues, so go grab him if you need help at middle infield.
Grey told you to buy Khris Davis last week – and he was right. Davis has been in and out of the lineup with some ankle issues but he has cranked a bunch of home runs hitting cleanup for the Brewers. K-Davis's OPS over the past week is actually higher than evil (fraternal) twin Chris Davis', by about 10 points. Chris owned everywhere, but Khris is available in 60% of leagues. If you are/were a Ryan Braun owner, go get Khris Davis to fill the void.
One of the streakiest guys in baseball is Steve Pearce of the Baltimore Orioles, who happily enjoys second base eligibility this year. You may recall that Pearce had some pretty impressive stretches last season, like last June when he hit .361 with 5 homers and 13 RBI. Or, last September when he hit .315 with 5 homers and 12 RBI. He hasn't been as fortunate this year, with some pretty brutally bad months, particularly early on. But, he is starting to swing the bat well right now. This past week, Pearce is 8-for-20 with 3 homers, good for a 1.500 OPS. It's a small sample size, but with Pearce, you want to get on the streak wagon early. This may be the beginning of one. If you are in an AL-only league and need help at second base, you could do worse than a streaking Steve Pearce. There is risk here, but I like the upside.
There are two catchers that are owned in about half of leagues who should probably be dropped. Those two would be J.P. Arencibia and Stephen Vogt. Arencibia has been a bright spot lately, but we knew he was a rapidly cooling schmotato from the get-go, and that schmotato looks to be headed back to the freezer. I would move on from him. Vogt has returned from injury but just doesn't look good in the box. I know he has nice full season numbers, but if there is a hotter hitter option on the wire (hint, there probably is), I wouldn't hesitate to make the move.