The phrase is no longer "Chicks dig the longball," it's "Chicks dig the flyball."
From the forgotten (Yonder Alonso) to our freshest superstars (Francisco Lindor), the want for more lift in hopes of combating infield shifts hasn't played favorites in the style of hitter it acquires. While Alonso and Lindor lead list of qualified hitters with the largest increase in flyball percentage compared to last year, another name sits atop the list of hitters with the highest overall flyball rates in 2017.
Ryan Schimpf (63.8%).
I'm barely five months into my Razzball tenure and this is my second column about a San Diego Padres' player (Austin Hedges was my first). Maybe my next one will be about that first basemen who has been better than Anthony Rizzo! Wil Myers who?
Schimpf was just another weird power bat with grotesque average problems until I saw a stat on MLB Network that the Padres' second baseman had the third lowest chase rate on pitches outside of the zone (17.9%). Scrambling to Fangraphs.com to confirm this absurdity, I was met with a big, fat 16% walk percentage, confusing me even more as it sat next to the 32% strikeout rate. It may be hard to believe because of the Mendoza-line average, but Schimpf actually has a very patient approach at the plate, confirmed by his 36.4% swing rate, sixth lowest in the major leagues.
The majority of hitters with both a low swing rate and a low chase rate are generally revered as having the better approaches in the game. Think Matt Carpenter, Mookie Betts, Kyle Seager, and Carlos Santana. All players who don't chase a lot, are patient, and have batting averages substantially above their weight.
Then there is Schimpf, who is listed at 180lbs, yet sports a .165 average. He is that bat you see on the waivers and for a second consider picking up because of the nine home runs, but pass on due to the sub .200 average.  It's ok, I've done it multiple times in a few of my leagues. We have an inherent tick that tells us even 10 home runs through just over 30 games isn't enough to quell the .165 average. Players like Schimpf are inherently tough to value. Even the most adept fantasy owners will have some trouble rationalizing the 30 HR power at the expense of a severe average hit.
I'm here to help with the Schimpf evaluation conundrum. Let's take a look at the return on his production so far using Razzball's player rater…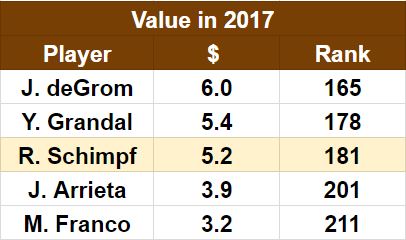 First off, I'm a big fan of Razzball's use of dollar values in ranking players, so the "$" column you see above is the dollar value returned, aggregating the production received from said player in each of his five standard roto categories compared to others' production in the same categories. Yes, you actually would have been better off owning Schimpf than Maikel Franco so far this season. Even with the substantial average knock, his home runs have provided more than enough reason to continue rostering him, and the source of almost all his value is something that isn't a screaming outlier.
As we know, his flyball rate above 60% is insane, but with a HR/FB rate hovering around 20% in 2017, his 17% HR/FB rate last year through 330 plate appearances, and the repeated confirmation we've seen on his raw power potential, are both nods to a 30+ home run season being clearly in reach. Even with the crazy flyball rate, he has actually been getting relatively unlucky on his batted balls that aren't in the major batch of flyballs he hits (.150 BABIP in '17, .260 BABIP in '16, .229 career BABIP). Even more encouraging too is the cut in his swinging strike rate by a whole 3%, brought on by a refining of his approach against fourseam fastballs, talked about by Travis Swachik, which can encourage our already skeptical minds that maybe this extreme flyball or bust approach can produce some interest in the fantasy community.
In Razzball's rest of season projections, Schimpf is tagged with a .207/.305/.441 slash line, coupled with 16 homers and 44 RBIs. This is good for the 230th overall hitter slot, right near Freddy Galvis and Mitch Moreland. It's not an appealing rank at all, but I've still failed to mention one of the main reasons his average is at all tolerable in some formats. Second base is a position generally devoid of power, and Schimpf is hoping to bring the flyball revolution to even more glory up the middle.
The 230th overall player isn't ownable in a 12 team league with standard roster sizes (generally 180-200 bats owned), but once you consider the second base position, things get a little more interesting. Schimpf is the 33rd ranked 2B rest of season behind Kolten Wong and Joe Panik, and is substantially more appealing to me than the other two. Panik and Wong fall into the "little bit of everything" category of praise that helps raise the floor for your runs and attempt to mitigate some of your average faults, but not advance you towards the top of any post in the slightest. Razzball's assumed 25 HR total for the full season is also a bit conservative, given the minor improvements we've seen from Schimpf, as well as the 9 home runs already earned with peripherals that suggest the current pace may only dip slightly.
If we can find a way to a 19-20% HR/FB rate for a season of about 130-140 games played, we're looking at a 35 home run second basemen, meaning in my utopian Schimpf-filled world, there are another 26 to be found until the book is closed on what will be another dreadful losing season for the Padres (At least they have the Chargers! Wait…). For comparison, Razzball has Rougned Odor and Brian Dozier producing 20 and 21 home runs for the rest of 2017 respectively, both assuming about 140-150 total games played. With players like Schimpf, there may be some caution around ample amounts of playing time, but as an above average defender playing 90% of the Padres games this season with his .165 average, if there is only room for that to inflate that number, I can't imagine the Padres will actively search for another option at the position. A 130-140 game 2017 wouldn't be a crazy one for Schimpf to hit.
I won't pay a ton for what Schimpf's final line could look like, but if he edges his way into the top 20 second baseman discussion, owners will have won out for the price they paid. Conservative buyer alert!
Big Happy Mother's Day to all the Moms out there.
More than happy to answer any questions, about Schimpf or anybody else below or on Twitter (@LanceBrozdow).