Holy shiitake mushroom Batman… is it safe to come out yet? Bobby Parnell, Jarrod Parker, Kris Medlen, Brandon Beachy, Patrick Corbin, Bruce Rondon, Jameson Taillon, Matt Moore, and now Ivan Nova have all fallen slain to some guy named Tommy John. Arrest this guy someone! Isn't this world tragic enough without some mad man weaponizing UCL's? Personally, I think this is all a plot by Dr. James Andrews to do what Peyton Manning did in Denver, and that's put himself into position to control the food supply and then ultimately force us to eat all of our cats. Hunh? In fact, Dr. Andrews recently explained why there is such an uptick in UCL surgeries, but I'm pretty sure this is what was going on in his head as he was talking. Regardless, my expert advice is to just go ahead and hide all of your pitchers on the bench and stock up on canned goods. Spam is my choice. Deal.
The RCL Top 10
Why the top-10? Because they're the top-10 teams out of 1,000+? And that's pretty amazing? I'm Ron Burgundy? Simply put, they're the best of the best of the best, and I think they deserve a little bit recognition. BUT NOT TOO MUCH. Just a taste.
– Watch out folks in the top-10, our very own mustache-man, Grey, is sitting at #23 (in his RCL #1, more on that league below). When asked for a comment, Grey said: "BOOYOU!, cause I can't spell booya." I think that statement can stand on it's own merits.
– Last week, Tehol cried me a river about not mentioning that he was in the top-10 last week. Little did he know, that was my sweet revenge for spoiling last week's Game of Thrones episode before I had a chance to watch it. What? I go to sleep early on Sunday's. Why? Probably the drinking. Anyways, I was going to mention him this week, but oops, looks like someone is missing in action. Solved my problem, so awesome job falling out of the top-10 Tehol. The Elder Gods have spoken.
– Also, three leagues in the top-10 that have 'Au Shizz' in the title. I'm leaning conspiracy…
The RCL Round-Up
– So, something crazy happened last week. And no, it didn't involve Sky's mother or her bathing suit areas. Though, if you did guess that, you're pretty close. No, in fact, words cannot describe what went down, so here it is in picture form:
– So yeah, you read that right. This happened in the RCL Magnificent Mustachioed Men. Both Rudy and Grey brought it to my attention, but I feel like there was a good chance I would have stumbled upon this, seeing as how I have a preternatural understanding of all things kimchi. It's almost as if this team and I were born in the same womb. Well, as you can see, and as Rudy put it, he basically Hershiser'd all over the place. Which I hear is legal in both Texas and Amsterdam. Go figure.
– I know I did this last post, but apparently there was a glitch in the Matrix, or what I also call Rudy's basement, so we're going to eyeball the the real top-five teams in transactions and see where they are in the overall standings.
– So this is me quoting me from last week's post: "I'm really curious about the effectiveness of transactions, activity, and how any of you with 40+ moves have a life. Living in your mom's basement cuddling empty Milano bags is not a life, if you were wondering. (That's so much projection, I should work at a movie theatre.)"  Boy, 40+… that was waaaaaaayyyy off. You guys are nuts. And not the good ones like dates. Because dates are actually fun sometimes. You get to drink, maybe have a make-out sesh if everything goes well. No, this is just plain nuts. 148? NIK @Nite… according to the math, that's an RCL transaction every 3.5 seconds. (I'm not good at math.) Since you're up 24/7 doing these moves, heads on a swivel bro, this is how Fight Club started. In conclusion, I'll ask the same question I did last week: Does it correlate yet? Fascinating, as the answer remains unchanged… I SEE A RESOUNDING 'MAYBE'.
The RCL #1
The RCL #1, which sounds like a RCL made for 2001: Space Odyssey (Grey notified me that RCL #1 isn't related to a space shuttle, but is meant to be said like The Iron Sheik.  RCL #1! RCL #1! RCL #1!), is the Friends & Family league that Grey created so we could all be his fantasy baseball punching bags. Actually, maybe not so much punching bags as mustache combs. Seems more Grey-ish to me.
Regardless, this league stars myself, Rudy, Tehol the Elder God, Prospector Scott, Nick the Podcast Host, and Sky… err, the Blue? We need to find you a better title buddy. But that's us, that's the family. Which, I can assure you, I'm already filing paperwork to gain emancipation. The friends are Dalton Del Don from Yahoo, Brad Johnson from FanGraphs, Ryan Carey of Mastersball, Paul Singman of Baseball Prospectus, and Tim McLeod of RotoRob.
The Standings: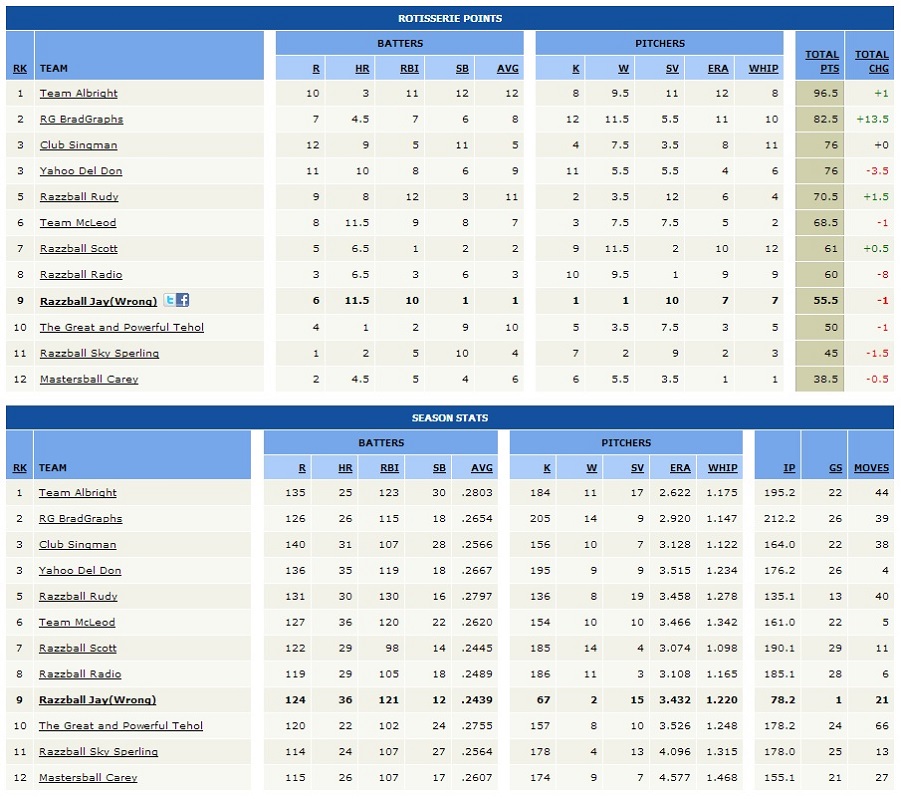 – It's Grey's world so far… we're just living in it. Needs more BBQ ribs if you ask me…
Want more of the Jay? Don't we all folks? Don't. We. All. Well, you, in fact, can have more. AMAZING. I know. You can find Jay enjoying his new dig's running the Football side of Razz.