Just kidding. I actually had Tommy John surgery while typing this. Because all the kids are doing it nowadays. It's so hip, Von Miller went to see Dr. Andrews before it was cool. So what's the deal here with all of these injuries? Is it the lack of steroids? HGH? Greenies? Cocaine? Naw, cocaine is still present in the game. How else do you explain Matt Williams' and Fredi Gonzalez's line-up cards? Either they're trolling us, or they're making it snow in their offices. What this post presupposes is, maybe it's both? Anyhow, let's take a gander at what's going on in your RCL universe. I say it's yours, because I think I'm the only person who has 10 teams, AND 90% of them are taking on water and sinking. Water from the tears that I cry when fantasy baseball goes wrong. OR from global warming. In which case, whew, I'm not a polar bear. So there's that, I guess.
The RCL Top 10
Why the top-10? Because they're the top-10 teams out of 1,000+? And that's pretty amazing? I'm Ron Burgundy? Simply put, they're the best of the best of the best, and I think they deserve a little bit recognition. BUT NOT TOO MUCH. Just a taste.
– That's right folks, I might not be in the top-10, or really, the top-50. Technically, I'm probably not in the top-750, which is easier than you think… but for what I lack in team power, I make up for in league power. Whatever that means. I have three fantasy players in the top-10 that are in my leagues (yes, I'm including the Razzball Writers League). So while I'm not physically near this list, more like a separate biosphere, well, I can be there spirit.
– Oh, and by-the-way, that Juuuuusst a bit outside team that's destroying the writers league? That's not even a contributor. Nope. That's the only non-contributor in the league, like a serene island of mischief and wonder. I may have just described the plot of Fantasy Island, but whatevs. His name is Brian, and he's the lead-mod of the Fantasy Baseball sub over at Reddit (where we Razzballers have been known to hang out). Here's what Brian told me when I reached out to him and made sure he had a handle on what he was doing and why he decided to do it against us… "Uhh… I'm in San Antonio for business right now, but… that's me… and that team blows… how did I manage that?" (First, you're lying. I've been to San Antonio. The only business that happens there is seeing the Alamo and figuring out why Tex-Mex exists. Second, it's still April. Let's leave the humble brags out of this for the moment.) "Make sure you pimp my prowess extra firm. Bourn, Crawford, Hunter, Ortiz, Alfonso, Prado, Haren, Peavy, Bartolo, Lackey, Ervin… back in '06 this would have been a hell of a squad…" (So, I'm not sure if this is pimping his prowess, but he does have a point. That team is ridiculous circa 2006. But it's 2014 and half that team is already receiving social security checks.)
– I want to point something out, Yu only YOLO once. You realize that's an acronym, right? So when I say your team name, it goes like this– "Yu only you-only-live-once once". Yes, I have an Eng/Lit degree, but no, I'm not specifically a Grammar Nazi, which I guess is good for the Pronoun Jews (HAHA, English humor… eh), but that sentence really wants me to pass out, ya know? It's something Yoda would say when drunk and high on 'shrooms. Also, Pro-tip: Probably don't mention your team name to any Hindu's.
The RCL Round-Up
– I know I did this last post, but I'm really curious about the effectiveness of transactions, activity, and how any of you with 40+ moves have a life. Living in your mom's basement cuddling empty Milano bags is not a life, if you were wondering. (That's so much projection, I should work at a movie theatre.) Just in case you were curious, and not a cat, because who wants to die, amiright? Rudy actually had a pre-season series (here, here, and here)  taking a look at the strategy of doing mass movements (HEHE) and what, if any, is the effect. Don't look at me for the answers, I suck at math, which might invalidate me as an Asian. But I'm only half, so I'm actually pretty good at parallel parking. That being said, here are the top-five teams based on transactions, and their current ranking. Does it correlate yet? I SEE A RESOUNDING 'MAYBE'.
– So, you might have thought I was exaggerating that my teams were sinking in the black abyss known as fantasy irrelevance, also known as Nick Punto's career, but I'm not. Not. At. All. I'm all for showing off my flaws, but I don't know… it takes something special, at least I think, to achieve complete and utter RCL collapse. I now hold the last team overall, out of 1000+. Behold, my work of art… (Just to give you context, I'm giving you the details on the team ahead of me, just to see how harrowing my team has been.) Ahem. (Sorry Team baucom… but misery loves company.)
| | | | | | | | | | | | | |
| --- | --- | --- | --- | --- | --- | --- | --- | --- | --- | --- | --- | --- |
| Rk | Team | PTS | R | HR | RBI | SB | AVG | W | Sv | ERA | WHIP | K |
| 1007 | Team baucom | 29.1 | 56 | 8 | 50 | 7 | 0.273 | 2 | 3 | 3.311 | 1.401 | 74 |
| 1008 | Talk About The Wrong Stuff | 27.1 | 65 | 6 | 44 | 10 | 0.225 | 1 | 4 | 4.059 | 1.217 | 93 |
Talk about nailing the team name…
– I've spent a lot of time taking care of both ends (that's what she said) of the RCL spectrum, but right now, I want to take some time to look at the most vanilla team the past three weeks of play. And that would be the team that is exactly in the middle of the overall standings. And that's the 504th placed team at the moment, Farquhar Or Fister from the RCL Flatpoint High. I see what you did there with your team name. Next time, try Kluber or Fister Furbush?. It does a better job of conveying what you are aiming for, but it's even more offensive. So, let's take a look at the vanilla team. No matter what, needs more fudge tracks…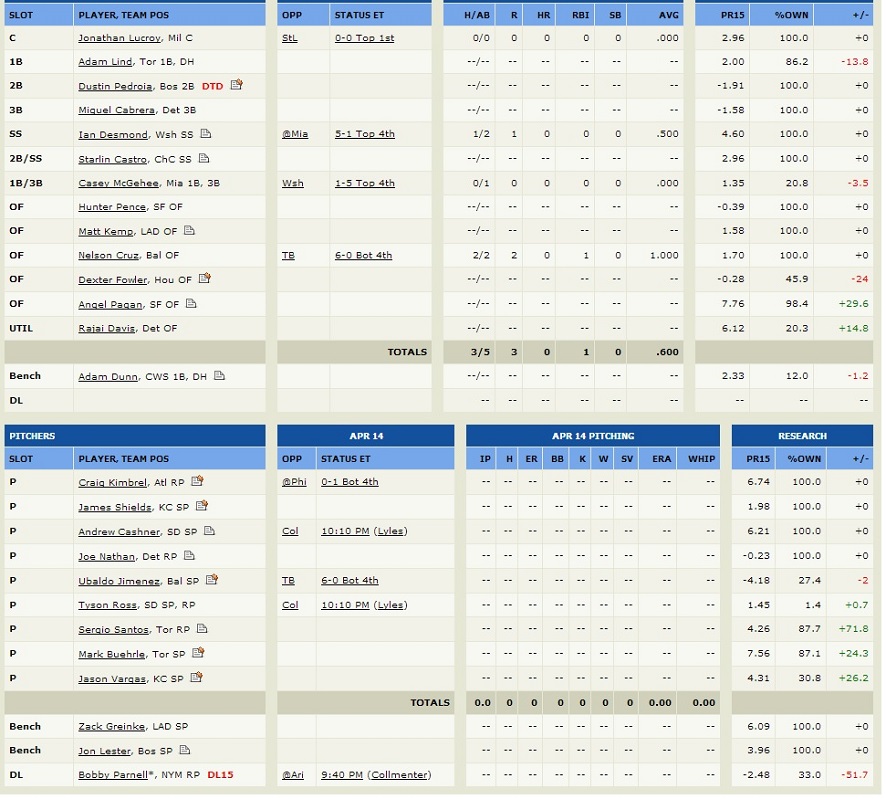 Yep, needs more fudge, like most things in life. Also needs more Mark Buehrle and Hunter Pence, but yeah, I see it.
The RCL #1
The RCL #1, which sounds like a RCL made for 2001: Space Odyssey (Grey notified me that RCL #1 isn't related to a space shuttle, but is meant to be said like The Iron Sheik.  RCL #1! RCL #1! RCL #1!), is the Friends & Family league that Grey created so we could all be his fantasy baseball punching bags. Actually, maybe not so much punching bags as mustache combs. Seems more Grey-ish to me.
Regardless, this league stars myself, Rudy, Tehol the Elder God, Prospector Scott, Nick the Podcast Host, and Sky… err, the Blue? We need to find you a better title buddy. But that's us, that's the family. Which, I can assure you, I'm already filing paperwork to gain emancipation. The friends are Dalton Del Don from Yahoo, Brad Johnson from FanGraphs, Ryan Carey of Mastersball, Paul Singman of Baseball Prospectus, and Tim McLeod of RotoRob.
The Standings: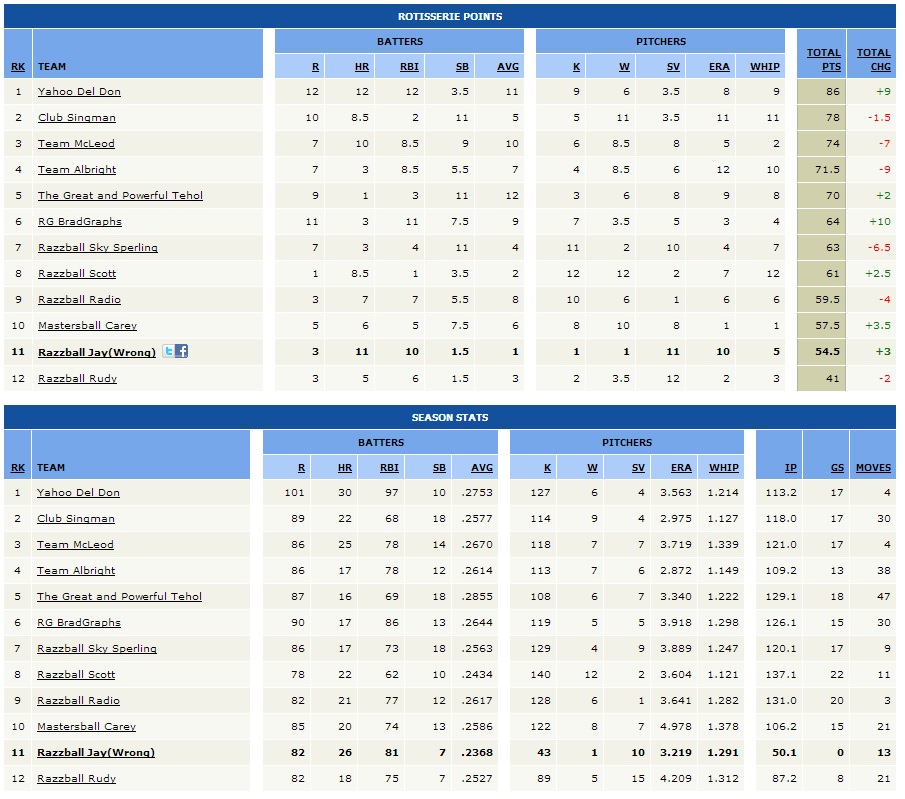 – Every time I see Del Don's team name, I always think of Yahoo the drink, and that it's in Spanish… actually telling me to wear it. Yeah, I'm weird.
– Hey, Grey, yeah, you. Pssst. I'm down here. Lower. LOWER. Yeah, that's me in 11th place. You may think you're safe. But I have Rudy working on some Calculus or something numbers and cosines with derivatives and whatnot. We're coming for you. (There's gotta be a better way to say that.)
Want more of the Jay? Don't we all folks? Don't. We. All. Well, you, in fact, can have more. AMAZING. I know. You can find Jay enjoying his new dig's running the Football side of Razz.