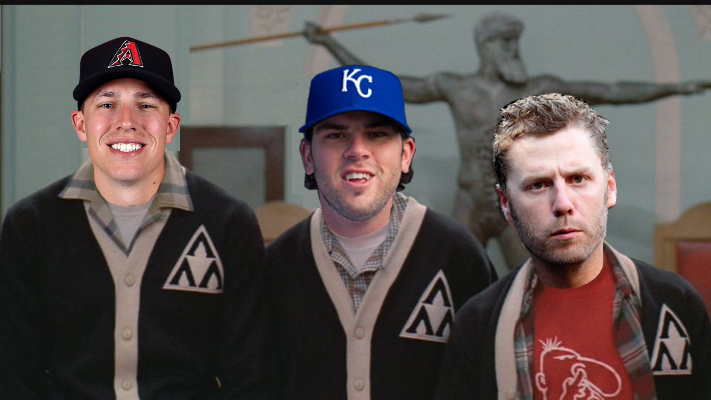 Clap your hands everybody, and everybody clap your hands. We're Lambda Lambda Lambda and Omega Mu. We come here on stage tonight to do our show for you. We got a rockin' rhythm and a hi-tech sound that'll make you move your body down to the ground. We got Jake Lamb on the violin, and Mark and Aaron will be joining in. We got Mike Moustakas on the mean guitar and a rap by little ol' me Nomar. We got Schebler beating on his gong, the boys and the Mu's are clapping along. And just when you thought, ya seen it all, along comes a Lambda four foot tall. So Altuve come on out here on the floor, so we can move our bodies, like never before. Break!
There's only one third baseman getting better grades than Jake Lamb at this point. That nerd is Nolan Arenado. But since he was a consensus first round pick, he's ineligible to pledge the Tri-Lambs. Jake Lamb has 16 home runs. Only fellow Tri-Lamb Mike Moustakas and Joey Gallo have more. His runs created stat is 48.9, which is better than every other 3B not named Kris Bryant. All that is great, but this is a post about points leagues. How does he stack up points wise? Lamb has 201 points. As I mentioned earlier, only Arenado (212) scored higher on his SATs. This makes Lamb the second best 3B YTD. And since he had an ADP of about 13 rounds later, one could easily make the argument that, all things considered, Lamb is the 3B MVP.
Gilbert: I met a girl.
Lewis: Gilbert, that is wonderful!
Booger: Big deal. Did you get in her pants?
Gilbert: She's not that kind of girl, Booger.
Booger: Why? Does she have a penis?
[Link to video]
Mike Moustakas pledged Lambda Lambda Lambda because, naturally, he loved Greek life. With 171 fantasy points he finds himself in the top five third basemen. His owners that drafted him in the 18th round are probably about as surprised as Stan Gable was when he lost his hot 80's girlfriend to a pocket protected geek. Moose has 18 home runs, trailing only Joey Votto, Logan Morrison, Ryan Zimmerman and Aaron Judge for the league lead.
Stan: What are you looking at, nerd?
Booger: I thought I was looking at my mother's old douche bag, but that's in Ohio.
[Link to video]
My apologies to any of you from Ohio. How about a guy from Kentucky. Mark Reynolds is a player that typically studies his ass off, only to strike out three times per game. But since joining the Tri-Lambs he has turned his outlook upside down. His 189 points are enough for sixth place amongst first basemen. Aside from Zimmerman, the rest of the 1B ahead of him were all early round draft picks. Zimmerman considered Lambda Lambda Lambda, but ultimately opted to remain neutral after being shunned by the Alpha Betas. Did I mention Reynolds batting average was above .300.
Lewis: There's 6,127 students at Adams, 58% of which are girls.
Gilbert: So?
Lewis: So, that's 7,107.32 boobs.
If Billy Butler went to Adams would that affect Lewis's calculation?
Stan: Those nerds are a threat to our way of life.
After a failed attempt to replace Corey Haim and join Corey Feldman to resurrect The Two Coreys, Corey Dickerson realized the Tri-Lambs were his best play. Since that moment, he has become a points league superstar. He has three more points in nearly exactly the same number of plate appearances as Jose Altuve. His 195 points make him a top seven outfielder. Eat your heart out Feldman! RIP Haim. Dream a little dream fellas.
We've got BUSH!
[Link to video]
[ROTN Part 2]
Said no fantasy owner of Matt Bush ever. Actually it was Booger that said that when the nerds' hidden camera mission hit pay dirt. He also repeated it in part two when he discovered a plant growing the devil's lettuce. Our last key pledges are Scott Schebler and Yonder Alonso. Both went largely undrafted (aka no other fraternity showed interest). Both have about 165 points (aka A students). And both have already set career highs in home runs (aka over achievers).
Coach Harris: You just got your asses WHIPPED, by a buncha goddamn nerds.
[Link to video]
Here are a few honorary Lambdas: Aaron Hicks, Travis Shaw and Nomar Mazara.
On a related note, here are the current standings for DFS Wars, which is a weekly DFS league I am in with 19 other talented individuals (aka experts).
Follow malamoney on Twitter at @malamoney