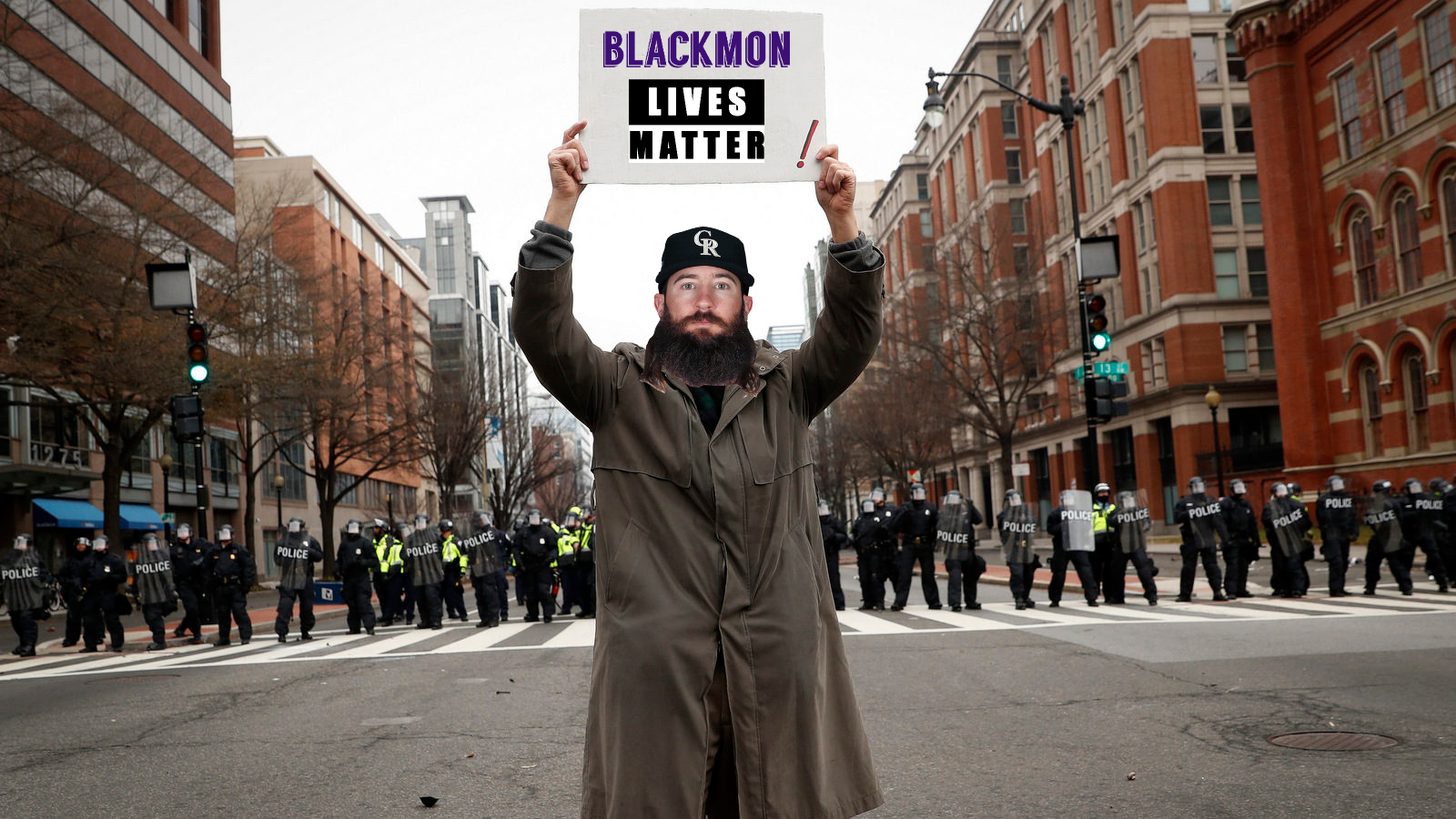 I considered titling this post "White Is Right", but I thought that even though it was paying tribute to Tyler White's emergence in points leagues over the last month it was still sure to stir the pot. Then I contemplated "Like White On Rice" where I'd talk about Tyler and Shohei Ohtani discussing fantasy baseball over dinner, but again I didn't want to ruffle any feathers. Wait a minute, who am I kidding, I love ruffling feathers. While I certainly want to talk about Tyler White, when looking at some of the most productive batters in the last three weeks Charlie Blackmon's name appears near the top of the list. That enabled me to go with the chosen title. Just to be clear, I love everyone. Well, almost everyone.
With that on the table, let's talk about Blackmon, which is nearly every male in Jamaica. As I sat down to write this post and I thought about Charlie, my initial reaction was that his season's been a disappointment. Upon further inspection, that hypothesis was mostly proven to be false. Here's why. Blackmon is a top ten outfielder with 383 points. How can you be a top ten OF and be a disappointment? The problem is that after finishing the 2017 season as the batter with second most points (of any batter), the expectations for 2018 were high. No, not Tim Lincecum high. In fact, his ADP was about 11, making him an end of the first round beginning of the second round pick. This is where he falls short and quickly encroaches upon disappointment territory. I would not be very happy if I drafted him at this spot. The next problem is that based on my preseason rankings I had Blackmon as the 13th player that should come off the board. That means that my rankings agreed with his ADP and that I essentially gave people bad advice with respect to Charlie. I apologize to those of you that drafted him. Just be glad you didn't draft Joey Votto.
In the last three weeks Charlie Blackmon has 70 fantasy points. So while he might not have performed as a first rounder all season, he is certainly stepping up to the plate when it matters most during the stretch run. But then again I guess that only matters if you own him and are still in contention. All that said, Blackmon has given us fourth round production, so to say he's been a disappointment wouldn't be all that fair. Blackmon points matter!
So who's been the most clutch over the last twenty-one days? Andrew McCutchen? I said "clutch" not "cutch". That would be Alex Bregman. Or as The Beatles would say "the Bregman, Goo goo g'joob". Or something like that. I certainly appreciate The Beatles, but I'm more of a Nine Inch Nails kinda guy. Bregman has 104 points during that span. Year-to-date he has 512 points. He doesn't want to breg or anything, but that's good enough for third best of all hitters. His ADP was round five. My rankings said round three. He's produced at a round one rate.
Right behind Bregman is Milwaukee's Christian Yelich. Sounds like a local religious group that talks loudly. Just don't come knocking on my door. Yelich cycled his way to 91 points. In leagues that give bonuses for cycles that number is even higher. Perhaps even higher than Bregman. I'm not a fan of bonuses, so I am reporting on the 91 point total. Yelich has eight home runs in the last three weeks. Joey Votto has 11 all season. He has a very realistic shot at a 30/20 season and his 428 points have him right about at the top ten overall hitters. Both his ADP and my rankings pinned Yelich as a late fourth round, early fifth round pick. He's been a second rounder. Next year he will be early/middle second round pick.
Speaking of 2019 ADP, I will be participating in a very early 2019 slow draft draft this week to help get some perspective on what we might come to expect in next year's drafts. I will report on it once complete. I have the 11th and 14th picks. I will certainly be targeting Bregman and Yelich. I'd love to grab Francisco Lindor, Manny Machado or Paul Goldschmidt, but I'm not sure they will still be there. Stay tuned.
So what about Tyler White. Here are his point totals over the last five weeks: 22, 13, 18, 35 and 16. That's an average of just over 20 points per week. He's got 11 already this week. This is exactly what you want during the playoff run. I dropped Ben Zobrist to pickup White three weeks ago. I do like what I've seen from Zobrist this year. He's been more than solid with 294 points (0.66 points per plate appearance) and while I do appreciate the value of his dual 2B/OF eligibility, I already had backups at both positions. White has 11 home runs and 35 RBIs in just 50 games. That projects to a 30/100 season. I wonder what his ADP will be in 2019.
I'm not exactly sure when it happened, but Anthony Rizzo has slid into a tie for most points at first base with Freddie Freeman. Both have 426 points. I'm guessing Rizzo's 89 points in the last three weeks helped him make that move. His ADP was late second round, my rankings said end early second and his play dictates mid second.
Last, and certainly not least, Ronald Acuña has 77 points that I think have propelled him past Juan Soto for the National League Rookie of the Year Award. What I'd like to point out is Acuña's 281 points in just 93 games. Expand that across 150 games and you have about 453 points. Over 135 games he'd have about 407 points which would currently sandwich him between Paul Goldschmidt (418 points) and Michael Brantley (402 points).
If Stephen Piscotty is for some reason on your waiver wire and you are still in contention, stop what you are doing and pick him up. His point totals for the last three weeks have been 30, 31 and 23. Pick Scotty!
Javier Baez has certainly had a breakout season, but I feel that for some reason not many are giving Trevor Story the credit he deserves. Look at his numbers, they are almost identical to Baez. So whatever praise we are giving to Baez should also be given to Story. When asked for a comment Trevor replied "it's the story of my life".
Damn you Corey Kluber and your -2 points in this week of all weeks. And now you lose your second start. Maybe he can fill Haim's spot in and they can revive My Two Coreys!
Good luck to everyone still battling it out in the playoffs. May victory be yours.
Follow malamoney on Twitter at @malamoney