The big fellah is back!  And um, I don't mean me…
In one of my most anticipated starts in the past few months, James Paxton returned from the DL, immediately unleashed back into the Mariners rotation.  No Taijuan Walker waffling for you!  Paxton looked dreamier than my Andrew Heaney [what turned out to be] nightmare in his first two starts way back in April, flashing high-90s heat with an unhittable breaking ball.
The big Canadian had some bumps on Saturday (spoiler alert!), including a comebacker off the leg and said he wouldn't be very Canadian if he left.  Super Canadian!  Dudley Do Right!  Sporting a huge maple leaf tattoo on his forearm, I think his blood type is syrup.  Bring me those Taijuan Walker waffles!
I've pushed Paxton hard in the ranks the past month, so I decided to break down his return pitch-by-pitch to see how much I think he can contribute in the final two months:
First Inning: Paxton's first pitch back in the Majors is a 93 MPH fastball to Nick Markakis off the plate.  1-0 94 fastball is in the dirt outside, 2-0.  He's got an uber-smooth delivery but missing early.  Then he ramps up 95 MPH on the outside corner for strike one, 95 is low, then 95 again that looked good to me at the knees is called a ball for a leadoff walk.  Not a great start, but shaking some rust.  First two pitches were bad, but he's looked good past that.  Manny Machado takes 95 low and in, 94 is in there – all fastballs so far – then his first off-speed is a hanging change-up on the inside edge and it's ripped down the third base line for a double.  Markakis moves to third, and it's early trouble.  Up is Adam Jones who I guess sat dead red fastball and looked ridiculous on Paxton's first curveball.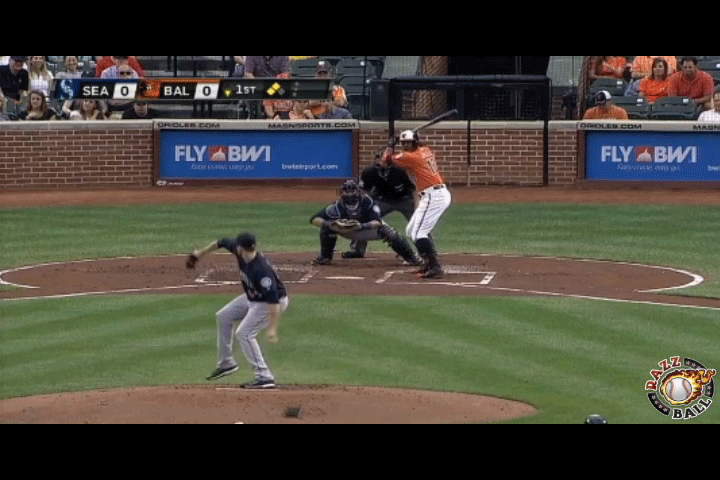 Whew-ee!  Then a fastball on the hands at 96 gets a weak grounder to Robinson Cano, and it's so slow that Cano can only get the out at first.  So a run in for the Orioles, one out – runner at third, and Nelson Cruz takes a 95 MPH fastball for a strike, and then Paxton's second curveball at 83 makes Cruz look equally ridiculous.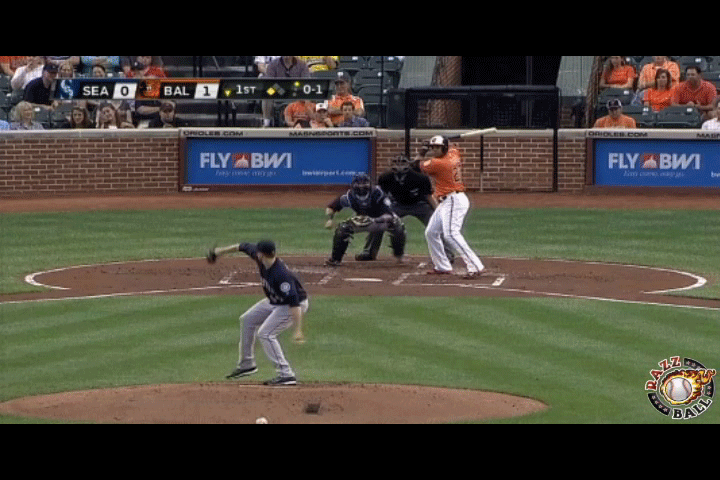 Oh man, those were the first two curves of the game!  Plus up at 96 already with the fastball.  Drool.  Then 83 curveball again, it hops into Jesus Sucre's mitt as Cruz swings through it missing by a foot and it's a huge three pitch K against one of the league's best hitters this year.  Wow.  Fastball at 95 is perfect on the outside lower corner for strike one on Delmon Young, curveball is dribbled foul, another curve fouled off, 96 MPH fastball is slashed foul into the first base camera well, still 0-2 and curve is low, change-up at 87 is spiked at about 57 feet 2-2 – great save by Sucre or else Machado scores – another change is spiked to make it full, and the 8th pitch of the AB is a curveball at 83 that just dies into the dirt and gets Young swinging.  What a bounce back from Paxton even though he has no feel for the change-up right now.
Second Inning: Despite a long inning and the Mariners getting the bases loaded, Paxton is still down 1-0 and starts J.J. Hardy with a fastball way inside and in, then is barely low, 2-0 fastball gets the outside corner at 93, 93 again is right down the middle but taken, then 96 in a perfect spot at the knees on the outside corner gets chopped to short, but Chris Taylor charging in throws it away despite making a clean pick.  It wasn't hit hard, and the BS home field scorer gives Hardy a hit even though if the throw was on the money he was out by a step.  Paxton pitched well that AB even using only fastballs, but gets screwed.  Fastball at 95 is way high to Steve Pearce 1-0, I hope Paxton isn't going to overthrow now, but 93 is right back at the knees to even it up 1-1.  Again at the knees at 95 is fouled off, 96 outside is fouled off, then yet another change-up is spiked to make it 2-2.  Really has nothing with that pitch at all.  Then Paxton sort of lackadaisically throws a pickoff to check Hardy – it was one of those slow motion throw overs not a fast pickoff move – and it's way off the mark moving Hardy to second on Paxton's error.  That was no bueno.  Curveball bends low and inside on Pearce to make it 3-2, fastball at the letters fouled, fastball outside pulled on the ground foul, and finally a fastball is grounded to third to get the first out.  First pitch fastball to Caleb Joseph at 95 is rocketed back to the mound, and if you read the intro, this is the one that pounds Paxton on the back of the leg – maybe bottom of the hamstring – but the big Canadian takes it like a cross check and makes the play at first.  Hard contact there, Paxton obviously feels it, but after some practice tosses is ready to go.  Two outs, and a first-pitch curveball is hung outside for ball one to Jonathan Schoop, 96 on the hands fisted foul, 95 low, 96 low and inside, and 96 again is low and inside for a walk.  That last pitch wasn't awful and was closer, but definitely a ball.  Runners at the corners in what has turned into a really long inning, and after a quick meeting on the mound Paxton throws a perfect 96 MPH fastball to get ahead of Markakis, 0-1.  93 is a smidge low, curveball in the dirt, 96 is in there, then 91 on the outside corner – seemed like maybe a cutter, it would've been his slowest fastball – is looped to left and looks like a single, but Dustin Ackley charges in and catches it sliding towards the infield.  Great play there and it hung up just enough.
Third Inning: The Mariners tie it up, and after two pretty eventful innings, Paxton is ready for a quickie (who isn't?!).  94 is perfect on the outside black to Machado 0-1, definitely a cutter at 91 bends to the knees to get up 0-2, but a curveball at 82 is hung in the top of the zone and Machado hits it well to right center for an easy single.  Might have been Paxton's worst pitch thus far – at least the most hittable.  95 is low to Adam Jones, 96 is barely low 2-0, 94 on the inside third is absolutely rocketed foul down the third base line, then 95 on the inside lower black is grounded to short for a tailor made double play.  That was as easy as they get, and it's two outs.  97 runs inside and high to Cruz, wow – 96 on the knees looks perfect but I guess is called low 2-0 – 97 on the hands eats Cruz up for a tip foul, and Paxton really finding the velo now.  Sheesh, 98 that looked perfect on the inside corner is called a ball (98 though!), 97 on the outside corner is fouled back, then here comes the cheese – 98 on the outside corner is swung through and missed for Paxton's second strikeout of Cruz – this time on all fastballs.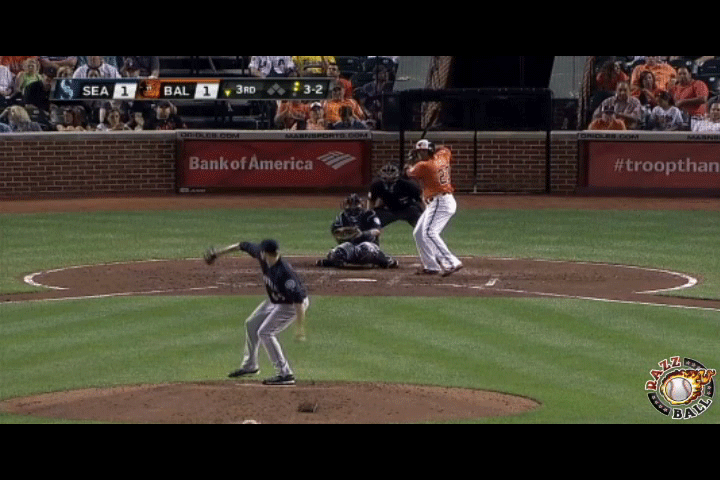 How smooth is that delivery for 98!  Somebody tell Yordano Ventura that high-velocity fastballs can be thrown low-intensity!
Fourth Inning: Still a 1-1 game, and Paxton is low to Young, then a cutter in the upper black is grounded weakly to short, two pitches one out.  Paxton needs a bunch of those.  Hardy takes a perfect fastball at 96 on the knees, cutter way inside evens it up, zone pounded again at 95 1-2, then Paxton hits 98 on the gun again in a perfect spot barely off the outside black, 2-2.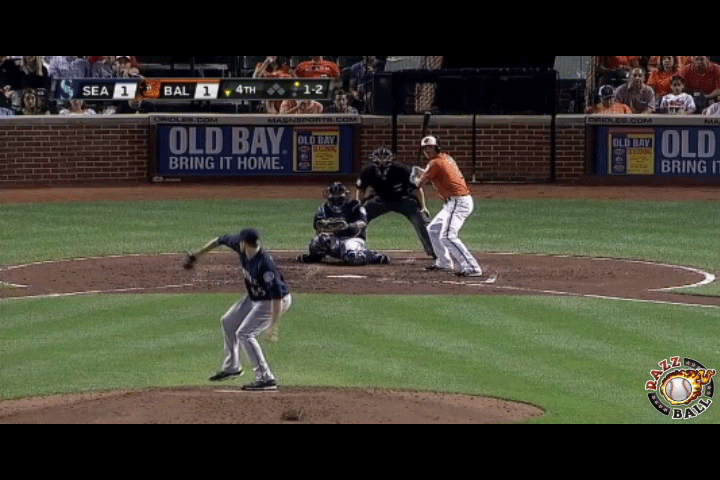 Perfect location up 1-2.  Then I'm breaking my usual four-GIFs rule to show you the follow up pitch, an 83 MPH curveball that looks like it starts in the same spot, and gets Hardy looking silly swinging at it for Paxton's 4th K.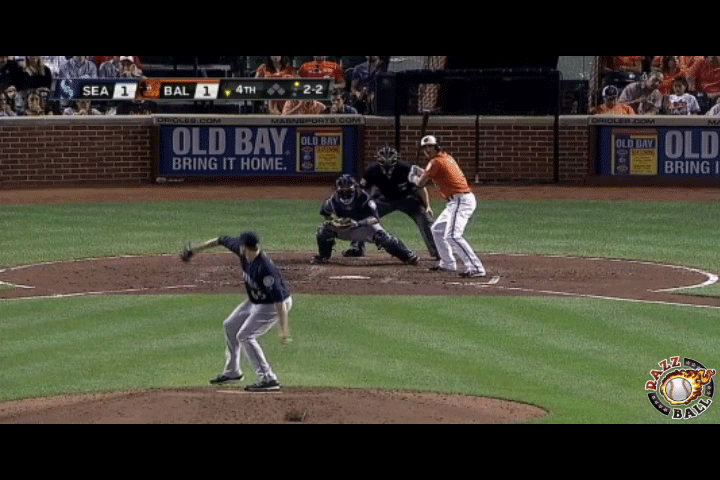 Nasty – he gone gone chasin' waterfalls!  96 at the letters is fouled back by Pearce, 98 low, whew 97 on the outside edge barely nipped foul, great curveball that would've bent in the zone is tipped foul – that started way high and outside and dropped in – then another curveball with a similar break goes a few inches lower and Pearce swings through it for K number 5.
Fifth Inning: Already at 71 pitches, Paxton hits the outside edge at 94 for strike one on Joseph, cutter at 90 dips low, 95 outside, then 95 again is a fastball that runs across the plate from down the middle to slightly inside, and Joseph rips it for a homer barely fair down the left field line.  Awesome hitting there – it was a laser and could've easily bent foul and might've stayed in the park in Safeco.  Hoping to rebound, Paxton gets 96 in there to Schoop, fastball again low, heater again at 96 on the lower part of the plate and inside gets an easy grounder, one down.  Cutter is in there to Markakis, then a curveball is hung and almost hits Markakis in the head.  Might be the end of the line.  But maybe not as 97 looked perfect on the outside corner but called low – good to see the high velocity late – 96 is just off the plate, then 95 is skipped in the dirt on the outside edge and Paxton's third walk of the night is his last batter and he's taken out.  But a great outing, and very encouraging.
Final Line:  ND  4.1 IP  83 Pitches (48 Strikes)  2 ER  4 Hits  3 Walks  5 K  Gamescore: 49  Gamescore+: 58
Final Analysis: The end line wasn't all that encouraging.  Sure the Ks are nice, but obviously you want your starters going deeper and the walks were sadface.  However, after really breaking down this start, I'm more encouraged than I thought I'd be.  The first inning had some early trouble to fight through, Hardy got a home-field scorer aided single that should've been an out and prolonged an inning, and he got stung hard by a comebacker in his hamstring yet still built up higher velocity afterwards.  Since my Gamescore+ bears no weight on how deep a starter goes (the original Gamescore awards two points per inning completed after the 4th), plus the really unlucky hit along with nice Ks, Paxton scored favorably in my Gamescore+ calculation.
It obviously all starts with the fastball, usually around 95 but he ramped it up to 98.  And it's a smooth delivery fastball too – I think adding to the deception of its speed.  I want to mention here that a few weeks ago I had some good banter with commenter goodfold, where he disagreed with my thought that smooth mechanics doesn't equate to lesser injury risk as opposed to unconventional mechanics.  Paxton looks really low-stress with those monster fastballs, but we've already seen him miss over three months straining his lat.  So I do worry a bit about another injury given how hard he's throwing and we've seen him hurt before.  But back to his arsenal, Paxton also threw a handful of cutters at 90-91; while not the most consistent, they'll definitely help him keep hitters off the heat.  Paxton just had nothing with his change-up though in this start.  All were at 87 and one was hung to Machado for the first-inning double, then I think the 4-5 after that were spiked at 57-58 feet.  He hasn't used them often through his first three outings this year, but hopefully he can re-find that one.  Then it's to the monster secondary pitch – that ridiculous curveball.  With huge 10/11 t0 5/4 break, it sweeps across the zone at around 83 for a very powerful putaway bender.
Standing 6'4 220 (according to his player card, definitely looks like he ate a few extra poutines while injured), Paxton is a monster out there and looks taller too.  I love the low-stress delivery, not because of perceived lesser injury risk but because of the deception of his fastball velocity.  It looks like he's lumbering in there and next thing you know 98 zips past you.  Pitching in one of the Majors' best pitcher parks, I'm all in on Paxton and he'll be a major sleeper for me next year.  I think he's an obvious must own, and really excited to see how he closes out the season.  I'm not worried about an innings limit given his time off, but I am a little worried he gets babied and shut down if he has any health issues – no matter how minor.  As much as I wanted to move him to the high-30s (he still cracked my top 40), he's looking like a monster under-the-radar asset in dynasties.
JB's Updated Top 100 SP
(rankings based on 12-team Roto, and from this point to the end of season – green for risers, red for fallers.  New indexing key – IL = innings limit concern, WD = wear down concern)
| | |
| --- | --- |
| RANK | SP, TEAM |
| 1 | Clayton Kershaw, Los Angeles Dodgers |
| 2 | Yu Darvish, Texas Rangers |
| 3 | Felix Hernandez, Seattle Mariners |
| 4 | Chris Sale, Chicago White Sox |
| 5 | David Price, Detroit Tigers |
| 6 | Adam Wainwright, St. Louis Cardinals |
| 7 | Johnny Cueto, Cincinnati Reds |
| 8 | Madison Bumgarner, San Francisco Giants |
| 9 | Max Scherzer, Detroit Tigers |
| 10 | Zack Greinke, Los Angeles Dodgers |
| 11 | Cole Hamels, Philadelphia Phillies |
| 12 | Stephen Strasburg, Washington Nationals |
| 13 | Jon Lester, Oakland Athletics |
| 14 | Corey Kluber, Cleveland Indians |
| 15 | Hisashi Iwakuma, Seattle Mariners |
| 16 | Scott Kazmir, Oakland Athletics (WD) |
| 17 | Julio Teheran, Atlanta Braves |
| 18 | Jordan Zimmermann, Washington Nationals |
| 19 | Jake Arrieta, Chicago Cubs (IL) |
| 20 | Garrett Richards, Los Angeles Angels (WD) |
| 21 | Jeff Samardzija, Oakland Athletics |
| 22 | Alex Cobb, Tampa Bay Rays |
| 23 | Gio Gonzalez, Washington Nationals |
| 24 | Mat Latos, Cincinnati Reds |
| 25 | Homer Bailey, Cincinnati Reds |
| 26 | Sonny Gray, Oakland Athletics (WD) |
| 27 | Tyson Ross, San Diego Padres (WD) |
| 28 | Alex Wood, Atlanta Braves |
| 29 | Anibal Sanchez, Detroit Tigers |
| 30 | Hyun-Jin Ryu, Los Angeles Dodgers |
| 31 | Tim Hudson, San Francisco Giants |
| 32 | James Shields, Kansas City Royals |
| 33 | Justin Verlander, Detroit Tigers |
| 34 | Jered Weaver, Los Angeles Angels |
| 35 | Doug Fister, Washington Nationals |
| 36 | Rick Porcello, Detroit Tigers |
| 37 | James Paxton, Seattle Mariners |
| 38 | Jose Quintana, Chicago White Sox |
| 39 | Chris Archer, Tampa Bay Rays |
| 40 | Yordano Ventura, Kansas City Royals (IL/WD) |
| 41 | Wily Peralta, Milwaukee Brewers |
| 42 | Lance Lynn, St. Louis Cardinals |
| 43 | Tanner Roark, Washington Nationals |
| 44 | Marcus Stroman, Toronto Blue Jays (IL) |
| 45 | Kyle Lohse, Milwaukee Brewers |
| 46 | Zach Wheeler, New York Mets |
| 47 | Jesse Hahn, San Diego Padres (IL) |
| 48 | Wade Miley, Arizona Diamondbacks |
| 49 | Kevin Gausman, Baltimore Orioles (IL) |
| 50 | Ervin Santana, Atlanta Braves |
| 51 | Jacob deGrom, New York Mets (IL) |
| 52 | Alfredo Simon, Cincinnati Reds |
| 53 | Francisco Liriano, Pittsburgh Pirates |
| 54 | Mark Buehrle, Toronto Blue Jays |
| 55 | Jake Odorizzi, Tampa Bay Rays (WD) |
| 56 | Ryan Vogelsong, San Francisco Giants |
| 57 | Collin McHugh, Houston Astros |
| 58 | Yovani Gallardo, Milwaukee Brewers |
| 59 | Dallas Keuchel, Houston Astros |
| 60 | Matt Garza, Milwaukee Brewers |
| 61 | Danny Duffy, Kansas City Royals (IL/WD) |
| 62 | Mike Leake, Cincinnati Reds |
| 63 | Tim Lincecum, San Francisco Giants |
| 64 | Andrew Cashner, San Diego Padres |
| 65 | Jimmy Nelson, Milwaukee Brewers |
| 66 | Mike Minor, Atlanta Braves |
| 67 | Trevor Bauer, Cleveland Indians |
| 68 | C.J. Wilson, Los Angeles Angels |
| 69 | Ian Kennedy, San Diego Padres |
| 70 | Hiroki Kuroda, New York Yankees |
| 71 | Drew Smyly, Tampa Bay Rays |
| 72 | Phil Hughes, Minnesota Twins |
| 73 | Aaron Harang, Atlanta Braves |
| 74 | Shelby Miller, St. Louis Cardinals |
| 75 | Dillon Gee, New York Mets |
| 76 | Jake Peavy, St. Louis Cardinals |
| 77 | Henderson Alvarez, Miami Marlins |
| 78 | Bartolo Colon, New York Mets |
| 79 | Jason Hammel, Oakland Athletics |
| 80 | R.A. Dickey, Toronto Blue Jays |
| 81 | John Lackey, St. Louis Cardinals |
| 82 | Danny Salazar, Cleveland Indians |
| 83 | Jon Niese, New York Mets |
| 84 | Matt Shoemaker, Los Angeles Angels |
| 85 | Michael Wacha, St. Louis Cardinals |
| 86 | Nathan Eovaldi, Miami Marlins |
| 87 | Drew Hutchison, Toronto Blue Jays (IL) |
| 88 | Tom Koehler, Miami Marlins |
| 89 | Chase Anderson, Arizona Diamondbacks (IL) |
| 90 | Rubby De La Rosa, Boston Red Sox (IL) |
| 91 | Jason Vargas, Kansas City Royals |
| 92 | Charlie Morton, Pittsburgh Pirates |
| 93 | Gerrit Cole, Pittsburgh Pirates |
| 94 | Tyler Skaggs, Los Angeles Angels (WD) |
| 95 | Roenis Elias, Seattle Mariners |
| 96 | Chris Tillman, Baltimore Orioles |
| 97 | A.J. Burnett, Philadelphia Phillies |
| 98 | Josh Beckett, Los Angeles Dodgers |
| 99 | Clay Buchholz, Boston Red Sox |
| 100 | Jeff Locke, Pittsburgh Pirates |
Dropped Out: Cliff Lee, Philadelphia Phillies (elbow), Jesse Chavez, Oakland Athletics (bullpen after trade fest 2014), Odrisamer Despaigne, San Diego Padres (why he was barely cracked in!)
Whew, fun time!  Trade deadline certainly shook up SP more than any other position.  Break up the A's!
Gloat time!  Kluber!  Porcello!  Anyone remember the comments when I was pumping those two hardcore in May last year?  Schweet.
Un-gloat time!  Remember when I had Strasburg #3 beginning of the season?  Oops.
I had a great comment last week comparing Brandon McCarthy and Justin Masterson.  Neither are in my top 100 still – not enough trust even with Masterson moving to the NL.
Geez is Tyson Ross on a roll.  Still gets a WD [40!] as he's well over a career-high in ML innings.
Wow, did the Tigers absolutely chew up the Rockies!  David Price hasn't even debuted yet!  Nice to see some Ks and a dominant outing from Anibal; wish I didn't move him down that drastically last week.
Six walks from Duffy and now 11 in his last three.  Like Ross, he's at a career-high in innings in the Majors and if he keeps struggling with his control, I could see the Royals shutting him down if (when) they're out if it.
Speaking of walks, Ian Kennedy now with 5 in each of his last two starts, and 17 in his last four.
Gerrit Cole's bullpen session didn't sound like it went well and he's still without a timetable. I think he'll be back before Wacha, but he certainly doesn't have the upside when both are on the bump.
Lord help me, but Garza has been awesome since the beginning of June in all but the one start at Washington when I was in attendance.  I'm the Graza hex!
All out on Minor, but even so, it's hard to move him lower even with his next start being skipped.  The pitchers once you hit the Lynn through Wheeler group all have issues.
Dost thou share my Paxton love?  Thoughts on the ranks?  As always, fill out all comments/criticisms in form 108-B and happy pitching!