So I forgot to throw it in last week, but I was thinking to myself, "what are some baseball 'catch phrase' calls I would make if I were a broadcaster?"  If a batter chased a breaking ball, I would exclaim "and he's gone gone chasin' waterfalls!"  Hmmmm, what would my home run call be… I need some ideas here!  I know the Dodgers need a replacement play-by-play guy next season…
Then to the profile for today, and I wasn't sure where I was going to go.  Chris Archer seemed a good fit since he's underperformed, but I did break him down once last year.  Then in my "aha" moment of the weekend, I remember my gone gone chasin' waterfalls bit and noticed Chase Anderson was set to make his MLB debut!  It's like the baseball gods are talking to me!  Thanks for the title, Shoeless Joe. (If a pitcher you'd like to see for next week's Profile pitches next Sunday, please remind me and throw in a comment on Sunday or tweet me @jbgilpin – I will take requests!  But I do like to keep it to guys pitching on Sunday.)
With an injury-plagued first three years as a pro, Anderson seemed like a dooming last name for a starting pitcher (see, Brett).  Chase finally got himself through a big chunk of work in 2012, pitching pretty well in 104 AA innings, then was limited to only 88 innings in 2013 and was awful in AAA.  But just like Robert Downey Jr., he's done with Anne Heche and ready for a comeback! (way to stay topical, JB…)  Anderson started this season breezing through AA with a dazzling 39 innings to the tune of a 0.69 ERA, 0.72 WHIP, and 38 Ks.  Sure he's already 26, but the injuries have held him back and he finally got his MLB debut yesterday against the White Sox.  I decided to check it out and break it down to see if anything's there for spot-starting or a deeper league stache [sic]:
First Inning: Anderson's first Major League pitch is a pretty nasty 92 MPH two-seamer that tails back into the zone for strike one to Alejandro De Aza.  Fastball at 93 is inside, another at 93 is ripped foul down the first base line, then at 94 is ripped hard close to the same trajectory, but it's fair and right into Paul Goldschmidt's glove.  A pretty hard hit out, but an out indeed to start his career.  93 is in there to Gordon Beckham, 93 just outside, and Anderson's first off-speed is a great looking 79 MPH curveball diving low.  Back up to 94 and it's a lazy fly to right.  Two down, and Conor Gillaspie takes a fastball for strike one, curveball is outside, then Anderson's first change-up tails outside, 2-1.  The Diamondbacks crew praised that change-up, so I'll be closely looking at that one.  And he goes right back to it, 84 MPH at the knees and Gillaspie fouls out in front of the dugout for a very impressive 1-2-3 debut inning for Anderson.
Second Inning: After a clean inning to begin his career, he now has to face Jose Abreu who fouls off the first-pitch fastball.  Another fastball is looped to left, and it drops in for a hit, but Abreu on a bum-ish ankle tries to go to second and is thrown out.  Not bad for your first career hit given up, he's out right away!  One down, and Adam Dunn fouls it back, 93 MPH fastball is outside, 93 again is in there, then that change-up with a ton of movement breaks outside, 2-2.  Anderson goes back to the change, and that one at 83 is nasty and gets Dunn gone gone chasin' waterfalls.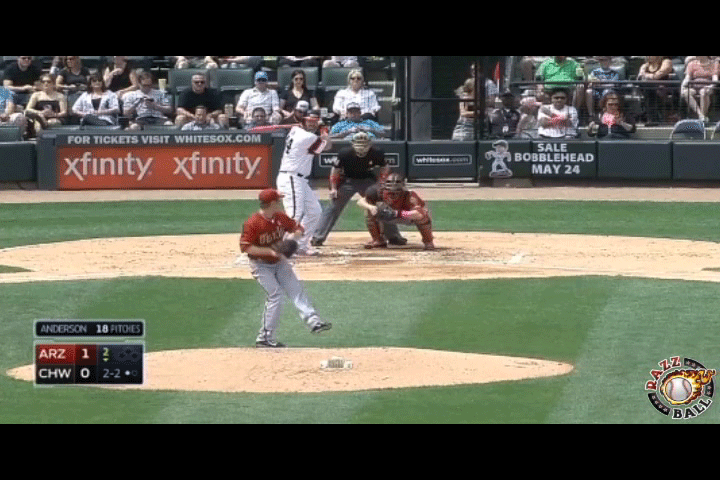 Dayan Viciedo takes a curveball for strike one at 78, fastball outside, fastball in the zone is fouled out of play, then the 1-2 curveball just dies into the dirt and gets Viciedo gone gone chasin' waterfalls to end the inning.
Third Inning: Six up and six down (albeit giving up a hit), and Anderson starts Alexei Ramirez with a curveball that stays outside, then nasty, and straight up NASTY, change-up at 81 gets a huge swing-and-miss, 1-1.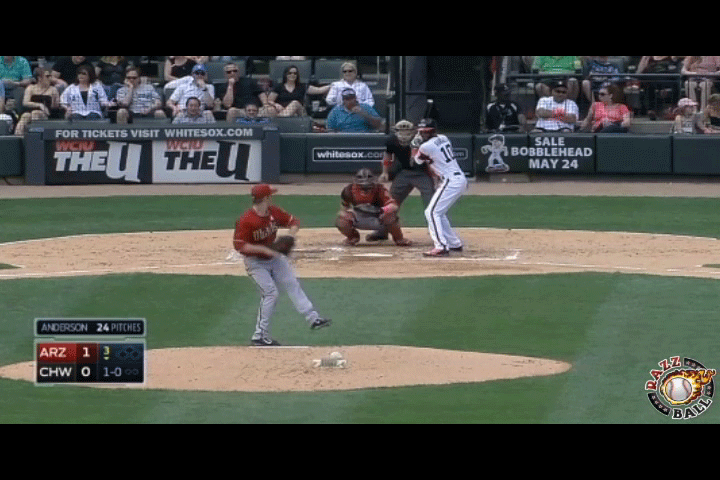 Two-seamer eats up Alexei on the hands for a foul, 1-2, fastball way outside, then another fastball at 92 gets a late swing, struck him out.  Ramirez must have been looking change, and Anderson is mixing his stuff well.  First pitch to Moises Sierra is fastball weakly grounded right to Anderson for a one-pitch, easy second out.  93 MPH fastball gets the outside black on Tyler Flowers, fastball again is fouled off, the 0-2 fastball is high, change-up is grounded foul past third, then change-up at 82 drops in there, tailing from off the plate into the bottom outside black for a perfectly placed strike three on the call.  Impressive stuff.
Fourth Inning: The D'Backs brought up a graphic late last inning that in the entire series, the White Sox are 1-27 the first time through the order this series, with the only hit Abreu's single.  Way to jack it up, Anderson!  But he redeems himself with an awesome quote from his pre-game interview they just aired, with him responding to what it's like in the Big Leagues by saying, "it's like being at Wal-Mart and taking anything you want!"  Awesome.  So Anderson starts his second turn through the line-up with a nice 91 MPH two-seamer with great sinking movement that gets strike one swinging on De Aza.  De Aza then tries to bunt but taps the change-up foul, fastball stays high, another heater inside, then an 82 MPH change-up with huge sink on the outside corner dipping low gets De Aza gone gone chasin' waterfalls.  Another dandy.  First-pitch curveball is pulled hard foul by Beckham, change-up gets Beckham way out in front and popped foul, fastball outside, two-seamer gets on Beckham's hands for another foul, then fastball again gets a lazy flyball to right for the second out.  First pitch to Gillaspie is a curve, and it's topped weakly right to Goldschmidt who takes it himself for the third out.
Fifth Inning: Anderson starts Abreu with a nice first-pitch curveball at 77 that looked like a strike, but I guess it's called inside, 1-0.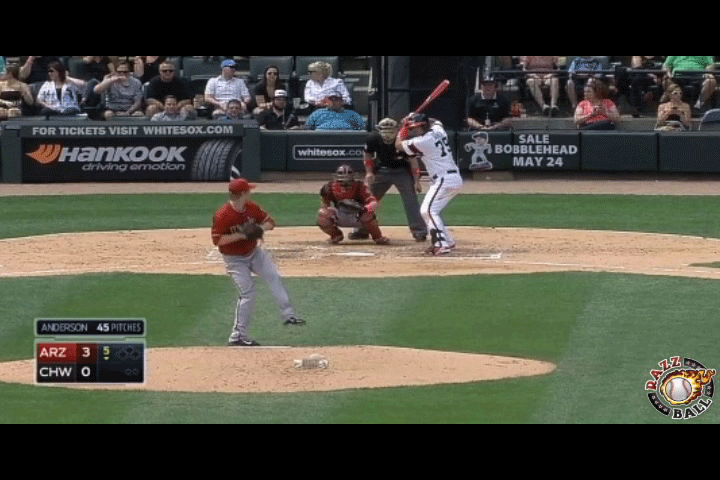 If he can throw first-pitch hooks like that consistently (assuming he gets strike calls), he'll be pretty nasty.  Then change-up drops in there, two-seamer barely misses the outside corner, then a fastball is grounded weakly to short, one down.  Dunn taps the first-pitch fastball to Goldschmidt really weakly, Anderson covers quickly and is there in plenty of time for out number two.  Fastball is high to Viciedo, then gets back-to-back heaters in there, followed by a change that gets Viciedo way out in front but popped out of play, still 1-2.  Then change-up again, with that sink and tailing action – not to mention just dying before getting to the plate – gets Viciedo way in front and gone gone chasin' waterfalls for Anderson's 6th K.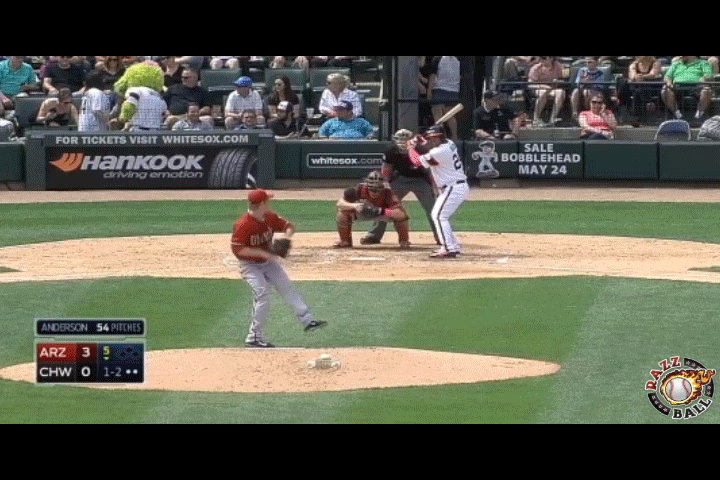 Sixth Inning: An incredible start for Anderson, who through 5 innings has faced the minimum needing only 55 pitches.  Really eye-opening stuff.  First pitch to Ramirez is an 80 MPH change-up that floats too high, but Ramirez still tries to hit it and misses, 0-1.  Fastball is inside, then another heater is lined pretty hard to right for the first out.  That was by far the best contact since the Abreu single then throwout to start the second.  Anderson gets a fastball in there for strike one on Sierra, another heater is chopped foul, curveball at 80 goes into the dirt, change-up at 82 that was a good foot outside gets Sierra to chop it foul fighting it off, still 1-2.  Back to the heater is fouled back, two-seamer at 91 runs too far inside, fastball is looped just foul past third, still 2-2.  A really good curveball at 78 gets barely tapped back foul, change-up at 82 is chopped foul, still 2-2 through 9 pitches.  Change-up fouled again, fastball is way outside, full count.  And the payoff change-up, the 12th pitch of the at bat, doesn't break too much just off the outside corner, and Sierra is able to barrel it up for a home run.  Sierra had to reach for it, but since he locked onto it being a change-up, he was able to center on it.  Out comes pitching coach Mike Harkey for a chat, and then Anderson starts Flowers with a curveball low and outside, then fastball way outside by a couple feet, and a bad start 2-0.  Change-up dips barely low, then Anderson loses him with a fastball just outside for a four-pitch walk.  And with that, Anderson's near-perfect debut is over.
Final Line:  W  5.1 IP  74 Pitches (49 Strikes)  1 ER  2 Hits  1 Walk  6 K  Gamescore: 66   Gamescore+: 67
Final Analysis: Tough to argue the results!  I don't think anyone could've expected a debut like this, and it assured Anderson another start or two at the very least.  The White Sox are a good offense these days, and in a hitter-friendly park, adding to the impressivenes… Impressivetude?  I dunno… Anyway, with the nice Ks, Anderson scored favorably in my Gamescore+ calculation, also accumulating a lot of weakly hit outs.  It sucks Anderson had such a long battle with Sierra, as that 12-pitch at-bat was as many pitches as he threw in any of the first five innings!  Crazy.  Then the four-pitch walk afterwards was his only free pass.  Hopefully if he gets a long run in the rotation, he can pitch deeper and more effectively late (well, he'll have to if he wants to stay…).
Starting with the fastball, it ranged 90-94 (usually in the upper edge of that) both with the four-seam and two-seam.  The two-seamer had a lot of run at times, but combined his fastball is ML-average.  The bread-and-butter is obviously the change-up.  Ranging from 80-84, it's a perfect velocity to mix with his heater with a ton of movement.  5 of Anderson's 6 Ks came on the change (4 swinging, one looking), but also cost him the solo homer as his only blemish.  Then the curveball from 77-80 had some really good movement and I would've liked to see a few more, but it's not the same level as the change-up.
The 2013 numbers in AAA at face value are alarming, but as the broadcast pointed out, they yo-yoed him in and out of the Reno rotation with 26 appearances and only 13 starts.  Plus Reno is in the PCL as one of the best hitter-friendly parks and Anderson had a tough-luck .350 BABIP and ridiculous 58.9% LOB.  If anything, he got to experience some rough outings and it was very smart for Arizona to bring him back through AA ball in 2014 with hopes he could impact the Big League squad this year.
Obviously not a long-term add yet in 10 or 12ers, but there is spot-start appeal in shallow formats.  Maybe in 16+ mixed or NL-only – I think Anderson should be scooped up right now.  With that fantastic change-up, it's easy to see how he dominated AA.  But the health concerns, reliability of the average fastball and developing curveball, and how much he's just a placeholder for Archie Bradley are all big factors considering his ROS potential.  Bradley has the rough trifecta of the D'Backs being god awful, a hurt elbow muscle, and AAA ineffectiveness keeping him behind, so I could see Anderson sticking for a bit.  If the rotation holds up and they keep giving Anderson starts (which I don't see why they wouldn't), Anderson gets the Dodgers next Saturday which I don't like at all, but then the following Friday at Citi Field against the terrible Mets, then home against the Padres.  I like both of those matchups quite a bit, so keep Anderson on your radar if you're streaming.
JB's Updated Top 100 SP
(rankings based on 12-team Roto – green for risers, red for fallers)
| | |
| --- | --- |
| RANK | SP, TEAM |
| 1 | Yu Darvish, Texas Rangers |
| 2 | Clayton Kershaw, Los Angeles Dodgers |
| 3 | Adam Wainwright, St. Louis Cardinals |
| 4 | Stephen Strasburg, Washington Nationals |
| 5 | Max Scherzer, Detroit Tigers |
| 6 | Jose Fernandez, Miami Marlins |
| 7 | Felix Hernandez, Seattle Mariners |
| 8 | Cliff Lee, Philadelphia Phillies |
| 9 | Madison Bumgarner, San Francisco Giants |
| 10 | Masahiro Tanaka, New York Yankees |
| 11 | Chris Sale, Chicago White Sox |
| 12 | Michael Wacha, St. Louis Cardinals |
| 13 | Justin Verlander, Detroit Tigers |
| 14 | Julio Teheran, Atlanta Braves |
| 15 | Zack Greinke, Los Angeles Dodgers |
| 16 | Gio Gonzalez, Washington Nationals |
| 17 | James Shields, Kansas City Royals |
| 18 | Cole Hamels, Philadelphia Phillies |
| 19 | Jordan Zimmermann, Washington Nationals |
| 20 | David Price, Tampa Bay Rays |
| 21 | Johnny Cueto, Cincinnati Reds |
| 22 | Mike Minor, Atlanta Braves |
| 23 | Jeff Samardzija, Chicago Cubs |
| 24 | Andrew Cashner, San Diego Padres |
| 25 | Sonny Gray, Oakland Athletics |
| 26 | Hisashi Iwakuma, Seattle Mariners |
| 27 | Gerrit Cole, Pittsburgh Pirates |
| 28 | Matt Cain, San Francisco Giants |
| 29 | Yordano Ventura, Kansas City Royals |
| 30 | Corey Kluber, Cleveland Indians |
| 31 | Homer Bailey, Cincinnati Reds |
| 32 | Anibal Sanchez, Detroit Tigers |
| 33 | Jon Lester, Boston Red Sox |
| 34 | Ervin Santana, Atlanta Braves |
| 35 | Chris Archer, Tamp Bay Rays |
| 36 | Rick Porcello, Detroit Tigers |
| 37 | Hyun-Jin Ryu, Los Angeles Dodgers |
| 38 | Scott Kazmir, Oakland Athletics |
| 39 | Nathan Eovaldi, Miami Marlins |
| 40 | Shelby Miller, St. Louis Cardinals |
| 41 | Danny Salazar, Cleveland Indians |
| 42 | Francisco Liriano, Pittsburgh Pirates |
| 43 | Lance Lynn, St. Louis Cardinals |
| 44 | Drew Smyly, Detroit Tigers |
| 45 | Alex Cobb, Tampa Bay Rays |
| 46 | Tony Cingrani, Cincinnati Reds |
| 47 | Jered Weaver, Los Angeles Angels |
| 48 | Zach Wheeler, New York Mets |
| 49 | Mat Latos, Cincinnati Reds |
| 50 | Yovani Gallardo, Milwaukee Brewers |
| 51 | C.J. Wilson, Los Angeles Angels |
| 52 | Marco Estrada, Milwaukee Brewers |
| 53 | Hiroki Kuroda, New York Yankees |
| 54 | Wily Peralta, Milwaukee Brewers |
| 55 | Alex Wood, Atlanta Braves |
| 56 | Justin Masterson, Cleveland Indians |
| 57 | Ian Kennedy, San Diego Padres |
| 58 | Tim Hudson, San Francisco Giants |
| 59 | Jesse Chavez, Oakland Athletics |
| 60 | Tyler Skaggs, Los Angeles Angels |
| 61 | Chris Tillman, Baltimore Orioles |
| 62 | John Lackey, Boston Red Sox |
| 63 | Dan Haren, Los Angeles Dodgers |
| 64 | Kyle Lohse, Milwaukee Brewers |
| 65 | James Paxton, Seattle Mariners |
| 66 | Jon Niese, New York Mets |
| 67 | Jake Peavy, Boston Red Sox |
| 68 | Matt Garza, Milwaukee Brewers |
| 69 | Drew Hutchison, Toronto Blue Jays |
| 70 | Aaron Harang, Atlanta Braves |
| 71 | Travis Wood, Chicago Cubs |
| 72 | Clay Buchholz, Boston Red Sox |
| 73 | Mike Leake, Cincinnati Reds |
| 74 | Dillon Gee, New York Mets |
| 75 | Jason Hammel, Chicago Cubs |
| 76 | A.J. Burnett, Philadelphia Phillies |
| 77 | Taijuan Walker, Seattle Mariners |
| 78 | Garrett Richards, Los Angeles Angels |
| 79 | Drew Pomeranz, Oakland Athletics |
| 80 | Trevor Bauer, Cleveland Indians |
| 81 | Archie Bradley, Arizona Diamondbacks |
| 82 | Tyson Ross, San Diego Padres |
| 83 | Doug Fister, Washington Nationals |
| 84 | Mark Buehrle, Toronto Blue Jays |
| 85 | Zach McAllister, Cleveland Indians |
| 86 | Tom Koehler, Miami Marlins |
| 87 | Bartolo Colon, New York Mets |
| 88 | Ubaldo Jimenez, Baltimore Orioles |
| 89 | CC Sabathia, New York Yankees |
| 90 | R.A. Dickey, Toronto Blue Jays |
| 91 | Tim Lincecum, San Francisco Giants |
| 92 | Michael Pineda, New York Yankees |
| 93 | Alfredo Simon, Cincinnati Reds |
| 94 | Martin Perez, Texas Rangers |
| 95 | Tanner Roark, Washington Nationals |
| 96 | Collin McHugh, Houston Astros |
| 97 | Jason Vargas, Kansas City Royals |
| 98 | Josh Beckett, Los Angeles Dodgers |
| 99 | Robbie Erlin, San Diego Padres |
| 100 | Jake Odorizzi, Tampa Bay Rays |
Dropped Out: Dan Straily, Oakland Athletics (headed to the Minors), Hector Santiago, Los Angeles Angels (awful and moved to the bullpen for now), Edinson Volquez, Pittsburgh Pirates (back to being Edinson Volquez), Jenrry Mejia, New York Mets (likely to the bullpen)
I debated Darvish vs. Kershaw pretty intensely through the weekend.  Was all set to put Kershaw back at #1 like I had originally ranked before the back injury, but then Darvish went out and was all Darvish…
I just traded for Mike Minor in a league, so I'm hoping this last bad start was just a blip.  Come through for me, rankings!
Well… I guess my Max Scherzer hatred finally has absolutely no basis in reality.  He and a few other of the studs I moved up a couple spots – not dramatically – but wanted to highlight them.
Welcome back Hisashi my dashi!  I think that's how Grey does it… Anywho, I think he's an awesome pitcher, but he's 33 with a lengthy injury history in Japan if memory serves.  But my memory might just be serving dashi!
Dude, Corey Kluber looks friggin' awesome. We're seeing the huge Ks, and don't let the 1.35 WHIP scare you.  Ridiculously good 57:12 K:BB with an unlucky .364 BABIP.  And of the 58 hits he's given up – 43 singles.  Even with unlucky peripherals, has a 3.48 ERA (with a crazy-good 2.38 FIP and 2.77 xFIP) with an improved GB rate.  Can you tell he's my boyfriend?
Chris Archer has a lot of similarities with that Kluber analysis.  Stay strong.
Oh man, this Alex Wood making relief appearances and skipping starts is no bueno.  So sad.  F you Gavin Floyd!  I still like him a ton as a pitcher, so not moving him down catastrophically.  Someone else could get hurt sooner rather than later, "cough, Harang, cough!"
I'm done with Sabathia.  You see that moonshot my boy Carlos Gomez hit to lead off the game on Saturday?!  Welcome back to Milwaukee, CC!  Now on the DL with fluid in his knee.  My guess is the fluid is Ragu.
Done with Martin Perez as well.  At the time of this re-rank I don't know the status of his MRI-bound elbow, but is scurry.
I was as anti-Doug Fister as humanly possible pre-season, and his debut gave you a fister.  Sure at Oakland isn't exactly the best way to start your NL crossover, he's like, "wasn't I supposed to get pitchers in the line-up pitching over here?!"
Matt Garza has not looked good.  Ugh.
Mat Latos finally got some good news, and he shoots up my ranks.
Chris Tillman had a vociferous commenter outrage with my low ranks early on, and I got swayed!  Go back to whence you came, Tillman!
I think Jake Peavy just walked someone else…
I've always been a big Drew Pomeranz fan.  I think he is in a perfect spot with the ballpark and coaching staff.  Really excited for his upside.
Thoughts on Mr. Anderson?  Beef with the rankings?  I know this steak isn't real, it's part of the Matrix!