Unfortunately when you watch a lot of baseball, there's guys who at the eye-level look awesome (whoa, not like that though!) that turn out to just never put forth the numbers.  You get this big lumbering Canadian, with this long but smooth delivery, hitting high-90s at times, and you get all excited and…  It turns out to be James Paxton's bumpy start to his career.  A few nice stretches, but very inconsistent Ks, inconsistent control, AND THE INJURIES!!  Long-term lat strain last year, he sprains both his forearms tripping in Spring Training, then sprains a finger tendon which keeps him out almost this entire season.  Hey Pax, I have a finger with a sprained tendon for ya too!
Even with all these injuries, I still think I'll rank Paxton favorably next year…  Eesh, I just know I will…  But I did want to see his final starts of 2015 before my off-season work…  So I decided to break down his return off the DL yesterday afternoon hosting the Rockies to see if he's worth a spot start or two for the stretch run, or will be the worst ranked pitcher yet again in my 2016 ranks:
First Inning: Paxton's first pitch is a nice 93 MPH fastball in the zone to Charlie Blackmon, 0-1.  He follows it up with a sinking heater at 94 that gets a lazy chop to first for an easy first out.  Nice start!  Another sinking fastball at 94 is barely low to DJ LeMahieu – that looked good to me, no bias! – 94 skips in there obviously low, 94 again at the knees gets the call this time 2-1, 95 is low, 3-1.  At least he's missing low in the zone…  Another fastball at 95 is well inside, and not a pretty walk.  Nolan Arenado takes 93 low and outside, and out comes M's catcher Steven Baron for a chat.  Let's see if Pax can find some command.  94 perfectly placed on the low outside black is fouled off – all fastballs so far – then a 1-1 change-up gets Arenado so far in front that I think I need to change my pants: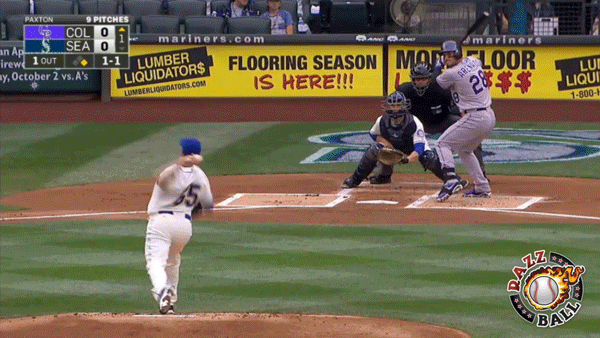 86 MPH on that one, first off-speed gets a swing like that?!  Arenado got as antsy as I did with my mouse after seeing that pitch!  1-2 is 95 on the outside edge fouled off, then Paxton's first cutter at 88 skips in the dirt, 2-2.  But big curveball gets Arenado to chase with a pitch that hit home plate for Paxton's first K: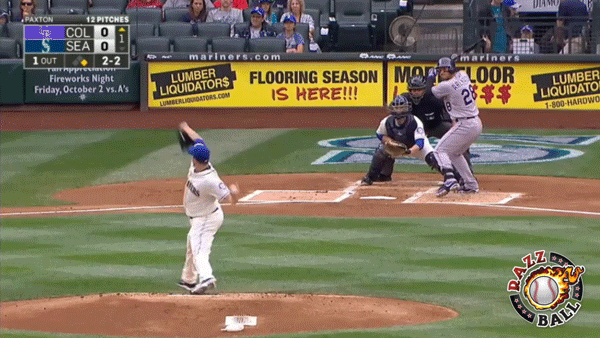 High change-up gets Carlos Gonzalez to chase and miss high in the zone, then Paxton drops in this curveball for strike 2: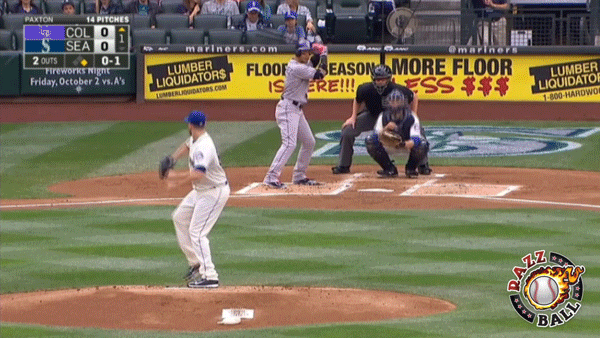 Dude, three GIFs already?!  Can you see why I get enamored with this guy?!  95 MPH fastball gets a mad late swing to spoil it – went 0-2 fastball and surprised Cargo – then curve in the dirt is way low and DJ steals second base.  He had that stolen too easily off a lefty there…  1-2 is a curve again that skips in – not the best past two pitches now – but a 2-2 curveball at 81 that mimics that 3rd GIF drops in there and Paxton gets Cargo looking.  Pretty nasty first inning minus the early walk.
Second Inning: 92 MPH fastball misses to Wilin Rosario to open the 2nd, fastball on the outside edge is fouled hard to right, Paxton pours a 93 MPH fastball in the zone 1-2, then just nastiness at 82 gets Rosario swinging: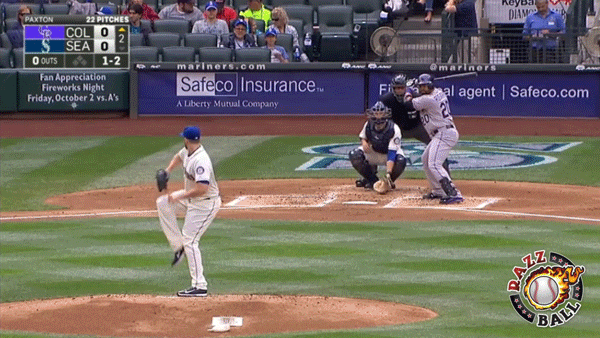 Later dawg!  I haven't even GIFfed a fastball!  Cutter hits the outside edge to Justin Morneau, cutter again cuts off the outside corner ball one, 1-1 fastball is low, then 95 paints the outside corner at the knees for a bonus GIF #5 to make it 2-2: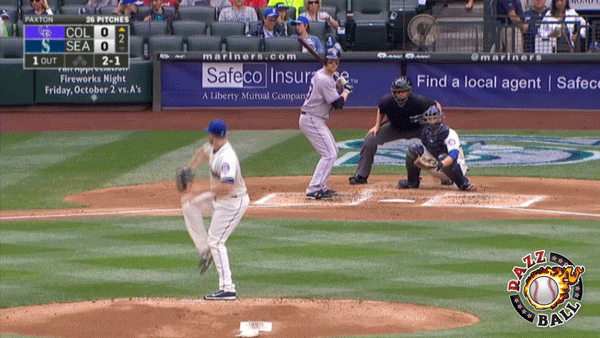 Curveball looked to get Morneau checking his swing but they rule he held up, then the payoff pitch is a curve in the zone that gets Morneau mad in front for a pop out to first base, two outs.  Young shortstop Cristhian Adames bunts the first pitch foul, then a nice curveball gets a routine grounder to short, but Ketel Marte boots it off the heel of his glove for a bad error.  Sigh.  Dustin Garneau steps in and takes a 93 MPH fastball for strike one, then a cutter off the outside edge is flared to center for a single.  That was out of the zone, but Garneau golfed it for a base hit.  Brandon Barnes takes a fastball for a ball, Pax drops in a cutter for a strike, 95 MPH fastball is in the dirt, then cutter again gets a pretty hard hit grounder, but it's right to third for the final out.
Third Inning: Still a scoreless game and Paxton misses well outside with the fastball to Blackmon, and again is way out there, 2-0.  93 is in the zone, 95 outside, then 3-1 fastball that looked to have a lot of the low outside corner is called a ball for a questionable walk.  Leadoff runner at first, and LeMahieu takes a change-up well high, 1-0.  Blackmon is dancing around like crazy out there, he's really going to try and get in Paxton's head.  A few checks to first include one close one, then Pax grooves a quick-pitch 94 MPH fastball for strike one.  Nice to see there, but then 94 MPH again is two feet outside and almost a wild pitch.  Consistency issues…  94 MPH high in the zone is fouled off, 95 low and inside, Paxton hits 96 and it's nipped foul, then payoff again is a 95 MPH fastball chopped to third, and Kyle Seager tried to turn the DP, but Blackmon was on the move and they only get the runner at first.  So Blackmon at second, one out, and Arenado takes inside.  Then a 1-0 curveball is both low, and Blackmon steals third.  Got a monster jump; both of the steals thus far haven't been close.  But damn, 2-0 change-up gets Arenado crazy in front, a lot like that first GIF.  Then change again is rocketed to deep right, Seth Smith has it reaching up on the track, easily far enough to score Blackmon.  Well, run given up without giving up a hit this inning, but at least the bases are clear.  Paxton is high to Cargo, 94 paints the outside corner, 1-1 95 MPH fastball skips in there, change-up on the outside edge is fouled off, curveball skips into home plate at about 55 feet – awful slip there – but change-up in the zone gets Cargo to whiff, and Paxton is through the inning.
Fourth Inning: At 59 pitches, Paxton drops in a huge breaking ball and Rosario whiffs badly, 0-1.  Nasty.  But he goes curve again, it wasn't an awful pitch just a bad selection, and Rosario goes down and gets it to deep center for a ground-rule double.  It wasn't close to the quality of the first one, but it was dropping out of the zone.  Still…  Consistency issues…  Change-up is way high to Morneau, 94 is low, 93 well low, 3-0 count to a lefty.  Ugh.  94 barely catches the outside corner, and that looked like a ball to me, but then 3-1 is well low for Paxton's third walk.  And the Mariners waste no time to pull Paxton early, who shows emotion for the first time in the whole start, frustrated they don't leave him in.  A little odd the broadcast said he was going to get to 85-90 pitches and they yank him that early…  Then to add fuel to the fire, both of those runners ended up scoring, but with an error thrown in there to make one unearned.
Final Line:  L  3.0+ IP  66 Pitches (36 Strikes)  2 ER  2 Hits  3 Walks  4 K  Gamescore: 46  Gamescore+: 52.2
Final Analysis: Ya know, I was kinda hoping this would change my mind and have me off the Paxton gravy train.  But man his stuff looked good, and while he obviously had some consistency issues, this start was not nearly as bad as the line suggests.  The run in the 3rd scored without even giving up a hit, and it was a questionable ball 4 call that got the only runner on base.  Then the other two runs (only one of them earned), score after a really premature yanking…  If ya know what I mean…  The Gamescore+ unsurprisingly scores higher than his Gamescore due to more Ks than innings, and there's no bonus for a deeper start in the Gamescore.  Gamescore+ generally scores higher in the shorter outings.
When you can build off a plus fastball it always helps, as Paxton was 93-95 MPH with the heater, hitting 95 frequently and topping out at 96.  The command was pretty solid, but as with all his pitches, his delivery can sometimes get funky and he loses his release point low.  But better to miss low than high!  Still, the 3 walks were no bueno.  Paxton builds off the fastball with a cutter that could be debated as a tiny slider, at 86-89 MPH with good run.  It seemed to work well yesterday, which is interesting since Fangraphs has him only throwing that pitch 2.7% of the time this year.  Then a solid change-up yesterday, but he did lose that pitch as the start went on leaving a few high.  Finally the bender, with a curveball at 80-82 MPH that can really fool hitters.  It's a little different than most curves as it doesn't have the same tight 12-6 break as say a Clayton Kershaw hook.  It's actually a knuckle curve that tends to look like a slider at times – think of Craig Kimbrel's knuckle curve for example.  It featured a nice consistent break except on the Rosario double, but a few were well low in the dirt.  However, I do have one concern with that pitch.  When I was putting together the GIFs, here is a still image of the curveball GIFfed to Rosario: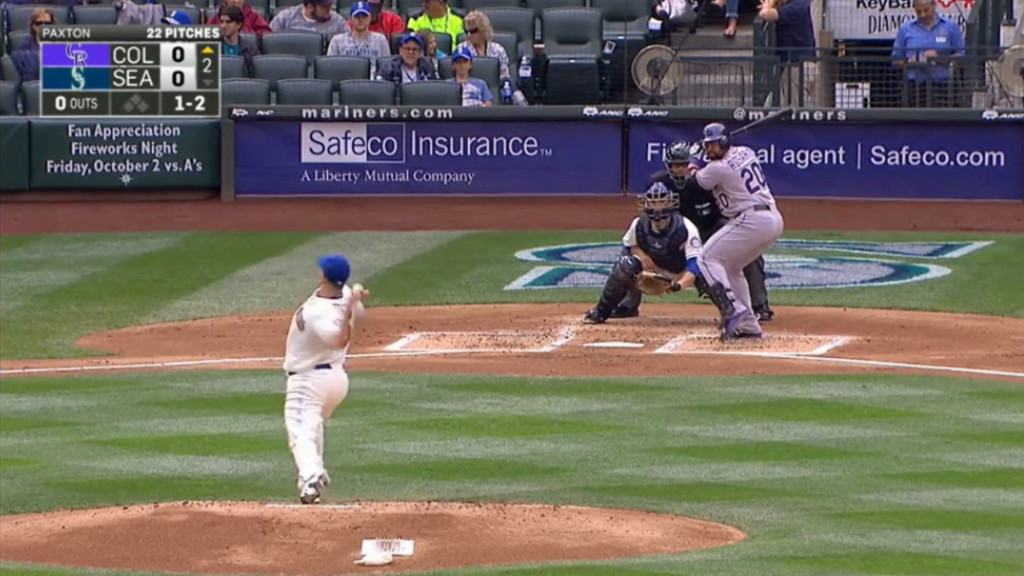 Look how far that knuckle sticks out!  Obviously we're looking at that pitch at the opposite angle and off-center, but seems to me that hitters might be able to see that beefy finger sticking out.  And it's interesting Rosario got three straight curveballs – whiff for a K in the 2nd, whiff again first pitch in the 4th, then ground-rule double.  Just conjecture though…  Maybe hitters can eventually see that?
Would I feel safe starting Paxton in his next start at Texas?  Absolutely not.  But if searching for a streamer, he's certainly in the discussion.  And his stuff looked as good as ever, and I haven't seen anything to indicate he didn't come out of this start healthy.  Lord help me, he'll be a big sleeper for me again in 2016, especially if he looks like he can hold base-runners a little better as well.
Thoughts on my big Canadian lover Mr. Paxton?  And any other thoughts on pitchers down the stretch or keeper quandaries?  Shoot your thoughts below, and happy pitching Razzball Nation!