As of right now, is anything in this endless universe more scorching hot that Matthew McConaughey? When you take into account his performance in the criminally underrated film, Mud, his epic scene stealing performance in, The Wolf of Wall Street, which was possibly the greatest part of the movie which one would think impossible considering the countless classic scenes that Wall Street has within, and his Oscar winning performance in the true story of, The Dallas Buyers Club, the answer is a resounding, NO! There is none hotter.  Oh yea, I almost forgot to mention, Matty Ice, tag teaming viewers into submission along with partner, and legend in his own right, Woody Harrelson, in the undeniable classic series, True Detective. If his Oscar speech didn't prove to you that this man cannot be touched right now, then you may want to go see a doctor, for you are clinically insane.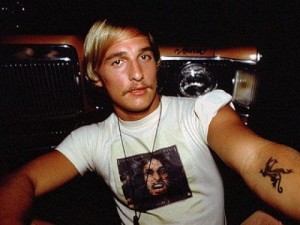 So few of us have ever been in this kind of zone before. I remember winning 3/4 titles in the first fantasy baseball league I was ever in with all of my friends. I remember the day I picked up Johnny Cueto, the night before he made his first major league appearance and writing a post on the message board titled, "Who is Johnny Cueto?", where I told all to bear witness to the greatness that was going to be on display. We were fairly young and didn't have as tight a watch on the prospects like we all do now, so nobody really had an idea of who this guy was (he was a highly touted minor league pitcher). How did 'Johnny B. Good' back me up? One base runner in seven innings along with 10 ks. When Cueto was perfect through five, I thought the Elder Gods were ascending me to God-hood right then and there. To this day, right or wrong, I feel partly responsible for birthing Johnny Cueto's career. The following year I made the same kind of post about J.P. Arencibia and he responded with not two, but three home runs. It's like everything I touched turned to gold. I'm not telling you this to brag. I'm telling you because that's what being in the M' EF-in McConaughey zone feels like, and nobody understands unless they've been there themselves. Now, one can't stay in a zone like this at all times, but the ultimate goal is stay within striking distance of the zone so that any moment, no matter how dire the circumstances. We can overcome the obstacles and at least give the opposition a run for their money.
What is the McConaughey zone and when will you know that you've reached it? Did you go to a gay bar with that female/male you've always been in the friend zone with but you always desired for something more? Did it seem as if every single soul in the club, no matter their sexual orientation, wanted to break you off a piece of that boooo-tay? Did you then have a succulent beauty purchase bottles of Dom P. and shots Of Patron for you and your friend-zoner until you were so lit that you decided it was a good idea to start a dance off with guys/girls who looked like they performed in the classic hit, "Stomp the Yard," and did you then stun them with your inspiring performance to the pleasurable sounds of the legendary Sisqo's, "Thong Song"? Did you follow all that up with you and your longtime crush being whisked away via a spanking new Hummer limousine, en-route to the aforementioned succulent beauty's ocean front estate? Did the night end up with you popping champagne like you just won a championship ring, having the greatest sex of your life in which you performed at a level the greatest porn stars of all time could only dream of emulating after popping 100 milligram Viagras, eating three cans of tuna, and sucking down eight oyster shooters, and to top it all off did you your mega millions lottery ticket come up a $300 million dollar winner? Oh that happened? [Ed. Note– I feel like I just traveled to another dimension…] Then you, my friend, are in the McConaughey zone. Did you forget to set your fantasy lineup but still come up victorious? Yep, McConaughey zone. Did you miss your draft in order to do charity work at your local soup kitchen, and win the title with your auto drafted team, EVEN with ESPN's rankings? Oh yea, then you're mos def in that McConaughey zone. Did you run over someone in your vehicle, thinking your life was over, only to find out that the person you crushed was escaped inmate, Scott Peterson, and that you were now a national hero? You guessed it, McConaughey zone.
Seriously this dude is so hot right now he could take a crap, wrap it in tinfoil, put a couple fish hooks on it and sell it to Queen Elizabeth as earrings. I know you guys/gals want to talk about fantasy baseball but this truly is a momentous occasion, for it's not often an actor is this hot. What other actors/athletes have been in what is now known as the McConaughey Zone? Hmmm, let's name a few since I know how much this intrigues you: Definitely Tom Hanks when he did, Forrest Gump, Philadelphia and Apollo 13, back-to back-to back. Michael Jordan, when he sharted out two 3-peats. I have to include one of my all time favorites, Mel "Mad Max" Gibson for his incredible journey that began with, Braveheart, in '95, the severely underrated What Women Want, in '99, and ending a nice five year run with, The Patriot, in 2000. These runs never last forever. Jordan left the game to play baseball (Isn't that the sport I'm supposed to be writing about right now?), Gibson was exposed as an anti-semetic psycho-path, and Tom Hanks put out You've got Mail. Again, the key here is not fall out of the zone for too long, for the longer you are out of it, the more difficult it is to get back in. For example: The aforementioned people all bounced back into the zone to yet again and accomplish great things. Jordan went onto to win three more titles, cementing his legacy as the greatest player of all time, and, in my mind, the greatest singular athlete of all time. Hanks bounced back with classics like: Road To Perdition, The Green Mile, Cast Away, Catch Me if You Can  and The Divinci Code. And Gibson dropped that Beaver flick on us…….okay, so Mel hasn't ever recovered. Mel's an example of what we can't allow to happen to us under any circumstance.
Nobody is perfect and eventually we all drop a dud from time to time, bringing forth painful ridicule from readers that forces us to seek therapy and move into a lighthouse in some obscure town (or is that just me?) Beddict, get to the point!!!!: what does this have to do with fantasy baseball? Do you want people to look upon you with amazmenet and throw rose petals at your feet? Do you want women/men to beg you to rip your clothes off and ride you like Secretariat? Razzball can help you get there. I can help you get there. Use a combination of your resources here and your gut to go out and take glory by the balls. Watch the waiver wire the way a falcon watches his prey, pepper me with question on Twitter and in the comment section here  and take something from each and every writer on the site, for they all have something to offer you.
NOW, to my final thoughts and observations of the drafts I've been involved with thus far, and who's impressed me in Spring Training with some of my predictions on what they will accomplish, and just some general thoughts on pop culture.
1. Players who were highly ranked before last season, who suffered through a poor season, an injury plagued season, or a combination of the two are going criminally late in drafts and I can't help myself. Former fantasy legends like:CC Sabathia, Jared Weaver, Cole Hamels, Johnny Cueto, R.A. Dickey, Yovani Gallardo, Matt Wieters (The man formerly known as God), Manny Machado and Chase Headley are there if you want them with your picks at the end of standard sized drafts. I'd suggest drafting them.
2. Matt Moore is catching major hate and I'm not a part of it. Moore was looked upon as a future star a year ago and he responded with a 17 win season with a solid WHIP and ERA. I understand that he was lucky from time to time, but he has the three things I look for in my dynasty building blocks: 1) Talent 2) Youth 3) Previous success. The guy is already a proven winner and the main thing I'm failing to understand is why people have just seemingly given up dude, like his upside isn't sky high anymore. Trick, please.
3. Matt Wieters has fallen on harsh times. 3 or 4 years back I selected him in the 4th round of a dynasty league. I snagged him in the 20th yesterday. I thought I was done with him but he keeps coming back to me…….yes, just like herpes.
4. Bryce Harper looks like a man possessed and is my choice for this season's MVP
5. This is the year Steven Strasburg harnesses all the talent and is given the green light to go deep in games, ensuring his winning of the Cy Young Award.
6. By injuring himself,  Jurickson Profar, has bent me and countless others over a barrel and is showing us all 50 states. You see, I have an unhealthy infatuation with Profar and took him in almost every league. Sure, he'll be fine eventually, but what about me!?!?!
7. This is the year Travis d'Arnaud finally breaks out. I've been patiently rostering him in a dynasty league for years. Oh you have too? Sweet, we all gon share in the glory then. Praise the Gods.
8. Was that Paul George or Peter Dinklage, The Guru, posted crotch shots of? Let's just say George is no Serge Ibaka in the meat packing department.
9. I'm obsessed with Matt Adams. I see no way he hits less than 30 bombs this season, barring injury of course. Mark it down in your palm pilots.
10. Willie da Kid Middlebrooks is also going to crush 30 dongs and I can pretty much promise you that, barring injury of course.
11. Really not understanding the Zack Wheeler hate. This young dynamo is going in the final rounds of my RCL leagues and just went for $6 in an auction. CRIMINAL, I SAY!!!!!
12. People are overpaying for Gerrit Cole.
13. Ashley Madison is a great place to pick up chicks and ruin marriages at the same time! Kudos, guys! Great website!
14. My X-Box live gamer tag was flagged for inappropriateness. Not sure how multiple people complained about the tag, "AzzToMouth253." My own step-mother gave me that nickname! Geeez.
15. "Sir" Domonic Brown has beaten off the flu like Hercules and is back on his way to fantasy and personal glory with riches beyond his wildest dreams.
16. You can get away with not taking a 2B till the last round of the entire draft. There are numerous options and you can find those out by contacting my assistant, Kid A.
17. Keanu Reeves is back like he never left the game with, 47 Ronin. If this dude can make it in Hollywood, I truly feel I have a shot. That's right. No more pole dancing and tweaking for old Tehol. Time to get some real cash.
18. Starting pitching is so deeeeeeeep it's ridiculous. If you're at all like me and like to play the match-ups with starting pitchers, you can get away with not drafting a starting pitcher for the first 10 rounds or so. My league mate and close personal friend, the aforementioned Kid A, did as I did, and waited extremely late on starting pitching in the RCL league I'm hosting. Shout out to them by the way. I'm giving a razzball T-shirt of their choice to the winner of our league, for anyone who can beat me in anything, deserves  a prize or trinket of some sort.
19. Auction drafts teach you to practice restraint. I've always done Snake drafts in the past and this was a good thing because it can save you from yourself, to where you're not investing your entire salary cap into 4 players. "Tehol, No you didn't." Yes, I did. Look into doing more auction drafts in the future, I will.
20. Rudy Gamble is a certified Genius. The Rudester is changing the face of fantasy baseball with his state of the art tools and thought processes. I'm just glad he's on my side, as you should be.
Wow, I bet you guys are bummed this post is coming to an end (I know Jay is). [Ed Note.– NEVER.] With the regular season starting, I will be contributing a weekly piece every Thursday, usually focusing on the players that really let myself and all you down. Most of you have done your drafts so I thought now was an opportune time to drop some game on the "McConaughey zone." Some of you will enjoy it. Many of you will hate it. Leave your hateful comments below and I will get back to them as soon as I possibly can. I've been practicing more yoga as of late, so I'm hoping that will help me block out the negative energy some of you are so intent on spreading. Speaking of comments, I had a fabulous time hosing a fantasy baseball chat over on reddit. NOT A SINGLE hateful comment. 150 different people and not one comment that made me want to hang myself with wax dental floss. Nothing against you guys though…………..Anyway, if you want to be entertained and receive bountiful information on interesting and important things, follow me on Twiter at, @TeholBeddict47. Have a wonderful week.
P.S. My favorite McConaughey flick of all time is, How to Lose a Guy in 10 Days. Delightful picture, just didn't really think it went with the post. [Ed. Note– Don't forget Sahara bro. CLASSIC.]