After a mediocre opening week, I'm pretty happy with the results for last week. Alec Mills and Zach Plesac were great as our two-start streamers and guys like Michael Wacha, David Peterson and Christian Javier were solid too. The COVID craziness from last week is about to wreak havoc on the rest of the season though, with St. Louis likely missing more games. There are so many doubleheaders this week and it's hard to even grasp what these rotations will look like and when people will pitch. I do have a decent idea right now though and I'll do my best to provide you with some great streamers to ride the wave this week! 
If you have any comments or questions, comment me here or reach me on Twitter @Bartilottajoel 
Two-Start Streamers
Tyler Mahle, CIN (vs. KC, vs. PIT)
This is undoubtedly one of my favorite streamers of the season so far. In his first two starts this season, Mahle has allowed just two runs across 10 innings, while striking out 10 batters and attaining a 1.00 WHIP. This is a guy who's shown flashes of that throughout his career, owning a solid 4.34 career xFIP. That's really all you can hope for from one of your streamers but these matchups are about as good as it gets.  
In his first matchup, Mahle gets to maul the Kansas City Royals. This is an offense who ranked 26th in runs scored and 27th in OPS last season. It's pretty much the same group of players despite the improved numbers this year, making them a club we want to exploit. His second matchup is even better, facing the Triple-A organization known as the Pittsburgh Pirates. They currently own a .312 OBP and .567 OPS this season which are obviously the worst marks in baseball. To put that in perspective, Zach Greinke has a higher career OPS by over 30 points! Having those two tasty matchups will likely have Mahle entering these matchups as a –180 favorite or higher in each, only adding to his intrigue. That's why the Streamonator has him projected to provide $6.6 worth of value which is plenty from one of your streamers.  
Randy Dobnak, MIN (at MIL, vs. KC)
I'd be lying to you if I told you I was excited about this one. Dobnak doesn't have the prettiest stuff but he's been effective so far this season.  What I do like is that handlebar mustache and cool shades. He looks like Hulk Hogan before all the roids and financial problems. Check it out!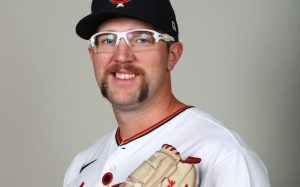 Anyway, Dobnak has quietly been really good for the Twins and it's a wonder why he's still so widely available. In three starts this year, he's got a 0.60 ERA and 0.87 WHIP across 15 innings of action. That's backed up by a 1.59 ERA and 1.13 WHIP last season, despite an 18 percent K rate. Limiting hard contact is the name of the game for Dobnak and that shouldn't be an issue against these offenses.  
We already discussed the Royals ineptitude in the last write-up but it may surprise you to see how bad the Brewers are right now. As of Saturday, they currently sit 25th in both runs per game and OPS. It's really no surprise when you see guys like Logan Morrison, Brock Holt, Justin Smoak, Ben Gamel and Eric Sogard in the heart of their order. That doesn't even take into consideration that Christian Yelich is off to a horrendous start, no thanks to that lackluster protection around him. That will likely have Dobnak entering both of these games as a monster favorite too, with this studly Twins lineup backing him up.  
One-Start Streamers
Brandon Bielak, HOU (vs. SF)
Here come the Astros! All of these young arms have had to fill in with Justin Verlander, Gerrit Cole and Josh James out of the picture, giving way to guys like Bielak. This dude has looked amazing in his brief time this season, pitching to a 0.87 ERA and 1.16 WHIP. That looks nearly on par with his 2.93 ERA and 1.13 WHIP in the minors, making him a great option against a lineup like the Giants. This is a team that finished either 29th or 30th in OPS and runs scored last season and they're likely to see some negative regression sometime soon. Look for Bielak to be a –200 favorite in this game and that makes him a great bet for a win as well.  
Christian Javier/
Framber
 Valdez, HOU (vs. SEA)
Who would have thought that we'd be listing off Astros pitchers as streamers at this point last season. The thing that makes these two guys attractive is their matchup against Seattle. This is an offense with .229 AVG and .667 OPS through 15 games played, after ranking 20th in both scoring and OPS last season. That's really scary going into a place like Houston, with the Astros likely entering all of these matchups as –200 favorites or higher.  
These two pitchers aren't too shabby either, with Javier being the cream of the two. A 1.42 ERA and 0.71 WHIP this season is impressive on its own but it's backed by a 2.23 ERA and 1.04 WHIP in the minors. Those are truly ridiculous numbers and it doesn't even take into consideration his 462 Ks in 334 innings at that level. Valdez isn't too shabby himself, amassing a 2.53 ERA and 1.03 WHIP this season. For his Triple-A career, Valdez has a 3.40 ERA and 1.08 WHIP while striking out 78 batters in just 53 innings. Obviously, these two guys have a ton of skill and make for great streamers with such big win potential and such a tasty matchup. The Streamonator loves these guys too, giving Valdez $11.8 worth of value and Javier $7.4.
Streamers to Consider
Dylan Cease, CWS (at DET): Using pitchers against Detroit is always a good idea, ranked dead-last in scoring last season. It's essentially a Minor League lineup which is nice with Cease generating a 3.02 ERA, 1.23 WHIP and an 11.4 K/9 rate in his MILB career.  
Daniel Ponce de Leon, STL (vs. PIT): Who the hell knows who will start and when for the Cardinals with all the COVID stuff but any average pitcher against the Pirates is in play.  
Anthony DeSclafani, CIN (vs. PIT): Gosh, I feel bad for Pittsburgh at this point. Tony D is the sort of guy who can abuse them too, allowing one run or fewer in 11 of his final 21 starts last season en route to a 3.89 ERA and 1.20 WHIP.