How crazy is it that the All-Star break is about a week away? This season has flown by, and it's been fun recommending streamers all year. We've had our fair share of hits and misses, but that's the volatility of baseball. Darrick Hall and Johnny Cueto were the highlights of last week's article, and it's always exciting to see these youngsters or oldsters come in and dominate. We have another one of those hitting prospects in the hitter's section but let's kick things off with the pitchers!
Pitching Streamers
Alex Cobb, SF (vs. ARI, vs. MIL)
Cobb has been one of our streamers multiple times this season, giving us mixed results. In any case, we're prepared to get burned again! The 4.74 ERA and 1.32 WHIP look ugly on the surface, but this guy has some of the best advanced statistics in baseball. In fact, Cobb has compiled a 2.70 xERA, 2.79 xFIP, and 24 percent K rate. Those numbers are on par with many All-Star pitchers, and it's just a matter of time before positive regression hits this guy.
It could start this week since he has two home matchups against weak offenses. The right-hander has a 2.68 ERA, 1.11 WHIP, and 10.2 K/9 rate at home since the start of last season. His opponents this week are outstanding, too, with Arizona ranked 25th in OBP, 24th in OPS, and 26th in xwOBA, while Milwaukee sits 17th in OBP and 26th in K rate. The Streamonator certainly loves him, too, projecting him to provide $30.1 worth of value in this two-start week!
Michael Pineda, DET (at KC, at CLE)
Pineda has been a regular in this article since I started doing it nearly five years ago, and he consistently provides good numbers. The right-hander has a 3.62 ERA and 1.18 WHIP this season, which is not far off of his 3.96 career ERA and 1.19 career WHIP. It's hard to believe that a guy with numbers like those is on nearly every waiver wire, but people don't trust Pine Tar Pineda. We'll trust him, though, because he gets two starts against some of the weakest offenses in baseball. The Royals rank 22nd in OPS, 27th in runs scored, and 26th in wOBACON, while the Guardians sit 23rd in runs scored, 22nd in OPS, and 28th in xwOBA. Not to mention, he's allowed three runs or fewer in his last six matchups with these two teams!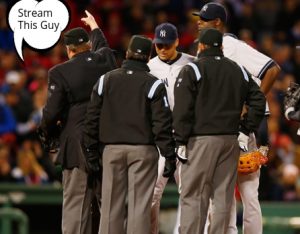 Brady Singer, KC (vs. DET)
Singer is becoming a regular as one of our streamers, and it's hard to understand why fantasy managers are sleeping on this guy. The right-hander has been in tune all season, posting a 4.25 ERA and 1.17 WHIP. His ERA is north of four because of one dud against the Astros, but he's got a 3.56 ERA, 1.14 WHIP, and 8.8 K/9 rate if you take out that one stinker, allowing four runs or fewer in each of his other 12 appearances. That should be easy to duplicate against Detroit, with the Motor City Kitties ranked 29th or 30th in runs scored, OBP, OPS, wOBA, and xwOBA. He's also owned the Tigers throughout his career, collecting a 2.98 ERA, 1.11 WHIP, and 9.6 K/9 rate in eight starts against them. The Streamonator agrees, projecting Singer to provide $11.2 worth of value.
JT Brubaker, PIT (at MIA)
Brubaker's 2-8 record and 1.47 WHIP might scare off most fantasy managers, but this guy has been better than those numbers indicate. The right-hander has allowed three runs or fewer in 14 of his 17 starts this season, providing a 4.12 xFIP, 3.91 FIP, and 23 percent K rate. That's all you can hope for from one of your streamers, and Miami might be the best matchup in baseball right now. The offensive numbers aren't terrible for the Marlins, but they sit bottom-half of the league in every offensive category. That looks even worse since they lost Jazz Chisholm and Jorge Soler last week, who might be their two best hitters. It looks even better since Marlins Park is one of the most spacious ballparks in baseball, with Miami averaging just 3.2 runs across their last five games.
Streamers to Consider
German Marquez, COL (vs. PIT)
Recommending a pitcher in Coors Field is a recipe for disaster, but Marquez has thrown at least six innings in eight of his last 11 starts and faces one of the worst offenses in baseball here.
Ross Stripling, TOR (vs. KC)
We already discussed how bad the Royals offense has been, and that surely won't go well against Stripling's 3.32 ERA and 1.12 WHIP.
Tyler Rogers, MIA (vs. PIT, vs. PHI)
Rogers was incredible last season but has been dropped everywhere after his horrific start to the year. Two home starts against two weak offenses could get him back on track, with The Streamonator projecting him to provide over $30 worth of value in this two-start week.
Hitting Streamers
Vinnie Pasquantino/Hunter Dozier, KC (vs. DET, at TOR) 8 Games
My last name is Bartilotta, so you know I'm partial to my Italian brothers! Vinnie is undoubtedly one of those guys, and we genuinely feel like this will be his breakout week. The Royals top hitting prospect was unbelievable at the minors, maintaining a .293 AVG, .382 OBP, .573 SLG, and .956 OPS in over 1,000 at-bats at that level. He's certainly struggled to get going against Major League pitchers, but his .298 xBA, .557 xSLG, and .424 xwOBA tell us that positive regression is right around the corner.
We expect him to bat right next to Hunter Dozier in the lineup, and Doze might be the hottest hitter for the Royals right now. In fact, Dozier has a .298 AVG, .355 OBP, .544 SLG, and .899 OPS over his last 15 games played. These two guys are expected to carry the power load for this offense, making them tough to fade in an eight-game week against two subpar pitching staffs.
Franmil Reyes, CLE (vs. CWS, vs. DET) 8 Games
Reyes is available in nearly half of my leagues, and it's hard to understand why. The big man got off to a horrendous start and spent almost a month on the IL, but he's been raking ever since his return. The Franimal has a .286 AVG, .725 SLG, and 1.004 OPS over his last eight games played. It's easy to understand why when looking at his career numbers, generating a .230 career ISO, 49.4 percent hard-hit rate, and .344 xwOBA.
All of that has him batting cleanup in this Guardians lineup, and he should continue to get good pitches behind Jose Ramirez. Getting eight games against Chicago and Detroit is the icing on the cake, though, with the White Sox sitting 25th in WHIP and Detroit sending out their four-worst pitchers in their Cleveland series.
Luke Voit, SD (at COL, vs. ARI) 7 Games
We had Voit in this section a month back, and we're going right back to the well. Any guy getting four games in Coors Field is tough to avoid, but this beefy baseball player has been mashing throughout his career. Voit has a .352 OBP, .494 SLG, and .845 OPS in over 1,500 plate appearances. That's a large sample size of mashing, and it always puts him in the heart of this Padres lineup.
That alone makes him a good option, but this righty gets to face four crappy lefties this week. The Padres pair up with Madison Bumgarner, Tyler Gilbert, Merrill Kelly, Kyle Freeland, Austin Gomber, Chad Kuhl, and Jose Urena in this wonderful week. Not one of those guys should concern you, and I truly believe Voit is one of the safest streamers of the season!
Feel free to comment to me here or reach me on Twitter @Bartilottajoel if you have any questions!