The Winter Meetings called it quits this week, and that was perhaps the worst Winter Meetings on record.  Was it because it was in Vegas?  Maybe there were a bunch more trades, but they all "stayed" in Vegas.  The Mariners kept busy gathering veterans who will never play for them, as they grabbed Edwin Encarnacion from the Indians for Carlos Santana.  You remember Santana, he was the last vet that the M's traded for that won't play for them.  If the Mariners are trading for vets who won't actually play for them, they should grab Harold Baines so he can't go into the Hall of Fame, because last time I checked active players aren't allowed into the Hall.  Or why bother sticking with baseball players.  C'mon, Mariners, trade for Michael Jordan or Big Show or Turtle from Entourage.  It's not like you have any expectation of them donning an M's uniform.  So, the assumption is that Edwin will go to the Rays to bury their recently acquired Yandy Diaz.  You'd think a guy with guns like Yandy Diaz would be doing the burying.  If you don't know what I mean, see the picture below.  If I don't bring out the Crisco and apply the shortening, this post will be longer than The Fountainhead, so let's just say you know Encarnacion, whether he's on the Rays or Mariners.  For my Encarnacion projections I am assuming he'll be on the Rays, and putting him at 78/33/91/.241/2 in 523 ABs, and I already gave you my Carlos Santana projections after his last trade, but am upping him slightly to 74/24/84/.232/2 in 563 ABs.  Anyway, here's what else I saw this offseason for 2019 fantasy baseball:
Jake Bauers – Went the other way to the Indians.  Yes, that gives the Indians Bauer and Bauers.  The Indians are Bauer'ing up!  Bauer & Bauers sounds like an 80's CBS show, except one of the two characters is really unlikable.  As for Bauers, I can't believe the Rays traded him.  What are they doing?  Yo, Rays, you are already so young and cheap, do you really need to trade away Bauers?  C'mon.  The 2022 Rays will be trading away fetuses.  I like Bauers for fantasy, and he should be in the lead for a starting left field job.  His one drawback for fantasy is he's a bit of a floor player vs. a big ceiling titan of industry.  Think 15/15/.260, or a poor man's Benintendi.  I will call him, Ben Good-intentionsy.  Hmm, maybe not.  For 2019, I'll give Jake Bauers projections of 54/14/61/.259/19 in 516 ABs.
Yandy Diaz – Went to the Rays in the Edwin/Bauers trade.  Maybe it's because Yandy is built like a brickhouse, but I'm kinda hyped on him.  He's the guy on the right in the pic below, not that the other guy is a slouch.  I mean, neither look like Grey Albright at the Gun Show.  Okay, this feels a little like an article submission to Men's Health & Fitness.  The title of that article, "You Can't Fitness Guy In Your Compact Car."  The problem is if Edwin is indeed in Tampa, then I'm not sure how many at-bats Yandy gets.  For now, I'll give Yandy Diaz projections of 31/12/38/.282/2 in 324 ABs.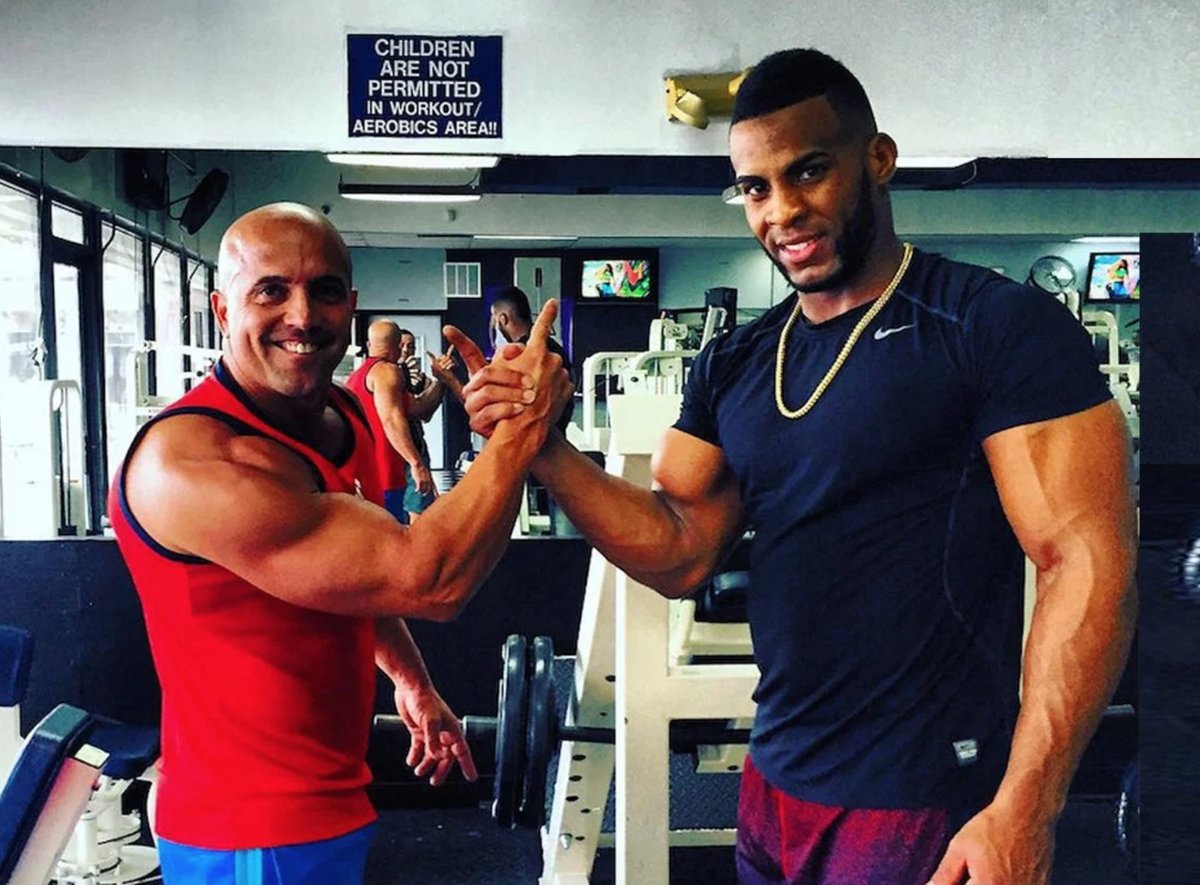 Charlie Morton – Signed with the Rays.  The Rays went out and got Morton because they're suspicious of too many people realizing their opener trick.  Kinda like how your dentist says, "Only one more filing," then takes a pliers and rips out your back tooth.  Or is that only me?  Stupid Obamacare!  I'm a bit surprised the Rays went out and got Morton.  He doesn't feel like the Rays' type at all.  (Mad Libs in name of player you've never heard of who they're about to turn into someone good) feels like the Rays' type.  Morton had elbow issues at the end of last year, is 35 years old, and just threw the 2nd most IP of his career.  I don't know, Rays, I think the Astros might've Jokey Smurf'd you.  I won't be going out of my way to draft Morton this year.  For 2019, I'll give Morton projections of 9-6/3.54/1.18/159 in 144 IP.
Justin Bour – Signed with the Angels.  This pushes Thaiss down.  Hey now!  I was just starting to look at my rankings that will be released in January and Bour was one of those guys who could've went to useless on a team with a 1st baseman, like he was in Philly last year, or sneaky valuable, like he was on the Marlins…Okay, not last year on the Marlins though, it was two years ago when he was valuable.  I could see him running into a 27+ homer, .270 season or a 15-homer, .220 season.  Of course, varying shades in between.  Hey, call him Justin G Biv!  For 2019, I'll give him projections of 58/23/66/.242/1 in 461 ABs.
Nathan Eovaldi – Re-signed with the Red Sox.  Eovaldi is coming off his best season and has really started to find his strikeouts with his 97 MPH fastball.  Plus, that command?  *chef's kiss*  Okay, now to translate that into numbers.  He had a 3.81 ERA with an 8.2 K/9 and 1.6 BB/9 and was able to throw 111 IP.  Everything in the 1st sentence, lavishing praise, was accurate, and all those numbers are true too, yet not very impressive.  Eovaldi seems to have stumbled into the Red Sox hype machine.  He was better in the 2nd half, but I see more of a potential decent fantasy number three.  For 2019, Eovaldi's projections are 12-8/3.78/1.16/135 in 149 IP.
Jonathan Schoop – Signed with the Twins for one year to bridge the gap until prospect, Travis Blankenhorn, is ready, i.e., blank-around-the-horn to Blankenhorn.  I keed, Schoop's not that bad.  The Brewers' GM was brutally honest recently saying he made a mistake trading for Schoop.  Well, I'm gonna say he just compounded that error by not signing him for less than $8 million.  You can't get a potential 25+ homer 2nd baseman for eight million in 1990, forget now.  I know he was awful last year, but he's 27 years old and has averaged 27 homers every year.  Hey, 27's wild!  Like the really terrible blackjack player once said.  For 2019, I'll give him the projections of 66/28/78/.261/1 in 523 ABs.
Jordy Mercer – Signed with the Tigers.  He will be replacing Iglesias at shortstop.  Big shoes to fill.  Or rather, big pews.  For 2019, I'll give Mercer projections of 46/7/51/.241/3 in 464 ABs.
Tyson Ross – Signed with the Tigers.  My mind was blown when I saw he had 150 IP last year.  Apparently, it doesn't take a lot to surprise me.  So, Bruce Willis was dead the whole time?!  Are you sure?!  Don't hate this signing by the Tigers (admittedly have no idea how much they paid), I could see Ross getting back to just under a 4.00 ERA, if his command continues to improve back to pre-injury levels.  For 2019, I'll give him the projections 8-10/4.04/1.28/134 in 162 IP.
Jeurys Familia – Signed back with the Mets.  By the by, signed back is different than re-signed, resigned or signed back of fan while being bothered in line at KFC.  I'll give Familia projections of 5-3/3.09/1.19/76, 4 saves in 71 IP.
Joe Kelly – Signed with the Dodgers. The reliever who was averaging 99 MPH in the playoffs only seems to be getting faster and faster with his pitches as he ages, which, of course, means when he's 82 years old, Kelly will be throwing 176 MPH, and, honestly, with an eighty-year-old's vision, that's dangerous. Projections for Kelly are 6-2/3.66/1.21/72, 6 saves in 69 IP.
Jimmy Nelson – Re-signed with the Brewers.  Nelson is firmly in the "Don't forget about these pitchers in 2019" camp, but only for people who didn't own him for parts or all of 2018 when he was firmly in the camp of "He's gonna return and be great, I can't believe I only have to keep him on my DL for 6 weeks…hmm…9 weeks…hmm, he's due back right after the break…will he be break in September?  Okay, I can drop him now, right?"  For 2019, I'll give him 7-5/4.08/1.30/127 in 119 IP.
Tanner Roark – Acquired by the Reds for Tanner Rainey.  Too bad the Reds didn't have a player named Mike Trouty to trade.  In 2017, Mr. Roark was a fantasy disaster, getting Tattoo'd to the tune of 4.67 ERA in 181 1/3 IP, but he still had his Ks (8.2 K/9).  Last year even those abandoned him, along with the fastball velocity, and his xFIP was 4.42.  Even if the Astros traded for Roark, I'd avoid.  With the Reds, a team that can turn good pitchers bad, I wish Roark well.  For 2019, I'll give Tanner projections of 8-11/4.31/1.31/151 in 184 IP
Ivan Nova – Traded to the White Sox.  His last three year ERAs:  4.17, 4.14, 4.19.  I'd guess his next one off of that but A) That's the world's hardest SAT question. B) ERAs are kinda dopey. C) There's no C.  Nova seems to be in that 6 K/9, no walk phase of his career.  "Do it for 17 years and call me," says Jamie Moyer.  For 2019, I'll give Nova projections of 10-8/4.22/1.27/126 in 186 IP.
Patrick Wisdom – Traded to the Rangers for Drew Robinson.  Here's how I know which side I like for this trade.  Could I see myself ranking one of these guys for 2019 and, if so, which one?  How's that for Wisdom?  Good!  Not only will Wisdom be worked into a platoon, he will have a chance to win a DH or 1B job outright.  Looking for a guy who won't be drafted in any leagues who could return huge value?  Look no further!  In 2017 in Triple-A, he hit 31 homers and last year he went 19/13 in combined Triple-A and majors.  There's a chance he could hit .220 and doesn't have a guaranteed everyday job, but I like him as an end-game flyer in deep leagues.  For 2019, I'll give him the projections 43/17/55/.234/3 in 357 ABs.
Lance Lynn – Signed a three-year deal with the Rangers. Usually I don't mention how many years, because for fantasy it doesn't matter, but, Hayzeus Cristo, three years to Lance Lynn?  Did the Rangers lose a bet at the Vegas Winter Meetings?  Did someone say, "We're going to the Wynn," and it was misheard?  Lynn was good in St. Louis, but Miles Ridikolas is good in The Loo.  Arlington is not The Loo, unless you're using the secondary definition of a loo.  For 2019, I'll give Lynn projections 8-11/4.24/1.34/148 in 153 IP.
Andrew McCutchen – Signed with the Phils.  Lots of talk about how this was a terrible deal for the Phils.  I don't particularly love McClutchin' His Knee for fantasy, but seems like a great deal for the Phils.  Listen, much love and respect to Nick Williams and Roman Quinn, even re2pect to them, if you prefer, but McCutchen's uni number for a while was 22 so that's re22pect, and, if you're gonna be a contender, ya gotta make contender moves.  Contenda, even, and getting McCutchen is a contenda move.  For 2019, I'll give him projections of 78/23/89/.251/11 in 541 ABs.
Troy Tulowitzki – Released by the Jays.  Tulo took the news in stride, straining his hammy.
J.A. Happ – Re-signed with the Yankees.  To get a deal, Happ didn't even have to tell anyone how he'd hypothetically strike out Babe Ruth.  Have you heard about this?  Adam Ottavino said he would strike out Babe Ruth.  Offseason NFL is about who murdered who, offseason MLB is hypotheticals about superstars who have been dead 70 years.  Yo, who says baseball is not lit?  My thoughts on it, Ottavino's a moron.  Saying he'd strike out Ruth is like saying I'd beat Albert Einstein at a quiz on Game of Thrones mythology.  Yeah, Einstein might struggle with that one.  Or a less ridiculous hypothetical, a top scientist today vs. Einstein as they're quizzed on current science trends.  Any hoo!  Happ's had a Verlander-type resurgence the deeper his career has gone.  Never sexy to rely on a 36-year-old, but if he can maintain a 9+ K/9 and 2.5-ish BB/9, then his xFIP will be under 3.90 and he'll be worth owning in all leagues.  For 2019, I'll give him the projections of 13-7/3.77/1.16/181 in 170 IP.
Chris Herrmann – Signed by the A's.  On his Twitter bio (if he has one), he should list his name as Herr/mann.  It's what all the kids are doing nowadays.
Billy Hamilton – Signed with the Royals.  With Merrifield and Mondesi, the Royals are moving towards an 80's style go-go offense.  Now they just need Ron Washington.  Not to manage them, but to provide them with cocaine.  The Royals will also be moving towards using mini-souvenir bats, but they will be using them as batons.  For 2019, I'll give Billy Hamilton the projections 54/3/34/.241/41 in 521 ABs.