Ever been on a couples trip to the beach where the other couples have AT LEAST three kids a pop? That's right, I say "at least", for I am not even entirely sure how many of these little bastards I'll be d*cking around with. I bring this up only because I've been participating in extravagant amounts of soul-searching, spending more time on my knees than Elton John's personal taint-trimmer, begging the Elders for a resolution that never seems to arrive: Does Beddict want children of his own some day? First off, who are you to say that I don't have a child somewhere that I don't know about? Secondly, I passed out last night before even finishing a paragraph as, for some reason, people still actually believe getting fast food is a wonderful idea, even though it's full of outrageously disgusting products that make me feel like I just inhaled four sticks of deep fried butter and washed it down with a liter of turbo-lax. Seriously, I love sitting around with 17 kids, pretending to be somewhat interested in whatever these other adults living the American dream have to say, while simultaneously following all the MLB action going on and wondering if their wive's were attractive at one point in time…
"Sorry, what did you say dude? Your truck has how much horsepower and your hatch-back with super-sick exhaust is hella bad-ass, even though you are pushing 50? Why are your dogs locked in a cage in the middle of the living room and why do they look as if they would love nothing more than to chew on my throat for 35 minutes, following that up with a neighborhood cat-killing spree that makes The Purge, look tamer than Home Alone 3, you know the one with that wack ass kid from Liar, Liar?"
I seriously need answers on how you guys/gals live your life with actual children around all the time… I cannot get anything done. In fact, I can hear the little beasts now, as everyone is waking up for a FULL 8 hours on the beach in 90-plus degree weather. Maybe I'll tell them I'm almost done with an extremely important write-up and that I'll meet them at their beach spot, when in fact I'll just be doing lines with one of those creepy bathroom attendant dudes who sells cologne spray and single cigarettes at the local strip club, which I'm sure is absolute garbage. You've got to be realistic about these things.
Anyway, here's what I noticed last night regarding the fantasy baseball world as I rudely ignored all the other adults in the house. Take heed!
Justin Bour – Fish, fish, bish. Another homer in the basket. Can't touch this. Another opp in the casket. 2-for-4 with three RBI and his THIRTEENTH yard job? That's correct, Bour is officially hotter than freshly blasted Buffalo poon-tang, and with 12 hits in his last seven games, I still can't find a reason to have kids, as it seems like it fully ends your life. By the way, how awful does Katy Perry look as of late? Did you see her performance with Migos? Loving the whole Caitlyn Jenner mixed with Lady Gaga motif.
Russell Brand actually married this Peter Pan haircut having culture-vulture, and we make fun of HER for it. As if Russell Brand isn't an international star who stole our hearts in Forgetting Sarah Marshall [Jay's Note: Underrated fo sure.], and then proceeded to drop nothing but hot garbage for the past 10 years. Truly, bruh didn't make anything REMOTELY entertaining since that star-turning role. Get Him to the Greek was an embarrassing picture and I'd rather not go into further detail, for just writing about the man bothers me in general. I really don't know where I was going with this…
Giancarlo Stanton – This chiseled, elder-blessed dong savant hit his first homer since May 8th, coinciding with my acquisition of his services in the Razzball "Expert" League. Is there a correlation here? Let me check Rudy's tools…sorry, that was an excuse to drop a bomb in the Starbucks bathroom, where I've now had to go to write this, due to all the yelling kids and American dream-living adults pumped about moving towards a life of skin cancer and misery. I didn't actually look up the numbers, but Rudy "won" this trade, as me giving away players is the only way anyone will deal with me.
I smell a hot streak coming, ya'll! Or I suppose that could be the Burger King I just let off at Bucks' bathroom flowing through the air ducts. Stuff probably looks better on the way out, eh?
Koda Glover – OFFICIALLY the Nationals closer as Dusty Baker reached deep inside of himself to make the call he should and could have made months ago. Kudos to him and kudos to science, for this shows us that evolution is real, as even Dusty Baker can learn and evolve from his countless, sometimes embarrassing, often perplexing, and generally ignorant decisions. [Jay's Note: If only 39% of America could do the same thing!] Then again, if Dusty Baker can clear millions of dollars of a 20-year stretch of managing, maybe there truly is a God. For Dusty, not us.
Aaron Nola – Six innings, five earned, with five strikeouts? If you want to live in mediocre fashion, I would have told you to add Nola months ago. Right after a Red Lobster dinner and some new sitcoms on network television…
Scott Schebler – A month or so ago I asked one of my followers why he owned Schebler in his 10 team league… A day or so ago, that same follower called me nutless windbag and begged me to end my life. The 26-year-old now has an astounding 14 bombs…and my reader count is down to about three.
Archie Bradley – Don't say I didn't tell you months ago that Bradley was the next Betances or Andrew Miller! It's possible I didn't say that, but in order to prove me wrong, one would have to comb through the useless babble of my last 10 posts. I wish you the best of luck. Unfortunately, Bradley's rise has coincided with Rodney somehow pulling his life together, BUT as we all know, the arrow-shooting scrub will eventually implode like Steven Segal does every time he attempts to lose the 250 pounds he put on since Under Siege. Archie now has a sterling 1.23 ERA and is chopping down 11.5 batters per nine innings. I'll never understand why managers refuse to stick with veterans…like, we know that Rodney is a total bum. WE'VE KNOWN IT FOR FREAKING YEARS! Yet here we have Bradley, an unhittable savage, a legend in the making, stuck in middle relief. Sad!
Corey Dickerson – Man, a month ago I would have traded Dick for a bag of rusty nickels. Fortunately for me, my colleagues had no interest in acquiring an actual great player. They'd rather speculate on a Max Kepler or a Grichuk. People seem to forget Dickerson was a rising star in the Rockies organization before he was HEISTED from the Rockies. You see, less is sometimes more…except in penis size.
Alex Wood – Wood is now 6-0 with a 1.69 ERA on the season. If Wood can achieve greatness after becoming an afterthought, why can't Domonic Brown? Or better yet, maybe Dan Bilzerian can get a movie role without paying millions for it. Seriously, what a F'n d-bag. What's up with the shaved upper body, paired with the huge beard and disgustingly hairy legs? Let's just shave the whole thing bruh. Also, go away.
Sean Manaea – 7 innings of shut out ball in Yankee stadium with 8 Ks? Not even Stevie Wonder could have seen that one coming…did I say that right? Anyway, Manaea is one of the more intriguing SP's left in fantasy baseball with a low ownership rate. Jump on now, while there's still time. Writing that just reminded me of Time Cop. What a film. If I'm not mistaken it won multiple Oscars. You might want to check that one out.
Jed Lowrie – In going 13 for his last 21, Lowrie is scorching, hotter than wood freshly shot out of beaver's behind, and frankly, he must be owned in all formats.
Jacob deGrom – 8.1 innings with only one earned and double digit ks? If deGrom's goal was to make me feel like having sex for the first time in months, well, he failed. Still happy about it though. Say one thing for having a bunch of dirty ass kids around, it makes me feel about as sexy as Marlon Brando in The Island of Dr. Moreau. Jesus Christ, Brando turned into a fat tub of shit before he died. At least he dropped that final masterpiece on us before he kicked.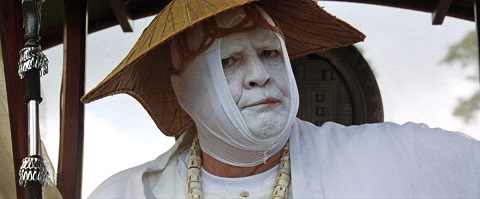 The Seattle Mariners – Is the MLB still considering contraction? I'm all for it.
Mike Minor – I mentioned Bradley earlier, but Minor might be even better. The former SP picked up his second win in relief last night, going two scoreless with 3 Ks while only giving up one hit. He's not being talked about enough, but I truly believe this guy could be the Royals closer as soon as this season. Soria will be or should be traded at the deadline and Herrera is begging for a demotion.
Ryan Schimpf – Cursed with a Godawful name, Schimpf is making his former tormentors sick as he blasted his 12th home run of the season last night. If you're desperate, go to a strip club by yourself, let a chick convince you she's into you while she toys with you, almost bringing you to orgasm multiple times, always right as the song is ending. Proceed to give her all your money, then go home broke and drunk, beat off and then cry yourself to sleep. If you're desperate for power in the middle infield, grab Schimpf.
Thank you for joining me on this Labor Day weekend. Memorial day? Whatever the F. Either way, fill me in with your thoughts on parenting and if it ruined your life or not. For the first time in my life, I'm actually doubting that I want kids…that I actually have to take care of, of course. The whole baby momma thing seems simpler. Pay the gal a couple hundred bucks a month and hang out with your kid on the weekends when you're not busy with other more interesting things. Thoughts? Have a great weekend and wish me luck on this Godforsaken beach. I love you all.