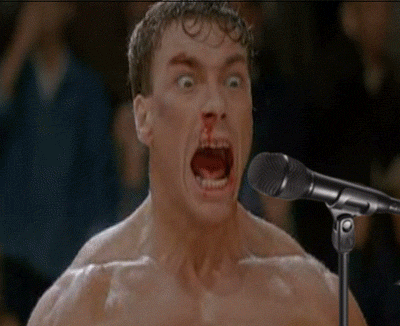 In order to mark the glorious return of baseball, I thought it only appropriate to pay homage to one of the greatest movies of our generation: Bloodsport. If you are one of the people that agrees with the 33% score on Rotten Tomatoes, then I'm going to have to fight you. Disclaimer: I've watched the movie hundreds of times, so that pretty much means I have a black belt in all the martial arts disciplines and will no doubt kick your ass. How could you not like a movie with lines like this or or scene with this? C'mon man!!!
So, why Bloodsport? Isn't it obvious? The participants in both are professionals of the highest order. The anticipation for the start of each respective tournament or season is euphoric. There are a plethora of different styles that are utilized in order to win. And as in every competition, there is a hierarchy among the contestants. There are the creme de la creme, Chicago Cubs/Frank Dux and New York Yankess/Chong Li. Then there are the punching bags. These are the ones I want to focus on for this article, the starting pitching rotations for baseball in particular. But before I get into that, here is this week's muscial interlude. If this doesn't get you hyped up, then I'm going to have to fight you.
Alright, so let's delve into the chumps. In Bloodsport, I'd argue that those two would be Sen Ling and the guy that fights the monkey-style fighter. Sen Ling looks like a veteran and enters the fight composed. He launches some competent attacks but doesn't connect. Then he gets the sh*t kicked out of him. To his credit, he's able to land some punches before getting thrown out of the ring. The guy that fights the monkey-style fighter just looks wack. Is this his first fight ever? The dude tries to throw a right hook six feet in the air when his opponent is crouched down four feet below. SMH. Young and clueless.
Now, the two worst starting pitching rotations in baseball are the Padres and Reds. The Padres are rolling out Jhoulys Chacin, Clayton Richard, Trevor Cahill, Jered Weaver, and Luis Perdomo. The Reds are going with Scott Feldman, Brandon Finnegan, Rookie Davis, Amir Garrett, and probably Bronson Arroyo. At first glance, I'm going with the Padres as Sen Ling and the Reds as the guy that fights the monkey-style fighter. The Padres seem to have some veteran guys that have experience, won't get rattled, and be able to show some competence. The Reds seem to be young and directionless. It doesn't help that their two "studs," Homer Bailey and Anthony DeSclafani went down due to injury.
Let's dig into this a little deeper.
These pitchers may not be good, but at least there seems to be an overall organizational plan. Make the opposition pound the ball into the dirt. Weaver seems to be a setup guy for Perdomo. Sacrifice one in order to boost the other. I like the strategy.
Reds:
I knew this staff was going to be bad, but I didn't think it would be this bad. It's going to be fun targeting these guys in DFS.
VERDICT: