Grey had Taijuan Walker as a top 30 starting pitcher in his preseason rankings.
I thought that was clinically insane when combing through his pitcher rankings upon their release in early February.
The argument was there, I just couldn't support it. Walker had a favorable division change to the NL West which made sense, but not 20 spots worth of an impact. I was stumped as to how you categorize him an SP3 (top 36 SP). Using youth to project future success is one I often turn to, but rarely in regards to seasonal relevance.
Joey Gallo is a good example of a player who over the last two years I have suggested taking a step back to see the big picture with. Even with the genuinely terrifying strikeout rate, to say you have never been unbelievably impressed with a good handful of Gallo's at bats is a flat out lie. Anybody who can hit baseballs as hard and far as him, at the age of 23, has to be given some leeway for developmental matters. (Side note, I talked with Murray Chass on a podcast I host and he suggested that distance on home runs didn't matter. Take that for data!). The fault in my "step back and calm down" philosophy with young players is that I sometimes miss the breakout year. I wasn't high on Gallo for this season, and that was a mistake, but I'm fine with being cautious season-to-season on breakouts without something underneath the surface that I can believe in. I didn't envision an early Adrian Beltre injury, nor did I think his swinging strike rate could come down 5% so quickly.
Pitching is different animal, but the general theory still persists. I just couldn't wrap my head around Walker…
His prospect pedigree was still embedded, but the reason I couldn't buy in for 2017 was due to the lack of a discernible improvement, or "Aha moment," at literally any point in his career, to pique my interest. My thinking was obvious from very early on, as I famously stood on my soapbox and preached the gospel of selecting the almighty James Paxton over a multitude of starters, including Walker. It's so hard for me to put a starter inside the top 36, without and bet on this  being the year he figures whatever 'it' is out, especially if I struggle for evidence of potential success. From a high level view, I emphasize that the Walker belief was warranted long, and want to specify that I'm not trashing Grey's reasoning in the slightest.
The funniest aspect of my gradual shift to belief with Walker? His 'rough' start to 2017 and the majority of general fantasy owners cut bait on Walker very quickly, citing continual disappointment as the driver. I quietly stood in the background thinking to myself, "Wow – I actually like Walker as a buy low." For some weird reason I found myself coming around on the Walker love, and all it took was him disappointing for what I believe will be the last time (hot take alert). Surface results of his first four starts is what caused an industry-wide shoulder shrug, and if I was an owner pre season, it would've been tough to not shrug along. I was in the minority of individuals who has actually been impressed by Taijuan Walker's 'struggles' in his first few bouts, mainly because his slider (we'll get there) and peripherals were attractive.
Compared to last year, Walker's strikeouts are up (20.8% to 26.4%), swinging strikes are up (10% to 11.5%), walks are down (6.5% to 5.6%), and FIP is insanely low at 3.01, from its 4.99 mark last season. This is your classic baseline for buying low on any player who has owners tired of the early returns in the ERA department and the box score (save his 11K gem last time out). Walker is pitching better than he ever has in his career.
Most impressive to me is the jump to an elite swinging strike rate, top 25 this season among arms with 21+ innings of work.
If we take a look at the biggest improvements in swinging strike rate from 2016 to 2017 among qualified pitchers in both years (below), Walker would fit in among the top. Our list itself is a bit interesting too. Disclaimer: Chris Sale is really good, and hilariously the Red Sox have scored less runs than the White Sox this season. It isn't a list of pitchers who I would immediately buy in all formats – there is more to the story with a lot of them – but the best thing a pitcher can do is generate empty swings. It's a data point we need to be aware of.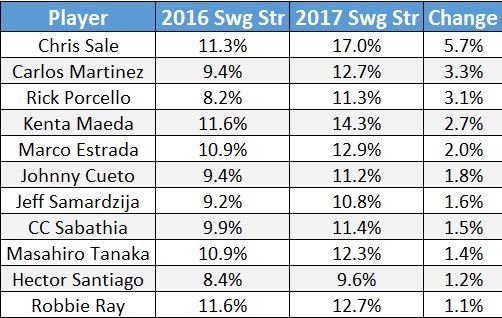 Was this predictable for Walker?
Well, if you were to project an uptick in performance for Taijuan, one of the stronger arguments that could've been made (from March 1st onward) dealt with the rumbling in Spring around his tweaked slider. As I wrote about regarding Dylan Bundy a few weeks ago, we're continually seeing breakouts on the mound that come from addition and rebirth of pitches. It's insanely hard to project what these changes will do, but in today's world, where the immersion of stats makes statistical sleepers quickly devolve from actually being a 'sleeper', the little room there is for finding great value outside of factors like this.
A common move is to look to at the last few starts a pitcher has at the end of the prior season and see if something has carried over. Walker had a great start in Los Angeles, spinning an 11 strikeout, complete game in mid September, but he did it with minimal usage of the pitch that has brought him to relevance this season, his slider. We had so little of a baseline to go off of in our expectations for 2017 season, I'm not kicking myself for missing what I think could be coming for Walker.
Even crazier is the fact that Walker hasn't gotten a swinging strike on this new slider in any of his last four starts. His fastball is the pitch that has improved the most in being a 'put away' offering (14 swinging strikes on fastballs alone in his 11K game). While I'd love to see more misses on the slider, I'm speculating the overall success is a matter of setting up other pitches much more effectively, off of the new slider, even if in his last few starts, he hasn't been throwing it as much. This is similar in philosophy to another player who has seen some early success, Luis Severino. He possesses a slider and changeup that both haven't improved in regards to swinging strikes but are being set up better by the differential in speed from his fastball to changeup (Severino's fastball velocity is up slightly, with a changeup velocity that is down 2 MPH).
I like what I see from Taijuan Walker this year, and am willing to pick up some shares and see where this ride takes us.
I'm slotting him in currently as a top 175 player, just behind Kevin Gausman and Rich Hill, but with some refinement to my rankings coming, I'd take Walker over Gausman, and other arms around the Vince Velasquez range of my ranks. Razzball is giving Walker a 4.21 ERA with a K/9 under 9 and a 1.21 WHIP for the rest of 2017. A decent 3.76 SIERA (FIP-esque statistic) suggests the results may not be as nice as the underlying numbers (Walker owners know all too well how that feels). I see something below a 4.00 ERA as reasonable, let's say 3.8, with a K/9 at or slightly above 9, as I'm buying the new profile and fastball effectiveness. He's a high variance arm that I like the now visible upside of.
Big test coming as he heads to the nation's capital to face one of the most terrifying offenses in the Nationals early this week. A hard luck loss might present an opportunity for you to go to the once again disgruntled Walker owner in your league and push for a swap at a nice price. Also keep in mind, Arizona will be breaking out the humidor in the near future, which can only help a starter like Walker, with a history of home run problems.
Never hesitate to shoot me a message on Twitter with any questions, I'll always respond with some insight, or you can fire away below! (@LanceBrozdow)