Welcome to the glamorous "anniversary edition" of the downloadable Razzball Excel War Room. Has it really been ten years already? Google tells me a tenth anniversary is traditionally marked with tin or aluminum, but I'm going digital instead…hope you like spreadsheets!
Credit goes to the originator Lou Poulas and a host of other update authors over the decade. Time flies, as this marks my fifth year updating and tweaking the file (!), I'm proud of the features and colorful interface that I've implemented to make the tool more usable to navigate in a fast paced, high-pressure draft. Thanks also to Knucks who jumped in starting in 2018 for tedious data compilation for the dashboard tiers and has done so through 2020.
This file supplements the copious 2020 fantasy baseball draft tools and online fantasy baseball war room available on Razzball. I used to claim it was the "ultimate drafting tool" to track goals and keep track of how other teams are doing, but that was before Rudy made his own draft-dominating war room spreadsheet available for subscribers. Rudy's version is geared towards roto leagues, so you may still find this Excel war room more closely suited to your league's format – for example, points leagues with custom scoring are easily accommodated here.
If you plan to skip most of the info below, take this one tip with you: check out the 2020 changes, then bookmark and keep checking this page throughout the pre-season. A few bugs usually pop up, and I try to address these as they come up. The most up-to-date version will always be posted at the bottom of this post, before the comments.
*What's new for 2020*
Color scheme changed – picks for you and your team are now highlighted in ORANGE, instead of green, to try and be more accessible to color-blind users (8% of men). Dashboard colors updated for everyone's benefit, to no longer offend retinas with (garish) orange/yellow/blue text. A more modern blue subdued color scheme is accented with orange and grey highlights (more aligned with popular data visualization software) as you and opponents draft.
More prospects added to incorporate top 200 prospects for 2020 by The Itch. Note that ETA year is shown exactly as listed in the Top 200, so that means some players listed as 2018/2019 even though this is the 2020 season (presumably they should be playing this year?!?)
Ohtani remains an enigma, since hitter and pitcher. For simplicity, I have left him as-is from Grey's stats list which means that he is listed in both categories independently. When you select him as 'drafted', you will need to do this twice – for Ohtani on hitter side AND Ohtani on Pitcher side. But for other calculations, the file is aggregating his total stats (e.g. for points leagues, the war room aggregates hitter and pitcher points which is why each of the Ohtani's shows as the number 2 overall player in points ranking, it is adding the points for Hitter Ohtani and Pitcher Ohtani.)
KNOWN ISSUE: When is Will Smith not Will Smith? When one plays for the Braves as pitcher and the other for the Dodgers as catcher (a baseball version of Gemini Man?) The fresh prince is displayed with the same name across Razzball, creating a tiny issue in the Excel file based on how I currently have lookups coded to get data from the site. To fix permanently I would have to change the lookup formulas for most of the Players tab; for now, as a workaround, I temporarily changed the pitcher to display as "Will Smith PITCHER" across the war room. This will work just fine if you leave things as are and don't update data connections. However, if you refresh data connections, the dashboard RP 'Will Smith' will not cross off properly and the Players tab will not pull pitching stats for pitching edition of Will Smith. But it will still keep two distinct Will Smith, one hitter and one pitcher. If you are updating stats you probably aren't as concerned about the dashboard accuracy since tiers are hard coded and do not update anyhow.
The usual snazzy features of the Razzball Excel War Room:
Color-coded Dashboard and Players tabs that "cross off" selected players as you enter a team name next to the player – orange if player is on your team, and grey if on opponents' teams, making it easy to see at a glance who you drafted and who is off the board;
Team by Team analysis of players taken, and players left;
Real time projected totals, along with real time projected league standings, and Goal Tracking Dashboard;
'Players' tab lists players in in order of Grey's top 500 for 2020 fantasy baseball, including Grey's projections (stats and auction values);
'Dashboard" tab displays players by position, using Grey's rankings (color coded by tier!);
Points columns in the Players tab: includes both a 'total rank' based on points values (input your custom league scoring in 'user input'), and also shoes the total points and PPG as sortable columns. Uses Steamer projections.
OBP and OPS rankings in the Players tab, both 6×6. Uses Steamer projections;
Sortable columns for pitchers' K/9 and 'Ace Index' (K/9 less BB/9), with user-selectable cutoff for each stat.
Dynamically updated team rankings
Multiple RP (not just closers)
Supporting up to 30 teams per league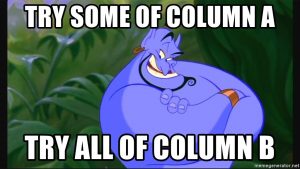 A few of my personal tips:
Before drafting:
simplify columns on the Players tab– you won't need all of them so just click to hide (click the minus button above, or for those without a minus button right-click on the column header and choose 'HIDE') Also, hide whatever site ESPN/Yahoo that you don't need (e.g. if you are an ESPN league, hide Yahoo position columns)
For auctions: be sure to click the '+' grouping button on PLAYERS tab, above the TEAM columns, to expose the salary input column
On PLAYERS tab, press CTRL-F to enter "Find" mode, and select LOOK IN: "VALUES", otherwise you will get a result that says 'no data found' since searching formulas will get you nowhere; once you have this enabled searching VALUES, though, you can quickly find a player in your draft by pressing CTRL-F and searching their name (while on this tab/worksheet);
I like to lock the values on the Player tab (converts all the formulas to values, to prevent any Excel glitches).  To help with this, a "lock Projections" button is on the "User Input" tab– click it to lock projections (be sure you have macros enabled in Excel, since this feature is a macro to copy-paste all the proper columns and save you the trouble!). Note that if you do this, the User Rank option in columns I and AT gets disabled. If you need this, pick your favorite (SLG, etc) before locking.
Use short team names on the User Input page to act fast in your draft (I use the 3-letter team abbreviations from my ESPN leagues) Or for speedy drafts just call yourself 'A' and put everyone else's pick as team 'B' all lumped on the same team. Sure, you won't have the team by team analysis correct but that isn't as important as knowing who is still available if you are in a league that drafts fast (and league analysis is moot once the real life games start anyhow!)
Once you type a team name beside a player in the Players tab, the next time you go to type that team name Excel will try to autocomplete the name, which can really save you time to just type the letter and then hit enter (note: this works best if all teams on the User Input tab all start with different letters!)
During the draft:
If you really want to be a power drafter, do split-screen multi-pane view (or even nerdier, multi-monitor!) and have the dashboard up next to the Player page.
If you are really quick, you can click the top of the position column to filter by ESPN or Yahoo position – which can be helpful if you are missing a player in a certain position. Note: this is hard with multi-position eligibility for so many players. Or, better still, flip over to the Dashboard tab and see which position column needs more 'green' – a quick scan will tell you if your next pick should be a hitter or pitcher (or a gamble on a prospect!)
In all honesty, everyone will use this spreadsheet differently. I personally never look at the 'War Room' tab during the draft, only the Dashboard and Players tabs, sometimes it is a slog just keeping up with drafted selections (especially with any auto-draft picks!) But the functionality is there if you want it, and in a slow draft you can really maximize the analysis.
Prospects who AREN'T projected by Grey can be found all the way at the bottom of the Hitter and Pitcher list (or, ideally, sort by Prospect ranking to bring them to the top!)
We don't have an AL/NL specific version, but try this as a workaround….first, LOCK PROJECTIONS. Then, say you want NL-only: start by making a fake team #25 named 'z'; go to Players tab and sort hitters column L to only show AL teams and draft them all by 'z', then clear the column filter for hitter teams so you are showing all teams again. Then, do same for pitcher side (filter to just American League teams in column AO, only, draft all those players by team 'z', and then clear the team filter to show all) [NOTE: if things look messed up after doing this, get back to original order by sorting Hitter/Pitcher by Grey rankings (columns A and AF)]. Now, all the players in American League are drafted and unavailable and crossed off on dashboard too, meaning anybody that is left is National League and fair game to draft. I realize league team rankings will be messed up, but at the end of your draft just reverse the process and delete the 'z' drafted players and you can evaluate how you stand versus your real peers (and not team 'z'!)
Feedback / suggestions / bug fixes?  Comments welcome below! Good luck with your draft(s)!
The newest version will always be hosted here on this page, click here to download:
(Current version V3 – March 11th, 2020)
Remember to enable macros / enable content if prompted by Excel security warnings, to be able to use "Lock Projections" button on User Input tab and other features.)