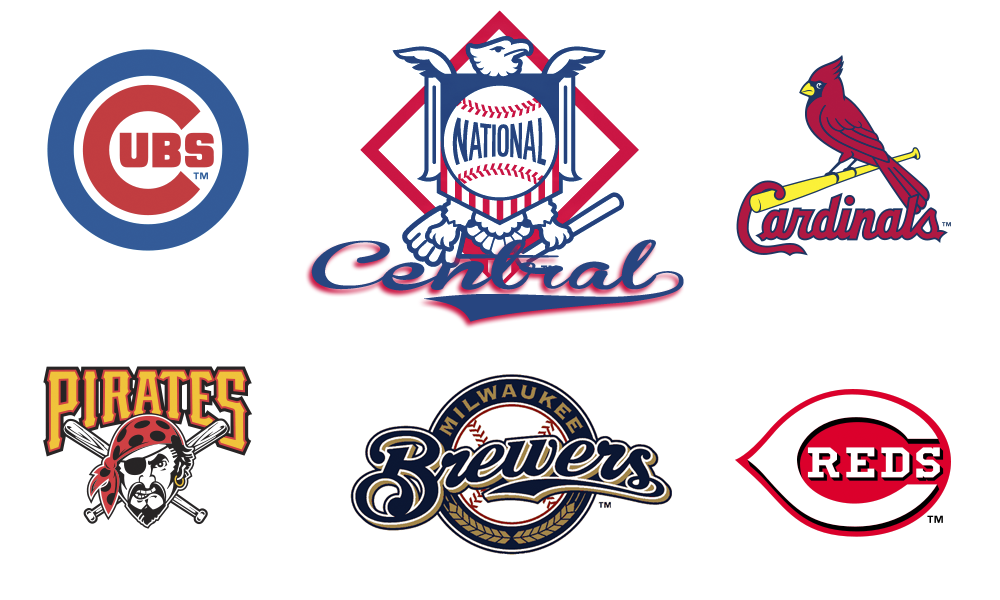 The National League Central, the division that cannot be won unless you have a C in the name. Let's see, the Chicago Cubs won in 2016 and 2017, the Cardinals won from 2013-2015, and Cincinnati won in 2012. A glitch in the Matrix occurred in 2012, when the Brewers took home the crown. Other than the Houston Astros, who won four division titles (1997, 1998, 1999, 2001) before getting the boot to the American League West in 2010, it's been all Cincinnati, Cardinals, and Cubs. Pittsburgh. Where you at? Ah, it's good to have baseball back. Each week, I will go through the position battles for each division. Let's take a look at the NL Central.
CHICAGO CUBS – 92-70 record in 2017
Willson Contreras, Anthony Rizzo, and Kris Bryant are locked into their respective positions of catcher, first base, and third base. The rest? Even Joe Maddon doesn't know because the the puzzle is always morphing and Maddon is always moving with it.
Shortstop – Addison Russell is the guy….for now. He's only 24 years old and plays good defense, but…..is a career .240 hitter, missed 52 games last season due to injury, is under contract for only one year and $3.2 million, was put on the trading block in the offseason, and the Cubs have someone on the roster that many believe is better. Maddon likes Russell, "I really think this is kind of like his year to really blossom. He's so athletic. He's so gifted. As a shortstop, he's so fundamentally sound." Since being called up in 2015, Maddon has played Russell when he's been up with the big club (142 games in 2015 and 151 gams in 2016), despite the offensive struggles at the plate. Chili Davis, who was Russell's first hitting coach with Oakland, is in Chicago now, so that should breed some comfort. With all that said, I think it would be prudent to at least think of scenarios in which Russell isn't the guy. He could get traded or, if he doesn't improve at the plate, Maddon could shake things up and replace him with the next guy I will talk about.
Second base – Javier Baez. Athletic. Sexy. Light-tower power. Strikes out a lot, but whatever. Played 73 games at shortstop last season, so if the Cubs decide to move on from Russell, Baez is more than capable. Whatever Maddon decides to do, Baez should be relatively safe for playing time. He's received 450 and 508 plate appearances in each of the past two seasons. Last year, he played one game in the outfield, four games at first base, eight games at third base, 73 at shortstop, and 80 at second base. If Baez were to take over at shortstop, that would open up things for Ben Zobrist and possibly Ian Happ. Zobrist played 81 games, while Happ played 44 games at second base last year. Zobrist is 36 years old and kind of sucks now. He batted .232 last season and only had 496 plate appearances. Now, he's dealing with a back issue. Happ, on the other hand, would be very intriguing if given consistent playing time. He's a switch hitter that clubbed 24 home runs and stole eight bases last season. He hit for a higher average against LHP, but most of the power was against RHP.
Outfield – Jason Heyward looks to be locked in at one of the corner outfield spots. Even if he struggles hitting, he's a high OBP guy, doesn't strikeout often, and plays good defense in the outfield. Kyle Schwarber is IN THE BEST SHAPE OF HIS LIFE!!!! All the talk has been about his new physique after losing 20 pounds. I'm not sure that's going to help with his 30% strikeout rate, but you never know. It could help with his ability to patrol left field on defense, which could allow him to stay in the game more often. If that's the case, then we definitely have to take notice because, let's not forget that, Schwarber clubbed 30 home runs in 486 plate appearances last season. Zobrist will probably back up the two, but isn't a threat to supplant either. The main "battle" looks to be in center field. Albert Almora Jr. is slated to start. The 23-year-old received 323 plate appearances last season and batted .298 with 8 home runs and 1 stolen base. He crushed LHP to the tune of a .342 average, while he batted .271 against RHP. Happ has been mentioned as a potential contender, but I'd imagine Maddon would keep Happ in a utility role due to his defensive versatility. I've also heard that Almora and Happ would form a platoon, as Almora is weaker against RHP. It kind of makes sense, as Happ is a switch hitter, but he batted .243 against RHP last season.
MILWAUKEE BREWERS – 86-76 record in 2017
The Brewers said enough of the C dominance in the division. They made moves in the offseason to remind the world that B is still higher on the grading scale, as they acquired Christian Yelich and Lorenzo Cain. Sorry Keon Broxton and Domingo Santana owners. Now that I think about it, the Brewers joined the C revolution by trading for Christian and Cain. If you can't beat 'em, join em.
Second base – Jonathan Villar vs. Eric Sogard. The quintessential battle between good vs evil, bunt vs swing, parlay vs. cash out, and lay up vs. go for it. Villar has the tantalizing upside of 20 home runs and 60 stolen bases. He also has the downside of striking out 30% of the time and batting .240. Sogard, on the other hand, walks more than he strikes out, will hit around .270 and probably won't approach 10/10 for the season. Outside of the deepest leagues, Sogard has no fantasy relevance. What he could potentially be is a cock blocker. Now that I think about it, everything is on Villar, so if he doesn't perform, then he will be cock blocking himself. Last season, Villar had an ADP in the 30-40 overall range. Now, according to NFBC data, he has an ADP of 184. Buy low, sell high. Warren Buffet put it best, "Be fearful when others are greedy and greedy when others are fearful." The risk/reward profile is favorable for Villar going into 2018.
ST. LOUIS CARDINALS – 83-79 record in 2017
The Cardinals thought the moves the Brewers made in the offseason were Cute. They made a move themselves in acquiring Marcell "C ball, hit ball" Ozuna, who locks down left field. There isn't any competition in the other outfield spots, as Tommy Pham will patrol centerfield, while Dexter Fowler slots in at right field. The infield is set as well, as Yadier Molina is a catcher, Kolten Wong is at second base, and Paul DeJong mans shortstop. The only two questions would be at first base and third base. There really isn't any kind of battle at either position, but both Matt Carpenter and Jedd Gyorko are older players and have experienced injuries in the past. Carpenter is likely to man first base, but when Gyorko needs a day off, he would presumably slide over the third base and Jose Martinez would take over at first. Martinez is an intriguing player. He hit .309 last season with 14 home runs and 4 stolen bases. He walked 10% and only struck out 19% of the time. The ISO was .210. There's always a but…..the BABIP was .350 and he only received 307 plate appearances. He's someone to keep in mind later in the drafts, as he has multi-eligibility. If one of Gyorko or Carpenter goes down for an extended period of time, that's some potential fantasy goodness right there. Currently, NFBC ADP has him going at pick 270.
PITTSBURGH PIRATES – 75-87 record in 2017
Will be the first season since 2008 that Andrew McCutchen won't be in the starting lineup for the Pirates. So, how's that Le'Veon Bell contract extension coming along?
Left field –
CINCINNATI REDS – 68-94 record in 2017
Outfield – Right now, Billy Hamilton is set to patrol center field, while Scott Schebler and Adam Duvall take care of the corners. Due to Hamilton's speed and defense, he's locked in to start. The corners are where things get interesting because of the presence of Jesse Winker. The 24-year-old, left-handed power bat hit .298 with 7 home runs and 1 stolen base in 137 plate appearances last season. The ISO was .231, while the walk rate was 10.9% and the strikeout rate only 17.5%. The Cincinnati Enquirer's Zach Buchanan reported that the Reds "plan to use a four-man rotation in the outfield this season." When the Reds wants to stack against a RHP, Winker would probably take over left field for Duvall. More than likely, though, most of the plate appearances will come at the expense of Schebler.
Shortstop – With the departure of Zach Cozart, Jose Peraza is slated to start at shortstop. Peraza possesses blazing speed. Unfortunately, he's allergic to walking (3.9% walk rate and .297 OBP last season). His defense? No bueno. Now there's talk that Nick Senzel is nearly ready for the big leagues. From Ralph aka ProspectJesus, "Owner of arguably the best hit tool in the minors, Senzel gets consistent 70 grades on the bat from scouts. His power is above average, and started to translate more in the over the fence variety once he hit the Southern League. At present Senzel is an above average runner capable of double digit steals, but I could see that disappearing over time. The combination of opportunity and a friendly home hitting environment make an immediate impact from Senzel all the more likely. Draws a lot of David Wright comps, and it's not a stretch. The Reds are trying him at every position but first base. In the off-season, he was voted the minor league's best defensive third baseman. Remember what I said about Peraza's defense above? The Reds have said that Senzel won't make the team unless he starts. With the holes that Peraza has in his game, there's definitely an opportunity here.