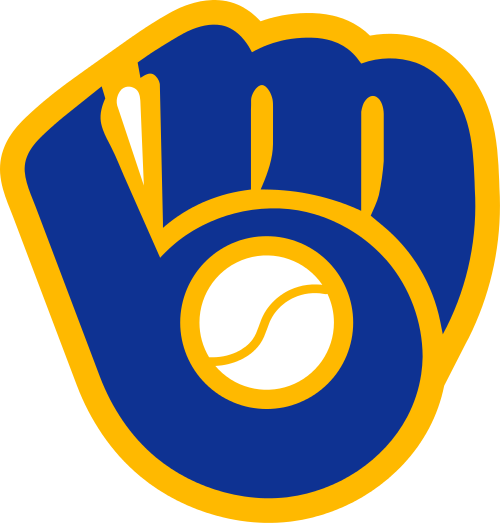 Welcome to Razzball's 2018 team previews. Over the next couple of months, we'll be previewing all of the teams and talking to writers who represent those teams around the web. We want to provide the best and most in-depth fantasy projections to go along with the asking the most useful questions to those who know their teams best. We want to talk about the players in the first half of your draft and also the deep sleepers that make you log into google and start watching Midwest Single-A ball for hours. Just kidding, don't do that, hopefully we don't go that far…
The Milwaukee Brewers showed an interesting way to start winning baseball games last year. After a short period of sub-par baseball, they built an efficient line up without spending a ton of money or going through a 5 year rebuilding period. Eric Thames came out of the gate tearing the cover off of the ball and Travis Shaw outproduced his projections… by a lot. Orlando Arcia and Domingo Santana both got a full season's worth of at bats and showed that they are here to stay. The Brewers also found a strike out artist in Corey Knebel to close games out. Well, this off season, the Brewers got a little more aggressive. Milwaukee added Lorenzo Cain and Christian Yelich who are both balanced hitters who can also scoot on the base paths. Lead prospect analyst of Rotowire, James Anderson joined me to talk more about the BrewCrew.
MB: As it stands now, do you think that the Brewers did enough in the offseason to be a wild card team?
James:  I think they did enough to be in the hunt for a wild card spot in August and September, but I think they'll fall short of the postseason. They raised their ceiling considerably, but in the end, there won't be enough pitching for them to beat out the Cardinals or the Diamondbacks.
MB: Is there anybody in this rotation to be excited about later in fantasy drafts?
James: I'm not "excited" about anyone in the rotation, but I think Chase Anderson and Jhoulys Chacin are good values at their current ADP. With Anderson, durability is a bit of a concern, but I think he'll offer SP3 production on a per-start basis. With Chacin, you could do a lot worse if you're looking for bulk innings and a shot at double-digit wins.
MB: Is 1st base the best place for Braun at this point in his career? What should the Brewers do with Eric Thames?
James: The role they are prepping Braun for (starting at first base against lefties and serving as an overqualified fourth outfielder) is perfect. His mediocre defense won't be as big of an issue at first base and with him not being treated like an everyday player, maybe his body will finally hold up for a full season. The real answer to this question is that designated hitter is the best place for Braun at this point in his career, but that's obviously not an option in the National League. Thames will start against righties and sit against lefties, as he should.
MB: Do you project Travis Shaw to continue his breakout from last year?
James: I think Shaw will provide about 90 percent of his 2017 production this season. Last season will probably go down as his career year for him, but he doesn't have to repeat that performance to remain a high-quality fantasy option, given his power, home park and where he hits in that lineup.
MB: Is there anybody in the Brewer's farm system to be excited about this season?
James: The top guy to put on watch lists from an upside standpoint is righty Corbin Burnes, but we may not see him in the majors until July. Brandon Woodruff, Mauricio Dubon, Brett Phillips are all hanging around, but fantasy owners definitely shouldn't be "excited" about any of them.
MB: Which signing (Yelich or Cain) were you most excited about when it happened? And have your views on either signing shifted since?
James: The Yelich trade was the more exciting acquisition, because it happened before the Cain signing, Yelich has his prime years ahead of him, and the contract is more team friendly. I think with the Cain deal they're buying three high-quality years with the understanding that the last year or two of the deal may not be pretty. My view on the deals hasn't changed much. I expected them to trade Domingo Santana, but it sounds like the market wasn't great, so I'm fine with them going into the season with "too much" high-end position player depth.
Projected Lineup
Projected Rotation
Projected Bullpen
| | | | | | | | | | |
| --- | --- | --- | --- | --- | --- | --- | --- | --- | --- |
| Role | Pos | Player | IP | Wins | SV | K/9 | ERA | WHIP | BB/9 |
| Closer | RP | Corey Knebel | 65 | 4 | 30 | 12.87 | 3.14 | 1.180 | 4.040 |
| Setup | RP | Jacob Barns | 65 | 3 | 3 | 9.90 | 3.72 | 1.310 | 3.700 |
*All Projections are courtesy of Steamer
Want some arrow with that Bowe? (Pronounced Bo-wee, killing the whole pun here, but whatevs.) Explore his content over on the Football side of Razz! And you can also follow him on Twitter.