No Doubt
Rich Hill getting injured; Khris Davis hitting .247; topping my 3 wood after waiting for a long time on a par 5 approach shot; these guys on the list in your starting lineup. Well Alex, what are things that you have no doubt about? Wager: Suck It Trebek!
Not to be confused with Luis Mendoza (the speedster duck), you can bet that nobody that owns Castillo will be yelling for him to stop any time soon. I don't expect it to happen this week with a visit to the Mets and home for what is more a gentle Giant(s) lineup than a Thanos, world killer Giant(s) lineup. No, there's not a spoiler there. I haven't seen it yet anyway.
If you're curious about how good Luis Castillo has been, he's only given up 2 barrels on the season (2nd best among pitchers, min. 50 batted ball events), 31% hard hit rate is 13th best, 85.1 mph avg. exit velocity is 15th best, and the best swinging strike rate of his career so far on this young season at 14% along with his lowest contact percentage allowed as well.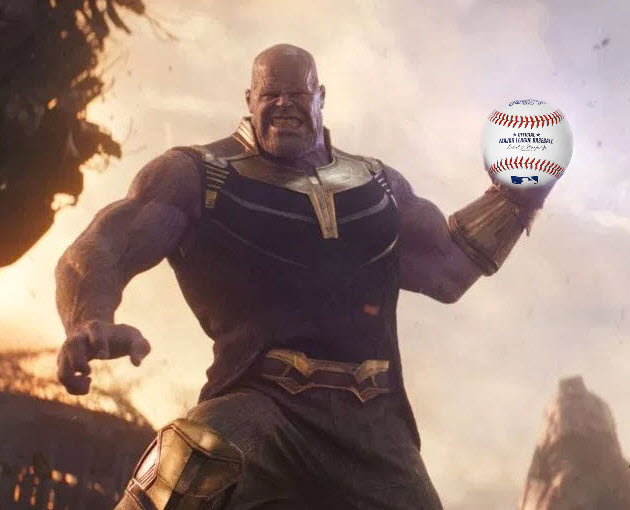 Throw Em If You Got Em
Are you a sucker for a good fastball/change up pitcher? Me too! That's exactly what Chris Paddack has shown to start this season along with the command of those 2 pitches that vaulted him up prospect lists last season and earned him a starting rotation spot this year. While he likely will face some trouble at some point and he's likely to be on an innings restriction this season, just enjoy the fantasy goodness and watch the kid pitch.
There has been some talk about his early season success potentially being a bit lucky. Perhaps, he has been lucky with a .138 BABIP, but BABIP is going to be low on almost every top performing pitcher after a handful of starts. He's limiting hard contact with the 9th best avg. exit velocity (min. 50 B.B.E.), 5th lowest hard hit rate allowed, and has only allowed 3 barrels on the season. I don't love his starts at Atlanta and then facing the Dodgers, but there's no chance he's riding the pine this week.
Both ERod and Porcello have some ugly numbers on the season, but they've both gotten it together over their last 3 starts. Erod more so than Porcello with a 3 ERA and 21 strikeouts over 18 IP with only 4 walks (granted 3 came in one game). I debated moving Porcello down a tier due to a lack of strikeout upside, and his 3 game stretch hasn't been quite as strong. However, he stays in this tier though as the almighty Streamonator likes the match up for both Boston pitchers. Who am I to argue with the boss's tools?
Brown Paper Bag
Nick Margevicius (still not sure how you pronounce his name) is off to a pretty solid start, especially considering he has never thrown above A ball prior to making the rotation this season. The soft tossing lefty is currently sporting a 3.60 ERA, 1.08 WHIP, and an acceptable 22.8% K rate. He's done a decent job of limiting hard contact with the 42nd best avg. exit velocity (87.1 mph) and 35th best hard hit rate at 33.3%.  I will be watching how he handles this 2 start week as the match ups don't do him any favors. The Dodgers are the 2nd best offense in the league , and the Braves are top 10 in runs scored, so, Margevicius will have to continue his weak contact creating ways to make it through this week.
Free Streamonator Pick: Go figure, the Streamonator likes the guy who goes to Miami. Julio Teheran.
Eyes Wide Shut
There's likely not much difference between this category and the next one this week. In general, this group of pitchers is likely more talented, or was at some point, but most have at least one bad match up this week. Tanner Roark may be the lone pitcher in this grouping that doesn't have a tough start this week, but it's Tanner Roark and if he can't get the grounders he needs, it can be a long day, and guess what? He's not getting grounders this season. 31.1% ground ball rate is the worst he's had at any level and he's below league average in hard hit rate and avg. exit velocity allowed.
I Immediately Regret This Decision
Great starters in a reverse league, but just throw a single start pitcher or reliever instead of these guys. Double the starts likely just means double the pain to your place in the standings. Forced to choose any of these options, David Hess or Ivan Nova get the nod. Hess hasn't gotten off to a bad to start this year, but a tough one at Tampa has inflated his ratios. However, it doesn't bode well for a fly ball pitcher to have both starts in home run friendly parks. Nova has been a complete roller coaster from start to start, but had a couple solid outings at the Yankees and at Cleveland. It's Ivan Nova. You know what you're getting generally over the course of the season with low Ks and likely a 4+ ERA with a 1.25+ WHIP. Take the chance at your own risk.
Unannounced/Potential 2 Start Pitchers
The Rockies and Cardinals have yet to announce their Monday starter.
The White Sox, Brewers, and Rays have yet to announce their Tuesday starters that could get the ball twice.
Some other potential 2 start pitchers if their teams skip a pitcher in the rotation include: CC Sabathia, Spencer Turnbull, Felix Hernandez, Adrian Sampson, and Sandy Alcantara.