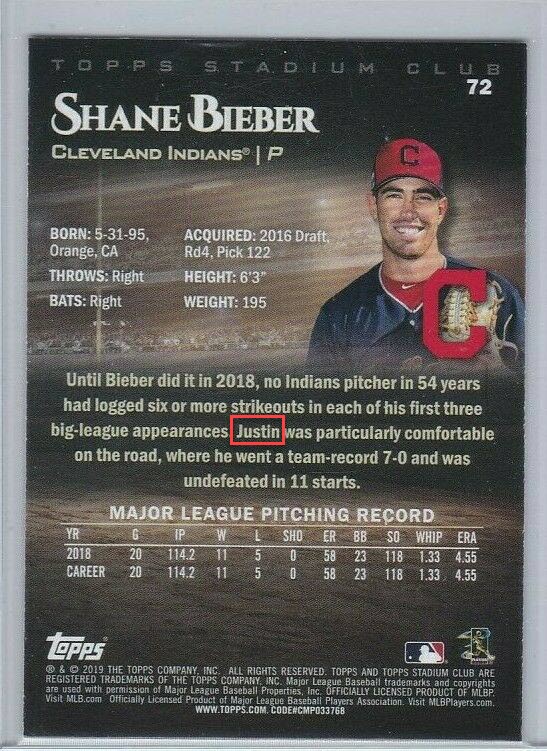 No Doubt
For the second straight year, the Topps card company struggled to remember which Bieber plays baseball and which one is a pop star. At least Shane seems to take it all in stride, just look at his uniform from last year.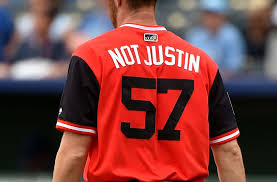 Shane Bieber, along with the rest of the Indians, have been shoving in the 2nd half. Bieber had a great 1st half, but the 2nd half has been exceptional. He has a 2.88 ERA, 1.02 WHIP, and a 29.7% K rate. His 3.20 FIP and .289 BABIP also suggest that it's not luck.
Pretty…Pretty Good
Since the start of July, outside of one start at Minnesota, Domingo German has been great. Of course, that doesn't help your numbers recover from that Twins start, but with almost every pitcher getting lit up on occasion, it's about what they do to help you regain those ratios.
Domingo German has done his part. Since the start of July, minus the Twins start, the Yankees starter has a 2.76 ERA and a 9.355 K/9. If it weren't for the start at the Dodgers, he may even have moved up another tier.
Serviceable
It may be odd to see Wade Miley on here if you haven't been paying attention. However, while he's not your guy if you're chasing Ks, Wade has been providing solid ratio help all season to the tune of a 3.11 ERA and 1.18 WHIP.
Refrigerator Chinese Take Out
Another low K, ratio booster guy in Ivan Nova may be the take out order for the week. Over his last 5 starts, Nova has thrown 37 innings and given up only 2 earned runs over that time. Those numbers give him a 0.49 ERA over that time, but the underlying numbers don't necessarily back up his performance.
Over those 5 starts, Nova has a 3.73 FIP and a 91% LOB, so, there may be some regression coming, but to be fair, Nova has consistently outperformed his underlying numbers due to his more contact, less strikeout style of pitching.
Place Your Bets
Free Streamonator Pick of the Week: Cole Hamels. Imagine this is more of a historical player evaluation because Hamels has been rocked in 2 straight outings.
So, You're Saying There's a Chance
Something has happened with Edwin Jackson since he returned in July. In his 3 starts over that period, he's gone only 14.1 innings, but has only allowed 3 earned runs. Of course, that 1.88 ERA comes with a 5.68 FIP, but rate stats should also be taken with a grain of salt in such small sample sizes.
One thing that has happened with EJax is that his velocity received a bump in July and is up to a 94.76 mph average from his mid 93 mph avg earlier in the season. He hasn't shown this kind of velocity since 2015, so, maybe there's a chance.
I Immediately Regret This Decision
Notes
Padres appear to finally be going to a 5 man rotation and it seems like the rape button, Eric "Matt" Lauer gets 2 this week.
Gerrit Cole could get 2 starts this week, but haven't heard an announcement from the Astros when he will return other than that they expect him sometime in the 4 game Detroit series. Would be a 'No Doubt' starter if he were to get 2.
Team
Projected 2 Start Days
Opp. 1
Opp. 2
AL EAST
BAL
Monday, Tuesday
KC
TB
BOS
X
PHI
@SD
NYY
Tuesday
@OAK
@LAD
TB
Monday, Tuesday
SEA
@BAL
TOR
Tuesday
@LAD
@SEA
AL CENTRAL
CWS
Monday, Tuesday
@MIN
TEX
CLE
Tuesday
@NYM
KC
DET
Monday, Tuesday
@HOU
@MIN
KC
Monday
@BAL
@CLE
MIN
Monday
CWS
DET
AL WEST
HOU
Monday, Tuesday
DET
LAA
LAA
Monday (Tuesday Doubleheader)
@TEX
@HOU
OAK
X
NYY
SF
SEA
Monday
@TB
TOR
TEX
Monday, Tuesday (Tuesday Doubleheader)
LAA
@CWS
NL EAST
ATL
Tuesday
MIA
@NYM
MIA
Tuesday
@ATL
PHI
NYM
Tuesday
CLE
ATL
PHI
X
@BOS
@MIA
WSH
Monday, Tuesday
@PIT
@CHC
NL CENTRAL
CHC
Tuesday
SF
WSH
CIN
Monday
SD
@PIT
MIL
Monday
@STL
ARZ
PIT
Monday, Tuesday
WSH
CIN
STL
Monday, Tuesday
MIL
COL
NL WEST
ARZ
Monday
COL
@MIL
COL
Monday, Tuesday
@ARZ
@STL
LAD
Tuesday
TOR
NYY
SD
Monday
@CIN
BOS
SF
OFF
@CHC
@OAK