No Doubt
Gerrit Cole's season has been a bit of a roller coaster, but the numbers have come around as the pro-gression (positive regression) has kicked in after a tough May. Despite the bad surface numbers in May, he had a 41.2% K rate, only a 2.6% BB rate, and the .362 BABIP screamed buy low.
Cole has bounced back in June despite the underlying numbers being worse than May, but has helped your fantasy team to the tune of a 2.16 ERA and a 0.96 WHIP in his 4 starts. Cole is a bona fide ace and there is no reason to sit him down this week.
Max Scherzer looked like somebody broke his nose or something before his last start and still managed 7 innings with no earned runs and 10 strikeouts. While you may be terrified of at Miami and at Detroit, I think you should maybe…probably….definitely start him.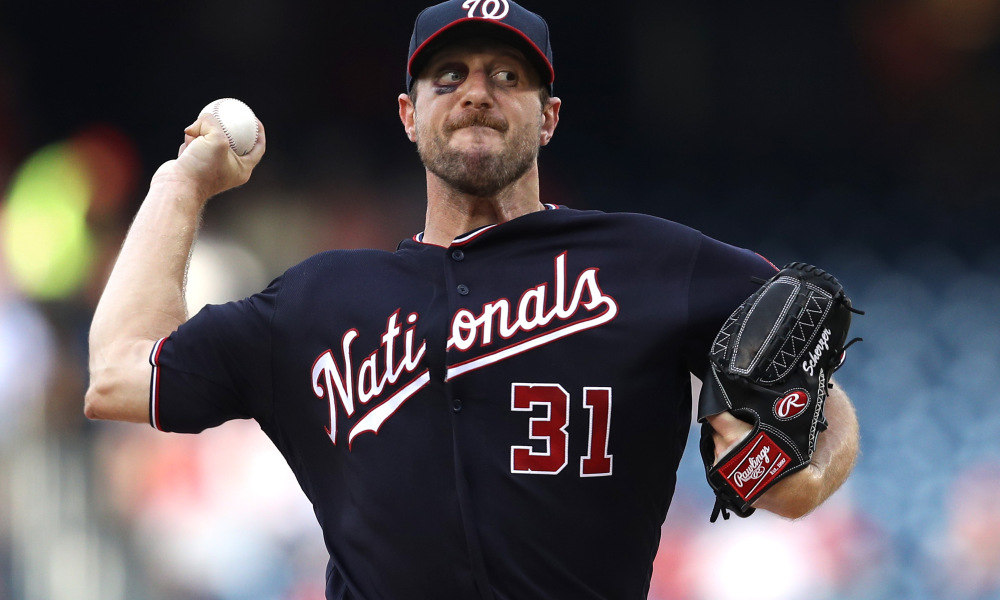 Pretty…Pretty Good
There's enough concern over recent performance and/or match-ups this week for this group to knock them down from the No Doubt grouping. Greinke struggled to close out his last outing and has to face the top offense in the league this week before heading to a nice match-up in San Francisco.
Clayton Kershaw likely will never be his old self again, but he's still somebody you want to throw out there every week. A start at Coors is enough reason to drop him down below the No Doubters as his career numbers are less than sparkling in the mountains with a 4.57 ERA and a 1.30 WHIP.
After getting hit around by the Cubs, Lucas Giolito doesn't get a break this week as he goes against two of the top 5 offenses for the season. Between the match-ups this week, the struggles against the Cubs, and 7 walks in his last 2 starts, there's some risk, but he's performed too well over the season to sit him down.
If you just don't watch Robbie Ray, you'll be a happier Robbie Ray owner. He's nerve wrecking to watch and may blow up your WHIP at any given time, but a K rate slightly north of 30% is enough reason to get 2 starts.
Start Em If You Got Em
Blake Snell has fallen on some hard times recently as his control has abandoned him, but let's remember that we were concerned about Gerrit Cole to start the season as well. Things can change quickly, but the lack of control and increasing number of walks are enough to drop him down the 2 start options.
Snell's velocity is fine and the whiff rates on his pitches are in line with what he's done since breaking out last season. This may be a buying opportunity and I'm still throwing Snell if I own him.
Serviceable
Maybe it's just something in the air, but pitchers are starting to disappoint after strong starts to the season like Max Fried and Steven Matz. Jon Gray bounced back from his own struggles in May to put together a strong June so far.
The 3 pitchers likely rank the same rest of season for me as they would've been before it started with Matz leading the way followed by Gray then Fried, but I believe they may end up providing similar end of season results. For this week, they each have at least one tough opponent, but they're serviceable.
Place Your Bets
Just like a roulette board, you're taking chances with any one of this rather large tier. Julio Urias is an educated as we wait for the Dodgers to announce who will take Rich Hill's spot in the rotation. Neither Ross Stripling or Urias is quite stretched out and they may combine for a 2 start effort between them.
I'd be interested in either long term if they get more of an opportunity and they may get more spot starts, if nothing else, later in the season as the Dodgers seem to have the division pretty wrapped up and likely want to keep everyone healthy for the playoffs.
The Dodgers starters aren't the problem right now anyway as the bullpen keeps coughing up games. They have to get that 'pen situation sorted out via trade or minor league promotion, or they'll be watching somebody else lift the Commissioner's Trophy.
Free Streamonator Pick of the Week: Drew Pomeranz. He gets 2 starts at home where his 4.21 ERA looks a lot more respectable than the 9.76 ERA on the road.
I Immediately Regret This Decision
Tyler Chatwood is a prediction for the Cubs 2 start pitcher on the week, but if it ends up being Adbert Alzolay, that will get me more excited and he'd move up to  the large Place Your Bets group above.
| | | | |
| --- | --- | --- | --- |
| Team | 2 Start Days Predicted | 1st Series | 2nd Series |
| BAL | X | SD | CLE |
| BOS | X | CWS | NYY |
| NYY | X | TOR | @BOS |
| TB | Tuesday | @MIN | TEX |
| TOR | Monday | @NYY | KC |
| CWS | Monday | @BOS | MIN |
| CLE | Monday | KC | @BAL |
| DET | Tuesday | TEX | WSH |
| KC | Monday | @CLE | @TOR |
| MIN | Tuesday | TB | @CWS |
| HOU | Tuesday | PIT | SEA |
| LAA | Tuesday | CIN | OAK |
| OAK | Tuesday | @STL | @LAA |
| SEA | Tuesday | @MIL | @HOU |
| TEX | Tuesday | @DET | @TB |
| ATL | Monday, Tuesday | @CHC | @NYM |
| MIA | Tuesday | WSH | PHI |
| NYM | Monday, Tuesday | @PHI | ATL |
| PHI | Monday, Tuesday | NYM | @MIA |
| WSH | Tuesday | @MIA | @DET |
| CHC | Monday, Tuesday | ATL | @CIN |
| CIN | X | @LAA | CHC |
| MIL | Tuesday | SEA | PIT |
| PIT | Tuesday | @HOU | @MIL |
| STL | X | OAK | @SD |
| ARZ | Monday, Tuesday | LAD | @SF |
| COL | Monday, Tuesday | @SF | LAD |
| LAD | Monday, Tuesday | @ARZ | @COL |
| SD | X | @BAL | STL |
| SF | Monday, Tuesday | COL | ARZ |