Unlike our last team, Rudy and I co-drafted this team.  So for every bad pick, Rudy and I have someone to blame.  Neither will take it personal.  We managed to work Elijah Dukes onto this team, who's a total dwyck.  This is a 20 team, 5×5, roto league and still is, so we have more arms than Bruce Willis.  Get well soon, Guru!  The team breaks down like this:  Catcher, 1st Baseman, 2nd Baseman, 3rd Baseman, Shortstop, 3 Outfielders, Utility, 2 SPs, 2 RPs, 3 Ps and a 4 man bench.  Anyway, here's a 2010 fantasy baseball team and some thoughts from the draft: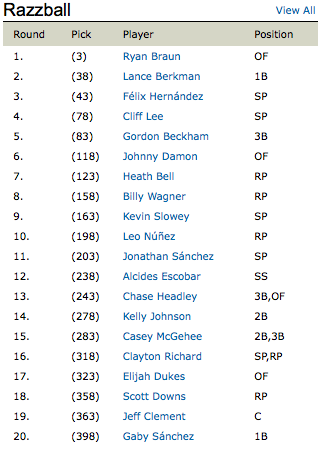 Round 1 – Ryan Braun – We skipped A-Rod and Utley.  Our thought process went like this.  With only one position player for each position, 3 outfielders and one utility man, we figured outfielders would make up the majority of the teams' Utility spots and might even end up in the bench spots.  So you're looking at drafting about 100 outfielders vs. 20 3rd basemen, 20 2nd basemen, etc.  Since there was no MI or CI, we figured there wouldn't be many teams that had more than one 3rd baseman or 2nd baseman, etc. before we drafted one.
Round 2 – Lance Berkman – It was between him and Kendry Morales.  We decided to go with a guy who we felt was slightly more boring, but safer.  Safer helps when there's absolutely no one on waivers.
Round 3/4 – Felix Hernandez/Cliff Lee – We also figured there would be a lot of pitchers drafted, since each team needed at least 5 starters.  In a 20 team league, two top starters, as we have, should easily get us a near-top finish in 3 of 5 pitching categories.  (WHIP, ERA and Ks.  There's no accounting for Wins, but we should do okay there too.)  Now we just needed to take a few flier starters later on.
Round 5 – Gordon Beckham – This is Rudy and I on IM while drafting.  Me, "C'mon, let's take some upside!"  Him, "You and your upside.  We need safe guys who will produce."  Me, "Our team looks like a contender… In 2006.  We need upside!"  Him, "You want Beckham?"  Me, "Please."
Round 6 – Johnny Damon – Hold the above dialogue about Gordon Beckham in the mirror.
Round 12 – Alcides Escobar – Rudy and I both tend to punt shortstop (if we don't get Hanley) and try to get steals from our shorstop later on.  If I remember correctly, we had Everth Cabrera and Alcides to choose from and we needed steals.  Alcides seems more likely to hit at the top of the order for more ABs than EverCab.  Honestly, these guys are such tomato-tomahto at this point, in another draft tomorrow I might go with EverCab.  To read further, Alcides Escobar sleeper post.
Round 13 – Chase Headley – I tried for Snider, but Rudy wasn't having it.  Rudy tried for Conor Jackson; I wasn't having it.  We settled for Headley.  If Headley were on any team other than the Padres, he would've received his own sleeper post.  Then again, maybe he has a sleeper post and I've forgotten.  Damn, Headley, you inspire excitement!
Round 14 – Kelly Johnson – He'll be solid on Runs, fair on average, hit 15 homers and 10 steals.  Explain to me how Yunel's better than him one hundred picks earlier.  Go ahead, I'll wait.  *rests head in hand, taps finger, yawns*  Okay, then.
Round 15 – Casey McGehee – Least favorite pick of the draft.  I really think McGehee ends up back on the bench or in a utility role for the Brewers.  I don't see him approaching last year's numbers.  I think Gamel, who might not even start the year with the Brewers, will outproduce McGehee on the year.  Anyway, it was the 283rd pick of the draft and we needed some flexibility.
Round 16 – Clayton Richard – A Padres pitcher with a near 7 K/9 and projected to have a 4 ERA at pick 318?  No problem there for me.
Round 17 – Elijah Dukes – Some other guys taken this round were:  Jeff Weaver, Mike Adams, Chris Getz, Pineiro, Cahill, Maicer Izturis and Luke Scott.  To answer your question, no Chumlee wasn't drafting for the guy who took Weaver.  That was autodrafted.  The rest of those guys I believe were present.  I always preach not to take bench hitters, but that's for 10 team, 12 team… 14 team… Maybe in 16 team leagues… In a 20 team league, it's tumbleweeds on waivers.
Round 19 – Jeff Clement – A'la Buddy from Cake Boss, "Now that's how you punt catcher!"
Round 20 – Gaby Sanchez – We were looking at Kris Medlen and Carlos Santana but both were scooped right before our pick.  As for Gaby, he (she?) is an upside pick that is at the do or die stage of his (her?) career.  If he (she?) does, this could be our best value pick.
Overall – When we ran the numbers, we're in a three-way first place tie in the preseason standings with 131 Points.  We didn't necessarily go into the draft wanting to dominate pitching vs. hitting, but Rudy ran the Point Shares for the league and there were much better values for pitching.  To come out of a 20-team league with two of the top 10 pitchers in baseball (F-Her and Cliff Lee) is a huge advantage — one that would be impossible to attain with just 2 hitters.  Plus, we got Filthy Sanchez, a Johnson and Headley. What's not to love?