Sure there's roto leagues wrapping up, some final H2H matchups, but the Pitcher Profile isn't going to help too many owners scout for the remaining 6 days of this season.  We are doing a little more looking ahead!  Progressive scouting is my term for this edition – makes me feel all front-office-y!
So I decided to find another off-the-map "prospect" to break down – Rays maybe long-term long-relief/maybe full-time starter next year, Matt Andriese.  I know what you're thinking…  Blahhhhhhhhhhhhhhhhhhhhhhhhhh!  But what really intrigued me was his AAA numbers this year.  In 12 starts (13 app.), 3-3 with a 2.35 ERA and 69 K in 65 innings.  He did have a 1.15 WHIP, but then in the deeper numbers it's even more intriguing – 9.55:1.38 K:BB and all with a .344 BABIP, giving him – wait for it – a 1.94 FIP.  Whoa!  Given it's a pretty small sample, but he's been decent in 62.2 innings in the Majors as well.  I don't really remember seeing any of those innings this year in the Majors (and I don't think I saw him the few Durham Bulls games I've been to this year), so I decided to break down his spot start yesterday to see if there's some deep league sleeper appeal for 2016:
First Inning: Andriese gets spotted an early run of support, and starts Ben Revere with a fastball well high and outside, 1-0.  90 MPH is in there – I didn't even look at velocities I went in blind – then a sinker at 90 MPH again gets a lazy grounder to second, one out.  92 is a tad high to Josh Donaldson, then a nasty tight slider or cutter at 87 MPH gets a huge swing-and-miss, 1-1: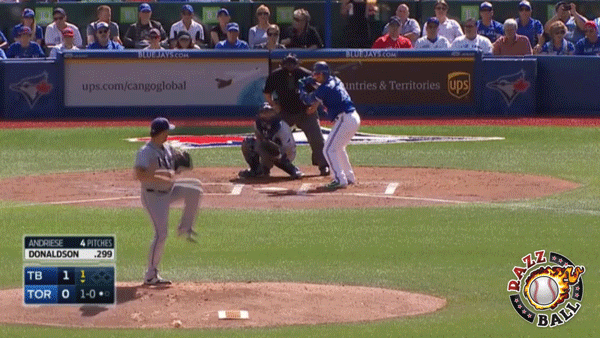 Andriese's first breaking ball there – nasty!  Then he throws the same pitch at 88 and gets virtually the same result with a bad whiff.  Donaldson not seeing that pitch right.  1-2 was supposed to be a high fastball but was in the zone at 93 and luckily Donaldson fouls it off, he sticks with the high fastball at 93 but this time it's high, then 2-2 is that slider at 88 that looked to nip the front door but called inside, now 3-2.  Fastball is tipped back off the umpire mask, slider again is popped back foul, then Andriese loses him with a fastball at 93 high and outside.  The broadcast and I agree – two nasty sliders got whiffs, then he went away from it.  Then holy hell, Andriese's first curveball at 78 MPH gets this swing on Jose Bautista: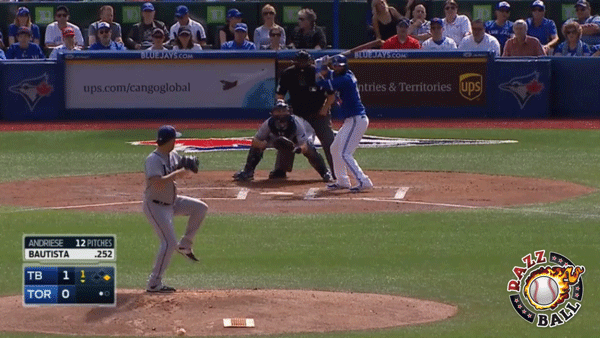 Whoa… Eye-opening!  Curve again misses outside, fastball in the zone at 91 is popped foul and just out of Richie Shaffer's reach, then 1-2 is another fastball hit to center, but right to Mikie Mahtook for the second out.  Fastball looked a little hittable there though, especially for a 1-2 count.  Then the first pitch to Edwin Encarnacion is a 92 MPH fastball getting way too much of the zone and it's ripped between third and short for a hard single.  Runners at first and second, and first pitch curve to Justin Smoak is ripped well foul, either a hanging slider or his first change-up is well outside at 85 MPH, fastball up and in, curve again that would've hit the back door is tipped foul, then a hanging curveball again on the outside black is ripped to left for an opposite field ground rule double.  As with any pitcher without a ton of Major League experience – consistency, consistency, consistency!  So runners at second and third, now a 1-1 game, and Andriese is inside to Dioner Navarro, again well inside with the fastball, 2-0.  Fastball yet again misses badly low and in 3-0, Navarro inexplicably swings at a 3-0 fastball that barely had the outside black – nice pitch from Andriese – then fastball again is popped sky high and caught in right for the third out to get out of the rocky first inning.
Second Inning: So a long 27 pitch inning will limit Andriese's day, and a first-pitch sinker at 88 gets called strike one on Kevin Pillar, 0-1.  Then a fastball rising up and in gets on Pillar's hands for a swinging strike two: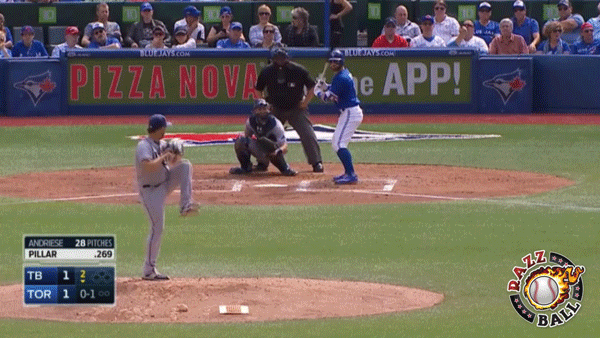 With that long motion horizontally with his arm slot out there, that fastball can be great against righties even without high-90 velocity.  Curveball spins into the dirt, 91 is just outside, fastball again up-and-on jams him for a foul back, Pillar does a nice job laying off a good curveball bending low, then fastball on the outside edge gets grounded routinely to short, one down.  Ryan Goins takes a fastball high, then fastball inside on the hands is popped out in the infield, two easy outs.  Fastball at 92 in there to Darwin Barney, sinker at 90 dives low, high fastball fouled back, curveball skips way outside and in the dirt, a nice curveball at 79 sweeps barely outside for ball 3, 91 on the hands pulled foul, 91 on the outside edge fouled off the other way, then finally a fastball in the zone is hit routinely to center for another easy out. It took a couple long ABs, but nice clean inning.
Third Inning: Beautiful first-pitch curveball at 77 drops in the Ben Revere to start the 3rd, then a fastball on the hands is pulled down the first base line fair for the first out.  That was chopped pretty hard, but a nice play by Shaffer.  Fastball is well outside to Donaldson, fastball hits the outside black, 1-1 fastball absolutely paints the outside low corner, then high cheese at 92 gets Donaldson to chase for Andriese's first K: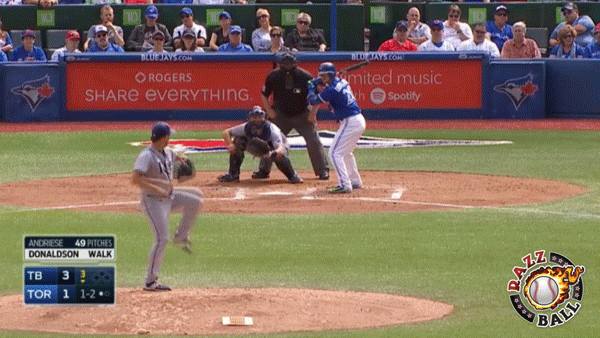 They gave Donaldson a lot of high fastballs in that first AB too, must be in their scouting report.  Curveball misses barely outside to Bautista – same first pitch he threw Bautista last time, so no fear there – fastball is outside, 2-0 fastball on the outside edge gets a whiff, then fastball low and in gets Bautista barely under it for a routine flyout to center.  And that will do it for this spot start, but Andriese pitches a solid three frames.
Final Line:  ND  3.0 IP  54 Pitches (33 Strikes)  1 ER  2 Hits  1 Walk  1 K  Gamescore: 51  Gamescore+: 53.8
Final Analysis: You know what?  Pretty encouraging!  You take a guy into probably the toughest matchup in the Majors – @TOR – and he gives up only the one run in three innings, ending with two 1-2-3 innings?  Not to mention it was his first start since July 7th…  I'm impressed!  His Gamescore+ ended up a tad higher than his Gamescore with no lucky outs factoring in there, plus shorter outings tend to yield marginally higher Gamescore+ values.
Andriese's fastball sat at 91-93 all day, without any major velocity inconsistencies.  Location was pretty solid, making only a few mistakes in that first inning – mainly the single from Encarnacion was a first pitch fastball too hittable.  Fangraphs lists his main breaking ball as a cutter, but it certainly toes that line between sharp slider or cutter.  It had some dynamite movement and I wish he threw it more this start – Fangraphs lists it at a 21.8% usage, so he didn't go with it as much as I would've liked.  Instead it was more curveballs, which were usually well above average by MLB standards.  Sure he hung one off the edge of the plate for the Smoak RBI double, but otherwise he could bend them into the zone for first-pitch strikes or bury them in the dirt.  Not hard to see how he got the nice K numbers in AAA.  He also features a change-up, but I believe he only threw one in this abbreviated start.
Sure it's low-end, but if the Rays come out with Andriese in the starting rotation next year, I think he cracks my top 100.  I'll be all over him in AL-only leagues, even if he opens the year as the long man/6th starter.  He got a ton of swings-and-misses from the Blue Jays even though it didn't get a big K tally, and he pitches in that great pitcher's haven there at the Trop.
Have the same deep league excitement for Andriese in 2016?  Or any questions on the last week of streaming as we cross 2015's finish line?  Shoot your thoughts below, Razzball Nation!