One story finally gaining a bit of traction this season is the installation of a humidor in the Diamondbacks' home park, Chase Field.
Digging right into the meat of this point, the reason it's even being considered is because of the relative offensive production we've seen in Phoenix over the first month of the season. Chase Field has actually has a higher park factor metric than the messiah itself, our DFS darling, the Parthenon of fantasy, Coors Field.
Barely edging Colorado, by fractions of a run, rumors are the Diamondbacks organization tried to implement the humidor this during Dave Stewart's tenure, but he exclaimed, "No! Nothing logically sound can happen in Arizona until I leave!" (cannot confirm through my sources).
While some may not think it's a big deal, the bible of the humidor's impact can be found on The Hardball Times, and its author Alan Nathan believes the difference will be notable. Here's his concluding paragraph from the great column he wrote…
"So what do we conclude? I am very comfortable saying that, with the humidor running at 50 percent and 700F, there will a reduction in home run production at Chase by 25-50 percent. While it would be nice to come up with a more precise prediction, we should not lose sight of the principal takeaway that the installation of a humidor will reduce the number of home runs substantially." – Alan Nathan, A Humidor at Chase Field: What's Up With That? 
In 2002 when the Rockies implemented their humidor, homers fell from 3.20 per game to 2.39 per game, a 25% drop. Although it may be tough to notice that Coors ever implemented something of this sort when looking at the relative production to the league, it did happen, and had an affect on two of the best Rockies' bats of all time…
I know how much you wanted a year-over-year breakdown of two retired players' Coors stats, so let's migrate to the reason we're here.
What effect will this have on four of the most relevant DBacks' hitters? I did my best to come up with some bearing on what will happen to their lines. Keep in mind  I'm focusing specifically on home runs and resulting production changes, not the impact the humidor can have on pitches themselves, which is an often overlooked result of the offense-heavy environments like Arizona and Colorado. Also consider that we don't know when this ~$30k humidor will be installed, but for sake of simplicity, we'll assume it's going on to affect for the sixth of May to allowing for tailoring to Razzball's rest of season projections.
Yasmany Tomas, Jake Lamb, Paul Goldschmidt, and A.J. Pollock.
Four names that immediately pop to mind when considering the change this humidor can have on offensive production. Below I assumed a few things to come to an expected home run and resulting counting stats total for these bats post humidor installation. First was that a hitter has the same HR production on the road and at home. Second was that these four bats would all see a drop of 37.5% in their home run totals – the midpoint of the 25% and 50% our friend Alan Nathan is confident in the humidor having an impact on. I calculated the post-humidor run and RBI totals as a function of the players' home run total change, making sure to neglect the humidor having any effect on the DBacks' hitters and their road stats. It's a crude calculation, but one that provides a look at where these hitters can feasibly fall to given the humidor having a substantial effect on batted balls in Chase Field.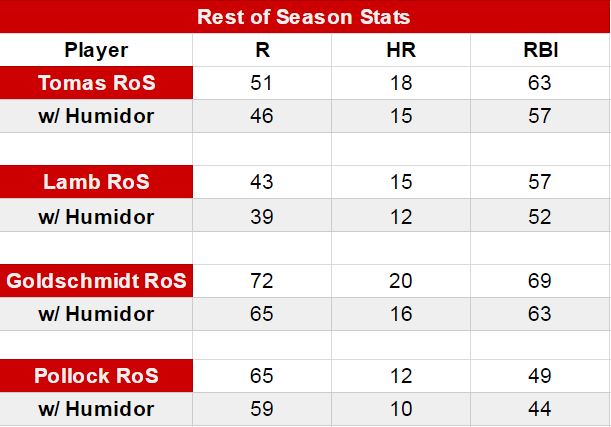 Biggest thing that jumps out to me from this calculation is that Goldschmidt, the best hitter on the DBacks, is affected the most because of this model not distinguishing between certain hitters being affected more or less by the humidor. Goldy's regression is hard to stomach because the inclination would be to think better hitters will be able to overcome any change in their environment, whereas hitters like Lamb and Tomas are more susceptible to the flyball damning tendencies of the humidor. Pollock on the other hand, has so much of his value through gap power, contact, and speed that above he produces some of the smallest changes in resulting stats.
After looking at these numbers, I would be inclined to think that Tomas and Lamb are both affected more than the numbers above suggest, while Pollock and Goldschmidt would be affected less. Am I selling my shares of Tomas and Lamb? It's probably not an insane thing to consider as it currently sits. Goldy and Pollock shares? I would stand firm on those and hope production elsewhere would buoy the value.
With all the speculation on what the resulting consequences could be on your DBacks fantasy hitters there is one thing we're certain of.
Arizona goes into Coors six more times this season.
Be sure to follow Lance on twitter, if a question pops into your head, don't be afraid to ask anything and everything!