You've got to be realistic about these things: Stephen Strasburg isn't the man we all dreamt he'd become. Absolutely, he's become a very valuable pitcher and member of the invariably underachieving Washington Nationals, but alas, we expected career eliteness, Nicolas Cage in the 90's level Eliteness. (Capital E for Emphasis.) Instead, we were given 2000's Cage; Yes, Lord of War and Kick Ass were solid, but the rank stench of Bangkok Dangerous and Ghost Rider shall endure throughout the eternity of human existence. [Jay's Note: But his hair sure achieved a lot in those two.]
We all recall Strasburg's seven inning, 14 K performance in what was the most hyped debut in MLB history. Anything less than a first-ballot hall of fame career would be a massive disappointment after the mound mastery we saw displayed June 8th, of 2010. A little while later, as we all know, the dreaded Tommy John surgery was required and he just never became the man I desired him to be. Of course neither did I, but that's a conversation for my therapist and I to have, but I suppose a botched penile enlargement surgery and Tommy John surgery have similar consequences (Jay, please look that up). [Jay's Note: Risky Google of the day…] Every season, I would predict Strasburg to have his breakout season, and joining or surpassing the Clayton Kershaw's and Justin Verlander's of the world, only to be shamed by my colleagues, family and friends alike. It just never happened. The guy has TWO complete games in his CAREER. TWO COMPLETE GAMES!!!!!?!?!? How is that even possible?. I want to know how many times baby nuts has gone more than seven innings in his career since his debut. It's one of the more insane stats I could ever imagine, and that's without me even having a clue what the number is. I just know it's extremely, mind numbingly low. So I suppose that is having a clue, but I'm not a detective, I'm Beddict the Elder and want JUSTICE!!!!! I could go on, but I'll spare you the pain and self-loathing Strasburg has bestowed upon me over the last decade.
Last night, the former golden boy was taken to the woodshed and bent over a barrel and shown all 50 states by a lineup that features Pablo Sandoval, as he went a whopping two innings, and gave up three, before leaving with shoulder tightness. Here's what I else I've found interesting around the MLB along with your Two Start Pitchers for the coming week!
Take Heed!
Week 11 Two-Start Pitchers
Maikel Franco – The Last time I saw Maikel, I told him his mother was an astronaut. Being allergic to walks (12 on the season) Franco rushed me, grabbed me by the throat and screamed: "Don't you ever insult my Mother, you geek." I said, "Maikel, that's not an insult to your mother, it just means you're all Ef'd up," and after being benched for two straight games (now 3), it wasn't his place to argue. He dropped me, wiped a tear from his eye, and walked away without another word. Say one thing for Maikel Franco, say that he's accepted his limitations and knows that he's never going to be great, and there's a lot to be said for that. Yes, it takes a real man to recognize his downfall………BUT, of course, he could have worked on improving his game instead of doing whatever it is he does in his spare time, so maybe we shouldn't give him any sort of credit.
J.A. Happ – 7 innings, no earned runs, and his 8th win on the season? Wow, I'd suggest the Blue Jays dump him in a trade before this immaculate carriage turns back into a blumpkin, or however that saying goes. Impressive outing. Triple Kudos points. We miss you in Seattle, bud. Not really.
Vladimir Guerrero Jr.  – Yes, he's hurt, I understand, but this gave me the opportunity to stash him in the Razzball expert League, as he will be a vital cog in my worst to first, truly epic comeback. You are all witnesses.
Trevor Bauer – Every time I see Bauer dominate, it reminds me of the homers here in Seattle, who, for the first few years after the 2011 MLB draft, insisted that Danny Hultzen was the superior pick. I never understood how you could pass up a college legend like Bauer, yet my beloved M's did so and Bauer is turning into what Strasburg was supposed to be as he went 8 strong, with 12 k's and the dub. Seriously, is there anything worse than arguing with a homer? Carnie folk or homers, what's the creepier species?
Caleb Smith – The Stream-O-Nator was on point, as I received this solid, scoreless outing from Smith last night. Other than a couple rough starts, Smith has actually been quite good for the Marlins and arguably the most exciting player on their major league roster. Of course, that's sort of like saying you got drilled by the best looking guy in prison, so is it really a compliment? I say, yes! You don't usually get gift baskets afterward in prison though. Maybe Jeter should start doing jailhouse seminars to teach these criminals some god damn manners…
Marco Gonzales – Have Cardinal fans figured out we fleeced them in two separate trades yet? Thanks to Mike Leake the legend, and Gonzo, the Mariners are in first place, ahead of the Astros, which is something not even the most astute of predicators saw coming. This 26-year-old pitching savant's record now sits at 7-3 to go with a sparkling 3.28 ERA. Is it for real? Do supplements you purchase from your multi-level marketing (Ponzi schemes) help get you in shape? You tell me.
Bud Norris – If this Bud is your closer in real life, you're probably an alcoholic. Luckily for you, so am I. Why pay 40k for rehab, when I can sponsor you online for 45 bucks a month? Seriously though, Bud Norris is terrible.
Justin Verlander – He's not a man. He's like a piece of iron. At one point a couple years ago, Justin Verlander's contract looked like an albatross; Now it looks like Jessica Alba in a thong made out of licorice. Rarely do you see a trade deadline deal work out to such blissful perfection, as it did for the Astros who not only got a World Series title out of it, but that's being followed up with arguably the greatest season of Verlander's career. That's saying something, considering big daddy already has an MVP trophy to his name. I can't say I saw this one coming.
Addison Reed – Reed somehow has a 3.13 ERA even though he's given up a run in three of his last four outings and seemingly 50 of his last 55 outings. Everything the Twins have done has basically backfired, but there's still time to turn this thing around! Not really.
Jarrod Dyson – Kudos to Jarrod for going 0/3, not scoring a run, having an RBI or stealing a bag in the D-Backs 9-4 win in Coors. By my calculations the odds of that happening are about 1,000,000 to 1. Impressive.
Matt Kemp – Kemp's got me thinking about to the good old days; That greased up, squeezing Rihanna's booty cheeks on a yacht, swangin the 10-inch python around, MVP caliber season having days. What a time that was. Matt Kemp is one of the coolest men of all time and for us to think he was finished, was a disgraceful underestimation of man who still possesses the Golden stick.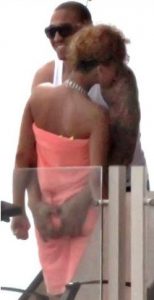 Hector Neris – A clean inning!!!! THE ELDER GODS BLESS US ON THIS DAY!
Domonic Brown – Hanging out with Andy and Red in Zihuatanejo, working on the boat and farming hermit crabs. Word is they dumped him on an island with Wilson, after he kept letting everyone down, time, and time, and time,  and time and time again. Sad!
The Washington Capitals – I wish I cared. Las Vegas was the more intriguing story, was it not?
The Golden State Warriors – You have have back to back titles, but you don't have my respect, and you're going to have to deal with that for the rest of your lives.
Soccer – Please stop wearing those scarves. I just don't get it.
Dylan Covey– Don't look now, but the White Sox are 21-40, charged up after shutting out the Red Sox and defeating Chris Sale on the road, are ready to make a real run at this thing. I'm going to be completely honest with you here; I have absolutely no clue who Dylan Covey is.
Thank you so much for spending part of your weekend with me, as I know you're extremely busy avoiding your wife and children. Please, for me, have a fabulous rest of your weekend and best of luck to you on closeout Sunday. Let's chat about all your Two Start Pitcher and Soccer scarves questions in the comment section!
Sincerely yours,
Beddict