As I walk through the valley of the shadow of death
I take a look at my life and realize there's nothin' left
Cause I've been toutin and praisin Domonic so long,
That even Grey and Jay(Wrong) think that my mind is gone
But I ain't never praised a man that didn't deserve it
"Sir" Dom or Beddict treated like a punk? you know that's unheard of
You better watch how you manage and how you baller block.
Or you and your staff  gonna be given your papers to walk
I really hate to trip but I gotta loc
As Mayberry chokes, I see myself in the Payote smoke, fool
I'm the kinda writer/model the little homies wanna be like
On my knees sacrificing goats every night saying prayers to the Elder Gods in the streetlight
Been Speeeeending most my life, livin' in the Models/strippers/writers Paradise!
THE SECOND GAME OF THE SEASON! You have the audacity to bench Domonic Brown, the Elder God blessed, champion of a man, who hit 27 bombs and 83 RBI's in 139 games. The former number one prospect in the wondrous game of baseball, the 6-5, 230 pound stallion that women want and men want to be, IN THE SECOND GAME OF THE SEASON!? Hold up, play my theme music on full blast for the rest of this post. This beat got me feelin real froggy and Ryne Sandberg is making a playa like me wanna leap! Dearest Ryno, please inform the general public at once, why it is you're starting the inept John Mayberry over an All-Star and all around nice guy, "Dom P." Brown. Don't you dare tell us it's because Mayberry hits better against lefties; Mayberry hit .240 last season whereas Domonic hit over .250. This is beyond laughable! Brown was BY FAR the Phillies best player last year and this is how he's rewarded? Hitting 6th in the lineup and that's if he's even given the opportunity to play? Can I reiterate the fact we're talking about an ALL-STAR player here, who obliterated his competition in the minor leagues? Failure is simply not possible for this transcendent talent, UNLESS you mess with his head and start sitting him every other day. Brown's only failures on record are when the Phillies inexplicably had him on their major league roster, yet refused to play him a few years back, and the year before that he broke his wrist. This has catastrophic disaster written all over it, and it disgusts me to no end. Brown started every game but there that he was healthy enough to suit for last season. He's already 1/3 of the way there this year and I'm appalled.
The Phillies are an obvious over-the-hill franchise with no young talent on the roster, other than 3rd basement Cody Asche and the aforementioned Brown. If you're a manager, why in the name of the Gods would you think about sitting you're only All-Star talent? Why is Mayberry Jr. ever seeing the field, unless it's pinch hitting or giving the 48-year-old Marlon Byrd a day off to rest his arthritic hips? What do the Phillies plan to accomplish this season? I can tell you that I will tattoo "Razzballs" on my shaven bean bag if Philly makes the playoffs this year. I might do that anyway, but you get what I'm saying. You have a star caliber player on your roster, who's still only 26 years of age and should be hitting his prime right now, but you'd rather start Mayberry? Mayberry's not even a has-been at 30. He's a never was. Wintertime rumors were flying that Philadelphia was actively shopping Brown. Well, unless you're telling me that all 29 other teams wanted nothing to do with a former number one prospect, coming off his breakout season, an All-Star season, I'd say that's a joke… only I'm not laughing. Philly, if you so desperately want to rid yourselves of Brown, please do all the fans of Major League Baseball a favor and trade him ASAP! I've only been this outraged twice in my life: 1) Was after witnessing the disgraceful series finale of The Sopranos. 2) Was finding out that the next A Song of Fire of Ice (Game of Thrones), was pushed back again and hearing there's no end in sight (it huuuuuuuuurts).
I promise not to focus on Domonic in every post this season [Ed. Note– I'll believe it when I see it…], but not even Kentucky frying my beloved chicken alive could take me to this level of distraught-ness. An absolute dream killer… Could this be Domonic going down the same path as Nicolas Cage? Starting with so much promise, blowing $150 mill on Scottish castles and exotic glass, then being forced to take ANY work he can get as it's all he can do to keep himself and his maniacal son out of prison? Say it ain't so, Dommy!
The Elder Gods spoke to me last night in my Chantix induced dream, informing me that Ryne Sandberg won't last two seasons as manager if he continues making these exasperating, rookie mistakes. Frankly, I hope he's canned next week as I shall never forget the shame he's put upon young Domonic.
Greetings! And welcome to the first installment of Delight/Disgrace, Where I, Tehol Beddict, will give you a run down on everything I found delightful or, wait for it, disgraceful, within the past week of fantasy baseball/baseball in general. I may even touch on some subjects that aren't baseball related from time to time, if that's okay with you. You get the idea, right? Do you smell what the Beddict is cooking!?!??! Cool, let's cannon ball right into this pool then.
Here's what I found Disgraceful in MLB this week:
Managers not announcing their Closers- Seriously, what is the purpose in holding out on giving this information? It literally gives you zero competitive advantage whatsoever, nor can it be possibly be beneficial to your clubhouse. Robin Ventura, the guy who had the brakes beat off him by Nolan Ryan, also Manager of the White Sox, shocked the world by naming the man formerly known as "A Disaster Waiting to Happen,"as his closer. You may know him as Matt Lindstrom but take it from me, things will get uglier than a Tom Arnold/Roseanne, bath-salt induced, sex-tape. You see, I've owned Matty Lice each and every time he's been named closer throughout his career, going back to 2008 when I was just an innocent stripper trying to find my way in this world. To put it simply: Lindstrom is an abomination to the title of "closer". Take last year for example: Lindstrom dropped a 1.434 WHIP on us. Some combination of his gruesome career numbers and his ineptitude in handling the closer role time and time again won over Robin, and here we are. Lindstrom being on any major league roster is puzzling enough, but naming him closer over the superior talent and supposed front runner, Nate Jones (Who? Nate Jooooones), is downright incomprehensible. I will be utterly shocked if Lindstrom makes it through the season as closer. (Beddict Note: As I was writing this, aforementioned Nate Jones came in for 7nth inning and promptly was lit up by the pathetic Twins. Things are bad in Chi-Town.) 
Ron Roenicke, you dog, you! Your sneakiness is unparalleled. In waiting 'till the first save opportunity, Ro-Ro shocked us by throwing K-Rod out there  instead of Jim Henderson. It seems Henderson still needs time to work out some kinks but will supposedly get the job back when he's "ready". I believe that K-Rod deserves a closing role somewhere and am shocked that he, yet again, was not offered one somewhere. Am I missing something here? Matt Lindstrom and Tommy Hunter can be closers, but K-Rod, one of the greatest of all time, cannot? It's like James Woods not get getting lead roles in film even though he kills every roll he's ever received. One major difference here though: K-Rod was a leading man before, making this all the more baffling. I for one, hope he keeps the job.
Bobby Parnell– Glad I drafted Parnell in three different leagues this season, as well as recommending him to clients. They say he's going to rest for two weeks than attempt a throwing program after an MRI showed a torn elbow ligament. Ummmm, I'm going to go out on a limb and tell you he's done. Don't even bother putting on the DL. GREAT WAY TO START THE SEASON, EH GUYS!!?!?
Jose Valverde– Papa Grande is once again a closer in MLB. Wow. Just wow. Giving Grande the ball in the 9th and expecting success is like attempting to shoot a film, starring Tom Sizemore, within 300 yards of a meth lab. This can't end well.
Billy Hamilton– You can see I don't have a lot to work with if I'm dogging Billy HAM after just one pathetic performance. I'm going to give him a pass since it was against the Elder God blessed, Adam Wainwright, but he looked lost at the plate. Not what those of you who drafted him in the 4th or 5th round wanted to see. No need to panic yet.
LaTroy Hawkins – Hawkins hasn't done anything YET to get stuck on this list, but I'd love for someone to give me a valid explanation as to why a team would sign this old head to come in be their closer. Hawkins is ancient and only has had brief instances of success throughout his 100 year-long career. Colorado Rockies, you have Rex Brothers. Did you really feel that bringing in an abysmal closer was what this team needed? Brothers isn't quite Kanley Jansen (nobody is), but this seems grossly similar to last year's Dodger situation, where they had brought in Brandon League seemingly for no ef'ing reason other than trying to enrage me. You can't tell me Brothers isn't superior to 10-15 closers in baseball right now. This move just disgusts me and thought it deserved mentioning as I haven't touched on it. Moving on.
C.C. Sabathia– Looked great in spring and he had me touting him as a steal anywhere after the 15th/16th round. Nice little match-up to open the season against a pathetic Astros team aaaaaaand yea, he got bent over and shown all 50 states. Ceece recovered just enough for me to give him ONE more chance. Still, this was obviously frightful site for Sabathia owners and we may have to except the end isn't just near, but that it's here.
 Other Disgraceful News This Week:
LeBron James dropping a mix-tape. Normally I wouldn't care, and I wouldn't necessarily call this a "disgraceful", but I have to question at the timing of this. Right before the playoffs are to begin, this dude has been trying to perfect his rapping? What's the purpose here? And to top it off, he has a guest feature from former correctional officer, William Roberts AKA Rick Ross AKA Officer Ricky, and I just can't get behind that.
The Puff Daddy "Big Homie" song/video. This is truly, TRASH! I sacrificed three lambs to the Elder Gods today, asking that they disallow Puffy from ever performing on record again. I can't even make it through two minutes to fully review the video. Track also features French Montana and the aforementioned Officer Ross, two of the biggest frauds in rap history.
Brooke Burke forced to do field sobriety test after crashing her Maserati. How dare you question the Goddess that is Brooke Burke (NSFW). I am absolutely appalled. It is impossible for a woman of this caliber to ever be guilty of a crime, though she did steal my heart in 2001.
MLB News that gave me Delight:
Paul Goldschmidt– Is this one of Grey the Elder's greatest call of all time or what? Goldy is half Minotaur/half God. Beautiful start for one of baseball's brightest young stars.
Brandon Belt– Is this the year where a new crop of first basemen claim their spots in the first few rounds of future fantasy drafts? Three of my favorites: Belt, Matt Adams, and Justin Smoak are hotter than the North Dakota Oil rush, and I for one am jumping all over them if any are available somehow. Yep, I was sold that quickly.
Erasmo Ramirez– Did someone tell you "the Eraser" wasn't a star? Somebody lied. If the Mariners win the World Series, Grey is officially a prophet. Add Erasmo in all formats, NOW.
Franciso Liriano– Why did Liriano drop to a pathetically low spot in all fantasy drafts I participated in this year? I honestly don't know but he's officially back to last year's form as total master of destruction. It hurts me so deep, that year after year I drafted Liriano, hoping and praying he'd return to his pre Tommy-John form, and the year he finally did, was the first year I had given up. Never give up on your dreams, people!  I deserve to be spanked for this blatant disrespect of Liriano, and for that I'll call Veronica. DM me if you want pics.
Johnny Cueto – Guess who's back in the mother ef'in house, with a fat pitch for you mother ef"in mouth. Bro's recognize, batters do too. Cuz when Cueto get funky and pull a voodoo. He's back ya'll.
Brad Miller– Mighty Brad Miller, swinging his bat like Conan the Barbarian, absolutely crushed two bombs in Anaheim Tuesday night. Is 25 out of the question? I think not. Witness.
Other things that Delighted me this past week: 
Finished Black Sails: Season 1. My favorite television series in some time. Stunning cinematography and great acting. It's on STARZ and here's an inside look. I highly recommend you check this out as it's one of the few shows I can sit through without surfing the web or trolling Tinder.
Finished Banshee: Season 2. Another classic television show, this one on Cinemax, that I recently discovered. The action is a little over the top but hey, I come from the generation of Seagal and Van Damme, and  I live for this type of shizz. This action and sex packed beauty of show has already introduced some of the greatest TV villains of all time. You have a roided out Albino queen who runs the show in prison, and the fiercest/largest Native American man I've ever witnessed. It's as if the Elder Gods themselves have heard my prayers and witnessed my sacrifices over the years, for they have created two television shows that I cannot live without.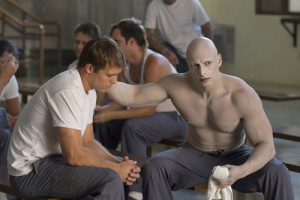 The NCAA Tourney: One of the greatest March Madness'es I can remember. The lack of talent in college basketball upsets me, and that's why I prefer the NBA. But one cannot deny the absolute insanity of this particular tournament. Numerous games down to the wire. Countless cold-blooded shots. I can't take much more. THIS IS MADNESS!!!
TMNT Trailer- This is huge ya'll! I haven't been this pumped since Secret of the Ooze came out and Vanilla Ice captured the nation with the smash, "Go Ninja, Go!." I will be at the IMAX day one. Who's coming with me? [Ed. Note– Uh, thanks. I'll pass…]
Okay guys. I'm taking one of the hottest women I've ever witnessed to the famous play, The Little Shop of Horrors this evening so I must cut our time together short. Hopefully Jay is able to make some of this readable before tomorrow. If you don't already, you need to follow me on twitter at @TeholBeddict47, for it's one of the best out there. Does that come off as cocky? I prefer the term: Cocksure. Good luck and see you next week.