Looking for the Razzball Podcast? TOO BAD! It's now Razzball Radio, and you can check out all the episodes here!
With only two (three if you are including the eventual death of Yordano Ventura's elbow) notable names going on the Disabled List this past week (Mike Napoli and Noah Syndergaard, who probably pulled something while pillaging a camp near the North Sea… HAHA Viking jokes, so good), things are looking a tad bit brighter. But not really, since there are still about 983 players currently on the DL according to my last count. Which seems low, but what do I know? Rudy does all my counting for me. And, as we took a moment this weekend, between relaxing and cooking stuff, to honor all the men and women, active, retired, and tragically lost while defending their county, in all the armed services, we should take a moment today to remember that Jose Fernandez is awesome. Prince Fielder, well, he's fat. Matt Wieters' elbow just seems to be one angry effer. Kris Medlen is strikingly average, but some Patrick Corbin could have been nice. Special thanks to Bobby Parnell for the wake he's left in New York. Jose Valverde… more like Jose LOLverde. And that's just the tip of the iceberg, which is probably the most apt metaphor ever. EVAAR. I mean, just check out my team's start of the season, in picture form: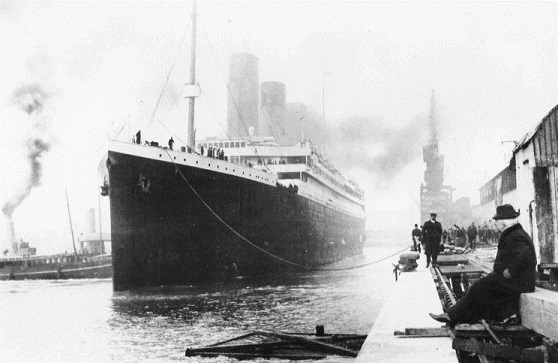 So, after taking a moment yesterday to remember all of those brave souls that we've lost, and all those who have served and are serving now to preserve our way of life, let us take a moment today, Tuesday, to remember all the hamstrings that have been pulled, all the obliques that have exploded, and all the ulnar collateral ligament's that have just simply dropped dead, and honor their sacrifice. How did I honor them, you might ask? By doing what I usually do when perusing my leagues available player list…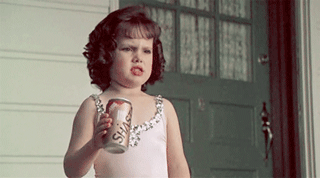 My Fantasy Baseball brethen… 2014, the year of the DL… always remember.
The RCL Top 10
Why the top-10? Because they're the top-10 teams out of 1,000+? And that's pretty amazing? I'm Ron Burgundy? Simply put, they're the best of the best of the best, and I think they deserve a little bit recognition. BUT NOT TOO MUCH. Just a taste.
The RCL Round-Up
– So, here we are, about the third of the season complete, and we've covered the major narratives ad nauseam. And while talking about the year of the DL and Closermageddon week after week brings me some kind of catharsis, in terms of our RCL's, well, there's really not much going on in the way of story. While I'd like to follow up on some of the different aspects we've already covered, this week, I'm going to continue last week's trend of doing some random team browsing… just to see what happens.
– The first team I stumbled upon was Melky Discharge, which sounds gross. Both the image and the stumble. Part of the Crow All Day RCL, the first thing I noticed is that this league also has a teamed called I Wanna Dip My Balls In It. Yeah, talk about the soundtrack to my life. Anyhow, I was going to talk about Melky Discharge, but you're mom is really sensitive about such things. BURN. But yeah, the team has no second baseman and has made two roster updates all season, so I think it's save to say we can now name the team Melky Dishonorable Discharge. So let's go to the team with balls, which is dipping said balls in something, to see what's going on.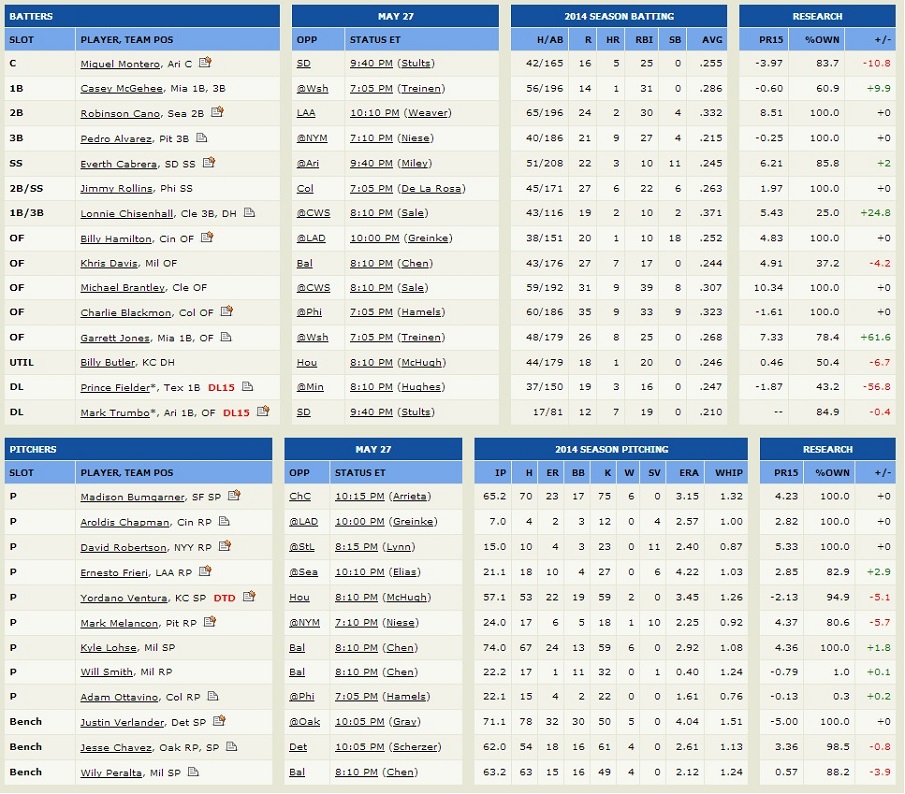 – There's really not much to complain about here. Not sure why Prince Fielder is still on your team, but maybe you're offering a free buffet, and he's over-staying his welcome. I don't know man, maybe you have an À la carte menu? YOU TELL ME. But I'm pretty sure Yordano Ventura has been marked for death by elbow implosion, sooo, that sucks. And yeah… Casey McGehee… 1 home run, yet 31 RBI's. What is this dark wizardry I see before me?
– Here's Captain Jack, from the Au Shizz2 RCL. The only thing I want to point out that the team is 149th in the overall standings, and I'm sure Dee Gordon is a big part of that. He's been great for everyone, true. But I want to point out something. I've always been bearish on him. Also, god made arms and hands so we could pat ourselves on the back. It's science. Just take a look at this: Last 30 days, .243 average. Last 15 days, .160 average. Last 7 days, .167 average. What say you Captain Jack?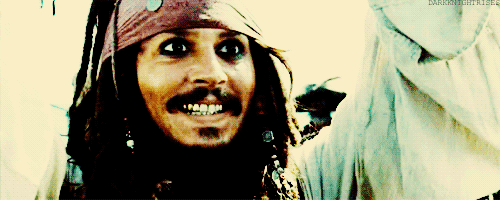 That's not to say he's a better player than he ever has been, because he is, and that's not to say that maybe his speed will still play, but if you wanted to sell high and not deal with his 0-for-67 streaks, well, that boat has long sailed away (Orinoco Flow). Because Enya. That's why.
– Team Kobayashi Maru, +1 for the Trek reference. You get to be talked about. Loogy On Your Windshield is the RCL in which this new crush of mine resides. Sitting at the 216th spot in the overall standings, there has been a lot more to go right than wrong. Captain Obvious to the rescue! Just a couple of things. First, you should probably activate Adam LaRoche and DL Mike Napoli. Also, you have like 853 starters. In Trek speak, since that's what's up, you should reverse polarity on that duadnem colliflex inter-valve dilithium imbalance, or else the gravimetric continuum reciprocating-phase matrix will miss-align. AND YOU DON'T WANT THAT. Why? What a silly question. You know as well as I do that the tetryon matrix can't take that kind of punishment. Too much alternating variance in the asymmetrical interface nutation, NAW WHAT I'M SAYIN' DAWG? Word.
The RCL #1
The RCL #1, which sounds like a RCL made for 2001: Space Odyssey (Grey notified me that RCL #1 isn't related to a space shuttle, but is meant to be said like The Iron Sheik.  RCL #1! RCL #1! RCL #1!), is the Friends & Family league that Grey created so we could all be his fantasy baseball punching bags. Actually, maybe not so much punching bags as mustache combs. Seems more Grey-ish to me.
Regardless, this league stars myself, Rudy, Tehol the Elder God, Prospector Scott, Paul, the Sing(ing)man, Nick the Podcast Host, and Sky… err, the Blue? We need to find you a better title buddy. But that's us, that's the family. Which, I can assure you, I'm already filing paperwork to gain emancipation. The friends are Dalton Del Don from Yahoo, Brad Johnson from FanGraphs, Ryan Carey of Mastersball, and Tim McLeod of RotoRob.
The Standings: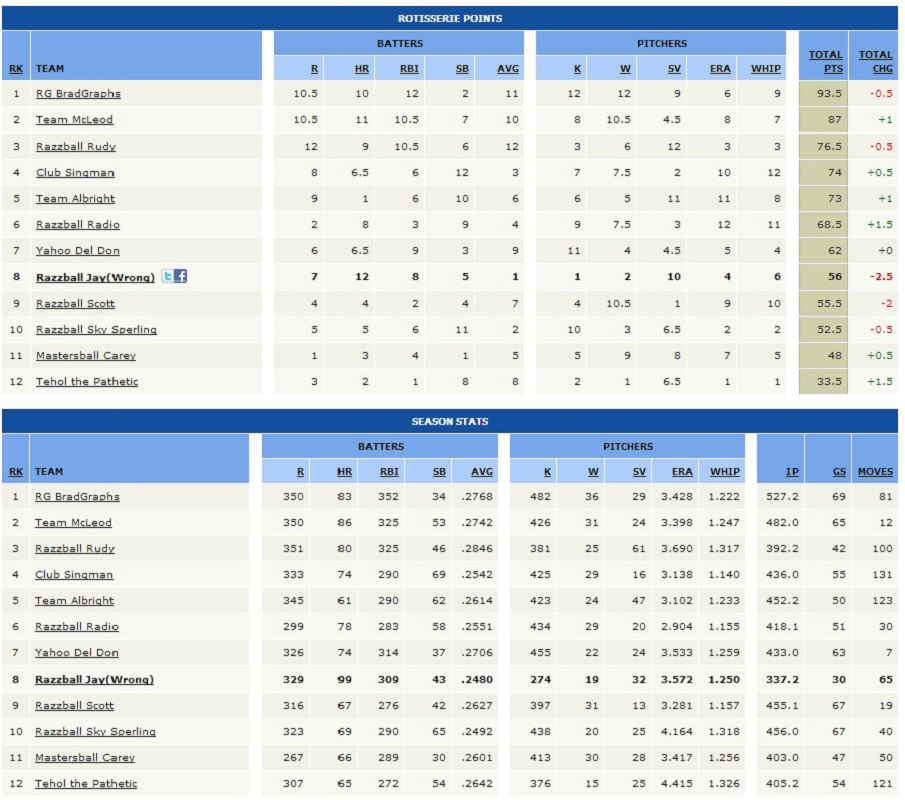 Want more of the Jay? Don't we all folks? Don't. We. All. Well, you, in fact, can have more. AMAZING. I know. You can find Jay enjoying his new dig's running the Football side of Razz.