So if you hadn't noticed, Nelson Cruz has been occupying the top spot (until yesterday) on our Player Rater for quite a while now. For the season, he's hitting .303/.374/.636 with 21 home runs, 42 runs, and 55 RBI's. In other news, what is up is down, and I've already made an appointment with the Catholic church to seek what our options are for exorcism. Afterall, this isn't the only strange thing happening in the year of the Tommy John, aka year of Closermageddon, aka year of the Nelson Cruz. I can only surmise that the fantasy baseball gods are trolling us. How do I know this for sure? Anyone see what Lonnie Chisenhall has done? I rest my case.
The RCL Top 10
Why the top-10? Because they're the top-10 teams out of 1,000+? And that's pretty amazing? I'm Ron Burgundy? Simply put, they're the best of the best of the best, and I think they deserve a little bit recognition. BUT NOT TOO MUCH. Just a taste.
– I guess I should point out that Big League Wood and Pittsburgh Lumber Company have been stuck in the top two spots for three weeks now. Probably proving that we should really believe in the power of lumber. OR a lumberjack with a major league boner.
The RCL Round-Up
– We're going random today, which is a fun little game I play. I go to the master standings, close my eyes, and then have a romantic moment with my mouse, scrolling up and down a few inches, and then clicking on whatever the pointer lands on. It only took a few seconds… that never happens by the way. I SWEAR.
– The first team my pointer landed on (hey now) was the team Girl Number Four from the Brucely, This Is The Best RCL, which I think is my own subconscious reminding me that the only way I'll be able to interact with a girl this year is by clicking on their fantasy baseball team. Thanks! Also, no offense, but I only date girls with the number three, at the bare minimum. Four is just too low. Sorry I'm not sorry.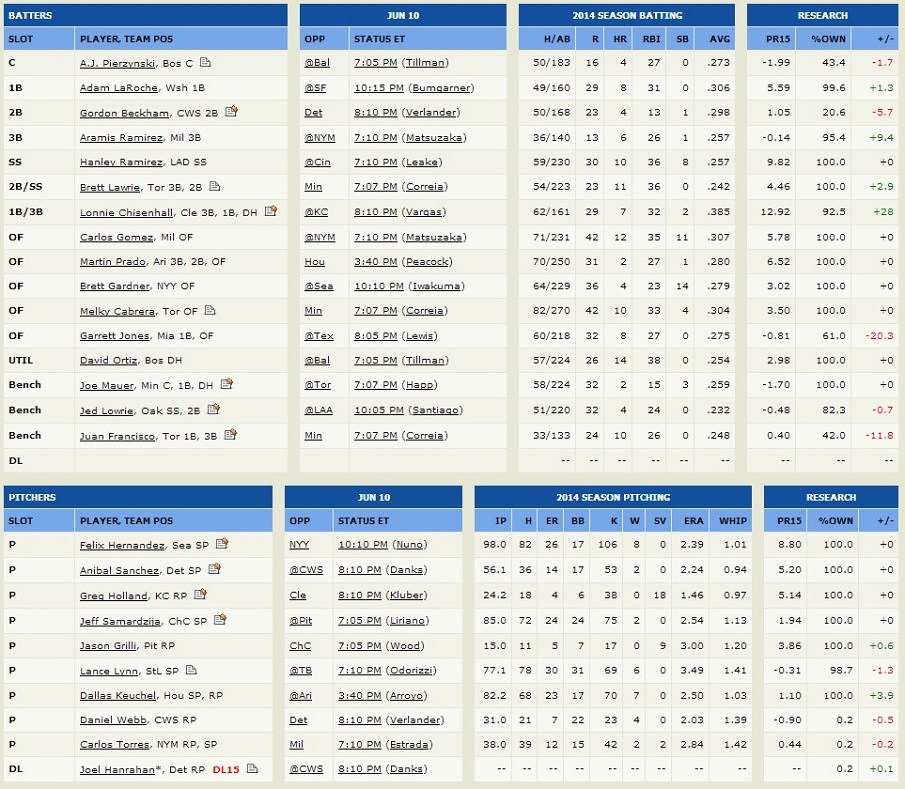 – Hmm, only one DL slot taken up, and by Joel Hanrahan. I think you're cheating.
– Adding to the strange season we are experiencing, as I touched upon in the lede, we see Joe Mauer being benched in favor of A.J. Pierzynski. Truly, this is a weird year.
– The second team I randomly discovered was I'm in I'm in (which also describes my Friday night at home with my pillow), from the Zoso RCL.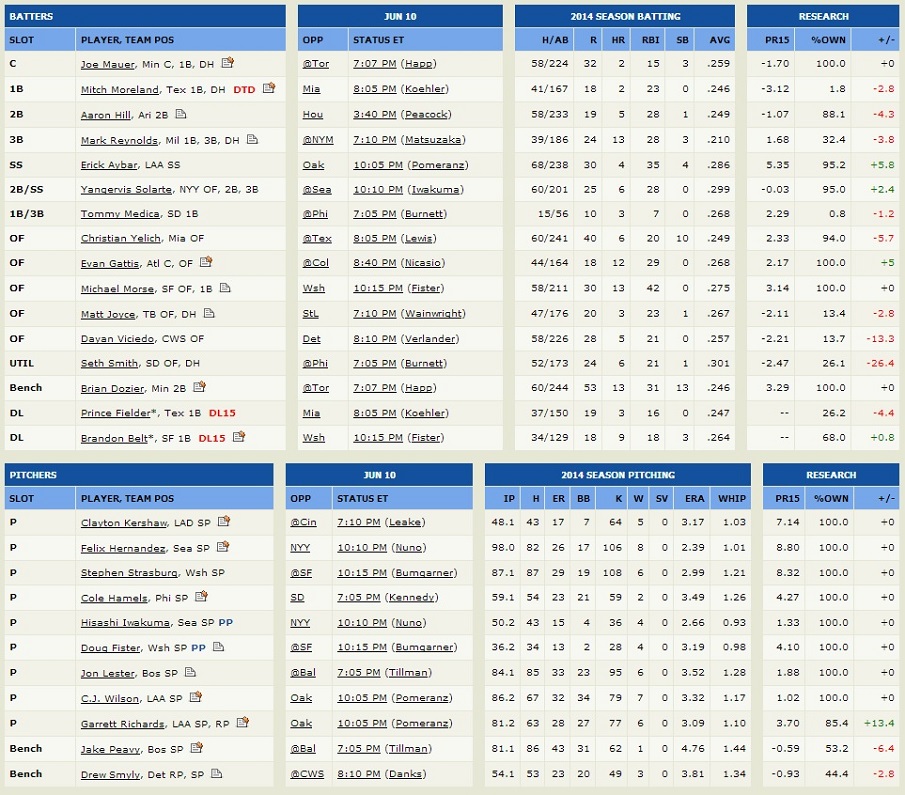 – Protip: You can't have 11 starters. I mean, you can have 11 starters, but there is a cap on this sort of thing. Seeing as how you have Mitch Moreland, Mark Reynolds, Yangervis Solarte, Tommy Medica, Matt Joyce, and Dayan Viciedo, you got holes in different area codes. Whatever that means.
The RCL #1
The RCL #1, which sounds like a RCL made for 2001: Space Odyssey (Grey notified me that RCL #1 isn't related to a space shuttle, but is meant to be said like The Iron Sheik.  RCL #1! RCL #1! RCL #1!), is the Friends & Family league that Grey created so we could all be his fantasy baseball punching bags. Actually, maybe not so much punching bags as mustache combs. Seems more Grey-ish to me.
Regardless, this league stars myself, Rudy, Tehol the Elder God, Prospector Scott, Paul, the Sing(ing)man, Nick the Podcast Host, and Sky… err, the Blue? We need to find you a better title buddy. But that's us, that's the family. Which, I can assure you, I'm already filing paperwork to gain emancipation. The friends are Dalton Del Don from Yahoo, Brad Johnson from FanGraphs, Ryan Carey of Mastersball, and Tim McLeod of RotoRob.
The Standings: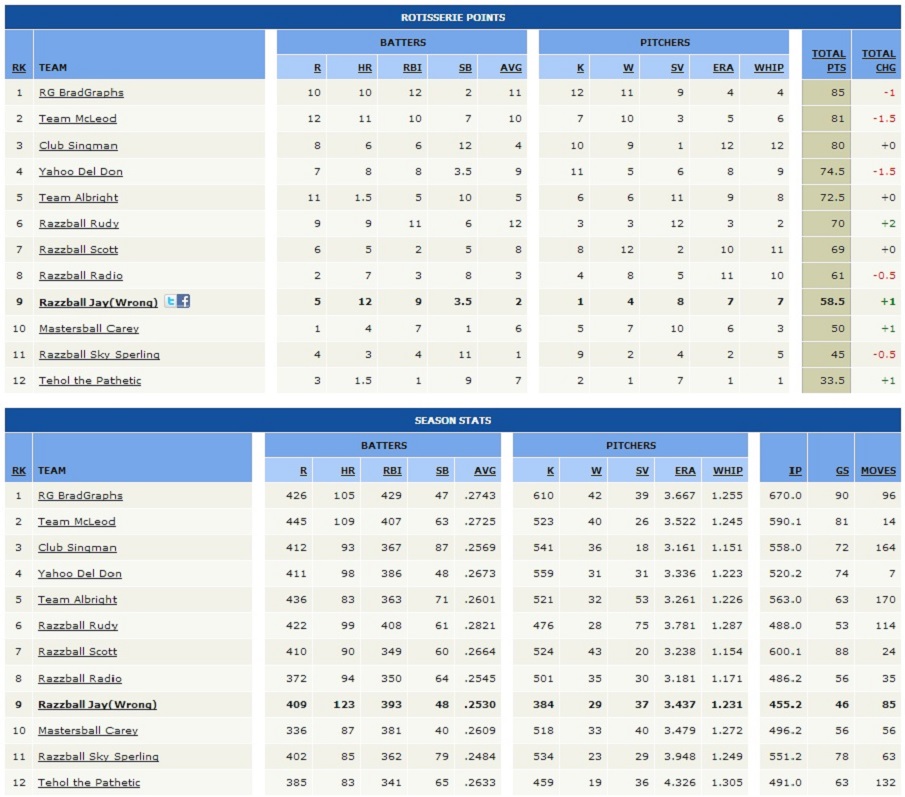 – Much has been made of the big trade between Grey and myself. Actually, not really. I think, like, two people noticed. Just to catch you up, I traded Troy Tulowitzki for Gerrit Cole, Rafael Soriano, Dallas Keuchel, and Elvis Andrus. Now, forgetting the fact that Cole just landed on the DL, there is more than just Grey's angle to this trade. As was already stated, Rudy described this trade in a nutshell: trading four quarters for a dollar. But I'm not quite sure why Rudy has all these nutshell's hanging around. Regardless, my team had holes. And so this basically kills four birds with one stone, which seems impossible. And sadistic. Each and everyone one of those players helps my team, as I needed starters, steals, and saves. True, the best player in the deal went to Grey. But there's something to be said about putting all your eggs in one basket… so, let me ask you something, when's the last time Tulowitzki played in 150+ games?
– Oh, hey, guess who owns Lonnie Chisenhall in this league?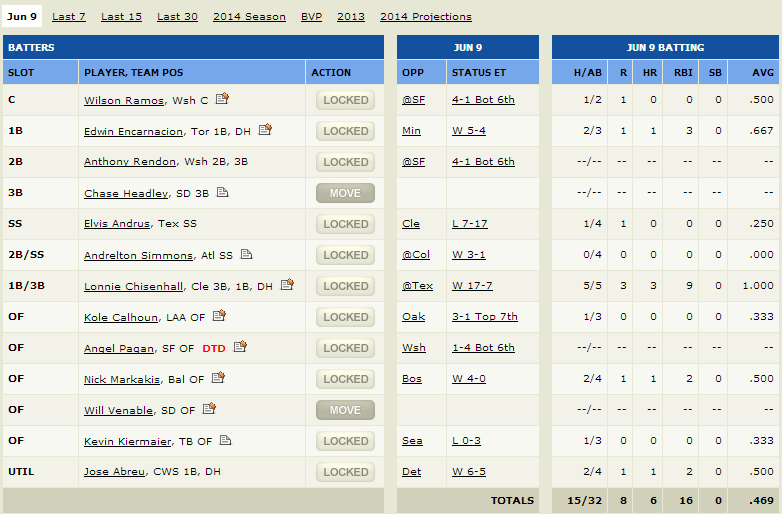 – Boo-yah.
I lost someone very special to me yesterday. You should get to know her a little.