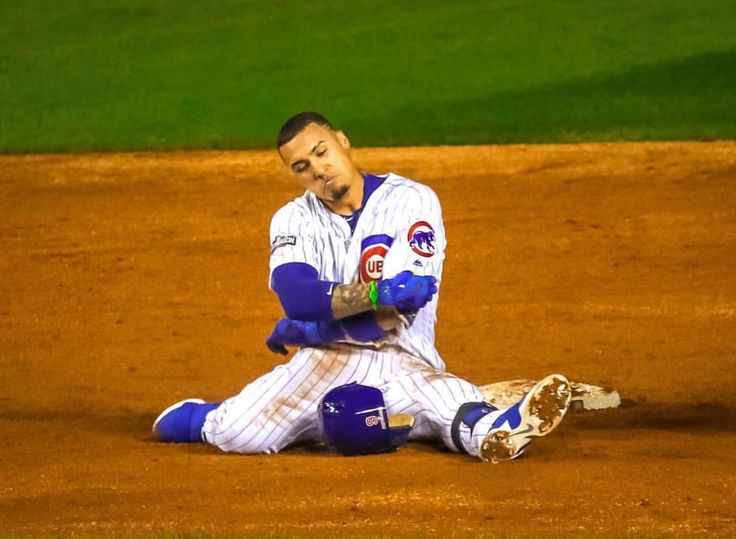 Without looking it up, do any of your know Javier Baez's actual first name. Now that you've looked it up, we can move on. How do I know you looked it up? Because I didn't tell you and unless you're a legit Javy fan, you didn't know. Baez currently has 337 points which puts puts him in the top twelve batters. He's second among second basemen behind Jose Ramirez (472 points) and fourth at short behind Francisco Lindor (403), Alex Bregman (373) and Manny Machado (367). For years first base has been the position with the big hitters, but right now four of the top twelve hitters have shortstop eligibility both this year and next. If we look at the top fifteen then we can also include Didi Gregorius (324). I guess shortstop is the new first base. The only first base eligible batters in the top fifteen are Freddie Freeman (335) and Matt Carpenter (339).
So how is Javy getting it done? Admittedly I haven't had much opportunity to see him play, but looking at his stats, here's what I see. While his walk and strikeout rates are down from last season, they are on par with his three year average. His batting average is up at .302, but his .349 BABIP is in line with previous seasons. He's certainly running more with 19 stolen bases, but that doesn't begin to put a dent in his productivity surge. Here are some statistics I've noticed that might. Baez's isolated power (ISO) which is .292 is up from 2017 (.207) and 2016 (.150). His line drive percentage is 23.1% which is up from 2016 (19.5%) and 2017 (15.4%). His fly ball percentage is down from 36% to 31.7%. Lastly his HR/FB (home run/fly ball) ratio is up as well. In 2016 it was 12.7%, in 2017 it was 19.7% and year-to-date it is 26%. So he's hitting more line drives, less fly balls and more of the fly balls he is hitting are leaving the park, which helps explain is career high 25 home runs.
There is one other statistic that stuck out a bit when I was looking at his plate discipline related stats. Baez is swinging at more pitches, both inside and out of the strike zone. His career average swing percentage on pitches outside the strike zone is 44.3%, but this year he's swinging at 49% of those pitches. Inside the zone his average is 70.9% and this year he's at 80.6%. This season Javy is swinging at 60.9 percent of the pitches thrown to him. His career average is 54.7%, but prior to this season it was about 52 percent. Swinging at more pitches can go one of two ways. Fortunately for Javier, his contact rate has risen too. Prior to this season his contact rate was about 66%, but this season it's at 70%. Se he's swinging at more pitches and he's make more contact on the pitches he's swinging at. His BABIP is consistent and his ISO is up. That might explain his productivity. And let's not forget, he was a first round (9th overall) draft pick in 2011 by the Chicago Cubs. The potential has always been there. Considering he's headed for a 35 homer, 125 RBI, 25 stolen base, near .300 average season, I'd say that potential is coming to fruition.
Earlier I mentioned Matt Carpenter. I'm mentioning him again. Three weeks ago here's what I said about him:
"Since week eight Matt Carpenter has been a solid contributor in points leagues. I expect that to continue."  -malamoney
In the last three weeks Carpenter has 108 points. That's more than any other hitter. In that span he's hit 11 home runs, driven in 19, scored 18 and walked 16 times. He is averaging 1.18 points per plate appearance. I hoped you heeded by advice. Or is the past tense of heed hed? I don't think so.
It seems Rougned Odor has continued his hot ways. It's been a rougned season for Odor until about three weeks ago. In the last seven days he's scored 46 points thanks to 8 hits (4 HR), 13 ribbies, 9 runs scored and 7 walks. He actually had more walks than strikeouts! Considering his BB/K rate is 0.35 this season, that's a great week for him.
Nelson Cruz led the week with 5 home runs. He had 38 points to accompany those ding dongs. I refuse to call them Cruz missiles. Wait, I just did.
The Ides of Cano are coming. I told you a few weeks ago that Robinson Cano was the difference maker that was out on the wire in several leagues that could help you in the stretch run. Did you heed me? Ca-yes or Ca-no?
Jose Abreu has averaged 31 home runs over the last four seasons. He hit 33 last year. Before the All-Star Break he had 13. The regression fairies much more welcomed counterparts were due to knock on Jose's door. Since the ASB he's had 7 home runs. He's a near .300 career hitter, so his recent .258 batting average also screamed anti-regression fairies. Can we just call them the aggression fairies? No, that's not right. How about progression fairies. Yeah, I like that. I actually made a trade that among other players involved me giving up Joey Votto for Jose Abreu. The get in the deal was Zack Greinke, but I was able to downplay Abreu and market Votto as a major upgrade to my trading counterpart. So far it's been win/win for this guy. You know who has two thumbs and loves trades that benefit my team? THIS GUY!
In his three starts since the ASB, Jon Gray has averaged about 24 points per start. I should have just titled this post "I Told You So". How many of you own Gray?
Tanner Roark has averaged 28 points per start since the ASB. He's pitched deep into those three games going at least 7 innings in each. With the Nationals surging and hoping to make a playoff run, Roark might have some value. Then again he might not.
Follow malamoney on Twitter at @malamoney.