Razzball Nation!  I used today's title to try and embody the question everyone is having looking at their waiver wires…
Who the hell is this guy?!
Before his ridiculous debut at Safeco, Collin McHugh had pitched less than 50 ML innings with an ERA that resembled an Extenze advertising claim.  Called up to fill in for a DL-bound Corey Scott Feldman, McHugh got a struggling Mariners offense with swiss cheese bats for 12 Ks and no walks in 6.2 for his first win – giving up three singles and no earned.  I love that before the start, Bo Porter said McHugh is a "pitch to contact guy."  Good thing the Mariners ain't got no contact right now!
I watched some highlights of the Ks that game and was lukewarm impressed, but McHugh went out and shut down the A's, who have a pretty solid O these days.  #Moneyball!  So I decided to take a deeper look at his hot start to 2014 and break down what he could offer fantasy owners looking for some SP help:
First Inning: McHugh begins his second start of the year with a 90 MPH fastball low and outside to Coco Crisp.  The next offering is another heater and Crisp fouls out, caught by Matt Dominguez on the rail.  McHugh paints the knees with 92 MPH heat – real quality fastball there – then a little 88 MPH slider or cutter doesn't too too much and Jed Lowrie dumps it into right for a single.  Up is the red hot Josh Donaldson, who takes a 91 MPH fastball for a strike, then paints the low outside corner for a strike again, 0-2.  Pinpoint command early on.  A 74 MPH big curveball is low, 1-2.  From what I remember seeing in the highlights of the Mariners game – his curve is his second pitch.  An 84 MPH slider is low, and man, that had some major break too.  I'll keep my eye out for some good sliders.  Fastball is outside – full count – then an 86 MPH slider almost frontdoors him – I thought that was a strike – for a walk.  I dunno, the replay has it right on the edge there, but the noob pitcher doesn't get the call.  So runners on 1st and 2nd with one out, and Brandon Moss takes a fastball, 0-1.  A bit of a rolling slider gets crushed by Moss deep to right, but George Springer is able to adjust to the hard hit ball and catch it right on the track.  Great play from Springer there, two down, and the first-pitch curve to Alberto Callaspo is a bit high, 1-0.  Fastball in there, curveball low, another heater in there, fastball again outside, fastball popped just out of play, then another fastball is low – a walk to load the bases.  Out comes Astros catcher Carlos Corporan for a quick chat, and McHugh quickly gets ready to go and the 20th pitch is a fastball swung through by Josh Reddick, 0-1.  A mini-slider is popped out to Jonathan Villar in shallow center, and the early jam causes no damage.
Second Inning: Hoping to respond from a stressful first, McHugh's first pitch is a fastball fouled back by John Jaso, a fluttering curve is way outside, another fastball fouled back, then a nasty two-seamer with a ton of run out of the zone almost gets Jaso to swing, but it's 2-2.  Nasty stuff there.  McHugh then goes slider and gets a lazy flareout to Jose Altuve in the shift, one down.  93 MPH to Daric Barton is in there, McHugh's fastest thus far, and another slider gets a weak groundball – two down.  Fastball fouled off by Eric Sogard 0-1, then a very nice slider gets a weak tap foul, 0-2.  He sticks with the slider and gets another tap foul, then a two-seamer to get the movement going away from him gets a swing-and-miss, great sequence for his first K.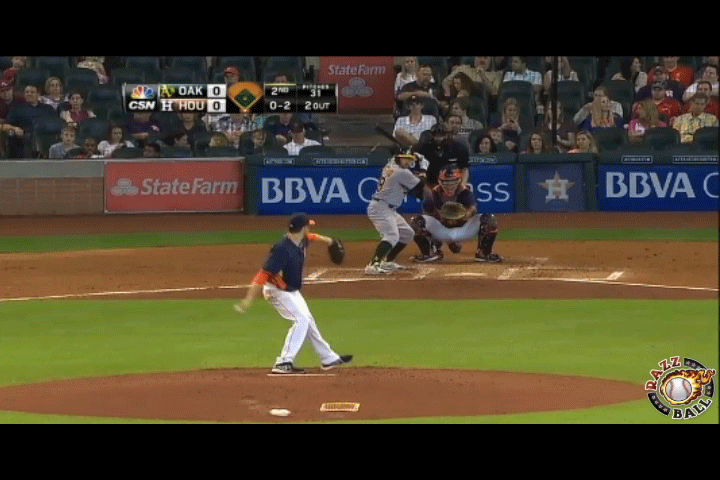 Third Inning: McHugh starts Crisp with a change-up – first time we've seen that – 0-1. It had good movement, tailing out of the zone, and he sticks with it for a strike, 1-1.  Two-seamer paints the knees 1-2, then nasty painting fastball at 93 MPH on the lower outside black gets a called strike 3.  Man, sharp stuff.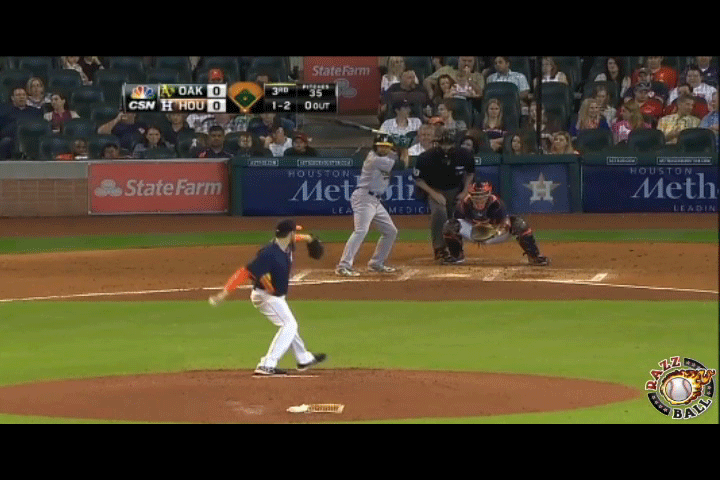 Curveball is inside to Lowrie, fastball outside, another heater way outside, then a fastball inside for a 4 pitch walk.  Hmmm, Lowrie did get the only hit so far, so maybe McHugh was over thinking that one.  Slider gets a swing-and-miss from Donaldson, then a fastball gets rocketed hard between short and third, but Dominguez gets it on the dive to get the force at second.  Dominguez is an awesome defender.  Fastball is a little high to Moss, heater in there, fastball a tad outside, then a slider on the fists gets Moss to pop out lazily into the shift, inning over.
Fourth Inning: Callaspo takes a change-up high and outside, fastball outside, a gooooooood 81 MPH change-up gets the outside corner, then the 2-1 slider gets popped out lazily to right, one down.  Reddick takes a change outside, swings through a fastball, then a slider is flared out lazily just foul past third base and caught, two down.  McHugh still going with change-ups and is in there to Jaso, big big curveball at 72 bends low, then a two-seamer gets inside-outed towards the left field line, but L.J. Hoes on the run nabs it to end the inning.  One of the better contacts of the game, but you don't mess with Hoes on the run!
Fifth Inning: 56 pitches in, McHugh starts Barton with a fastball outside, another heater is swung through, a slider is check-swung foul, then paints the lower outside corner at 92, just like in the GIF to start the third, one down and his third K.  Two-seamer nabs the corner, 0-1 to Sogard, narrowly inside – looked close with the four-seam – then the 1-1 slider is flared weakly just foul to left, and Hoes on the run!  That would be a good band name… Two down and change-up is low to Crisp, then barely outside with heat, nasty change-up, and I mean nasssssty change-up gets a huge swing-and-miss on 2-0.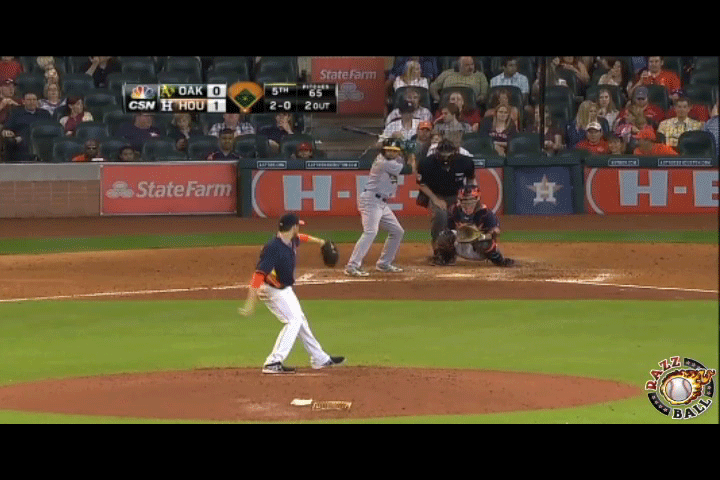 Crisp sat dead red fastball, and McHugh pulls the string.  Fastball outside, then bends a solid tight slider in there, then an 83 MPH slider, his best on the day, gets a swing-and-miss to end the inning.  Wow.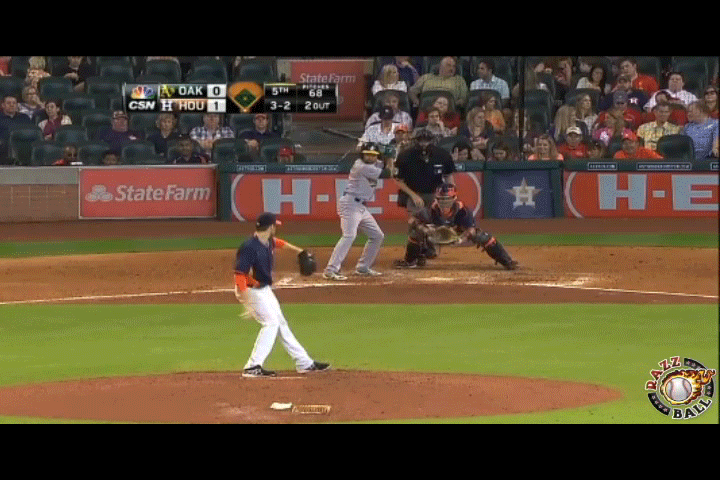 Sixth Inning: McHugh has mowed down 8 in a row and a fastball is fouled off by Lowrie, a slider goes barely low, then a fastball gets a lazy fly to Hoes, one down.  Hoes on the trot!  Eh, not as good.  Fastball is barely low to Donaldson, perfect location with the heater 1-1, slider is swung through in a perfect spot, fastball is elevated and Donaldson chases but taps it, the curve at 75 gets popped out of play, fastball is a little high, then a high slider gets a swing-and-miss, 5th K – 2 outs.  Not a great pitch, but so many different speeds and locations and it's not surprising it got a whiff.  Big, big curveball at 72 gets a whiff from Moss, and man, this guy can throw anything anytime.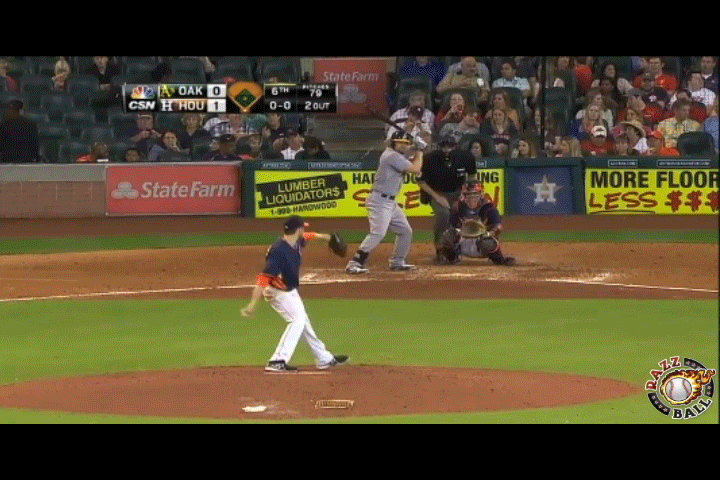 Then, and I mean are you kidding me, 74 MPH curveball gets a bigger swing-and-miss, 0-2.  How ridiculous is this?!  Haha – he goes curve again and is low, 1-2.  I actually laughed – sorry… He then elevates the fastball at 91 for a lazy, lazy flyout to third.  So 72 MPH, 74, 74, 91 that sequence.
Seventh Inning:  Fastball is just outside to Callaspo, then a slider gets a pretty hard groundout to first, one down.  12 straight!  Curveball at 72 for a strike to Reddick, and it's gone fastballs for strikes first time through, then off speed with sliders and changes, now throwing curves for strike one.  Crazy sequences through the order.  Then a hard, hard biting 87 MPH slider gets a swing-and-miss, nasty 0-2.  Curveball dies low in the dirt, then a high two-seamer is a lazy pop to Villar, two down.  Curveball AGAIN for strike one to Jaso.  It's just unfair.  Fastball outside, high slider nips the letters for a strike, then the 74 MPH curveball and Jaso can't quite hold up in time for yet another perfect inning and 6 Ks.
Eighth Inning:  Picking up another 4 runs of support to get up 5-0, McHugh is high to Barton, two-seamer in there, fastball is swung through, then McHugh paints the outside corner for his 7th K looking.  Barton didn't like it and looked a tad off the plate, but the noob is getting calls now!  There it is again, 70 MPH curveball for a strike to Sogard.  Slider stays high, fastball is way inside, slider is hammered foul down the first base line, curveball bends just off the plate, then a fastball on the hands gets a lazy grounder to first, two down.  Curveball for a strike again to get up 0-1 on Crisp, then a fastball is flied out right to Hoes.  Hoes standing still!
Ninth Inning: Change-up is outside to Lowrie, then a fastball is hit really hard and deep to right, but it's caught by Springer on the wall, one down.  Best contact all day – and Lowrie has the only hit – he's been the toughest hitter for McHugh.  So 107 pitches, and starts Donaldson with a great slider for strike one.  Fastball outside, 92 on the gun, and velocity is still there.  Running-in two-seamer gets a swing-and-miss, then a 92 MPH heater gets a pretty lazy fly to center, two down.  One out away, and McHugh starts Moss with a big bending curveball in the dirt.  Moss says he got hit on his back foot, however the ump doesn't give Moss the base.  But wait – instant replay!  And talk about horrible timing, pause on the game, pause on adrenaline, and McHugh has a man on first as replay gives Moss the HBP.  Back to the rubber, the Astros aren't holding Moss, and a first-pitch slider is in there to Callaspo and Moss steals second.  Corporan tried throwing him out, but the throw is a tad late and high.  The Astros announcers are a little pissy about it, but yeah it's 5-0 and two outs.  Let the rookie get through it!  And the 0-1 is another slider that hung a bit high, and Callaspo gets a lazy flare single to left, Moss scores, and the second hit allowed is McHugh's first run charged and his final batter.  Bo Porter takes him out of the game, and Moss who reaches on a reversed call HBP, then a douchey steal, is McHugh's only ER in his first two starts.
Final Line:  W  8.2 IP  114 Pitches (73 Strikes)  1 ER  2 Hits  3 Walks  7 K  Gamescore: 80   Gamescore+: 76.8
Final Analysis: I thought to myself – what do I make of this start?  I think the barometer was I had a hard time picking which pitches to make graphics for.  A ton were really, really filthy.  And his numbers now are 19:3 K:BB in 15.1 IP with only 5 hits allowed.  ALL SINGLES!  Preposteroni.
I did find it interesting I got a Gamescore+ over 3 lower than his actual Gamescore.  For one thing, the -4 for an earned run is incredibly cheap given how he picked it up at the very end.  Damn you, Melvin!  And damn you, replay!  I scored most of the in-play outs very favorably – only a few were hard contact – but still interesting since I thought he looked fantastic.
This really came out of nowhere, but McHugh looked awesome enough to shoot up my rankings.  Featuring a four-seamer that topped out at 93, an at times nasty two-seamer with a lot of run, an at times nasty slider in the high 80s, a change-up that was pretty solid he could throw for strikes, and a curveball that ranged from 70-75 that also looked tough to key in on, McHugh's got a pretty nice arsenal to work with.  I use "at times" because not every single pitch was nasty every time, but they were all for the most part consistent.  Mixing speeds from 70-93 with five distinct pitches is pretty redonkulous.
So why wasn't this guy highly regarded?  What's changed?  Well I did notice that in his AAA numbers from 2013 he had cut down on the walks.  But I also found some graphics of his stuff from his nice debut for the Mets in 2012.  Compare the mechanics and delivery.  To me, it looks like he's cut out that mini-hop he does after his pitch (although he does it a tad on the change-up in yesterday's star), and looks a lot stronger on his landing left leg.  I think that extra stability has smoothed him out a bit more, but that's some sweeping conjecture.
I know I don't have him ranked close to "must-own" territory in 10 or 12ers, but McHugh gets the Mariners again for his next start, and that's a MUST PLAY.  The Mariners are in a terrible funk, and it's not like McHugh is mowing down batters with two pitches.  He's got tons of movement with a wide arsenal, so I think he's successful again.  Long-term, I wonder if he's going to be able to stay this sharp with all his stuff, if the Astros cap his innings (I know he's older, but still hasn't cracked 170 IP in a season – then again, I think if he approaches that it'd mean he's been dealing), and if he struggles any time soon they might throw Feldman back in the rotation and send McHugh down (although they've come out and said he's earned the rotation spot).  The Astros golden boy George Springer hasn't panned out as of yet, so I could see them giving McHugh a nice leash as he's easy to root for.
JB's Updated Top 100 SP
(rankings based on 12-team Roto – green for risers, red for fallers)
| | |
| --- | --- |
| RANK | SP, TEAM |
| 1 | Yu Darvish, Texas Rangers |
| 2 | Adam Wainwright, St. Louis Cardinals |
| 3 | Stephen Strasburg, Washington Nationals |
| 4 | Clayton Kershaw, Los Angeles Dodgers |
| 5 | Felix Hernandez, Seattle Mariners |
| 6 | Cliff Lee, Philadelphia Phillies |
| 7 | Madison Bumgarner, San Francisco Giants |
| 8 | Jose Fernandez, Miami Marlins |
| 9 | Max Scherzer, Detroit Tigers |
| 10 | Chris Sale, Chicago White Sox |
| 11 | Michael Wacha, St. Louis Cardinals |
| 12 | Masahiro Tanaka, New York Yankees |
| 13 | Justin Verlander, Detroit Tigers |
| 14 | Julio Teheran, Atlanta Braves |
| 15 | Zack Greinke, Los Angeles Dodgers |
| 16 | Gio Gonzalez, Washington Nationals |
| 17 | James Shields, Kansas City Royals |
| 18 | Cole Hamels, Philadelphia Phillies |
| 19 | Jordan Zimmermann, Washington Nationals |
| 20 | David Price, Tampa Bay Rays |
| 21 | Mike Minor, Atlanta Braves |
| 22 | Matt Cain, San Francisco Giants |
| 23 | Jeff Samardzija, Chicago Cubs |
| 24 | Andrew Cashner, San Diego Padres |
| 25 | Johnny Cueto, Cincinnati Reds |
| 26 | Gerrit Cole, Pittsburgh Pirates |
| 27 | Yordano Ventura, Kansas City Royals |
| 28 | Homer Bailey, Cincinnati Reds |
| 29 | Hisashi Iwakuma, Seattle Mariners |
| 30 | Anibal Sanchez, Detroit Tigers |
| 31 | Tony Cingrani, Cincinnati Reds |
| 32 | Chris Archer, Tamp Bay Rays |
| 33 | Shelby Miller, St. Louis Cardinals |
| 34 | Sonny Gray, Oakland Athletics |
| 35 | Ervin Santana, Atlanta Braves |
| 36 | Alex Wood, Atlanta Braves |
| 37 | Francisco Liriano, Pittsburgh Pirates |
| 38 | Corey Kluber, Cleveland Indians |
| 39 | Rick Porcello, Detroit Tigers |
| 40 | Hyun-Jin Ryu, Los Angeles Dodgers |
| 41 | Danny Salazar, Cleveland Indians |
| 42 | Jon Lester, Boston Red Sox |
| 43 | Scott Kazmir, Oakland Athletics |
| 44 | Martin Perez, Texas Rangers |
| 45 | Chris Tillman, Baltimore Orioles |
| 46 | Matt Garza, Milwaukee Brewers |
| 47 | Lance Lynn, St. Louis Cardinals |
| 48 | Drew Smyly, Detroit Tigers |
| 49 | Alex Cobb, Tampa Bay Rays |
| 50 | Nathan Eovaldi, Miami Marlins |
| 51 | Jered Weaver, Los Angeles Angels |
| 52 | Zach Wheeler, New York Mets |
| 53 | Yovani Gallardo, Milwaukee Brewers |
| 54 | C.J. Wilson, Los Angeles Angels |
| 55 | Marco Estrada, Milwaukee Brewers |
| 56 | Travis Wood, Chicago Cubs |
| 57 | Hiroki Kuroda, New York Yankees |
| 58 | Doug Fister, Washington Nationals |
| 59 | Jake Peavy, Boston Red Sox |
| 60 | Wily Peralta, Milwaukee Brewers |
| 61 | Justin Masterson, Cleveland Indians |
| 62 | CC Sabathia, New York Yankees |
| 63 | Jesse Chavez, Oakland Athletics |
| 64 | Tyler Skaggs, Los Angeles Angels |
| 65 | Dan Straily, Oakland Athletics |
| 66 | John Lackey, Boston Red Sox |
| 67 | Tim Hudson, San Francisco Giants |
| 68 | Clay Buchholz, Boston Red Sox |
| 69 | Dan Haren, Los Angeles Dodgers |
| 70 | Mat Latos, Cincinnati Reds |
| 71 | Ian Kennedy, San Diego Padres |
| 72 | Kyle Lohse, Milwaukee Brewers |
| 73 | Michael Pineda, New York Yankees |
| 74 | James Paxton, Seattle Mariners |
| 75 | Drew Hutchison, Toronto Blue Jays |
| 76 | Aaron Harang, Atlanta Braves |
| 77 | Mike Leake, Cincinnati Reds |
| 78 | Dillon Gee, New York Mets |
| 79 | Jason Hammel, Chicago Cubs |
| 80 | Collin McHugh, Houston Astros |
| 81 | Jenrry Mejia, New York Mets |
| 82 | Archie Bradley, Arizona Diamondbacks |
| 83 | Taijuan Walker, Seattle Mariners |
| 84 | Jon Niese, New York Mets |
| 85 | Garrett Richards, Los Angeles Angels |
| 86 | Mark Buehrle, Toronto Blue Jays |
| 87 | Zach McAllister, Cleveland Indians |
| 88 | Bartolo Colon, New York Mets |
| 89 | Ubaldo Jimenez, Baltimore Orioles |
| 90 | R.A. Dickey, Toronto Blue Jays |
| 91 | Edinson Volquez, Pittsburgh Pirates |
| 92 | Tyson Ross, San Diego Padres |
| 93 | Tim Lincecum, San Francisco Giants |
| 94 | Jake Odorizzi, Tampa Bay Rays |
| 95 | A.J. Burnett, Philadelphia Phillies |
| 96 | Jason Vargas, Kansas City Royals |
| 97 | Alfredo Simon, Cincinnati Reds |
| 98 | Tanner Roark, Washington Nationals |
| 99 | Hector Santiago, Los Angeles Angels |
| 100 | Josh Beckett, Los Angeles Dodgers |
Dropped Out: A.J. Griffin, Oakland Athletics (headed for TJ – I was really worried about the elbow, but wish I didn't rank him to begin with – I didn't touch him in drafts),  Scott Feldman, Houston Astros (DL – biceps), Charlie Morton, Pittsburgh Pirates (5 walks last time out and meh), Robbie Erlin, San Diego Padres (lit up and barely on the list last week anyway)
Well, adios Archie Bradley in my ranks.  I'm a lot less worried about his poor stretch in AAA, but more worried about the Diamondbacks still looking awful and Bradley doing nothing to force the issue a level below.
I almost moved Smyly down a good bit – not due to performance but because they were skipping a start again – but with Anibal Sanchez (who did go down a good bit) hitting the DL, Smyly should have a little more cement in that rotation.  He's available in a lot of leagues – I'd nab him where I could.
As AndrewM helped remind me to consider, Marcus Stroman looks to be up soon for the Blue Jays, but for now I'm keeping him just outside of the rankings.  Excited for his debut though.
How awesome was Corey Kluber last Thursday?!  My Klubes tingled that whole game, was awesome!
Two guys I'm starting abandon ship – Clay Buchholz and Hiroki Kuroda.  A little reactionary with the latter so I didn't sink him too bad, but Buchholz was a rank I really regret.  I know I defended him a bit last Monday, but now 3 of 5 starts have been 3 Ks or fewer and I just don't see upside anymore.
Tyson Ross looked awful against my Brewers, with his average fastball still 2 MPH slower this year.  The Petco starts offer some nice streaming chances, but I'll fall back on my Profile on him a few weeks ago where I didn't like the mechanics and the fact he's still feeling his way through them.
I slept way too hard on Jason Hammel, whose slider was OOONNNNNN yesterday against my Crew.  Sure no Ryan Braun or Jean Segura, but his stuff looked solid.  It's the first time in his career he's pitched not in the AL/for the Rockies and in a much better park.  Interested.
So… Pineda… OK, I don't think the pine tar is really the main factor to his success or anything.  But I question his confidence.  He's still a really young pitcher, and after giving up a few runs – and knowing a microscope is on him – he came back out with it on his neck.  Tells me he didn't have confidence to get guys out, and rattled confidence can sometimes be worse than wavering stuff.  We'll see what happens when he's back, but I'm worried.
Thoughts on the ranks?  Thoughts on McHugh?  Thoughts on this new X-Men time traveling premise?  Shoot below!