Chase Headley  is a guy that I haven't been able to get on board with, really ever. Even when he had his Brady Anderson year back in 2012, I couldn't allow myself to believe that he was a top-tier ballplayer. When the Red Sox and the Yankees were both in the market for a third baseman, and Pablo Sandoval and Headley were the best bats available, the AL East superpowers each signed one. And, while the Sandoval contract has been an unmitigated disaster, Headley has actually had some middling success. He isn't exciting, which is perhaps why I never took a liking to him. But, OBP isn't particularly exciting either. And, it is in OBP where Headley will shine.
Headley led baseball in OBP after two weeks of games with a .516, and is now fourth with a .500. Girardi moved him up to second in the batting order, calling him an "OBP machine." It is certainly no secret that he has been off to a scorching start. Headley's fWAR is fourth best in baseball, behind Eric Thames, Freddie Freeman, and Bryce Harper. So, what is going on? What stands out the most is his 18.5% walk-rate – well above his career average. Headley is still owned in less than half of ESPN leagues and I encourage you to scoop him up while he is hot. Headley is a guy who actually has some upside. He did post an OBP north of .370 in two consecutive years while with the Padres, and even in his down years, hasn't been an OBP anchor. Go get him.
Another guy off to a nice start and a potential OBP league sleeper is Robbie Grossman. Grossman is getting regular playing time with Minnesota now and is actually a decent play in OBP formats. Through 12 games, Grossman has a .489 OBP. Last year, Grossman posted a very acceptable .386 OBP over a half a season. With his recent jump in the batting order, Grossman will get more at-bats and is more than capable of fifteen dongs. If you're digging for an outfielder in a deep league or an AL only league,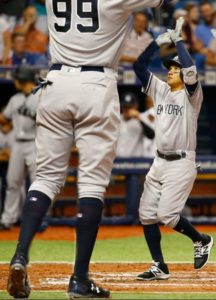 look no further than Grossman.
Good gravy, Aaron Judge. I saw some stats about him last night that I wanted to relay. Judge now has two of the three furthest hit balls by a Yankee at New Yankee Stadium. Judge's home run last night was the hardest hit ball at New Yankee Stadium since the implementation of Statcast (previous record holder was Giancarlo Stanton). There is still a ton of OBP downside here, like I mentioned last week, but so far, so good.
I wrote about Bryce Harper relentlessly in 2015. I could not get enough. He won my heart with his first half dominance. Even with his second half swoon that season, he still posted an ungodly OPS. Could that guy be back? Harper has looked fantastic so far. I am not anticipating 2015 numbers but my love is definitely blooming yet again, as this could be the MVP follow-up season that we had dreamed of in drafts last year, just a year delayed. He is sitting on a gorgeous .516 OBP. And, the remarkable thing about dreaming on Harper's upside is that an OBP in the upper .400 stratosphere is actually not unthinkable.
Here is a guy that you will want to sell in OBP leagues while he is hot, and that is Mitch Moreland. Moreland looks like a great buy. He is in a great situation with the Red Sox, batting fifth between Hanley Ramirez and Xander Bogaerts. He is coming off two consecutive 20 jack seasons and I don't doubt that he can get there again with 75 or more RBI. And, the cherry on top of the Moreland sundae? He is sitting on a .431 OBP through a little over two weeks of games. The issue here is that Moreland is historically an OBP anchor. Moreland's OBP over the past four years is just .308. In three of those seasons, Moreland posted an OBP below .300. At the corner infield position, you will really want someone with a decent OBP. If you can find a taker for Moreland, I wouldn't hesitate to make a trade, capitalizing on his early success.