The King has returned to Middle Earth, to rule over the hobbits and elves and the other woodland friends. His name is Bryce Harper, and he will dole out fiery OPS vengeance upon any foolish enough to oppose him. Yes, friends, Harper, our long-time OPS champion, has enacted his fury this past week, going 10-for-23 with 5 homers and 6 RBI. His OPS for this period was a gorgeous 1.753. If Harper doesn't win the NL MVP award, something is very wrong with the BBWAA. Harper has the 2nd highest OPS all-time for a 22-year old, behind only Teddy Ballgame. Almost more impressively, if the season ended today, Harper's OPS would be the highest since Barry Bonds' in 2004 (Bonds had an absolutely inhuman 1.422 OPS).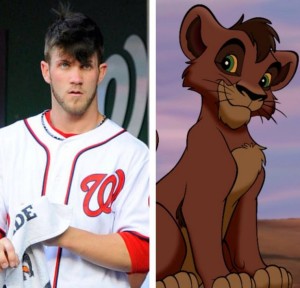 "Oh, I just can't wait to be king!" 
If I had to say right now, I'm taking Harper with the number one pick in OPS formats next year. Who are you taking?
How about Nolan Arenado? I've written on DJ LeMahieu a few times this season, as well as Carlos Gonzalez and their former teammate Troy Tulowitzki. But, I've left a glaring omission by not writing up a blurb on Arenado. Arenado has been on an absurd run, slashing .367/.397/.833 over the last two weeks, which is good for a 1.230 OPS. He has also launched 8 homers to vault himself into the NL lead. I liked Arenado quite a bit entering into the year, though not as much as Grey. Arenado has definitely blown the doors off his projections, setting career highs in basically every category. Should he be the top third baseman next season in OPS leagues?
I told you all to hold firm on Evan Longoria and he's starting to come through for us. Over the past two weeks, Longo has posted a 1.055 OPS with 5 homers and 10 RBI. He is beginning to look a lot more like the guy we expected on draft day. Don't get cute with your studs, keep rolling them out. I think back to Troy Tulowitzki's bizarre 2010. He was hurt for most of the year, posting merely okay numbers from April through August. When the calendar hit September, Tulo unloaded, going .303/.366/.754 with 15 (!!) HR and 40 RBI (!!!) in just 30 games. Some of these supremely talented players are capable of carrying your squad. I'm not saying Longoria will do this, he most certainly won't. He is likely on the downward side of his career. But, I do think it's important to keep in mind before making a rash add/drop decision.
J.P. Arencibia is an interesting option if you need a streaking catcher. Arencibia has the highest OPS among catchers over the past two weeks at 1.638. His 31% K rate is exceedingly high and his .500 BABIP is clearly unsustainable. That said, if you are an owner who is entering into the playoffs with a Wellington Castillo, Matt Wieters, or Miguel Montero tier catcher, I'd consider grabbing up Arencibia while he's swinging a hot bat. While I do sometimes subscribe to the "play your studs" philosophy (which is admittedly more of a football notion), as I mentioned regarding Longoria, these catchers aren't studs despite their solid overall numbers. In the playoffs, I'd grab onto the guy who is scalding hot if I had the available moves.
Similarly, take a look at Starlin Castro if you own a slumping shortstop. Castro has seen his ownership plummet this season but he has started to right the ship. Over the past two weeks, Castro has the highest OPS among shortstops with a 1.131 (and a 1.418 in the last week). I wouldn't drop anyone great for him but I would pick him up if you needed help at 2B/SS (he has dual eligibility in most formats). I'll caution that playing time is still a concern for Castro. But, at least he is making the most of his at bats. Another middle infield options to consider is Didi Gregorius (who Grey has covered) and Castro's replacement at shortstop in Chicago, Addison Russell. Russell has a 1.141 OPS over the past week and has gotten his power swing working, with 6 homers in the last 30 days.