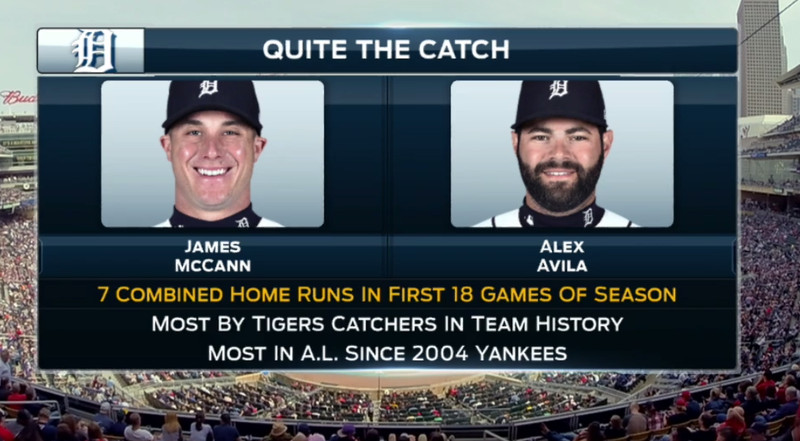 The first Frankencatcher Report came at a pretty ironic time for me. Right before sitting down to work on this report, I checked my lineups and saw that Welington Castillo was placed on the disabled list with tendinitis in his shoulder. Castillo missed Monday's game with neck spasms, and the assumption was that he would be day-to-day and likely be fine by Wednesday or Thursday, but screw me I guess. So, I had to pick up a catcher before getting started on this. I'll go over who I picked in some detail below.
Continuing with a trend of the past few years, catcher is not exactly a prominently contributing position in fantasy baseball this season (hence the need for such a handsome Frankencatcher Report). If you don't get lucky with one of the elite catchers, of which there are very few these days, you are likely going to have to stream the position at some point in the season.
In ESPN leagues, there are only 11 catchers with an ownership percentage of more than 70. The next highest is Russell Martin, at just over 47%. And of those 11, one of them is Gary Sanchez, who has been on the disabled list for a couple weeks and only has 20 at-bats to his name on the season. Here are those 11:
| | | |
| --- | --- | --- |
| NAME | % OWN | % DIF |
| Buster Posey, SF C | 99.1 | 0 |
| J.T. Realmuto, Mia C | 95.5 | -0.5 |
| Salvador Perez, KC C | 93.5 | -0.1 |
| Gary Sanchez, NYY C | 92.8 | 0.2 |
| Willson Contreras, ChC C, OF | 92.1 | -2 |
| Jonathan Lucroy, Tex C | 91.5 | -3.2 |
| Yasmani Grandal, LAD C | 82.6 | -3.6 |
| Evan Gattis, Hou C, DH | 81.1 | 6.5 |
| Yadier Molina, StL C | 79.7 | -1.4 |
| Matt Wieters, Wsh C | 78.2 | 3.1 |
| Brian McCann, Hou C, DH | 77.6 | 1.8 |
Posey through Lucroy are all owned in more than 90% of leagues. While some of these guys will end up being elite fantasy catchers, none will likely be elite fantasy contributors when compared to the production of other positions. We already know this (just reiterating for the kids). That is one of the many reasons why you shouldn't target catchers early in drafts. As anyone who reads this space knows, I grabbed Realmuto in the last round of my draft last season and ended up with a top fantasy contributor at the position. Don't spend on catchers, folks.
But these guys are owned in the majority of leagues, so they won't help us here. Let's take a look at the next tier of catchers who are owned in less than 50% of leagues:
| | | |
| --- | --- | --- |
| NAME | %OWN | % DIF |
| Russell Martin, Tor C | 48.2 | 1.8 |
| Austin Hedges, SD C | 39.4 | 8 |
| Welington Castillo*, Bal C DL10 | 27.5 | -6.2 |
| Travis d'Arnaud, NYM C DTD | 27 | -0.5 |
| Stephen Vogt, Oak C, DH | 25 | -9.8 |
| Alex Avila, Det C | 15.1 | 13.4 |
| Jett Bandy, Mil C | 13.6 | 3.6 |
| Jason Castro, Min C | 13.4 | -6.6 |
| Francisco Cervelli, Pit C DTD | 13.1 | -5.5 |
| Wilson Ramos*, TB C DL60 | 11.9 | -1.1 |
| Manny Pina, Mil C | 11.3 | 2.4 |
| Sandy Leon, Bos C | 11.3 | -9.4 |

Martin is still owned in nearly 50% of leagues because his is coming off back-to-back 20 home run seasons and is not afraid to walk, boosting his appeal in OBP and OPS leagues. Hedges is only batting .193, but he has six home runs. He is owned in more than 70% of CBS leagues right now. Castillo, my boy, just hit the DL with shoulder tendinitis, so his ownership percentage is dropping and will likely drop some more. For those of you who are planning on streaming for the foreseeable future, Castillo is a great waiver wire add if you have the ability to grab and stash him, especially if your league counts XBHs (he has six doubles to go with his .314 average).
Vogt was a top-12 catcher option in fantasy coming into the season, but his ownership continues to plummet as his awful start to the season continues. Personally, I think Vogt will turn it around eventually and turn back into, well, a mediocre catcher option for fantasy baseball. Avila I will touch on more below. Bandy and Pina are both having nice starts to the season, but there is one problem: they play on the same team and are sharing duties.
And the grandaddy of them all, Sandy Leon, brings up the rear and is trending dowwwwwn. I told you guys and gals to avoid him back in my Frankencatcher Draft Edition back in March. Did you listen? Stay away. Even if Leon gets hot and goes streaking, Christian Vasquez is still going to start three or four times a week.
Alex Avila
Avila is who I picked up when my guy Welington Castillo went down, and I did so knowing it was a short term fix. Avila is scorching hot right now and is slashing .409 / .509 / .727 to go with four home runs. That is not going to last, but if you need a short term option, it sure is nice. Just keep an eye on him once you grab him, as this is likely short lived and James McCann is still around to take playing time from him. Avila started at first base the other day, but those days are likely over too now that Miguel Cabrera is coming back.
Jett Bandy
Man, Jett Bandy looks tasty right now. The only problem, as I mentioned above, is that he is in a full-blown timeshare with Manny Pina, who is also doing well. If Bandy can stay hot while Pina slows down, then Bandy might start seeing more action and be more of an option in fantasy. Although, I guess you could say the same for Pina. Ugh. If you need a short term fix and can stomach the fact that he is going to sit three or four times a week, you could do worse than Bandy (or Pina, ugh), but for now, he is just a part-time hunk.
Injury Updates
Welington Castillo
As mentioned ad nauseum above, Castillo just hit the disabled list with tendinitis in his shoulder. He should hopefully be okay after just the 10-day stint, but that is still to be determined. His MRI didn't reveal any structural damage, and when I was 18 I had shoulder tendinitis and was back in two weeks. Same thing, right? I did tear my rotator cuff a month later, though…
Gary Sanchez
Gary Sanchez is being activated this week, and fantasy owners who drafted him way too early rejoice! Sanchez did not look like the phenom of last year to start the season, but it is an incredibly small sample size and he was, you know, probably playing hurt. Sanchez is sure to bring some power in a tiny Yankee stadium, unless Aaron Judge has used it all up by the time Sanchez joins the team. Say goodbye to Austin Romine.
Tom Murphy
Tom Murphy resumed "baseball activities" this week, which is also what I call watching late night baseball after my wife goes to sleep. Just kidding, my wife goes to sleep really early so it isn't late night. Anyway, Murphy took the first steps toward starting a rehab assignment this week, so he is likely still at least two weeks away from being activated, but pretty soon we will be able to throw him in the mix. However, he might be splitting some with Tony Wolters when he come back. Hey, look who's next.
Tony Wolters
Wolters was diagnosed with a concussion Tuesday and has landed in the concussion protocol after getting hit in the head by a backswing. He'll miss a minimum of seven days. It's a tough break for Wolters, who will likely be watching Tom Murphy take his job shortly after he recovers from his concussion (assuming the concussion is minor, which we don't know yet).
If you want to talk fantasy baseball or football or have players you want Mike to feature, hit him up on Twitter at @mikeMaher or post a comment below!