I'm not afraid to admit that I owned Joc Pederson on four of my five most coveted teams heading into the 2017 fantasy baseball season. Stacking my various squads with a player I believed in the skill set of was much easier for me to stomach given the 16th round price tag and rumblings that Dave Roberts would give him a chance to play everyday. After ripping an Opening Day grand slam and tallying five RBI, Pederson went into hibernation. 48 straight days without a home run and 48 nights where I went to bed convinced another stretch of dominance was just around the corner. Instead, the last few months have brought Pederson owner's multiple DL stints and as many homers as Joe Panik.
So how on earth do I find myself back at square one, staring at the green add button in ESPN leagues, and wondering why I torment myself with such decisions?
Because even among a crowded outfield landscape, Pederson has put together a stretch of five games that catch my attention. Two homers, one strikeout, a chase rate less than 20%, and his sixth straight start in the Dodgers' Father's Day battle against the Reds (batting leadoff). It's an extremely small sample size of games, but compared to what we've already seen from 2017 Pederson, it's ok to be encouraged by even the smallest signs of progress.
The reason a lot of analysts, including myself, were high on the 25-year-old was due in part to the advanced power as such a young age. 51 home runs across his first 1,061 plate appearances is nothing to scoff at; his pop still could've found its rightful place on a majority of roto teams, even with an average below the .250 mark.
Cherry-picking the positives from Pederson's 2017 leads you to the promised land of average exit velocity. It's a stat that we tend to use only as a descriptor for players who are having good seasons. Think Miguel Sano (1st), Aaron Judge (2nd), and J.D. Martinez (3rd). The issue comes when we see players among the top echelon who aren't performing above our expectations. I'd venture a guess that we haven't seen many columns citing Manny Machado's 93.4mph average exit velocity, tied for fourth in the majors.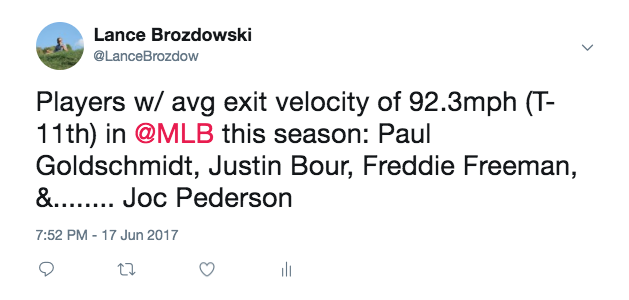 Joe Douglas of RotoGraphs detailed in a column of his, the main reason why Pederson's exit velocity hasn't led to the results of similar standouts on the exit velocity leaderboards. It deals with his unfortunate tendency to hit balls at launch angels below zero degrees (grounders) and above 39 degrees (fly balls with too much loft). Even though he is still hitting the ball harder than 95% of everybody in the league, he's doing it in windows of launch angle that don't allow the exit velocity to produce beneficial results.
Even more confusing is the fact that we really don't know what the fix could be to harness the best possible outcomes off this batted ball velocity. Pederson's whip-like swing is something I'm sure Dodgers' hitting coach Turner Ward and others have tinkered with, yet the batted ball profile will likely take some time to even back out from the career high groundball and career low flyball percentages Pederson is carrying, if any mechanical changes have been made.
We have to accept that Pederson will likely never be the line drive darling that players like Miguel Cabrera and Daniel Murphy are, but room for value still exists, especially in the possible correction of his weird peripherals so far this season. Ever-apparent is this hop, when you take a look at one of my favorite parts of the Razzball site; our rest of season projections.

In a 10 team, five outfielder league, fitting Pederson into your starting lineup may be a bit tough on the surface, but we all know how streaky he has been in the past. That makes it even more tempting to use the Dodgers' lefty as a platoon in your utility spot, or a sub for the days when a lefty isn't on the mound (still possesses poor LHP/RHP splits). I'm not giving up the world for Pederson, but have a feeling he'll be a great matchup-based bat rest of season. At 20% owned in ESPN leagues, I doubt you'll be able to find another bat with a possible 14+ home runs still to come.
Happy Father's Day to all the Dads out there!
Twitter: @LanceBrozdow