This sounds absolutely crazy to say but there are two weeks left in the fantasy baseball season. It felt like I just started writing these articles and here we are at the end of the season. It's been an absolute sprint to get to this point and it makes the rest of these games absolutely critical. That's why I'm going to kill it with these streamers, so, let's go ahead and get into it! 
If you have any comments or questions, write me here or reach me on Twitter @Bartilottajoel 
Two-Start Streamers
Pablo Lopez, MIA (vs. PHI, vs. WSH)
Hey, let's kick things off with the starter who allowed 29 runs on Wednesday! Haha, it wasn't all Lopez' fault but he did allow seven runs in his second rough start in a row. That really doesn't concern me though, as most pitchers would struggle against the Braves and Rays. Prior to those two duds, Lopez maintained a 2.10 ERA, 1.17 WHIP and 8.4 K/9 rate over his first seven starts.  
We should trust a seven-game stretch much more than a two-game skid and what we really love is his home form. Since 2018, Lopez has a 3.39 ERA and 1.18 WHIP in that pitcher-friendly ballpark and that looks awesome considering he gets two starts there this week. These are relatively difficult matchups but those great peripherals at home limit his risk with 119 innings in his back pocket. The Streamonator agrees with our assessment, projecting him to provide $12.6 worth of value. 
Mike Minor, OAK (at SEA, vs. SF)
Minor was universally owned at the beginning of the season but he's been rightfully dropped in most leagues and relegated to one of our streamers. It's hard to hold on to a guy with a 6.35 ERA but a move to Oakland could be just what the doctor ordered. We're talking about a dude who pitched to a 3.62 ERA and 1.16 WHIP between 2016-18 and the A's are the perfect organization to recapture that magic
What we love about him this week is that he gets two starts in pitcher's parks. In fact, Seattle sits 25th in park factor while Oakland ranks 28th. That's great news for a struggling Minor, especially with these offenses having subpar lineups. The Mariners are the far easier of the two, ranked 21st in K rate, 25th in wOBA and 24th in OBP. San Fran ranked near the bottom in nearly every offensive category last season and that lineup can be controlled by any solid pitcher. The Streamonator likes him too, projecting him to provide $24.4 worth of production. 
Carlos Martinez, STL (at MIL, at PIT)
Man, this is one of the riskiest streamers of the season. CarMart has been a shell of himself this season but he's oh so talented and has two tasty matchups. We'll start with the pitcher, who posted a 3.28 ERA, 1.24 WHIP and 9.0 K/9 rate between 2016-19. That's obviously better than his 12.27 ERA and 2.18 WHIP this season but these matchups can help him to plummet those averages. Milwaukee currently ranks 26th in runs scored and 29th in K rate while Pittsburgh sits 24th in K rate and dead-last in runs scored, OBP and wOBA. If you're feeling crazy, ride CarMart!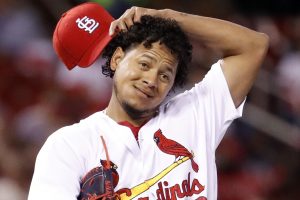 One-Start Streamers
Jose 
Urquidy
/Luis Garcia, HOU (vs. TEX)
These two guys are probably the best streamers of the week. Let's start with Urquidy, who's got a 3.91 ERA and 1.13 WHIP in 50.2 Major League innings. That's on par with his 3.37 ERA and 1.15 WHIP in his minor league career, forcing him into this shorthanded rotation. As for Garcia, he has even better numbers. In fact, he's got a 0.96 ERA and 0.75 WHIP in his first two starts, after generating a 2.55 ERA, 1.14 WHIP and 30 percent K rate in the minors.   
Those majestic numbers from the two youngsters make them quality streamers against anyone but facing the Rangers is an absolute treat right now. Texas currently ranks either 28th, 29th or 30th in runs scored, OPS, OBP and wOBA. That's obviously horrendous and it's going to make the Astros heavy favorites in these two games as well. Urquidy happens to be the Streamonator's favorite pick of the week too, projecting him to provide $25.1 worth of value in that start. 
Tejay 
Antone
, CIN (vs. PIT)
Can I just start this off by saying that I love this name? He's not just a name though, Tejay's got some game. In 25.1 innings pitched this season, the right-hander has a 2.49 ERA, 0.95 WHIP and 11.7 K/9 rate. That's all you can ask for from a kid who averaged 95.6 MPH on his fastball, pairing that with a nasty slider. The best part about using him might be this matchup though, facing a Pirates team who ranks at the bottom of nearly every offensive statistic. I mean, how can we fade this guy?
Tarik Skubal, DET (vs. KC)
Skubal's numbers certainly don't pop off the page but he's shown some flashes this season. Before allowing six runs in his last start, Skubal pitched to a 4.70 ERA, 1.24 WHIP and 8.2 K/9 rate. That doesn't look like anything special but it looks significantly better when you consider that it was against the White Sox, Indians and the Twins twice. It looks even better when you see his 2.11 ERA, 0.99 WHIP and 31 percent K rate in his minor league career as well. Kansas City really isn't far off of a minor league lineup, ranked 27th in runs scored, OBP and wOBA. This is all you can hope for from one of your streamers and we're going to look to capitalize like this genius kid.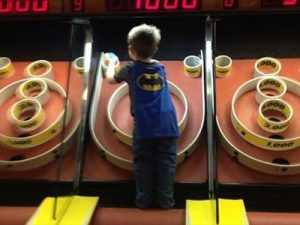 Griffin Canning, LAA (vs. ARZ)
Canning can be an annoying pitcher to figure out at times but he's got some serious potential. A 4.57 ERA and 1.26 WHIP for his career are pretty average numbers but there's just something about this kid that keeps me coming back. He's got a solid 24 percent K rate for his career and posted a 0.56 ERA and 0.94 WHIP at Triple-A in 2018. He also maintained a WHIP below 1.00 in his first 11 starts last season and there's just so many things to like about him. What we really like is this matchup though, facing a Diamondbacks team who ranks 29th in both OBP and wOBA. That should have him entering this matchup as a –200 favorite as well, only adding to his value. The Streamonator likes him too, projecting him for a quality start en route to $9.3 worth of value.