Week 3 sucked, but we bounced back big time in Week 4. We got gems from Alex Wood, Domingo German, Jakob Junis, Jose Urquidy, Christian Javier, Dylan Cease, Patrick Corbin, and Huascar Ynoa. The only guy who didn't pitch well was Luke Weaver, and it's not like he blew up your week. That has me excited to keep things rolling, but this week scares me. All of the streamers in this week's article carry a ton of risk, and it certainly won't be smooth sailing. We need to steady the boat, though, and ride those waves to another successful streamers week!
Two-Start Streamers
J.A. Happ, MIN (vs. TEX, at DET)
The fact that we're kicking things off with J.A. Happ is a good indicator of how the streamers look for this week. The simple fact is, he's in a fantastic spot to succeed. His biggest asset is these matchups, facing the Motor City Kitties and the terrible Texas Rangers lineup. Let's start with the Tigers, ranked dead-last in runs scored, OBP, OPS, and K rate. Those are horrific averages, and the Rangers numbers aren't much better. Texas currently ranks 29th in K rate, 27th in xwOBA, and 30th in xSLG. It's quite possible that those are the two worst offenses in baseball, and it should allow Happ to feast.
These matchups are certainly majestic, but Happ's form is pretty special too. He's got a 1.96 ERA and 0.83 WHIP through four starts this year which totally backs up a 3.47 ERA and 1.05 WHIP from last season. Those are amazing numbers, and he's shown this ability at times in the past, owning a 3.48 ERA and 1.21 WHIP between 2015-18. The Streamonator thinks this is a solid play, too, projecting Happ for a 4.15 ERA, 1.26 WHIP, and 10.9 Ks across 12 innings of action.
Mike Minor / Jakob Junis, KC (vs. CLE, vs. CWS)
The Royals have been one of the biggest surprises in baseball this season, and this rotation is a major reason why. Let's kick things off by talking about Minor, who has found the velocity that made him a stud we saw between 2017-19. He actually had a 3.62 ERA and 1.16 WHIP in that span, sending hitters back to the bench scratching their heads. The ERA and WHIP haven't been quite as impressive this year, but his peripherals tell a different story. In fact, Minor has a 4.26 xFIP and 24 percent K rate, some of the best numbers of his career. Junis has been impressive, too, owning a 3.47 ERA and 1.16 WHIP through four starts. More importantly, he has a 10.4 K.9 rate, something we haven't seen much from Jakob in the past.
These matchups aren't necessarily great, but we love that these guys get two home starts. Kauffman Stadium is one of the most pitcher-friendly parks in baseball, and it's a major reason why these pitchers have had so much success. The Chicago matchup scares us a bit, but the Cleveland matchup is tasty. The Indians currently sit 29th in OBP, OPS, and runs scored while posting the worst wOBACON in the Majors. The White Sox do have one ugly statistic, too, having the lowest launch angle in baseball. Minor is actually the better of the two options according to The Streamonator, projecting him to provide $12 worth of value.
Nick Pivetta, BOS (vs. DET, at BAL)
I'd be lying to you if I said this one doesn't make me nervous. Pivetta has been a gas can at times throughout his career, but he's also flashed moments of brilliance. The right-hander is doing just that right now, posting a 3-0 record en route to a 2.81 ERA, 1.25 WHIP, and 8.8 K/9 rate. I can't tell you how many guys in our industry are excited about this guy after being wrong on him for years, but I'm ready to hop on the board for now behind numbers like those! The reason why industry people love him is his peripherals, generating a 4.09 career xFIP while accruing a 25 percent K rate.
All of those statistics make Pivetta intriguing against anyone, but he has some of the best matchups possible. We already discussed the Detroit matchup in the previous write-up, with the Motor City Kitties ranked dead-last in nearly every offensive statistic. The Orioles aren't much better, sitting 28th in OBP, 29th in wOBA, and 21st in K rate. It's also two great opportunities for a victory for Pivetta, and it would be easy to see him walking away with one or possibly two wins for you category cave dwellers.
One-Start Streamers
Ryan Weathers, SD (vs. PIT)
Weathers had an injury scare in his most recent start, but it appears that he'll be ready to go here. This guy is one of the best prospects in the Padres organization, generating a 3.22 xFIP and 8.8 K/9 rate at the minors before his swift call-up. He's actually been even better in the Majors, accumulating a 0.55 ERA and 0.61 WHIP through three starts and 16.1 total innings. That alone is a crazy stretch, and it would make him hard to fade no matter what his outlook looked like before. That fantastic form looks even better when you look at this matchup, with the Pirates ranked 24th in runs scored, 26th in OPS, and 29th in wOBACON. The Streamonator completely agrees with our assessment, projecting Weathers to provide $17.7 worth of value, one of the highest totals of any of our streamers.
Yusei Kikuchi / Justin Dunn, SEA (vs. BAL)
It blows my mind that Kikuchi is still so widely available. This guy has looked like a different dude in his first few starts, flirting with 96 MPH on his fastball regularly. That absurd velocity has led to some incredible production, with Yusei pitching to a 4.41 ERA, 1.14 WHIP, and 7.9 K/9 rate. That K rate would be higher if it weren't for a dud against the Red Sox, but many pitchers struggle with that resurgent lineup. He's also faced the Houston Astros twice, making his solid start all the more impressive. Dunn has quietly had a nice year, too, owning a 3.98 ERA and 1.28 WHIP through his first four starts. An eight-walk game is the one thing that inflates those numbers a bit, and he's actually allowed three runs or fewer in all four of his starts as well.
We obviously like both of these guys, but the matchup against Baltimore is absolutely beautiful. In Dunn's one start against them two weeks ago, he allowed four baserunners and one run across five innings while striking six batters. That was his best start of the season, and it's really no surprise when you look at the O's statistics we mentioned in the Pivetta write-up. The Streamonator likes Dunn at a $9 evaluation, but it absolutely adores Kikuchi. He's projected to provide $26.2 worth of value in this brilliant spot, one of the highest totals I've seen from one of our streamers this year.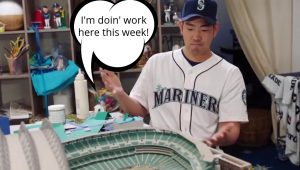 Streamers to Consider
Adrian Houser, MIL (vs. PHI, at MIA)
Luke Weaver, AZ (at MIA, at NYM)
David Peterson, NYM (vs. AZ)
Zach Davies, CHC (vs. PIT)
Feel free to comment me here or reach me on Twitter @Bartilottajoel if you have any questions!