There's nothing quite like the mid-season grind and we're in the thick of it at this point. Something I'm looking forward to this week is all of the players returning from the IL. While that doesn't necessarily impact our streamers, it is something to keep an eye on when constructing lineups. In terms of streamers, we need to keep track of the weather. There is rain forecasted all over the country in the midst of spring and it could definitely alter some of these starts. With that in mind, let's get started with some two-start streamers. 
Two-Start Streamers: 
Brad Peacock, HOU (vs. MIN, vs. CLE) 
These two starts are hard to avoid, especially from a guy as talented as Peacock. The one concern here is that he pitched out of the bullpen last week, as he may be capped off at around 75 pitches. We still have him projected to go off though and he should abuse these tasty matchups. The Streamonator really loves him, as he's projected to provide $27.4 worth of value in these two starts. In total, the Streamonator has him projected to accrue a 3.68 ERA and 1.15 WHIP across 11.1 innings while striking out 12.9 batters.
That should really be no surprise when you consider the fact that Peacock owns a 25 percent K-rate for his career. He's been even more stellar this season, owning a 3.38 FIP and a 0.81 WHIP across 16 total innings. All that makes Peacock worth a shot but facing two offenses who sit bottom-10 in scoring is just the icing on the cake. Not to mention, Peacock is projected to be around a –200 favorite in both of these games, which makes him a great bet for a win or two as well. 
Wade Miley gets the same matchups as Peacock and could provide good value, despite his strikeout ability being comparable to my 11-year-old nephew. 
J.A. Happ, NYY (at LAA, at SF) 
Happ has become available in many leagues because of his poor start but he's impossible to fade with such good matchups in his future. While he owns a 7.23 ERA and a WHIP of 1.66 so far this season, he's too good of a pitcher to maintain those averages. In fact, Happ has never had a FIP above 4.00 in the last three seasons and has generated a WHIP around 1.20 in that span.
That's all you can ask for, especially considering these matchups. Not only does Los Angeles own the worst xwOBA against lefties this season, the Giants currently rank dead-last batting average and OPS. That makes Happ hard to fade, especially considering these are two of the best pitching parks in the majors. In total, the Streamonator has Happ projected to provide $21.6 worth of value on his way to a 3.40 ERA and 1.15 WHIP across 11 innings of action. 
Zach Eflin is worth considering with his 19:1 K:BB-rate, as he faces the Miami Marlins and New York Mets this week.  
One-Start Streamers:  
C.C. Sabathia, NYY (at LAA) 
This is not a guy who I thought would ever be in one of my articles a few years back but Sabathia has clearly found the fountain of youth. So far this season, Sabathia owns a 0.00 ERA and 0.80 WHIP across 10 innings of action. That has come across two starts and he's also struck out eight batters in that span. That's the Cy Young Sabathia that we loved in his Milwaukee/Cleveland days and he looks like a new man after his heart surgery. That ridiculous form is only part of the intrigue, as he gets the benefit of facing an Angles lineup who owns the worst xwOBA against southpaws this season.  
Yonny Chirinos, TB (vs. KC) 
This is technically not even a start but Chirinos has done a brilliant job in the long–relief role for the Rays. If you take out one nightmare appearance at Toronto, Chirinos has only allowed one run and seven base runners across 17 innings of action. That's downright absurd, as he's also collected 19 K's in those 19.1 innings. That's why the Streamonator has Chirinos projected to provide $20.3 worth of value, which is easily one of the highest one-start streamers of the week.
Facing Kansas City is a treat for any pitcher too, as they currently rank 20th in xwOBA. That bad xwOBA should become even tougher in a pitcher's park like Tropicana Field. All that should make Chirinos a great bet for a win too, with the Rays owning the best record in the majors so far this season. 
Rick Porcello, BOS (vs. DET) 
Porcello is actually the highest-rated one-start streamer according to the Streamonator. In fact, Porcello is projected to provide $21.3 worth of value, which is actually higher than players like Stephen Strasburg and Carlos Carrasco. We're going to want to cover our eyes like the Bird Box lady when looking at his season-long numbers though, as his 11.12 ERA and 3.00 WHIP are laughable. With that said, Porcello has shown too much consistency in the past to fade in this matchup.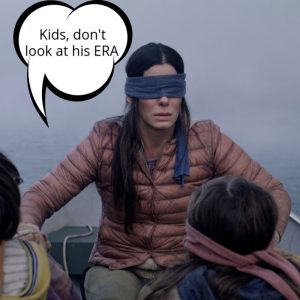 In fact, Porcello owns an xFIP below 4.00 for his career while posting a WHIP south of 1.25 over the last three seasons. That's all you can ask for from a streamer, especially in a tasty matchup like this. Not only does Detroit rank 27th in OPS and 25th in wOBA, they also have one of the worst K:BB-rates in the league. All that makes Porcello a great bet as a bounce-back and he should enter this matchup as a monster favorite if you need a win.
Others to Consider… 
Jared Eickhoff is a sneaky start against the Marlins with his insertion into the rotation and brilliant matchup.  
Trevor Williams has outperformed his peripherals for two years now and could continue to do that against a weak Diamondbacks lineup.
Jacob Faria may re-enter the rotation for the Rays and is a sneaky streamer against the Kansas City Royals. The Streamonator actually has him as one of the highest projected streamers this week.
If you have any comments or questions, write me here or contact me on Twitter @BartilottaJoel