I was a little worried about how last week would go, but I'm very pleased with the results. None of our streamers got blown up, and the two-start streamers looked brilliant in their first start of the week. We also got gems from Steven Matz and Cole Irvin, rounding out a really good week. That has me geared up and ready to go because we're in full-on grind mode now. One thing to keep an eye on is the weather, though. Mother Nature has been cruel to my streamers articles in the past, and like most women, she's going to continue to be persistent. The snow and rain wreaked havoc last week, so let's pray for clear skies this week! With that in mind, let's get into it!
Two-Start Streamers
Michael Fulmer, DET (vs. PIT, vs. KC)
Fulmer was an absolute gas can in his 27 innings last season, but his results this year are more on par with the guy we saw before his injury. Between 2016-18, Fulmer collected a 3.81 ERA and 1.19 WHIP across 456 innings. That's a monster sample size of some great pitching, and his 3.00 ERA and 0.67 WHIP through two starts this season is a really encouraging sign. The most impressive thing about Fulmer is that his stuff is back, averaging a 95.4 MPH fastball and 2118 RPM spin rate, while generating a 4.5 percent barrel rate. Those are elite numbers, and we haven't even discussed the best part of this play.
That happens to be the matchups. The first game is against Pittsburgh, who ranked dead-last in runs scored, xwOBA and OPS last season. They look just as bad this year and are likely to finish with similar numbers by the end of the year. The Royals aren't much better, ranked 20th in runs scored and 24th in K rate this season. We also love that Fulmer gets two home starts in Comerica Park, which is obviously one of the most pitcher-friendly ballparks in baseball. The Streamonator agrees, projecting Fulmer for a 4.31 ERA, 1.29 WHIP, and 12.7 Ks for the week.
Brad Keller, KC (vs. TB, at DET)
Keller got absolutely shelled in his first two starts of the season, but we're going to ride him as one of our top streamers this week. We believe those were the outlier starts, with Keller providing a brilliant 2.47 ERA and 1.02 WHIP last year. He showed some of that potential in his most recent start, allowing just five baserunners and one run across 5.2 innings against the Los Angeles Angels. That's the guy we're expecting to see here, and these matchups can definitely lead to just that.
Let's start by talking about the Rays. This was one of the sneakiest offenses in baseball last season, but they currently rank 19th in OPS this year. It's really no surprise when you look at their lineup either, with Brandon Lowe struggling mightily and Ji-Man Choi missing atop the card. Those are two tough lefties and it makes things way easier on a guy like Keller. That's actually the harder of these two matchups, though, with the Motor City Kitties owning the worst K rate in baseball dating back to 2019. They also ranked near the bottom in every offensive category last year, which was on full display when Keller threw six scoreless against them in his final start of 2020.
Nick Neidert, MIA (vs. BAL, at SF)
Doesn't the name Nick Neidert just sound like a guy who's going to get blown up? Especially a guy who throws like this? We're hoping that looks are deceiving because Nick-Nied is in a fantastic spot this week. Let's kick things off by talking about his matchups, getting two starts in pitcher-heavy ballparks. That's a good derivation, but these matchups are about as good as it gets. Baltimore ranked 27th in xwOBA last season and currently sits 28th in OPS and 29th in K rate this year. San Fran isn't much better, ranked 27th in OPS and 28th in runs scored.
Those matchups would put pretty much any pitcher in play against them, but Neidert has shown some flashes in the past. In 461 minor league innings, Nick pitched to a 3.20 ERA and 1.15 WHIP. That's what earned him this spot in this rotation, and his 23 percent K rate isn't terrible either. So, while he might seem like one of our more risky streamers, these matchups make him one of the most reliable guys of the week.
One-Start Streamers
Tarik Skubal, DET (vs. PIT)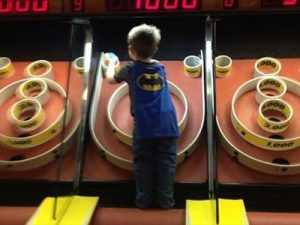 I can't help but hear this name and think of this genius kid. If Tarik has half the guile of this little man, he should be fine as one of our streamers of the week. This actually happens to be the favorite play of the week for the Streamonator, projecting Skubal to provide $17.7 worth of value. The main reason for that is the matchup, with Pittsburgh owning one of the worst lineups in baseball. Skubal has definitely given us some reason to trust him, though, allowing two runs or fewer in five of his six starts last season. That's pretty much the stud we saw at the minors, with Tarik accruing a ridiculous 2.11 ERA and 0.99 WHIP across 145 innings. This is pretty much a minor league lineup anyway, and we expect a lot of low-scoring games between these terrible teams.
Alex Wood, SF (vs. MIA)
I've always really liked Wood. Alright, that sounds weird, but this southpaw has always impressed me, even though his throwing motion hurts my shoulder. The weird motion definitely confuses opposing batters, though, with Wood amassing a 3.21 ERA and 1.21 WHIP between 2013-18. He's definitely seen his numbers fall off the last two years, but we have to believe an 800-inning sample size over a 48-inning one, especially when you see that he was marred by injuries in the small one. Getting to face the Marlins in a pitcher's park like Oracle is simply a treat, too, with Miami ranked 27th in both barrel rate and exit velocity last season while sitting 26th in xwOBA. Watch to see what Wood does on Sunday but if he looks solid, feel free to ride him here!
Matt Shoemaker, MIN (vs. PIT)
The man who makes shoes is back! He was one of the stars of our first article, and he might end up being one of our favorite streamers of the year. Like we said a few weeks back, this dude is a stud when he's healthy. We're talking about a guy with a 3.86 ERA and 1.18 for his career! There aren't many players on the waiver wire with numbers like those for one season, let alone for a nine-year career. That makes all the hate hard to understand, and we obviously love him in this stellar matchup that we've discussed ad nauseam. The Streamonator 100 percent backs up this call, projecting Shoemaker to provide $11.1 worth of value in this fantastic spot.
Streamers worth considering:
Joe Ross, WAS (vs. STL, at NYM)
Casey Mize, DET (vs. KC)
Rich Hill/Michael Wacha, TB (at KC)
Mitch Keller, PIT (at DET)
Brady Singer/Danny Duffy, KC (at DET)
Huascar Ynoa, ATL (vs. AZ)
Feel free to comment me here or reach me on Twitter @Bartilottajoel if you have any questions!