We went with a weird strategy last week, and it worked pretty well. There's obviously going to be some stinkers when you throw out 20 guys, but it's a strategy that I'm going to continue to use if the situation arises. It was simply a week with too many choices, but we're back to normal here. What's crazy is that we have only six weeks remaining in the fantasy season, and it makes streamers as important as ever. That has me motivated to hook you guys up with some gems, so let's get into it!
Two-Start Streamers
Tanner Houck, BOS (vs. MIN, at CLE)
The Red Sox have been freefalling down the AL East standings, but it's certainly no fault of this kid. Houck has become a household name in Boston over recent weeks, allowing three runs or fewer in all seven starts he's made. That's earned him a spot in this rotation for the rest of the season. Amazingly, Houck did that damage despite having a schedule that looked like: at NY, vs. TB, at TOR, vs. TOR, vs. NYY, at NYY, vs. CWS, and vs. TB. That's one of the toughest eight-game schedules you'll see any starter have, and it's even more impressive when you see his 3.12 ERA, 1.19 WHIP, and 11.5 K/9 rate.
All of those numbers mean that he's a good option against pretty much anyone, and these matchups this week make him one of the best streamers of the season. His first matchup is against Minnesota, who have been playing without Nelson Cruz and Byron Buxton. Those guys aren't walking back in the door, and it's made this one of the weakest lineups in the AL. Cleveland might be even worse, with the Indians ranked 23rd in wOBA, 20th in runs scored, and 22nd in OPS. If he can control those ridiculous lineups that we mentioned before, he could be in for a monster two-start week.
Ranger Suarez, PHI (vs. TB, vs. ARI)
This Power Ranger has been moving his way up in the world, being promoted from the bullpen into this rotation. A big reason for that is because he was a monster as a reliever, generating a 1.47 ERA, 1.02 WHIP, and 8.7 K rate for the season. He's definitely had mixed results and a slightly limited pitch count since starting, but we believe the long-term averages. The fact that he's a two-start streamer limits a lot of that risk because he'll be still in line to get 150 pitches for the week to build on those impressive numbers.
We believe he can match those averages because of these two matchups as well. The first one against Tampa is tough on the surface, but they've definitely flashed some flaws. The biggest is their swing-and-miss lineup, sitting 27th in K rate this season. That looks even worse when you see that they rank in 19th in xwOBA and have to play without their DH here. The Arizona matchup speaks for itself, owning the worst record in baseball.
One-Start Streamers
Vladimir Gutierrez, CIN (at MIA)
We always have a few guys who seem to find their way into this article week after week, and Vlad has definitely become one of those guys this year. The simple fact is, fantasy owners are slow to react to him. It's hard to understand why because this dude has allowed two runs or fewer in seven of his last eight starts, tallying a 1.99 ERA and 1.17 WHIP over his last five fixtures. That magical stretch is just a microcosm of his excellent season, and he should continue that success in Miami. Not only is Marlins Park one of the most pitcher-friendly ballparks in baseball, but their ballclub also ranks 28th in wOBA, 27th in OPS, and dead-last in xwOBA.
David Price, LAD (vs. COL)
I already know this will be one of the Streamonator's favorite picks of the week before even looking. It'd be silly not to have him highly projected because he's one of the best pitchers over the last decade, being put in one of the best spots possible. The scorching hot Dodgers get to host a Rockies club that ranks bottom-5 in runs scored, K rate, xwOBA, and OPS on the road this season. That's scary since they have to go to Dodgers Stadium here, putting up three runs or fewer seemingly every time they're there. Price has been just fine recently, too, compiling a 3.24 ERA and 1.24 WHIP since returning in May. We were right about the Streamonator, projecting Price to provide $18.4 worth of value.
Tarik Skubal, DET (at STL)
It's bizarre that Skubal isn't owned in every league out there. He's hovered around 50 percent on most sites for the majority of the season, and it simply makes no sense. We're talking about a crafty lefty that has pitched to a 3.72 ERA, 1.26 WHIP, and 10.1 K/9 rate since the opening week of the season. That's a fantastic 20-game sample size, and it feels like he doesn't get love because he plays for the Tigers. The Motor City Kitties are a forgetful club, but they've quietly turned things around because of guys like Skubal. We love that he gets a road matchup with the Cards, too, considering he gets to face a pitcher for the first time all year. It's not like the St. Louis lineup has been any good either, ranked 27th in wOBACON, 21st in OPS, and 25th in runs scored.
Reynaldo Lopez, CWS (vs. CHC)
I feel really nervous going this route. I've been burned by Lopez more than ex-girlfriends, and I'm ready to be hurt again. This guy had all the potential in the world when he came up and has shown small glimpses of it over the last few years. The lack of hope actually forced him into the bullpen this year, but Reynaldo has quietly had a post-hype breakout in this new role. In fact, Reynaldo has registered a 1.08 ERA, 0.72 WHIP, and 9.4 K/9 rate in his 11 appearances this season.
He's actually made three starts as well, attaining a 0.64 ERA and 0.71 WHIP in the four games he's thrown at least three innings. We definitely believe he can add to that here, with the Cubs ranked 22nd in runs scored, 26th in xwOBA, and dead-last in K rate. Those averages are only going to drop with Rizzo, Baez, Contreras, and Bryant all out of the lineup as well.
Streamers to Consider
Adbert Alzolay, CHC (vs. COL)
This guy drives me nuts. He has some serious upside, but his volatility makes him impossible to trust. Hopefully, a matchup with a Rockies team that can't score on the road will get him back on track.
Tyler Gilbert, ARI (at PIT)
Gilbert just threw a no-hitter against a stout Padres lineup, which makes him intriguing against an ugly Pirates team.
Zach Plesac, CLE (vs. TEX)
Plesac has been dropped in many leagues because of his terrible form but facing a team that ranks 30th in OPS and xwOBA could get him back to the stud we saw at the beginning of the year.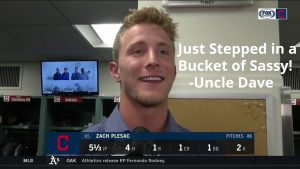 Miles Mikolas, STL (at PIT)
Mikolas just threw five scoreless innings in this matchup on Friday and could do that again.
Josiah Gray, WAS (at MIA) 
Gray was one of the key pieces to the Scherzer-Turner trade, and he's shown why with a 3.12 ERA and 1.15 WHIP since his debut.
Feel free to comment me here or reach me on Twitter @Bartilottajoel if you have any questions!