I wanna start off by saying "Namaste" to Yusei Kikuchi. That guy was my headliner last week and he completely blew what was an otherwise great article. Our other five recommendations included guys like Lance Lynn, Michael Pineda, Zach Plesac, Joe Musgrove and Chris Bassitt. All of those pitchers did really well but stupid Kikuchi crapped on my week! Why did I ever trust that guy? Anyway, we're going to build off of the positives and give you some more great streamers this week!
Two-Start Streamers 
Andrew Heaney, LAA (vs. CIN, vs. OAK) 
Heaney is actually pretty widely owned to be in this article but he's available in too many of my leagues not to recommend him. A couple of bad starts has opened up the door for Heaney to be picked up and now's the time to hop on. This is simply one of the most talented young lefties in the Majors, as his 4.05 career xFIP and 1.23 WHIP shows the sort of potential he has. What's even more impressive is the fact that he has 27 percent K rate since 2016, which is actually lower than his 30 percent K rate so far this season.
Getting two home starts only adds to Heaney's intrigue, with the southpaw pitching to a 3.57 ERA and 1.11 WHIP at Angels Stadium since 2017 while providing a 9.6 K/9 rate in that span. While Oakland is no easy matchup, Cincinnati currently ranks 24th in runs scored, 30th in xBA and 27th in wOBA. The Streamonator completely agrees with my assessment, as his $31.7 worth of projected value is the highest of any two-start streamer this week.  In fact, it has Heaney projected for a 3.47 ERA and 1.08 WHIP while striking out 12.3 batters across 10.8 innings.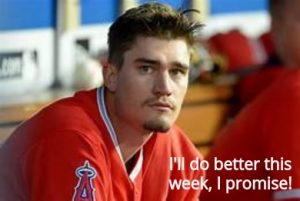 Zach Eflin, PHI (vs. NYM, at MIA) 
Eflin has quietly been the Phillies best starter this season and more fantasy owners need to take notice. The Philly righty is currently pitching to a 2.83 ERA and 1.16 WHIP while generating a .293 xwOBA this season. Those are some elite statistics and it makes no sense why this guy is below 80 percent owned. Those dominant peripherals should only get better in superb matchups like this. While the Mets have a league-average offense, they do rank 21st in K rate. The Marlins are a different story, as they currently rank last in OPS, runs scored and wOBA.  
Trevor Richards, MIA (vs. WSH, vs. PHI) 
My best two-start streamer of the season was actually Richards four weeks ago when he allowed one run across 12 innings and we're going right back to the well here. Over his last nine starts, Richards is generating a 2.82 ERA and 1.10 WHIP while striking out 46 batters across 51 innings of action. That's all you can ask for from any streamer and we absolutely love that he gets two starts at home. The reason for that is because Marlins Park ranks as the best pitching parks in the Majors based on park factor and runs surrendered. That's truly evident by the fact that Richards is allowing a .291 wOBA and .218 AVG at home so far this season. While these aren't the easiest matchups, getting to pitch in a park like this definitely limits Richards risk, especially the way he's pitching.  
Adam Plutko, CLE (vs. KC, at BAL) 
Look at this guy! What a majestic mustache! He looks straight out of the 1920s and that's the sort of guy I wanna start on my fantasy baseball team. Ok, let's look past the mustache and the 1920s dad-bod and admire the quality numbers this guy has put together. While the 4.55 ERA is nothing to write home about, Plutko's 1.12 WHIP and .318 xwOBA are really promising signs. That means he's limiting base runners and hard-hits, which is huge in fantastic matchups like this. Plutko faces a Kansas City team who ranks 24th in runs scored and 25th in both OPS and xwOBA, Baltimore is probably even worse, sitting 27th in runs scored, 26th in OPS and dead-last in xwOBA. Sometimes the matchups are just too tasty to pass up, no matter what you may think of the pitcher.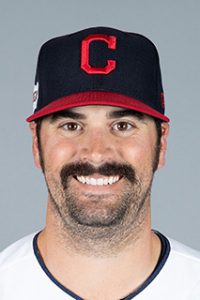 One-Start Streamers 
Zach Plesac, CLE (at BAL) 
Welcome back to the article, Zach! This Indians rookie has been a huge surprise this season and we have to continue to ride the hot hand. Any guy posting a 2.56 ERA and 0.98 WHIP is in consideration, especially when they have a 22 percent K rate and .293 wOBA to back it up. It's not like this came out of nowhere either, with Plesac generating a 1.70 ERA and 0.86 WHIP across Double-A and Triple-A the last two seasons. Those brilliant numbers should help him cruise in a matchup like this, with the Orioles ranking bottom-five in runs scored, OPS, wOBA, xwOBA, xSLG and xBA. That's why the Streamonator has him projected to provide nearly $8 worth of value at just 41 percent ownership.  
Dylan Bundy, BAL (vs. SD) 
I typically stray away from Bundy because of his propensity to get blown up but the K upside here is difficult to overlook. This is a guy with elite swing-and-miss stuff, which is evident by his 25 percent K rate since the beginning of last season. Since 2017, Bundy is allowing right-handed hitters to post a .228 AVG, a wOBA just above .300 and a K rate of 29.3 percent. In fact, Bundy has 267 Ks across 225.1 innings in that span, which is huge against a lineup with a bunch of righties.
Manny Machado, Franmil Reyes, Fernando Tatis Jr. and Hunter Renfroe are the only guys that scare me in this San Diego lineup and Bundy's ability to shut down and strikeout right-handed batters make him a great bet for double-digit Ks. Not to mention, the Padres currently rank 27th in K rate, 25th in OBP and 26th in xwOBA. That's why the Streamonator has him projected for a 10.3 K/9 rate in this game, which is hard to find from any streamer.  
Also Consider  
Chase Anderson, MIL vs. SEA: Anderson is pitching to a 3.46 ERA and 1.18 WHIP dating back to 2017 and gets to face a team that has one of the worst offenses in baseball since the opening month.  
Brad Peacock, HOU vs. PIT: Peacock just struck out 11 Yankees on Friday and you have to go pick him up if he's available in your league.  
Anibal Sanchez, ATL at DET: A Streamers article wouldn't be complete without a Tigers write-up. Sanchez' 3.16 ERA and 1.17 WHIP dating back to last season speak for itself, with Detroit ranking dead-last in runs scored and K rate.