And suddenly, it's August. Week 18 of the season. Ahhh, I remember the good ol' days of April, when former World Series contenders (*cough* Blue Jays *cough*) still had hopes of surfing their wave of 2016 success into 2017. I also remember the very first post I wrote for you lovelies, on April 8th, because here we are again, on a new go-around on the great Monopoly board of life (do pass "Go"; do collect $200), with the Phillies facing the Rockies in Colorado. The last time this match-up happened on a Saturday, poor old Jeremy Guthrie gave up 10 runs—on his birthday, to boot. I don't wish that on anyone, but I do want all those runs again! A platter of relatively slim pickings on the pitching front has me wishing I didn't have to start any pitchers today in my FanDuel slate, but we do what we must: fade (just a little) on pitching while paying up for hitting. Luckily, there are a couple of reasonably priced pitchers today — Gerrit Cole and Drew Pomeranz, I'm looking at you — around whom we can build our lineups.
New to FanDuel? Scared of feeling like a small fish in a big pond? Well, be sure to read our content and subscribe to the DFSBot  for your daily baseball plays. Just remember to sign up through us before jumping into the fray. It's how we know you care!
Here's the lineup I'm entering into FanDuel, Saturday 5 August (GPP, all-day, 2:20 p.m.):
Stacks of stacks: Below I've trotted out a few juicy historical match-up options versus James Shields (Stream-o-Nator's very-last-ranked pitcher of the day!) and Lance Lynn. Lynn has been pretty good lately; I wouldn't consider stacking the entire Cincinnati lineup against him or anything, but note that Stream-o-Nator has him at SON$ -5.1, so start him at your own risk. And it is, of course, a Coors day! Hooray for overpriced Rockies hitters (sigh)! Another stacking option might be Cleveland hitters versus the Yankees' Jordan Montgomery: they're the best LHP-hitting team in MLB right now, and Montgomery's last start, versus the Rays, came to a tragic end after 2.2 innings and 4 earned runs. SON ranks Montgomery 6th last today, with SON$ -13.
Gerrit Cole, SP: $9,600 – I debated and debated on who to start. Cole is SON's top-rated starter for the day, for his very favorable pitching match-up versus San Diego (fewest runs scored in MLB) in Pittsburgh. The last time he faced the Padres, he kept them to 1 earned run in 7 innings; that was in San Diego, and the Pittsburgh park has been even stingier in terms of runs scored this year. Plus, Cole earned a grand total of 8 runs in 32 innings pitched in July. So all of that is jolly tempting. But I decided I wanted to save some bucks for hitting, and go for…
Drew Pomeranz, SP: $8,600 – I did not think I'd be advocating for starting a Red Sox pitcher at Fenway, but here I am. Pomeranz has been pretty good overall in 2017 terms, with a 3.46 ERA. Today he'll be facing the White Sox—who have been pretty much trade-decimated of late and are 6th last in runs scored.
Brian McCann, C: $2,700 – So Marco Estrada finally got his act together in his last start, after going 5 straight games in which he pitched 5 innings or less. However, this last good start was versus the White Sox. Sadly (I say as a Jays fan), I do not foresee things going the same way for Estrada versus the second-place Houston Astros, key Astros on the DL or no. You could probably stack a bunch of Astros, to be honest. You may particularly wish to play Brian McCann, if he makes it into the starting lineup (he's been losing playing time lately, and he did just play on Friday night, so rest day today?), for his BVP of 10 for 30 versus Estrada. However, if you think Brian McCan't (or McIsn't In The Lineup), why not turn to Christian Vazquez? He's the same price ($2,700) and has been on a tear of late, hitting .462 in August so far. Or you could go Coors and start Jonathan Lucroy, but…$3,300 for a catcher, y'know?
Joey Votto, 1B: $4,000 – We're drowning in first basemen today (it's every girl's dream)! It's one of those days where I wish I wrote about FantasyDraft, so I could just fill my lineup with 1Bs. But this is FanDuel and we only get one (monogamy is good, too), so let me present to you Joey Votto (which one always has to say in a Don Corleone voice while shaking one's fist: "Joey VOtto!"). In addition to a week in which he's hitting .409 with 4 HRs, Votto has gone 12 for 27 against Lance Lynn in the past. This should make for a sweet lefty-righty match-up: at present, Votto is hitting righties for .314 (mm, Pi). Little 'spensive, though: you could also shell out another $100 and get Mark Reynolds in Colorado ($4,100), for his crazy home/away .326/.245 splits. In fact, hey, I just talked myself into that.
Hanley Ramirez, 1B: $3,600 – Here's some more potential BVP goodness: Hanley is 10 for 36 versus Big Game James Shields, with 1 home run. While he has been jolly cold the last few games (hitting .167 over the last week), Shields hasn't been all that either: his ERA in the last week is 9.00. And that includes a game against the hapless Blue Jays.  Just note: Hanley did leave last night's game with a oblique thingy.  Could just be cramps, but keep an eye on the lineup.
Eric Hosmer, 1B: $3,600 – Good God, another 1B. This is a bit of a smaller sample size, but still worth a mention—Prostitutes' Sea is 7 for 17 versus Felix Hernandez (who was lit up for 5 earned the last time he faced the Royals). I feel like I may mention Hosmer every week, but that's because he's been so good lately: 9 for 24 in the last 7 days. He's also been hitting well at home this season (.304).
Eduardo Nunez, 2B: $3,900 – Another sweet BVP here: in 26 at-bats, Nunez has hit James Shields 13 times (why, yes, maths fans, that is an average of .500), with 3 home runs, to boot (or "to bat"). Do I feel a stack coming on?
Scooter Gennett, 2B: $2,700 – I'm looking at Lance Lynn and I'm looking at Scooter (doesn't that name just make you want to pinch his little cheeks?) and on the surface of it, it's looking a tad lopsided in the Scooter's favor, to the tune of 8 for 25 and 4 walks. Scooter's also hitting a decent .280 over the last week, and he has a prettay prettay good home record of .320 with 9 of his total 18 home runs. HOWEVER. (Caveat alert!) Lance Lynn has been prettay prettay good lately, too, earning a mere 6 runs in 6 games started (1.47 ERA). He also held the Reds to 1 earned run the last time he faced them. Who will win the battle of the Lance versus the Scooter (I'm picturing some weird joust; roll with me here)? Will YOU start Scooter to find out? … Yes, yes, I shall.
Nolan Arenado, 3B: $4,700 – Yep, I'm playing the Torenado today, because I can juuuuust afford him. What do I really need to say here, people? This is in Coors. He's been amazing all season (.315/.365/.596), and just getting ridiculously hotter (he had a .389 average in July). He's facing Nick Pivetta and his 5.42 ERA. And if you won't take my word for it, for some reason, take Hittertron's, who has Arenado ranked 1st overall of all hitters today at $73.3, while Eduardo Nunez is next at $59.9. But yeah, he's expensive, I know. And everyone is going to start him. So perhaps look to…
Manny Machado, 3B: $3,700 – Thank goodness, Manny is being Manny lately. It's as if he woke up after the All-Star Break and went "oh yeah, I'm supposed to be hitting the baseball." He was .230 before the ASB and has gone .321 since. So aren't you glad you didn't rage-trade him in your roto league? Weirdly, he hasn't hit a single home run since the break, but maybe he will versus Detroit's Drew VerHagen (Stream-o-Nator's second-last-ranked pitcher today, Kust Cayin'), who's making his second career start today, in Baltimore. Prior to this, so far this year VerHagen has pitched 4 innings in relief…and earned 3 runs. So…
Xander Bogaerts, SS: $3,100 – Here's another Shields pile-on option, blessed by Hittertron as the 4th-ranked shortstop for today. Bogaerts has been pretty deadly for much of the year, but has started to pick it up a little lately. Do I sound lukewarm? I kind of am–I'm not sure how this is going to go, and there aren't a ton of reasonably priced shortstops today. I am trying to remind myself that he's hitting .292 at Fenway. But actually, I'm more interested in…
Tim Beckham, SS: $2,700 – Crikey, he's been hot since he was traded from Tampa, going 7 for 12 (4 for 4 just on Friday night), and this is a great price. He also loves playing at Camden Yards, with a .385 average there. I'm hoping that in this match-up versus Drew VerHagen, he bends it like himself over into Eutaw Street.
Christian Yelich, OF: $3,600 – Another in the Scooter Gennett school of babyfaces—their seemingly innocent exteriors hiding a wicked ability to hit. Or at least we hope. Fingers crossed that Yelich will continue his historical hitting ways against Mike Foltynewicz, against whom he's gone 6 for 14. He's been pretty hot, too: in July, he hit .320 with 8 homers.
Melky Cabrera, OF: $3,000 – Melky and Eric in the same post and on the same team? Finally a chance to trot out this picture: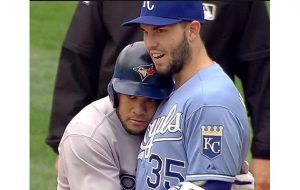 Reuniiiiiited, etc. etc. Melky may also hug Felix Hernandez hello today, for their 11-for-28 BVP history. And so far this year, he's hit a somewhat silly .370 at Kauffman Stadium (10 for 27).
Adam Lind, OF: $2,500 – In this week's "Perception Versus Reality/Fun with the Razzball Season-to-Date Player Rater" post, my fantasy-baseball partner-in-crime, Dr. Easy, and I took a look at a few players who are rated high in $/G value while also being rated low in $ value, partly owing to low plate appearances because they've been trapped in a platoony-tune situation or they've missed time due to injury, or they've been riding the minors-majors-call-up shuttle. <takes deep post-babbling breath> My point is this: Adam Lind (a.k.a. Sleepy McKittenface) was one of the players we highlighted. He has great overall numbers in very few plate appearances (177), but you have to choose his match-ups carefully. He's .231 versus lefties and .320 versus righties. Today, there is one such excellent match-up, and I really hope he makes it into the lineup: in 43 at-bats versus the Cubs' John Lackey, Lind has 18 hits. That's an average of .419; an OPS of .977. He's also a ridiculous $2,500. But if he doesn't start, try…
Howie Kendrick, OF: $2,600 – This is Howie do. He's been tearing it up since he joined Washington a week ago, going 10 for 21 with 1 home run (2 for 3 last night, ho[wie] hum). In the past, he's gone 5 for 21 versus John Lackey, which is a little meh, but this is not your grandma's Lackey: I feel duty bound to point out that Lackey is currently nursing a 4.87 ERA, he got lit up for 8 earned last time he faced the Nationals, and he's pitching an unhappy 4.91 at home.
I'm Only Happy When It Rains
There's a 42% chance of a thunderstorm in Boston for the White Sox game versus the Red Sox (hopefully they don't mingle their laundry and end up with pink) and a much more significant (77%) chance of a thunderstorm at Kansas City (where the Mariners will be in town), so keep an eye on those games. Otherwise, keep your brollies furled! #weirdBritishisms
Doing Lines In Vegas
Oof, Vegas, pro the Red Sox much? The money line on Boston versus the White Sox is -222, which is the largest of the day. The Angels are projected to beat Oakland -162; LAA's Tyler Skaggs is just back from the DL, which is why I don't particularly want to play him today, but Stream-o-Nator likes him a lot (second overall). And in "too close to call" news, we have St. Louis the very, very slight favorites over Cincinatti at -101.