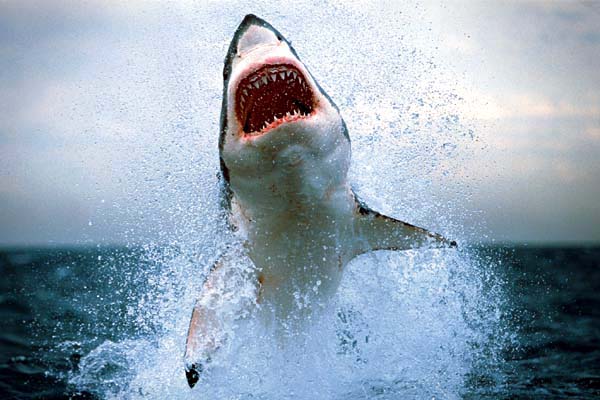 Sky: "Beddict, what's up broseph? Want to manscape each other and hit the Oregon coast for the week? My wife's finally allowing me hang out with you again after the Playboy mansion incident."
Beddict: "No can do, big dog. It's Shark Week. Call me next week and I'll make sure there's not a solitary hair anywhere near your junk."
Grey: "Tehol, I've been chosen to write the pilot for what could be the next, Game of Thrones, possibly even bigger, and I've chosen YOU to collaborate on it, you know, because of your rapier wit and panty dropping charm. Total life changer here, Tehol."
Beddict: "First off; nothing will EVER eclipse GOT, as it's the greatest show of all time. and 2nd: C'mon son….IT'S SHARK WEEK!"
Jay: "T-Beeeeeezy, guess who's in town, playa?! That's right, me, Jay Long-Dong! I received 30 Tinder matches since I landed in Sea-town, and they all want to get wasted at Beddict Manor for a week straight."
Beddict: "No can do, Kimosabe. Nobody loves butt naked freaks more than Beddict, and I know we've never actually hung out, but bruh, Shark Week. Maybe next year…..Just a different week of next year."
J-Foh: "TEHOL, you old son of a gun how are ya. Any chance you can watch my kid for a couple days while I go catch the donkey show in TJ?"
Beddict: [Hangs up phone.]
IT'S Mother EFFing SHARK WEEK, YA'LL!!!!!
Greetings! Did you miss me? No? Not even a tiency wiency bit? F*ck it, it's Shark Week. I may not even respond to a comment on this post, for I'll be balls deep in "The Bride of Jaws" or whatever other mind blowing show is being featured on the greatest week of the year. What I found to be their most interesting new program is based on a new breed of Great White; It's a land walking, air breathing, female lusting, camel-donged, baseball crushing machine, and it seems the Elder Gods only created one of them. That creation's name: Miguel Sano, truly one of the deadliest beasts I've ever witnessed. I could be wrong, but I heard every woman, aged 18-95, simultaneously orgasmed when Sano blasted one out the park Tuesday night for his first bomb of the season. The shark is batting a robust .450 in his first few games, and I expect nothing less than greatness. Say one thing for Miguel Sano, he's the scariest living creature walking the earth.
Players Who Delighted:
Mike Montgomery – I would be lit up in my sex addicts anonymous meeting if I failed to mention my home town team's current ace. This former Rays washout threw back-to-back complete game shutouts, including a 1 hitter, compiling 17 Ks along the way. He "only" went 5 and 2/3 in his last start but gave up only one run, so it's safe to say Monty needs to be owned in all formats.
Kole Calhoun – After what seemed like MONTHS, Calhoun has made the polite decision to join the living and has begun to rake like the goodmen who take care of the yard at Beddict Manor, only he doesn't charge me ridiculous rates and key my car. Calhoun has ripped off 4 multi-hit games in a row now, even parking a couple for my fellow owners and I. I'll be riding this stallion like Seattle Slew until he cools off and I suggest you do something similar.
Carlos Martinez – Martinez has been shooting arrows like Hawkeye at the opposition, missing their bats the way I miss Butterfaces…. unless I'm wasted. In that case, everything looks like food. 9 consecutive quality starts? Now that's just ridiculous. Shame on the naysayers who canned him from their fantasy rosters faster than a proposed Christian Slater blockbuster to a Hollywood studio exec. Oh-hoho, the man has bounced back like seemingly no one expected, dropping Ks galore and giving the opposition little chance at success.
Players Who Disgraced:
Lucas Duda – De Razzball readers sing this song, Du-Dung, Du-Dung. De Razzball readers hate this schlong, Du-Dung Dung. Good Gods, this peon is batting .120 over the past week, and not much better over the past month. I knew he would never repeat last season's heroics, but this is downright pathetic. Ray Charles has a better shot of jacking one right now, and I'm on the verge of dropping him from 12 team leagues.
Domonic Brown – If you ain't got no haters, you ain't poppin, playa… but wait… how can that be true? The man once known as Prince Domonic has PLENTY of haters and is definitely NOT poppin. I believe I've just discovered a flaw in Lil Bibby's rap diddy. Yes, Beddict's former man crush has fallen off a cliff, hitting a meager .125 with ONE RBI in his last seven days. This is one of the more unexplainable falloffs since Mel Gibson…. OKAY, so I suppose Mel's drop in popularity actually IS explainable. And let's not forget the anti-Semitic remarks and the movie with the beaver. So let's just call Domonic Brown's the worst falloff in the history of human kind. You've got to be realistic about these things.
Jimmy Nelson – Jimmy crapped corn all over my face, and I DO care! Is there a more disappointing young pitcher in all of baseball than Nelson? After getting up like the sky on the 4th of July in seemingly every start, Nelson has made himself about as ownable as Myspace stock. Each start forces me to regurgitate my lunch and cleanse my body with a brillo pad for 3 hours. With a 4.76 ERA and 1.46 WHIP, Nelson has ruined my life. Don't let him do the same to you.
Thank you for joining me for another edition of Disgrace/Delight. Though it is Shark Week, I will do my utmost to respond to all of your comments and questions and below. As always, it was an absolute pleasure and I look forward to many more years of interaction. Have a great rest of the week.
Want more Beddict? Follow him on Twitter at @Beddict143.