This was written before all the craziness this week and nothing has changed. Despite the season being moved back, there's still a ton of value in drafts. It just blows my mind how many good players there are outside of the Top-150. That's where all of these guys lie and I truly believe that a couple of these players can be game-changers for your fantasy team. Without further ado, let's get into some of my late-round values. 
If you have any comments or questions, comment me below or reach me on Twitter @Bartilottajoel 
Also, if you want to see some of my team previews, check out my profile here! 
Johnny Cueto (SF)
I get it guys, Cueto can't stay healthy. Having to pay almost nothing for that nullifies any of those notions though and it makes him a pitcher I want to take at the end of every draft. There's actually some talk that Cueto will start on Opening Day for the Giants and that shows the confidence they have in him. Fantasy owners are losing confidence because he's 33-years-old and is coming off of two-injury riddled seasons but the price tag makes him a guy we can take a risk on.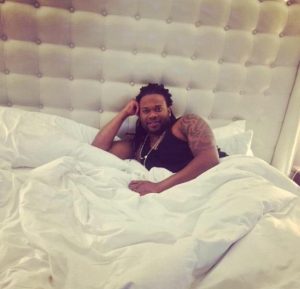 I pulled this one out of my phone! Haha, no I didn't, thank god!
Anyway, Cueto's currently going 317th in drafts and that's silly for a guy who's been so good in the past. We're talking about a former All-Star who has a 2.97 ERA and 1.13 WHIP dating back to 2011. There are only a handful of pitchers with better numbers in that span and it's not like he's coming into the season with an injury. Durability isn't as important when it comes to a guy like Cueto either because he usually abuses hitters with his funky deliveries and ability to command, rather than blowing them away with high velocity or nasty stuff. The ballpark is the icing on the cake though, with Oracle Park ranked as the most pitcher-friendly park in the league. Don't be afraid to take this guy with your last pick and ride him as long as he lasts.  
Alex Wood (LAD)
When Wood signed with the Dodgers, he was assured that he'd gain a spot in their rotation. That notion was actually confirmed by Dave Roberts earlier this week and that makes Wood one of the steals of the draft. We're talking about a guy who posted a 3.29 ERA and 1.15 WHIP in his three full seasons with the Dodgers between 2016-18. He actually posted a 2.72 ERA and 1.08 WHIP in 2017 in his first season as a full starter for Los Angeles and that upside is impossible to fade from a guy who's going 386th in drafts. Getting to pitch for the Dodgers means that you have an incredible ballpark and a brilliant line behind you which is all you can ask for from such a cheap pitcher.  
Mitch Keller (PIT)
Keller's numbers last season are truly atrocious but we can look past that with it being his rookie season. I mean a 7.13 ERA and 1.83 WHIP is completely laughable. That alone is going to keep many fantasy owners away but people should look closer. This is a young prospect who was one of the unluckiest pitchers in the Majors last season. In fact, he posted a 3.19 FIP, .314 xwOBA, 29 percent K rate and 3.47 xFIP last season. Strangely enough, that xFIP is on par with what Justin Verlander did last season. While he won't pitch to that level, it says a lot about ho unlucky this dude was and how good he can be.  
We absolutely love what Keller did in the minors too, posting a 3.09 ERA and 1.12 WHIP while providing a similar K rate. That's why he was one of the highest-touted prospects in this organization and it's just a matter of time before he figures things out at this level. The price tag is the biggest reason we want him though, going 231st in drafts. That's essentially free in 12-team leagues and it's a great flier to take with one of your final picks.  
Daniel Murphy (COL)
Murphy was a big target of mine last season and he definitely disappointed me but sometimes it's hard to get over someone you love. Alright, this isn't a rom-com but I do love me some Murph at this price tag. He's currently going 248th in drafts and that's a criminally low-price tag for a guy in such a good situation. An injury-riddled first two months killed Murphy's early-season numbers but he actually posted a .298 AVG and .809 OPS over his final 101 games last season.  
That's the Murph that we loved in New York and one has to believe that he has a .300-floor in Coors Field if he's healthy. The reason for that is because Murph has a 12.2 percent K rate and .319 career BABIP. That is some of the best bat-on-ball skills that you'll ever see and it makes him very intriguing in a spacious ballpark like Coors Field. It has actually ranked as the highest BABIP ballpark in the Majors since its existence and that's a recipe for success when it comes to a guy like Murphy. If he plays 140-plus games in this ballpark and in this potent lineup, we should be looking at 20 homers, 75 runs scored, 75 RBI and a .300 AVG. That would obviously make him one of the biggest steals in the draft! 
Notable Mentions
Alex Verdugo: I have literally seen Verdugo fall to the last round in some Yahoo Pro Leagues. This is a guy who should be playing every day when he returns from injury and has legitimate 30-homer, .300-upside.
Justin Upton: Upton's injury-riddled 2019 has lowered his price tag around pick 200 and that's a silly notion with Upton's elite power and great lineup around him. J-Up actually averaged 28.3 homers, 13.1 steals, 91.1 runs scored and 86.1 RBI over his previous eight seasons 
Garrett Richards: This one is risky because this guy can't stay healthy but Richards has serious upside in a place like Petco Park if he can just stay on the field. Between 2014-18, Richards had a 3.15 ERA and 1.17 WHIP.