I took part in my 3rd mock draft for 2010 fantasy baseball the other day.  Tis the season, ya'll.  And by the other day, I mean I did this mock about three weeks ago prior to the winter meetings/signings/whosehewhiches.  So if you're wondering why I drafted Randy Wolf or Rodney, it's because it's before they lost value in the last two weeks.  Unlike my other mock drafts, I was a bit more prepared for this one since I've done most of the rankings already.  You'll get those sometime in January.  You can hardly wait!  The teams who participated are listed followed by my team.  Then I'll point out certain rounds and what the eff was I thinking.  BTW, I have no idea if it was really Dane Cook mock drafting with us or his intern or someone pretending to be Dane Cook or his intern.  Evidence that it was him, he wasn't funny in the the mock draft chatroom and he did draft a lot of Red Sawx players.   Evidence that it wasn't him, when I asked him for my money back for the movie tickets I bought to his movie.  He said it wasn't his fault, the editors took out the good parts.  Then I said, that's not true, they left you in.  And he said nothing.  I expect the real Dane Cook would've said something.  So my guess is it was not Dane In Real Life.  Anyway, here's a 2010 fantasy baseball mock team with some thoughts: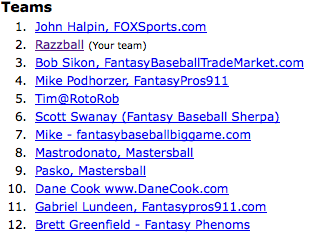 Round 2 – Matt Holliday – I have no problems with Holliday late in the 2nd round.  No matter what team he ends up on.  He's good for 25 homers, .315 average and 15 steals.  Slot that next to Hanley and my team's exiting the 2nd round as good as any other team, if not better.
Round 3 – Joey Votto – Love Votto this year.  Looking at a guy that is going to give me at least 25 homers, .315 and 15 steals.  Wait, that's Holliday… and Hanley.  Damn, my shizz is dope.  This is stacking up to be the best mock team ever.  You, folks, are witnessing some kind of history.  Or you're witnessing a recap of a mock draft.  You decide if you want to burst your own bubble.  I would have liked to draft Votto in the 4th round, but when Adrian Gonzalez was taken in the 2nd round, I knew I had to take Votto or risk not having a 1st baseman.
Round 4 – Adam Lind – First off, yes, I believe in the 35 homers.  Second off, my team felt a little light on power, so I wanted a big bat.  Third off, there is no third off.
Round 5 – Johan Santana – Halladay went right after Johan and if this were a real draft, I would've taken Halladay first.  My bad, I was eating dinner while drafting and not fully paying attention.  Hey, at least I'm honest.  But while not fully paying attention, I still have the best mock team possibly ever.  I took Johan because I can't imagine he's done being a dominant ace and he's pitching in Metco.  That's with a falling K-rate or not.
Round 8 – Ian Stewart – Couple of things at play here.  Dan Uggla was just taken before Stewart and the next 2nd baseman on the board after Stewart was Crapolanco.  I knew I wasn't drafting again for 21 picks.  I had already punted 3rd base and I didn't want to punt 2nd base too.  Also, Ian Stewart is my 2010 Mini Donkey Award winner.
Round 9 – Chipper Jones – Chipper's prolly my least favorite pick of this mock.  Was just a case of how the players fell in this draft.  It was Chipper or the next 3rd baseman was Mark DeRosa.  I don't want Chipper, I really don't want DeRosa.  Plus, I figured if I had to move Stewart to 3rd and grab a waiver wire 2nd baseman, that would be doable.  Then again, this is just a mock.  Who gives an eff in the cooley hole?
Round 11 – Geovany Soto – As mentioned in the opening paragraph, I've done the rankings.  What I found when I did them is I like Soto this year.  He had a shoulder injury last year.  Believe in the bounce back.
Round 14/15 – Nolan Reimold and Garrett Jones – Some other outfielders taken in this round were Denard Dawg, Kubel, Jermaine Dye and Corey Hart.  Two guys who can go 30/10 in the outfield felt like no brainers this late in the draft.  Then again, as my grandmother used to tell me between cigarettes, a no brainer is my specialty.
Round 16 – Johnny Cueto – I believe in the 2009 1st half Cueto, not the 2009 2nd half Cueto.
Round 18 – Jonathan Sanchez – A 200 K pitcher around the 216th overall pick?  Okay, I'll take that.
Round 20 – Carlos Ruiz – I don't necessarily like Ruiz, but in a two catcher league you do what you can.
Round 21 – Ian Desmond – Went over him the other day in the Ian Desmond fantasy thingamawhosie.
Round 22 – Homer Bailey – Think the upside comes through one of these years…. Or not.  With the last pick of a 12 team draft, it was worth a shot… Or not.  It's a mock, ya'll.