It's time for my first (and longest) post of the year. My LABR Mixed draft review.
As always, thanks to Steve Gardner at USA Today for the invite.
Last Year Recap (here's my post-draft writeup)
Yet again, another competitive season (92 points) but outside the top two (6th place out of 15). The last 5 years I have scored between 87-102.5 points and finished between 3rd-7th.
This is not for lack of trying or being too conservative. Sometimes you barrel a ball only to end up with a double off the Green Monster vs a home run.
One year after basically throwing away a 4th round pick (Darvish 2018), I ended up getting absolutely nothing from my 2nd round pick (Stanton). Combine that with a 10th percentile bad outcome with my 5th round pick (Daniel Murphy) and it is a marvel I was in the top half of the standings. The rest of my early picks were solid to very good: deGrom (#1), Rendon (#3), Mondesi (#4), Robles (#6), Vazquez (#7). I hit big on two later picks with Austin Meadows (#14) and Christian Vazquez (#28). I do not recall any major in-season pickups but I imagine I did pretty well in that regard. I traded Mondesi for Hoskins once my SB lead was secure but Hoskins struggled. Traded Robles late for Bryce Harper which worked out okay.
Congrats to Steve Gardner on the win and Zach Steinhorn on the tough 2nd place finish (crazy last week).
This Year's Draft – Pre(r)amble
As fantasy baseball touts/analysts go, I am on the 'quant' side.
I do not say that in a boastful way because I do not see this as a universal positive. Being good at math/Excel/etc is a helpful skill if applied correctly but I think all fantasy owners' draft strategies, player evaluations, etc. have their flaws. A quant is just more partial to certain types of errors than someone who bases their decisions more on gut, scouting, etc.
I think 2020 might be the last year in a three step evolution of how I draft. I imagine most quants have similar Step 1s as me but not sure how unique the next two steps are. These are the three stages of my evolution. I made the last step an acronym to avoid the wrath of the Fantasy Analyst Trade Writers Association (FATWA):
Step 1: Value-Based Drafting
Thinking: By valuing players slightly better than others, I will take advantage of draft room inefficiencies to gain an edge. I will take what the room gives me.
Shortcoming: This is inherently reactive. It does nothing to ensure roster balance and requires significant on-the-fly decision making which increases the probability of making sub-optimal picks. Its effectiveness also wanes in smarter draft rooms.
Step 2: Value-Based Roster Construct Drafting
Thinking: By identifying projected draft room inefficiencies through comparison of player values and ADP, I can both 'deep dive' on the subset of players that I value more than the market and create draft plans/strategies that may reduce a little bit of my 'best available player' flexibility but lead to more effective and satisfying drafts (e.g., more roster balance, less panic picks, less frantic cramming between picks, guys I want)
Shortcoming: What is success? How are you maximizing value? This is not a pedantic point about the method one measures their team (e.g., projected standings, comparing total projected stats vs targets, using my projected category dollars). I am casting a larger dispersion on gauging draft success based on maximizing any metric.
Step 3: DARWINISM (Drafting A Roster Which Integrates Needs (of) In Season Management)
Thinking: When I draft, I am the General Manager. I will create draft plans/strategies to simplify my draft day decisions to develop a roster that complements my in-season Manager strengths to maximize chances of team success. Maximizing or 'winning' preseason standings is nice but not my main objective.
Some notes on DARWINISM:
You are overtly customizing your draft strategy to the in-season manager. It could be risky or risk  averse. Hitter/pitcher balanced vs imbalanced.
For some drafters, this might mean nothing because they have a much bigger ego/investment in their drafting vs in-season management. They are subservient in-season Managers to their drafting GM. My GM and Manager selves are quite similar (and quanty) – it is just the Manager is focused more on weekly optimization vs season-long. So it is a more meaningful difference for me.
An irony of this type of strategy is that it is natural for 'gut' players. I think the very nature of being a 'quant' leads to more draft ego and trying to 'win the draft'.
Delineating this as three discrete steps is misleading in that obviously I considered my in-season roster needs even when I was mostly 'value-based' drafting. Back in the 2014 time frame when I created the Streamonator and Hittertron tools and did deep dives into RCL team performance, it greatly impacted my draft strategy for shallow mixed leagues.
While I applied those lessons to some degree to my 15-team mixed game-play, I think most of my application had been in optimizing in-season rosters and the weekly FAAB process vs how I draft. One step in the right direction was focusing on relative category balance which mirrored my in-season preference of avoiding major roster weaknesses so I can focus my FAAB on 'best players' vs 'needs'.
Here are a couple of in-season lessons/preferences in the voice of Manager Rudy that General Manager Rudy has incorporated into his draft strategy for 15-team mixed with weekly pickups over the years:
Don't Be Safe, Don't Draft Scared – I know I can back-fill replacement-level stats via FAAB. I feel pretty good about exceeding replacement-level stats via FAAB. The boring low ceiling players (aka the Markaki) are cheap in FAAB while the sexier higher ceiling players are more expensive. Avoid the temptation of boring 'low ceiling' guys to pretty up the team projections. Focus more on guys with high ceilings vs high floors. I prefer variance at the weekly level vs steadiness because I can always bench (or put on IL) during the bad weeks.
I Like a Wrinkle – You know how those reality cooking contests throw a surprise ingredient in the middle? Those are fun, right? If there is a player that can make things super interesting in the first half of the draft…the type that could turn out awesome but a bit scary…one that might drive you nuts because their hedgy projections make it tougher to reach your 'draft goals'….yeah, I would like one or two.
If You Feel Good About the RP2, You Are Delusional Or Spent too Much – Remember that 12th round pick last year on Cody Allen. Nice job with that. I'm sorry. I know. You're doing your best. Just go cheaper with it, will ya? Take a whole bunch in the late rounds. Safety in numbers. Worst case, I dump them and more spots to fill for FAAB!
Don't Tie Up My F***in' Bench With Rookie Nookie – I like upside. I like risk. But I need every bench spot for playing matchups and stashing potential closers. If you have to spend more draft capital to get rookies that will play by mid-April, do it. But just know I will cut their asses if they are the minors after I have filed taxes. Also, please do not chase after 'well-rounded' rookies. It works so much better if they are elite in power or speed (especially speed).
Multi-Position Guys – A little flexibility is great. Maybe one 1B/OF or a guy who can cover 2B/SS. But just know that I seem to always find these types on waivers for cheap.
2020 Draft
I am on year 4 of my War Room. Dah dah dah dah dah – I'm lovin' it! (And you could love it too if you subscribe to our season-long tools).
I have designed it to anticipate the tough decisions so I can prepare ahead of time. I am leveraging ADP to predict the likelihood a player is available in each round. Through prep and the tool, I am doing my best to avoid being in a position in the draft where I am chasing a category or position and I am dependent/desperate for a specific player to make my team whole. Those are the cases where you have to overdraft the player, get lucky, or scramble.
I do a handful of mocks and I end up with a general script for the first half of the draft. I try to have contingencies on every pick. This isn't set in stone. If a great value falls my way, I adapt. The goal is to minimize scrambling or realizing post-draft that my team has a major hole.
Here are the full results of the 2020 LABR Mixed League Draft.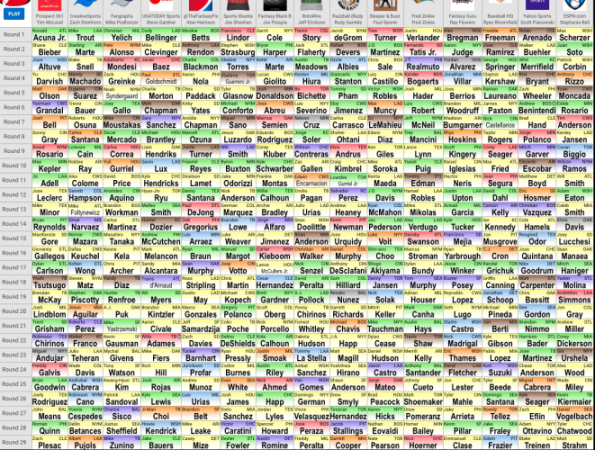 Below are my picks compared with NFBC ADP:
Draft Strategy Overview
Picking 9th, I had two draft scenarios in place: 1) DeGrom or Cole is available or 2) Take SS in this order Francisco Lindor, Trea Turner, Trevor Story. In either case, I planned on not taking a pitcher in rounds 2-5 and ideally not round 6 before getting 2-3 SPs in rounds 7-10 along with my first closer.
Aim for balance across categories – particularly on power/speed/AVG.
Aim for around the projected market's Hit/Pitch split (projected at 63.5/36.5).
When in doubt, do not take a SS because the depth is insane.
Early Round Notes
I really did not expect deGrom to fall to #9. I felt two of Turner/Story/deGrom were going to make it to me but estimate 67/33 that it would be the two SS. My values on all three players were about equal but I preferred an SP foundation given the plethora of SS. (If taking an SP in first round feels shocking, please read here for my POV on early round SPs)
Picks 2-4 (Devers, Albies, Stanton) went according to script.
I really wanted Bo Bichette with the 5th pick. I wanted him even if I had taken Story or Turner with the first pick but it was even better since I didn't have a SS. Alas, Jeff Erickson took him to pair with Story so I chose Pham over Robert as I liked them about equal and thought Robert might make it back for my 6th pick. He got picked two ahead of me (Zinkie!) but was pleasantly surprised that Eloy Jimenez fell almost two rounds below ADP (I had him as a backup with pick 4 if Stanton was taken).
General Notes/Strategy
I have used the same post-draft writeup structure for a while now as I find it more interesting than a pick-by-pick analysis and most readers seem to agree. This format does mean I talk more about my competitors' teams than most post-draft write-ups. I do my best to be respectful yet honest.
Hopefully, you'll find some piece of strategy you can apply to your upcoming drafts. I have updated this to reflect changes in my philosophy since last year. Some of it incorporates learning. Some of it is driven by changes in the player pool.
You'll see me note a lot of percentages about pick values. I calculate pick values based on my auction dollar projections. The #1 pick gets the $ value of the 1st ranked player, etc. Generally, the last pick in the 22nd round is worth a dollar (13 hitters + 9 pitchers * 15 teams) as I budget $0 for the 2nd catcher. The 23rd to 29th rounds are valued at or around $0.
 Topic
In General
My Team
Observations on Other Teams
Hit/Pitch Mix
I'm typically looking to stay about league average which I estimated pre-draft at 63.5/36.5 Hit/Pitch.

Last year's shift towards greater SP investment – going  from 67/25/8 (Hit/SP/RP) to 63/28/9 – held true for a second year. It came out 64/28/8.

Last year, I also took deGrom #1 but made some minor missteps in the 7th-13th rounds that didn't course-correct enough and left me a little too pitcher-heavy (57.4/33.1/9.5).

And then my top hitter (Stanton) was almost a complete zero so my offense was like 20% below the average – yowza!

I was more disciplined this year and ended up 61.75/33.4/4.9 if you consider Ohtani 100% SP. Since I'll be using him as UTIL in some weeks, that's about right on hit/pitch with Manager Rudy's advice on RP2s knocking down the RP investment.

This is the most condensed I have ever seen this draft on hit $ %.

Everyone is between 60.5% and 67.8% except for Joe Pisapia who outdid my 2019 with a 55.2/45.8 split.

Of note, Scott Pianowski was middle of the pack after being the most hitter-heavy the past two years.

Upside vs Reliability/ Volume
Sprinkle upside picks throughout draft, veer towards reliability in early rounds. Focus on $/Game vs $.
I think I did okay here. I got some not too boring stability with Devers, Albies, Pham, and Andrus.

Stanton, Eloy, Ohtani, and Lourdes Gurriel Jr. are what I'd consider my upside plays in the early rounds.

With late round hitters, I am happy with Sam Hilliard in the 18th (40+ HR/SB potential @ Coors) who has a non-zero chance of being Rockie'd and Michael Chavis in the 21st round. (Note: Hilliard was in lieu of a safer OF5 type per Manager Rudy input.)

Andrew Heaney (13th), Jose Urquidy (15th) and Garrett Richards (20th) are all guys with varying degress of durability concerns but I like them at these prices from a $/Game standpoint (hell, you can say similar thing about Carrasco and Kimbrel too).

No teams jump out to me as being too systemically safe or risky.

Even my prospector pal Tim McLeod went all normal his first 10 round before taking Adell in the 11th, MacKenzie Gore in the 15th, and Dylan Carlson in the 17th. Manager Rudy would be fuming at that much rookie nookie clogging up the bench. I bet Manager Tim is a little more Zen about it.

Bouncebacks
I like them as long as health not a question mark, skills/age look positive, and properly discounted.
I have had little success at bouncebacks in the past but that better change or else this team is gonna suuuuuck. Stanton (4th), Carrasco (7th), Ohtani as SP (8th), Kimbrel (10th), Sal Perez (12th), Daniel Murphy (16th).

2020 is the YOTBB (year of the bounceback)!

Zach Steinhorn was my bounceback partner in crime with Snell (3), Bauer (6), Lorenzo Cain (9), Folty (13), and Piscotty (19).

No other team jumps out.

Category Balance vs Best Player Available
In a weekly league with FAAB, I prefer to come out of drafts without glaring weaknesses. So I do monitor this during draft so, everything equal, I am taking the player who provides better balance.
I like my power/speed/avg balance and feel good on RBIs. My Runs are a little light.

Happy with pitcher balance aside from Saves which could balance itself if one of the Mariners closer candidates and/or Shaun Anderson get the gig.

I have Mike Podhorzer fielding a Bowden Fluffer team that's strong in HR/SB but brutal in AVG and meh in Runs. As long as Yelich hits .380, he'll be fine.

Joe Sheehan's team looks weak in AVG and is in the worst position of Saves as of today.

Paul Sporer and Justin Mason's team projects to be RBI challenged.

I think Jeff Erickson had a similar $/G vs $ sensibility with SPs because I have his W/K being low b/c of SP IP concerns (which can be backfilled)

ADP vs "Get Your Guys!"
I prefer to wait as long as possible for guys I like but adjust based on draft room dynamics.
Focusing just on the first 15 rounds where getting value vs ADP is most important, my average pick was almost exactly even with ADP (-0.4 picks after ADP).

Sal Perez and Eloy Jimenez were my two 'value' plays going 1-2 rounds below ADP.

I was roughly a round earlier than ADP on Carrasco and Andrus. I wanted Carrasco as SP2 and did not want to get too cute. Andrus was a bit of a unicorn at that point in regards to speed.

The room averaged 6 picks before ADP with Joe Sheehan (+28) and Stephani Bell/Kyle Soppe (+22) the most aggressive at 'getting their guys'.

Jeff Erickson of Rotowire was the #1 value drafter for the 2nd straight year being on average 6 picks after ADP. Steve Gardner and Paul Sporer/Justin Mason were next up at around 3 picks after ADP.

The two biggest bargains were Alan Harrison's Danny Santana (46 picks after ADP) and Ray Flowers' Kyle Tucker pick (52 picks after ADP). Maybe that offer out to Pence plus Dusty's love of vets helps explain the latter?

The two biggest reaches were Joe Sheehan's Nick Anderson (114 picks above ADP) and Tim McLeod's MacKenzie Gore (102 picks above ADP).

Anticipate Other Teams' Picks When Prioritizing
Get ahead of position runs to minimized getting sniped.
There were no major position runs of note.

I got sniped of my 1st choice several times (somehow not by Sporer/Mason even though, based on their Irishman-long live stream, we were in on a lot of the same players) but that comes with the territory of trying to maximize my team by waiting until close to ADP before drafting.

I was a bit surprised by several late round targets getting picked well before ADP. Good reminder that anything goes after pick 250 or so.

Hard to judge other teams on this.
Closers
While bullpen committees are becoming more popular, identifying lower-tier closers in February has always been rough. My strategy is generally get one secure closer and then be opportunistic on RP2. Safety in numbers if grabbing speculative closers.
Oh the times are changing. Typically, a few top closers get taken in the 5th/6th and then a big run in the 7th/8th rounds.

Only 8 RPs were taken by the 8th round.

I had Kimbrel as my RP1 target and had him earmarked for the 9th round based on ADP, rolled the dice, and got him in the 10th.

I liked Joe Jimenez as RP2 in the 15th or 16th round but he was sniped. After that, I just focused on the rest of my roster and used picks 23-25 on two Seattle Mariners (Magill and Hirano) and Shaun Anderson of the Giants.

Net-net, I invested only 4.8% in RPs which was the least in the draft.

The room invested 8.2% in RPs. Pretty normal.

Alan Harrison saw the lack of a historical RP run as an opportunity sinking 12.6% in RPs (6th/7th) with Yates and Chapman.

Three other teams invested 10+%. ESPN invested 9.8% (unwisely I'd say using 11.15 on Will Smith of ATL who is backing up Melancon according to recent news).

I think Joe Pisapia's Archie Bradley (13) and Joe Jimenez (15) picks were the best value.

Middle Infielders
The glut of SS has made 'scarcity' arguments scarce. I just wanted to avoid filling up on MIs too quickly.
Ozzie Albies was my 3rd round target.

SS is so deep!

I was planning on SS speed. After passing on Trea for deGrom, I was sniped on Bichette, Anderson, and Rosario. I ended up settling for Andrus about 10 picks ahead of ADP and 2 rounds ahead of my value.

Kevin Newman wasn't a pre-draft target but I like his speed/AVG + run potential as well as 2B/SS eligibility. He came at solid value and was a backup choice when Jean Segura went earlier than I expected.

There was some nice SS value amongst the non-speedsters. Bogaerts and Correa went 1-2 rounds below ADP. I like both those values as with Hiura in mid-4th round.
Catchers
I typically like to punt Catchers. The demands of the position lead to greater injury risk and more volatile offensive numbers IMO. I prefer catchers who aren't AVG sieves.
I do not like the Catcher values this year. Even more than usual. The plan was two catchers after the 20th round.

Except Sal Perez. I don't hate his value. Maybe I am too bullish he has no rust?

His ADP called for him to be taken around the 11th. I played chicken once and when he came back in the 12th, I guess it was meant to be.

Then I waited until the 28th round for Jacob Stallings.

4.6% of draft capital was spent on Catchers which is identical to last year (my investment was 3.5%).

Fred Zinkie was the top investor at 10.3% with J.T. Realmuto in the 3rd round and Tom Murphy in the 18th round.

Mike Podhorzer basically spent 0.0% as he waited for the 'free' rounds to nab Chance Sisco and Mike Zunino.

Starting Pitchers
Draft quality and quantity. Mix upside and consistency but put a little more weight on quality vs quantity of IP. Aim for about 9 SPs.

I hope Manager Rudy is happy because this staff is all about matchups and upside vs IP.

I got 9 SPs but, other than deGrom, I only have one projected over 154 IP and he's coming back from, you know, cancer.

But I like this staff a lot. I think in past years I would've eschewed Ohtani for a 'safer' SP like Kluber or Lynn. I am really intrigued by being able to play him at either Utility or SP in a week. I have him as a $20/game (aka 5th round) player at EITHER SP or UTIL. I will likely start him as pitcher unless the matchup is awful. Should be fun!

Every team drafted at least 7 SPs. Two hit 10 and Jeff Erickson led the room for the second straight year taking 11 SPs.

The draft capital ranged from 23% (Flowers) to 38% (Pisapia).

Ray stretched his money by going Stars and Scrubs. Three SPs in rounds 5-7 (Berrios, Woodruff, Bumgarner) and then 2 SPs between rounds 16-24 (16th, and 19th) before taking SPs 25th-27th. Given the miss rate on SPs in middle rounds, I see the thinking behind this strategy.

I think Joe Pisapia was shocked Frankie Montas was still on the board in the 11th (he was at the top of my queue) but not a very balanced move when you have 4 SPs in the first 10. I imagine if he saw that coming, he would have passed on E-Rod in the 8th or Kluber in the 9th for a bat.

Fred Zinkie took Verlander in the 1st and then only two other SPs in the first 15 rounds (Lynn 9th, Mikolas 13th). I like it. You can say his team's success is completely reliant on a 37-year old SP but taking an SP2 in the 4th-6th rounds is doing less to mitigate the perceived risk than it is to limit the team ceiling.

Speed
SBs are in such short supply that it is more important than ever to have a plan for where you can draft speed at value.
It was nice last year not having to worry about speed thanks to Mondesi and Robles.

I could've set myself up real nice taking Trea Turner in the 1st. Instead, I made dents with Albies and Pham in the 3rd/5th, reaching a bit to take a hopefully still spry Andrus in the 9th and Kevin Newman in the 14th.

I am around middle of the pack with Newman the closest thing to a SAGNOF on the roster. I'm okay with that.

The room was disciplined and there was no general premium for Speed.

There also were no bargains as no one with an ADP in the top half of the draft fell more than 6 picks past ADP.

I can see some general speed concerns for Alan Harrison and Joe Pisapia's teams but, for the most part, it looks like SBs will be close to a league-wide dogfight.
Last note:
This was definitely my worst draft in recent memory from a pure projected $ standpoint. To be honest, I am not 100% sure how to even value SP/U Ohtani. I just used his SP value. I ended up having one team projected a little ahead of me in $. I look better in my $/Game metric which is not surprising since it more accurately reflects my draft strategy.